As an affiliate I may earn a commission on any qualifying purchases, including those from Amazon, at no extra cost to you.
Are you interrailing across Europe this summer? Well you're in for an absolute treat. Interrailing is not only a great way to see more of Europe, but you'll make lasting friendships too.
One of my first travelling experiences was a 22 day interrail trip around Europe and since then I've been on several other trips so I am well placed to share my top interrailing tips for those venturing on their first trip.
Pro Tip: If you're having your pass delivered to the UK, it's cheaper to buy your pass through Interrail by National Rail. They also offer faster delivery and theft protection for 40% OFF- See Passes.

Remember, if you are not European, you'll need a Eurail pass instead of an Interrail pass!
1. Get the right pass
First things first, you'll want to make sure you have the best pass for your trip. This boils down to four key things:
Global or One-Country Pass: If you'll be travelling through multiple countries, you'll need the global pass which allows unlimited train travel in 33 countries. However, if you plan to stay within a single country, check if you can get a one-country pass. Occasionally, it may be better to get 2 or 3 different one country passes than a global pass, especially in Eastern Europe.
Continuous or Flexible Pass: There are two main ticket types. A continuous pass allows you to travel every single day within a set period of time, this allows unlimited journeys for the duration of the ticket however these are more expensive. I prefer to opt for a flexible pass such as 'X days of travel within X days'. You will have a set number of travel days with unlimited travel on these days only.
Duration: The duration can be anything from 4 days within a month, up to 3 months of continuous travel.
Class: Finally, decide whether you want to travel first or second class. First class will give you access to comfier seats, WiFi and USB chargers, and extra leg room. This comes down to personal preference.
For more information, I have a full guide to choosing your interrail pass which goes in to detail on each of the above.
Ready to book? Visit Interrail by National Rail for the best prices if you are having your pass delivered to the UK or Interrail.eu for delivery to other European countries.

Remember! Non-European citizens will need to book a Eurail pass instead of an Interrail pass.
---
2. Know the interrail ticket rules
Once you have your pass, there are a few key rules to keep in mind:
Seat Reservations: Whilst Interrail tickets cover the cost of the ticket, on some of the faster and overnight trains you'll need to purchase a reservation to accompany your interrail ticket. They are reasonably priced ranging from a few euros up to around €20, however, sometimes they only allocate a certain number of seats for Interrail pass holders so I would recommend buying the reservation a day or two before you travel (see point number 3 for help with this).
Own-Country Rule: Interrail passes cannot be used in your country of residence. If you are queried, you may have to provide a passport or proof that you have resided elsewhere for at least 6 months.
Outbound & Inbound Journey: There is one exception to the own-country rule. If you have a global interrail pass, it will include one outbound and one inbound journey in your own country. The journey will be recorded on your pass to ensure you can only use it once.
Flexible Passes: If you opted for a flexible pass, you'll need to remember to write down the date of travel before you get on the train. There is a dedicated section on your pass which has spaces for each travel day based on the number of travel days included with your pass.
---
3. Use the Rail Planner app
Interrail has a dedicated app that will make organising your trip 1000 x easier. This is called the rail planner app and is available on Android and iPhone.
Here are the three main things I use the app for:
Check which trains your pass is valid on – Simply put in your start and end destination to see all of the trains you can travel on with departure times on your chosen date.
Find out which trains need a reservation – When searching for trains, the app will tell you which ones require a reservation. This is very helpful if you're travelling on a budget as you can find alternative (usually slower) trains that are completely free.
Book your reservations via the app – The app now allows you to actually book your reservations and receive a mobile ticket in most of the Interrail countries. Keep in mind that some Eastern European countries don't have this feature yet as mobile tickets are still no widespread there.
---
4. Check which currencies you'll need
Don't get caught out, not all countries in Europe use the Euro. Make sure you check before you arrive.
The following countries do not use the Euro:
Country
Currency
Sweden
Swedish krona – SEK
Denmark
Danish krone – DKK
Norway
Norwegian krone – NOK
Switzerland
Swiss Franc – CHF
United Kingdom
Great Britain Pound – GBP
Bulgaria
Bulgarian Lev – BGN
Croatia
2022: Croatian Kuna – HRK
2023: Euro – EUR
Czech Republic
Czech Koruna – CZK
Hungary
Hungarian Forint – HUF
Macedonia
Macedonian Denar – MKD
Poland
Polish Zloty – PLN
Romania
Romania Leu – RON
Serbia
Serbian Dinar – RSD
Turkey
Turkish Lira – TRL
---
5. Pick accommodation best suited to you
Hostels are my go-to choice of accommodation when interrailing across Europe, there is an abundance of them and the atmosphere is always welcoming. But there are lots of different types of accommodation, choose one that is right for you:
Hostels
I'd highly recommend staying in hostels on your interrail trip around Europe. The atmosphere is always welcoming whether you're with a group of friends or travelling solo. Hostel World is a good site for deciding which hostels to stay in and for reading travellers reviews however you'll usually find the best price on booking.com. Hostels usually have both dorm rooms as well as private rooms.
There are so many ways to book hostels these days, so I put together a handy little guide to getting the best hostel rates.
Hotels
If you fancy a bit more privacy, particularly if you're travelling with a group of friends to spread the cost, you may want to opt for hotels instead.
AirBnB
A relatively new option for interrailers but becoming increasingly popular is Airbnb. There are a range of options from staying in a hosts spare room to renting an entire flat for your stay. Some of the hosts will even show you around the city – what better than your own local guide?
Couch Surfing
Perhaps best described as a more-budget AirBnB, couch surfing allows you to stay with friendly locals, usually for free. 'How is it free?' I hear you asking, well, it's more like a community and those that host have often experienced it as a traveller and returning the favour – be careful with your choices though and read the reviews!
Camping
My least favourite option purely because of all the equipment you need to carry but it is still a viable option in most European cities – just be prepared for the heat as you get closer to the equator.
---
6. Take a night train
Travelling a long distance? Check if you can take a night train (also known as a sleeper train). There are fewer night trains in Europe these days with many being replaced by high speed trains late at night or early in the morning.
If you can find a suitable train, they are great for savvy travellers as it will save you paying for a nights accommodation and will also allow you more time for day activities.
I would only recommend this for long journeys as the shorter ones might arrive around 3am or 4am which is an awkward time to reach a city. It's often too early to do anything but you won't want to fork out for a bed for a few hours.
Remember that you will probably need a reservation for night trains.
---
7. Choose a good front-loading backpack
This is my number one interrailing tip. You'll spend a lot of time carrying your luggage so you'll want to make this as comfortable as possible.
Travelling with a suitcase is possible but it always looks cumbersome. I'm a budget traveller so I'm always on the look out for a bargain, but if there is one thing I won't skimp on it's a decent backpack.
For interrailing across Europe, a 40L backpack should be adequate (assuming you're not camping).
My biggest tip when choosing a backpack is to pick one that is front loading. This means it opens up just like a suitcase. The alternative is a traditional top loading backpack but these are impossible to keep organised and can make it difficult to access the items at the bottom.
I can highly recommend the Osprey Farpoint 40 (or Fairview 40 for the women's fit). I have travelled with this for many years and on many interrail trips. It is strong, durable, fits in to carry on luggage with most airlines, and most importantly, it's front-loading.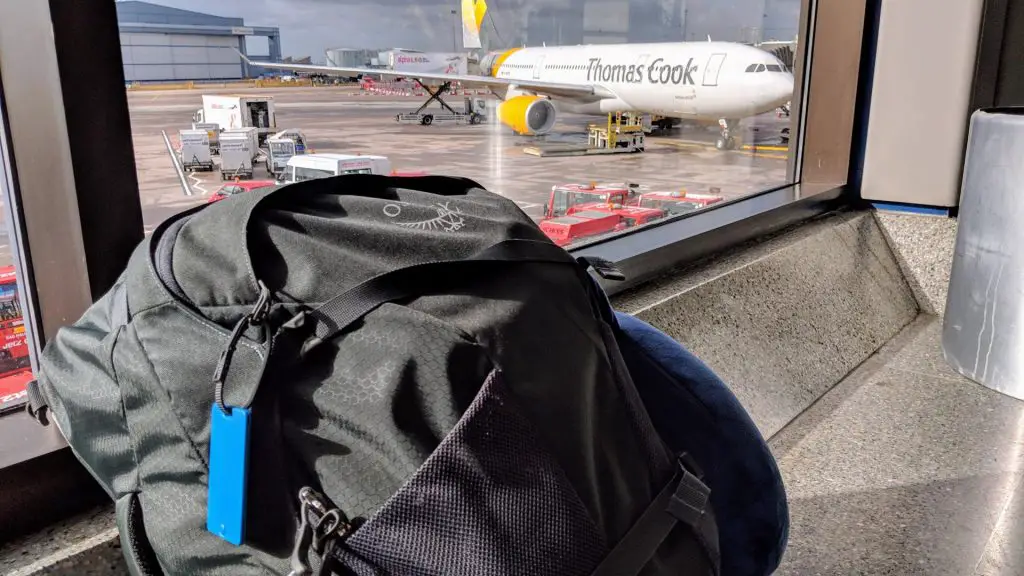 ---
8. Travel light
If you're heading on your first interrail trip, you will probably overpack. Try to pack as lightly as possible, you'll be carrying your backpack around a lot so try not to make it too heavy.
You'll usually have the opportunity to wash your clothes at your hostel/campsite or at a local laundrette. I'd advise taking clothes to last 7-10 days and aim to wash your clothes once a week.
I've written a European packing list to help you remember everything you need
---
9. Get off the beaten path
One of my biggest learnings from multiple interrail trips is to try and get off the beaten path as much as you can. There's no denying that visiting big landmarks is a good experience and I wouldn't recommend missing out on these, but try to strike a good balance with lesser-known landmarks.
Not only will you get away from all of the other tourists and have a far nicer experience, but you'll get a much better insight in to life in that country and you'll probably meet some epic people along the way.
If you're going to do this, it might be worth learning some of the local language as English tends to be less widely spoken once you leave the beaten path.
---
10. Find time to meet new people along the way
I believe that the best thing about travel is not the things you see, but the people you meet (clique right?!). But seriously, this is the most important interrailing tip. If you're staying in hostels you are bound to make new friends, either in your dorm or common areas.
But even if you're not staying in hostels, there are lots of ways to meet new people. Often you might even make friends that are heading along a similar route to you. Here are some suggestions to meet new people:
Group tours – One of the easiest ways to meet people if through organised tours, whether that be a full blown day trip or simply a free walking tour.
ㅤ
Organised bar crawls – In any city that has a thriving night life, you'll likely stumble across some organised bar crawls. A good company to check is Sandermans New Europe who offer lots of different tours across a number of cities – I've met lots of great friends on these pub crawls.
ㅤ
Hostel notice boards – A notice board might seem a little bit like an interrail tip from last century, but don't underestimate. They can be a useful way of finding others heading along your route, these may be fellow interrailers or could be road trippers or even using buses. If they are looking for road trip companions, make sure you're clear whether they will want a contribution to the costs – if you've paid for an interrail ticket you will want to make the most of it.
---
11. Make sure you budget properly
The cost of travelling Europe depends upon the choice of countries you visit and the accommodation you choose. Hostels are usually around £15-£35 ($20-$47 / €17-€40) per night. In Western Europe (especially Scandinavia), this will be nearer the top end of the bracket whilst Eastern Europe will fall nearer the bottom.
In terms of day-to-day costs such as food, drink, attractions, socialising, on average I'd usually allow around £30 ($40 / €35) per day.
To help keep your costs down, I've put together some top tips for budget travel in Europe
Don't forget about pre-trip expenses too as these can quickly accumulate, this might include the interrail ticket, plane tickets to your starting destination and home again, travel insurance, passport, plug adaptors, etc.
---
12. Don't plan too far ahead
When I first went interrailing, our initial destinations were meticulously planned with accommodation booked and activities listed out. But actually, I started to realise that you don't need to plan in so much detail.
I'd recommend keeping a rough idea of where you want to go but there is no need to plan more than a few days ahead. Especially if you're staying in hostels when booking a day or two ahead is absolutely fine (providing there aren't any major events happening).
One of the biggest benefits that makes Interrail passes worthwhile is the ability to be spontaneous and hop on any train that suits you. Trust me, this will lead to some much better travel stories and experiences.
---
13. Use hotel/hostel staff for great advice
There are some things a guide book or internet research just can't tell you. Aside from speaking to other travellers, my favourite source of advice is speaking to the staff in my accommodation, this doesn't just apply to hostels/hotels but you can ask Airbnb hosts, campsite staff, even your couch surfing host. They will be equipped with local knowledge and can tailor recommendations. I've yet to come across any accommodation staff who haven't been willing to help.
---
14. Take advantage of free walking tours
I always harp on about free walking tours (second time in this article), but I can't recommend them enough. As well as meeting fellow travellers, you'll familiarise yourself with the city fairly quickly and it's always nice to hear about the history of a city and it's main attractions. My favourite tours are Sandermans New Europe – look out for these.
Do you have any interrail tips that aren't on this list? I'd love to hear from you in the comments below.
Ready to book? Visit Interrail by National Rail for the best prices if you are having your pass delivered to the UK or Interrail.eu for delivery to other European countries.

Remember! Non-European citizens will need to book a Eurail pass instead of an Interrail pass.
---
Pin this: