As an affiliate I may earn a commission on any qualifying purchases, including those from Amazon, at no extra cost to you.
The first time I got a real taste of 'travel' as opposed to a typical beach holiday was on an interrail trip around Europe, this was an amazing experience and definitely started my appetite for travel. Read on for my 22 day interrail route.
My friend and I visited 7 cities in 22 days. Our first stop was Paris where we spent the first evening sipping beer up at the Sacré-Cœur staring across the city. I had recently quit my job and the feeling of freedom I experienced was the moment I realised how much I wanted to see more of the world.
For our first interrail trip through Europe, we decided we would visit some of the biggest and best attractions, this itinerary covers the Eiffel Tower in Paris, beer halls of Germany, national parks of Croatia, spas of Budapest and the canals of Venice and Amsterdam.
This itinerary is for those who want to see the main tourist attractions in a short time, equally if you have time to spare it's also great to spend a little longer in one country and get off the beaten path.
Pro Tip: If you're having your pass delivered to the UK, it's cheaper to buy your pass through Interrail by National Rail. They also offer faster delivery and theft protection for 40% OFF- See Passes.

Remember, if you are not European, you'll need a Eurail pass instead of an Interrail pass!
---
Which interrail pass?
In order to take this route you'll need to get a global pass, this allows travel within any of the 30 countries that accept interrail tickets.
There is a specific 22 day interrail pass, however for this trip I would not recommend you use this as it allows continuous travel (i.e. you can travel every single day for 22 days).
However, for this itinerary I'd recommend the 7 days within one month flexi pass which will save you over £100.
For more help on the types of passes, I have a full guide to choosing your interrail pass.
---
22 Day Itinerary
Here is the main route we took through the 7 European cities – see below for full schedule details and photos of each destination.
Paris (3-4 nights)
My very first stop was Paris and it really set the scene for a great trip. We spent the first evening swigging beers we had randomly acquired up at the Sacré-Cœur, taking in the stunning view across the French capital.
It goes without saying that the Eiffel Tower and Notre-Dame Cathedral will be high on your to-do list but if you get chance, try viewing Paris from the water, there are plenty of boat trips down the Seine from a quick sightseeing tour to a full dinner cruise. Other things to add to your Paris itinerary include the Arc de Triomphe and visiting some of the city's world famous museums.
TOP TIP: Keep your wits about you around the main attractions, there are lots of con artists who will try to sell you bracelets or ask you to sign petitions and then hassle you for money.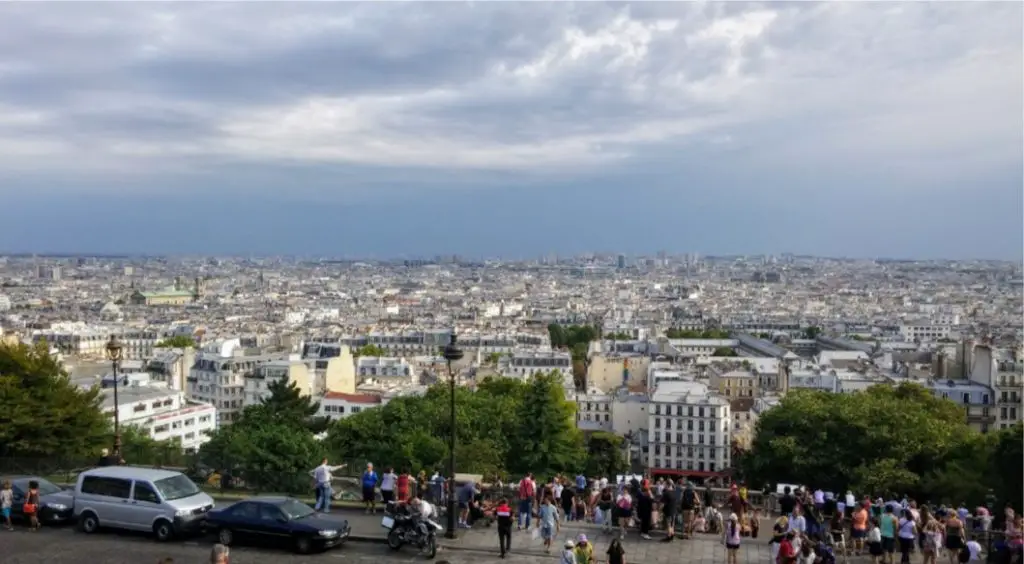 ---
Munich (3 nights)
If you love beer, then Munich is a key stop on your interrail route. Taste the delicious Bavarian beer at the numerous beer halls and gardens across the city, but make sure that Hofbräuhaus is on your itinerary as this was my far my favourite. If you get the opportunity to visit Munich during Oktoberfest then you'll see first hand why it's the biggest and best beer festival in the world.
I can recommend taking a day trip to Neuschwanstein Castle, a real fairy tale castle that inspired Walt Disney's when he created Disneyland. I can recommend visiting with Mikes bike tours where you'll get to experience the beauty of the surrounding countryside as well as the castle itself.
For the best view across Munich and a wonderful place to stroll, visit Olympiapark – site of the 1972 summer Olympics.
---
Venice (2 nights)
Next stop, Venice! Made up of 117 small islands linked together by 400 bridges, Venice is top of my European bucket list.
With no roads, and only canals to get around, life in Venice is completely different to any other city – even the postman uses a boat to get around. Make sure you ride down the grand canal, visit Piazza St Marco (St Mark's Square) and experience a gondola ride during your trip.
Related Post:
---
Zagreb + Plitvice Lakes (2 nights)
Next we headed into Eastern Europe for a totally different vibe. Going from city to city can be a little exhausting so Plitvice Lakes makes a great half way destination to get out into the countryside. We used Zagreb as our base and took a day trip to visit the lakes, the photos below will do this stop more justice than any adjectives.
Zagreb has some interesting museums to check out during your visit including the museum of broken relationships and the museum of optical illusions.
If you're planning on backpacking croatia for longer, other great stops for travellers include Dubrovnik, Split, and Zadar.
---
Budapest (3 nights)
The Capital of Hungary is an ever popular destination in Europe. Whether you're a first time interrailer or a city breaker, there's a lot of sights to see including the most beautiful Hungarian Parliament building, Buda castle and the iconic war memorial at Heroes square.
Check out one of the thermal baths, perfect for an afternoon of relaxation (especially if you have a hangover!). On Saturday nights throughout the summer, Szechenyi thermal baths hold a 'Sparty' – essentially a rave in your swimwear. Try to plan to be in Budapest on a weekend to experience this.
Find out more about the best things to do in Budapest or for an alternative route, stop off in Bratislava instead which also has a ton of great things to do.
---
Prague (2 nights)
Think of Prague and the Charles Bridge probably springs to mind, this is a great experience for any visitor whether your first or third time in the city, especially in the evening as street artists perform all manner of acts across the bridge.
However it is not the only great attraction, there is the astronomical clock that puts on a show every hour, there is Prague castle which (according to Guinness world records) is the largest ancient castle in the world and Wallenstein Gardens where you'll almost definitely encounter a meeting with a peacock!
My favourite restaurant in Prague was without a doubt the Vytopna Railway Restaurant where a network of miniature train tracks deliver your drinks direct to your table.
Related Posts:
---
Berlin (3 nights)
When visiting Berlin I realised that the city certainly has something for everyone. Whether you're a history nerd, love experiencing new cultures or just love to party (or all three as in my case) there will be something for you in the capital of Germany.
Each site in Berlin has a great story to go with it so a guided tour is definitely the best way to view the city, make sure you keep an eye out for the fantastic architecture such as the Reichstag and Berlin Cathedral.
If you have the opportunity, a day trip to Sachsenhausen concentration camp will give you real perspective on Germany's history and is definitely worth a visit.
The good news is that it is free to visit the Reichstag (German parliament building), however you must register in advance here. You can try a same day registration but no guarantee can be made for your entry time.
---
Amsterdam (3 nights)
Amsterdam was the final stop on our 22 day interrail route, and what a place to finish! Not only is it a great city to party and enjoy the vibrant nightlife but also boasts an interesting history as one of the most important cities for trading and finance in Europe during the 17th century.
Cycling is an integral part of life in Amsterdam so be sure to rent a bike and follow one of the city's many cycle routes. Experiencing a coffee shop is a must-do activity and in the evening hit the red light district for a truly unique evening.
If you're a solo traveller, I wouldn't recommend going to the red light district at night alone, if you can't find someone at your hotel/hostel to go with, there are organised tours or bar crawls to visit as a group.
If you need more inspiration, be sure to read this 2 day Amsterdam itinerary or these useful tips about Amsterdam.
Ready to book? Visit Interrail by National Rail for the best prices if you are having your pass delivered to the UK or Interrail.eu for delivery to other European countries.

Remember! Non-European citizens will need to book a Eurail pass instead of an Interrail pass.
For more tips and advice, see my ultimate guide on how to plan an Interrail or Eurail trip.
Pin this: