As an affiliate I may earn a commission on any qualifying purchases, including those from Amazon, at no extra cost to you.
Ho Chi Minh City (HCMC) is the country's largest city and was the capital of South Vietnam until the end of the Vietnam war in 1975. The city is still informally known by its original name, Saigon, however it was renamed after Ho Chi Minh, the politician who lead communist forces to success in the war.
The city is always buzzing with activity which makes it such a great place to visit. The chaotic roads have over 7 million motorbikes rocketing around, whilst in the evenings, nightlife flourishes until the early hours with locals and tourists descending on Bui Vien Street.
Itinerary Overview
Day One: Getting to know HCMC // Cu Chi Tunnels
Day Two: Day trip to Mekong Delta
Day Three: Iconic museums of HCMC // Water puppet show
---
How long do I need in HCMC?
There's a lot of activities in Ho Chi Minh City so I recommend at least 3 days to get a good insight, although you could easily spend a week here without running out of things to do.
In this itinerary, I'll show you how to discover the best of this bustling city and the surrounding areas in a short space of time.
---
Where to Stay
For first timers in Ho Chi Minh City, I recommend staying in district 1. This puts you right in the centre of the city with convenient access to all the major attractions and a huge choice of accommodation.
If you like a bit of luxury, then look along Dong Khoi Street where you'll find plenty of upmarket hotels.
However, if you prefer more of a backpacker vibe then Pham Ngu Lao street is where you'll find some of Ho Chi Minh's best hostels and budget guesthouses.
---
Ho Chi Minh 3 Day Itinerary
I recommend splitting your 3-days and 2 nights in Vietnam's largest city like this:
Spend the first day getting to know the city including a visit to the Cu Chi Tunnels in the afternoon and the evening street food market.
On day two, you'll take a full day trip to the Mekong Delta to see how locals live on the water followed by experiencing Ho Chi Minh City's thriving nightlife.
On your final day, visit some of the city's best museums and if you have time before leaving try to see one of the country's famous water puppet shows.
Let's break down the full itinerary:
Day One
MORNING: Explore Ho Chi Minh
Spend your first day in the city exploring the best of district 1. I suggest you begin with Ben That market that sits at the heart of this district.
With over 3,000 vendors selling everything from food to flowers, this is a great chance to top up on any supplies you need or get those souvenirs bought at a cut down price.
You'll need to put your negotiation skills to the test as vendors will significantly inflate prices for anyone who looks like a tourist.
Nguyễn Huệ Walking Street
Next, you can take a short stroll towards Nguyễn Huệ Walking Street which is quite a new addition to the city. it's a long pedestrianised promenade with shops, fountains and a statue of Ho Chi Minh himself in the middle.
By now I expect you'll be craving some brunch, so I recommend heading to the Café Apartment at 42 Nguyễn Huệ. This is an old block of flats that has been converted in to over 30 shops and cafes with balconies that look out over the walking street.
The building is a unique find as most building regulations in most countries wouldn't allow former apartments used in this way which makes it feel super cool.
There is a 3,000VND charge for using the elevator however this is reimbursed when you purchase something.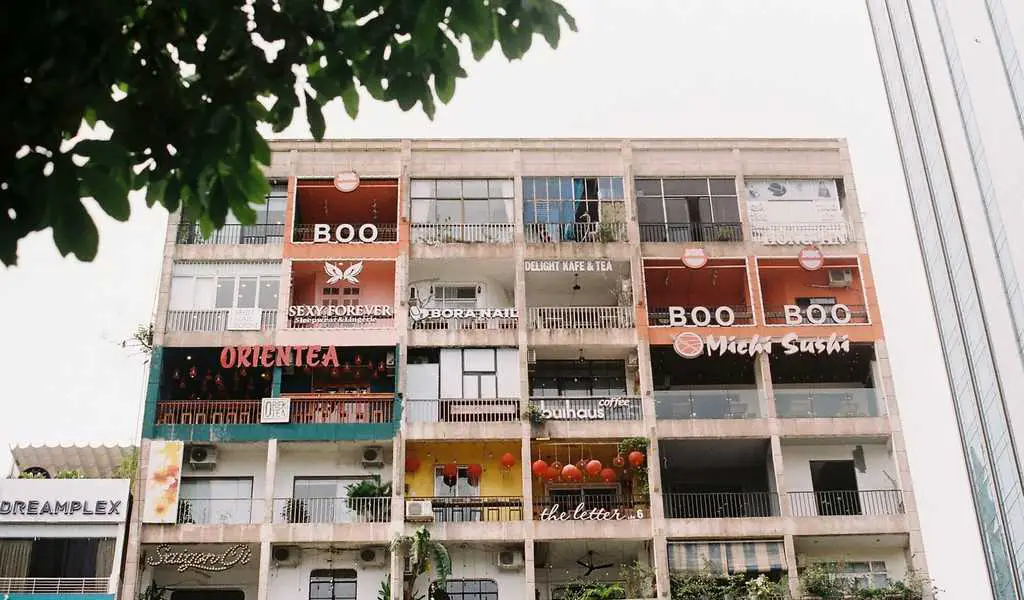 From here it's a good opportunity to head towards the cathedral known as the Notre Dame of Saigon for its close resemblance to the real Notre Dame, although much smaller. Unfortunately, during my visit this was closed for renovation so i didn't really enjoy it but I hear it's great to look inside.
At this point I'll mention Saigon Post Office as it's right across the road from the cathedral. Although this is often cited as one of the city's best attractions, I was very underwhelmed by it.
The architecture on the outside is interesting but that's as good as it gets. Inside is just full of souvenir sellers as I's become a tourist trap. You may want to poke your head in to satisfy your curiosity whilst your nearby.
AFTERNOON: Cu Chi Tunnels
After a morning exploring some of district 1, I suggest you have some lunch and a rest ready for an afternoon trip to the Cu Chi Tunnels.
Over 75 miles of hand dug tunnels lie beneath the ground of southern Vietnam. These were used by the Viet Cong Soldiers as they fought against American forces during the Vietnam war. As well as providing shelter from aerial bombing, the network of tunnels could be used to launch guerrilla attacks on the enemy and provide supply routes for essential food and weapons that the resistance fighters needed.
The only real way to appreciate the conditions of the tunnels is to see them for yourself. I could not believe how small they were, there is no chance I would have fitted inside them, let alone spend my life living and fighting in them. the below photo is from a larger 'tourist friendly' version and I still struggled to get in there.
You can visit the tunnels on a guided tour from Ho Chi Min City, where you can also see working examples of the traps that Viet Cong Soldiers set for the Americans.
EVENING: Street Food Market
On your first evening, it's time to head back to ben That market, but this time it's the street food market that's your target.
Not only will you find Vietnamese dishes here, but delicacies from across the world including Korean, Indian and Thai. It's set up in a hip food court style so you can grab dishes from as many stalls as you like and a beer from the bar, this is perfect if there is a few of you so you can share dishes.
---
Day Two
DAYTIME: Mekong Delta
On day two I recommend a full day trip to the Mekong Delta.
Just south of Ho Chi Minh City is the Mekong Delta, an area where the infamous Mekong river spreads itself into many meandering waterways before ending in the sea.
Locals here are used to a life surrounded by water. They built their homes on islands between the waterways and have become accustomed to travelling by boat.
The Mekong Delta is very accessible as a day trip from HCMC. It is a little difficult to plan a day trip by yourself due to the lack of infrastructure in the region, so I'd recommend taking an organised tour. If you're looking to get off the beaten track then you'll need a private tour guide, however for most tourists you can hop on one of the organised tours that are very reasonable in price.
On a day trip to the Mekong Delta, you'll explore My Tho and Ben Tre where activities will include taking a boat trip down one of the canals, enjoying some folk music, visiting workshops such as a honey farm or coconut candy workshop (shown below) and spending time at Vinh Trang Pagoda.
EVENING: Backpacker Street
On your second evening it's time to experience the nightlife of Ho Chi Minh City on Bui Vien Street, also known as backpacker street. You can visit the street by yourself, but I'd recommend taking one of the arranged pub crawls that are held by most hostels in district 1.
Bui Vien street rivals Koh San Road in Thailand and Pub Street in Siem Reap. Expect lots of huge clubs with enormous speakers and crowds of people partying and flowing out on to the street.
Large laughing gas balloons are also commonplace here and are far bigger than you'll find elsewhere in the world. Vietnamese people are used to them and inhale them very quickly but if you're trying one for the first time then be cautious.
---
Day Three
MORNING: Reunification palace
This was the base of General Ngo Dinh Diem, the leader of South Vietnam, during the Vietnam war. Visit the palace to see some of the tanks as well as secret bunkers, an in-house casino, hidden rooms and more.
As the US troops withdrew and northern Vietnamese forces took control of the south, there was a famous moment when two tanks bulldozed down the front walls of the palace.
I recommend taking some time to read the history as you go around and imagine life in the palace during the war. If possible, take one of the free tours that take place.
AFTERNOON: War Remnants Museum
Originally opened under the name 'Museum of American War Crimes', this museum is dedicated to telling the story of the Vietnam War.
Outside of the museum, an impressive collection of helicopters, aircraft, tanks and canons that were used by the Americans in the conflict but left behind as they quickly evacuated.
Inside, 3 floors of exhibitions details some of the tragic events that happened during the war including chemical weapons.
This museum is very intense, so I recommend you get familiar with the war before you go to get the most from your visit.
EVENING: Water Dragon Theatre
If you have time on your final evening in Ho Chi Minh City, it's a great opportunity to watch a Vietnamese Water Puppet Show. This is a centuries old tradition as early as the 11th century when it would take place in an actual river.
Today, shows take place in purpose-built theatres across the country including the golden dragon water puppet theatre in Ho Chi Minh.
There are two shows each day at 5pm and 6.30pm, each lasting just under 1 hour. Even though the show is entirely in Vietnamese, it is a real joy to watch and an incredible cultural experience.
I have no idea what the story line was or what the puppets said but seeing how they worked the puppets and hearing the orchestra play along made for a great evening.
This brings you to the end of your three days in Ho Chi Minh, I hope you have an amazing trip and be sure to check out some of Vietnam's other amazing cities such as Hanoi, Hoi An and Dalat.
---
---
Pin this: