As an affiliate I may earn a commission on any qualifying purchases, including those from Amazon, at no extra cost to you.
Quit your job and go travelling. It's the cliche right? Well I did it and the 4 months I spent travelling around South East Asia were some of the best in my life. It was my first big trip as a solo traveller and after 4 months travelling alone I wonder how the heck I ever travelled with other people before.
Of course, travelling solo never really means travelling alone. I met incredible people, travellers and locals, who made the journey extra special. There were relatively few language barriers and the infrastructure for backpacking in South East Asia (hostels, buses and the like) made it super easy to travel.
With so many incredible places to choose from, deciding upon a travel route is a little daunting at first, but just seems to develop naturally as you move around. Nevertheless, I'll provide some inspiration by sharing my own South East Asia 4 month itinerary (17½ weeks to be precise).
What is the Banana Pancake Trail?
Backpacking routes through the region have been dubbed the 'Banana Pancake Trail', a reference to the abundance of banana pancakes catering to us westerners. (If you're a fellow pancake lover reading this, don't get your hopes up – you'll soon be returning to the Asian cuisine.)
My itinerary is a very typical journey along the Banana Pancake Trail. I began by heading north from Bangkok, working my way through Northern Thailand, Laos, Cambodia and Vietnam. From Hanoi, I flew back to Bangkok, ready to begin the second leg of my journey, this time heading south until I reached Singapore.
---
Northern Thailand [2-3 weeks]
Average spend in Northern Thailand: £35/day
1. Bangkok
Conveniently in the centre of South East Asia, Bangkok provides a great central hub and starting point for your journey. The best part about starting your adventure here is that you'll meet many like minded travellers doing the same thing. I continued to meet up with friends I had made in Bangkok throughout my trip and even travelled with some of them for a few weeks.
There's plenty to keep you occupied in this busy capital city, from the temples that line the river to the infamous Koh San Road where backpackers have partied the night away for decades. Check out some of the streets surrounding Koh San Road which have a better atmosphere these days.
Where to stay in Bangkok? I can highly recommend Nap Park hostel, especially for solo travellers. Read my full list of hostel recommendations for Bangkok.
Things to do in Bangkok
Party on Koh San Road
Chatuchak weekend market
Wat Pho and the Grand Palace
Floating markets
---
2. Chiang Mai
With a less traffic jams and more scenery, Chiang Mai is known as Thailand's 'Rose of the North'. The central area of the city is surrounded by historic walls and a moat that date back to the city's origins. Inside the walls lie a trove of temples, massage parlours, bars and restaurants making it the backpacker and expat haven it is today.
Things to do in Chiang Mai
Visit an ethical elephant sanctuary such as Elephantland
Grand Canyon water park
Visit Wat Doi Suthep
See a Muay Thai flight
Trekking with a hill tribe
Where to stay in Chiang Mai? I've compiled a list of the best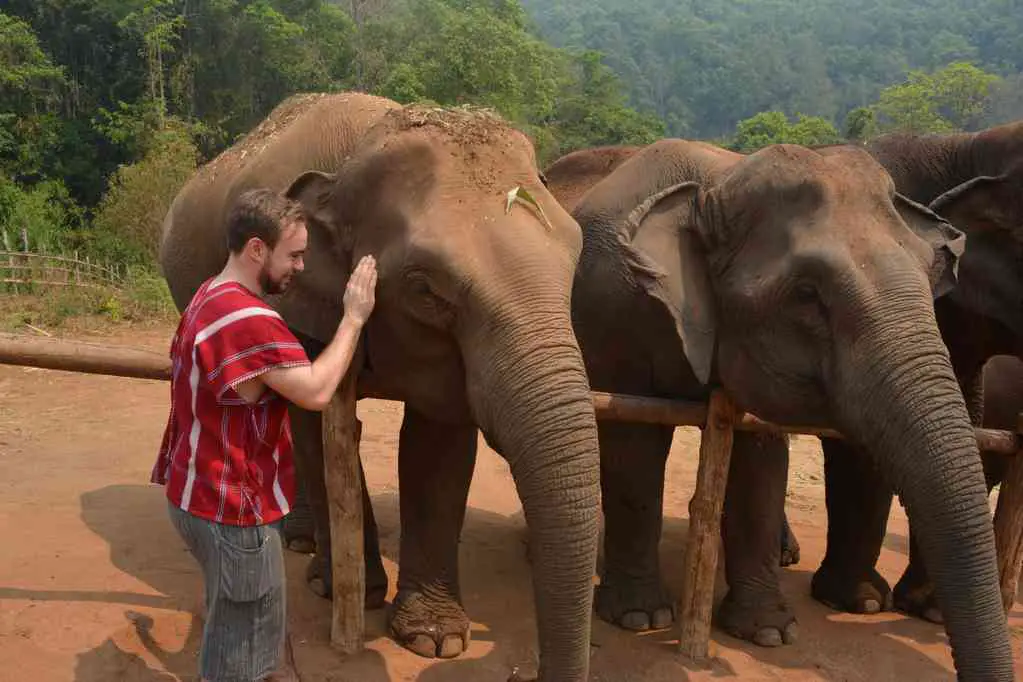 ---
3. Pai
About 3 hours drive from Chiang Mai (a twisty journey to say the least), you'll find the hippy paradise of Pai. A swathe of beautiful nature can be found in the surrounding areas, from stunning mountain backdrops, lush green paddy fields, waterfalls, caves, hot springs and more.
TIP: The region is best explored on a scooter or motorbike. If you can't yet ride one then now is the best time to learn as it will benefit your entire trip, I'm speaking from experience. The quiet open roads around the area make it the perfect place to practice and most of the rental shops will offer a short lesson to newbies.
Pai also has a buzzing nightlife, from the party atmosphere of the towns main club, Don't Cry, to the hippie vibes and fire shows at Paradise bar. Many backpackers visit Pai for a few days and have such a great time that they stay for weeks, it's become known as getting 'stuck in the Pai hole', hopefully it won't happen to you.
Things to do in Pai:
Pai Grand Canyon
Bamboo Bridge
Hot springs
Paradise bar
---
4. Chiang Rai
Unfortunately Pai is a little out of the way, so getting anywhere else will usually require a journey back to Chiang Mai and maybe even an overnight stay.
The final destination I recommend in Northern Thailand is Chiang Rai. Whilst many backpackers will use it as a quick stop over on the journey to Laos, I recommend spending a few days to explore this laid-back little city.
It's most popular attraction is undeniably the White Temple (Wat Rong Khun) with it's majestic design making it a hot spot for Instagram photo shoots. Look out for the pop culture references cleverly hidden in the interior artwork.
Things to do in Chiang Rai
Night food market
The White Temple (Wat Rong Khun)
Cat Cafe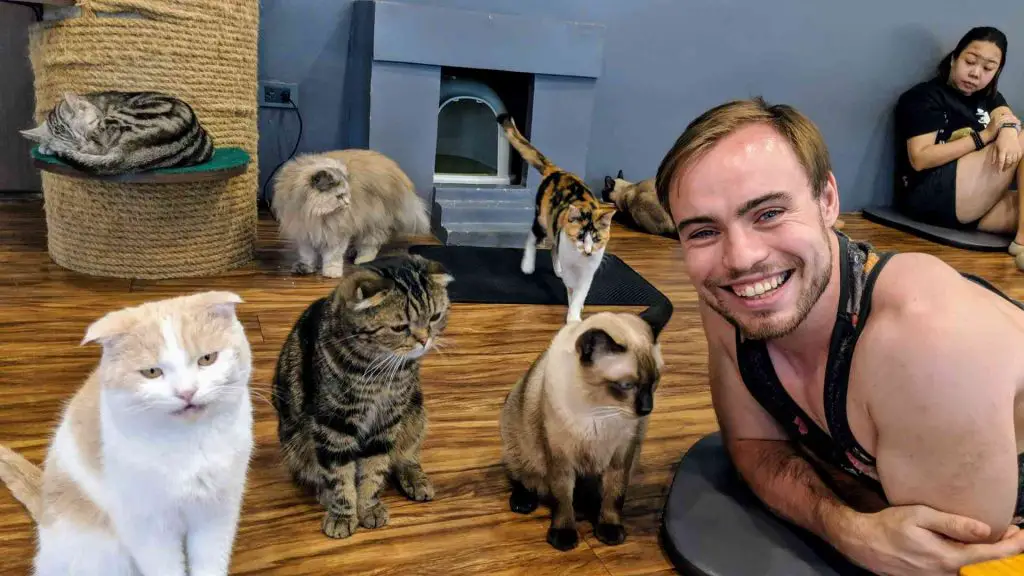 ---
Taking the Slow Boat to Laos
From Chiang Rai, the most scenic way to get to Laos is via the 2 day slow boat. With an overnight stop in Pak Beng (an awful place but you won't be there long), the boat cruises down the Mekong river through glorious landscapes until arriving just outside Luang Prabang.
Don't overpay for the journey like I did, follow my slow boat tips to get a good deal.
---
Laos [3-4 weeks]
Average spend in Laos: £21/day
5. Luang Prabang
My first stop during my three weeks in Laos was the country's cultural capital Luang Prabang. Having spent two days together on the slow boat, I had already met dozens of other tourists that would be in the city for the coming days, making it really easy to visit as a solo traveller.
Whilst in Luang Prabang, you need to see Kuang Si Falls, a stunning waterfall with turquoise blue water and triple tiered splash pools. It's a tourist trap for sure, but well worth seeing.
Things to do in Luang Prabang
Kuang Si Falls
See the monks Giving Alms
Party at the bowling alley
Utopia bar
---
6. Vang Vieng
From the capital of culture to the adventure capital, Vang Vieng. There are now two roads from Luang Praband to Vang Vieng, one that cuts right over the mountains usually taking 3-4 hours in a minibus (this is the one I took and it's a guaranteed bumpy ride) or the longer route which is usually favoured by larger buses but will take a few hours longer.
Despite being a small town situated amongst jagged limestone cliffs and beautiful rolling green fields, Vang Vieng still has a good nightlife with backpackers drawn to the open sale of marijuana, magic mushrooms and more at the towns bars. Originally famous for it's crazy river tubing parties, this is now highly regulated but you can still enjoy the daily tubing trip along with other, more adrenaline-fuelled, activities.
Things to do in Vang Vieng:
River tubing
Blue Lagoons and caves
Kayaking, Zipling or Paramotoring (paragliding with an engine)
Cheapest hot air balloon ride in the world
---
7. Vientiane
From the adventure capital to the country's official capital city, Vientiane. With an unusually relaxed pace of life for a capital city, you'll notice the distinct remnants from French colonization across the city, including French road names, an abundance of French bakeries and the large 'Patuxai' monument which is best described as a 'mini Arc de triomphe'.
Things to do in Vientiane:
Vientiane night market
Buddha Park
Pha That Luang – Laos' sacred stupa
COPE visitor centre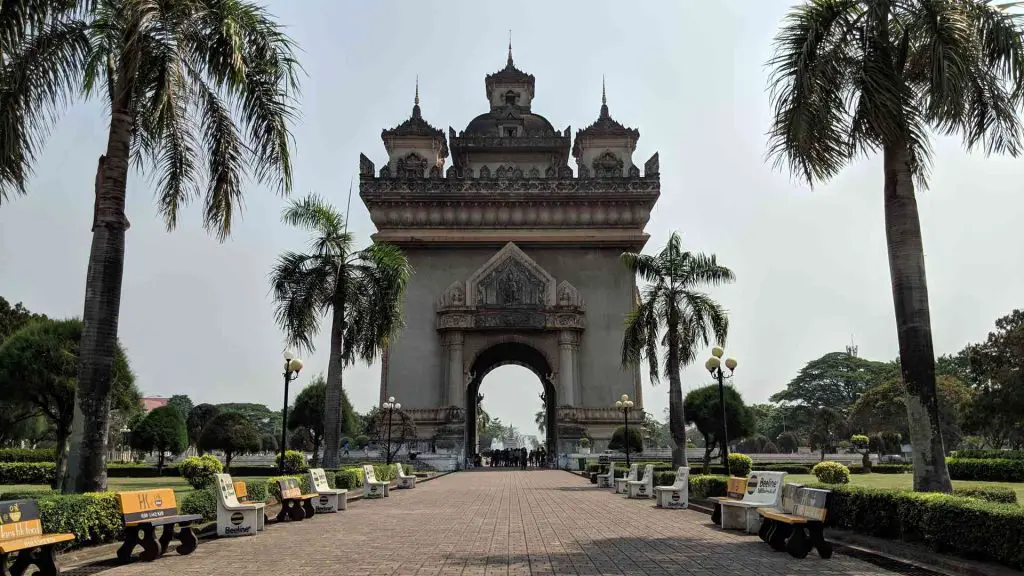 ---
8. Pakse and the Bolaven Plateau
From Vientiane, many backpackers on the Banana Pancake Trail will head up to Hanoi, but you'd be foolish to miss out on the beauty of southern Laos. In my opinion, the south was even better than the north.
Travelling from Vientiane to Pakse requires an overnight bus; an experience in itself. If you're lucky you won't have to share your bed!
The small city of Pakse is a relatively quiet affair with little going on. But, rent a scooter and you can see some of the best nature on this South East Asia route, especially if you head out to the Champassak highlands along the Bolaven Plateau motorbike loop.
Things to do in Pakse
Wat Phou – Temple ruins built in the same style to those at Angkor Wat
---
9. Don Det
At the southern border of Laos lies Si Phan Don, with a literal translation of 4000 islands. Here the Mekong divulges in to many smaller waterways creating an array of islands. Most are very tiny, but three are inhabited, the most popular one being Don Det where you'll find restaurants and guesthouses in plentiful supply.
You'll be able to purchase a combination ticket from Pakse to Don Det, including the bus and a return boat journey across to Don Det. There are no ATMs on Don Det so make sure you stock up on cash at the ATM's you'll find before getting on the boat.
The best part of this island is watching the sun set across the Mekong from one of the sun set bars.
Things to do in Don Det
Island tour with waterfall and kayaking
Watch the sun setting from the sun set bars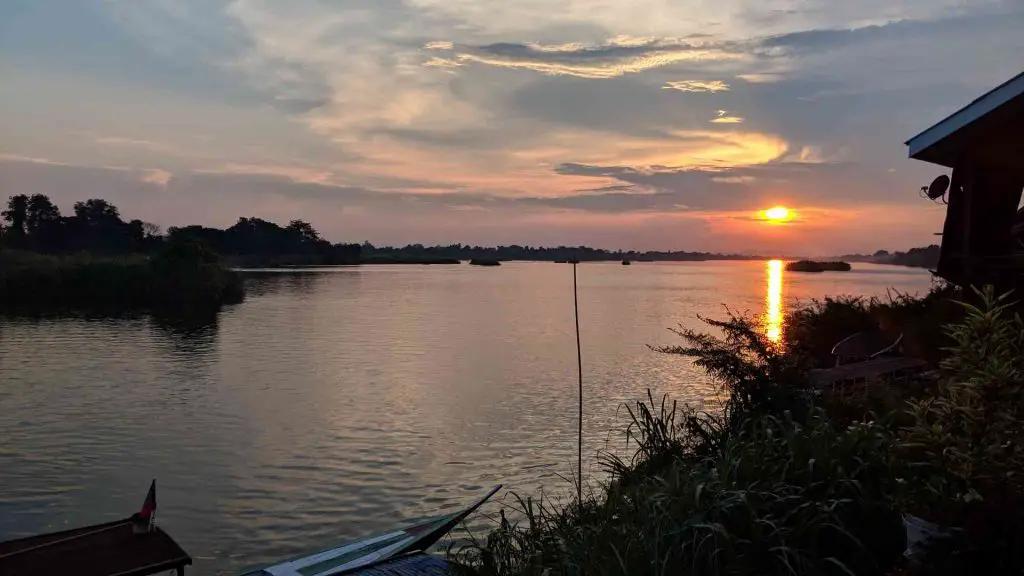 ---
Crossing the Laos-Cambodia border
Watch out for corruption at this border. You can expect to pay a few extra dollars for a 'stamping charge' which is pretty much non-negotiable. But, I also noticed someone selling Cambodian visas at the Laos border for an inflated price which many tourists were falling for.
Remember – You'll stamp out of Laos at the Laos exit border, then walk across to the Cambodian entry border to get your visa and stamps for Cambodia. Don't get your Cambodian visa at the Laos border.
Also, there are no ATMs here so ensure you have enough dollars for the visa and 'stamping stamp' before getting on the bus.
---
Cambodia [3 weeks]
Average spend in Cambodia: £37/day
10. Siem Reap
After the relaxed evenings in Laos, you'll definitely be ready for the upbeat atmosphere in Siem Reap where it's 'Pub Street' is reminiscent of Bangkok's Koh San Road. With $0.50 draft beer and clubs open until early hours, you'll have some unforgettable nights here.
Of course, you'll need to find time to visit Angkor Wat, Cambodia's most famous landmark. A 1 day pass should be fine for most people wanting to get a glimpse at the temple ruins but for temple-nerds, a 3 day pass will allow you to explore a wider variety of Temples within the vast complex.
Things to do in Siem Reap:
Angkor Wat
Pub Street
Floating Village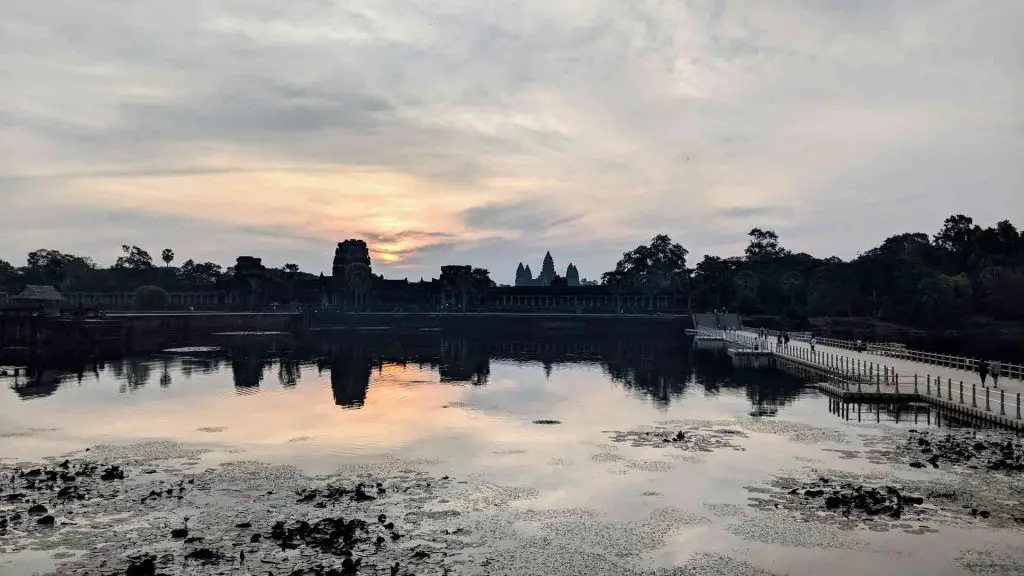 ---
TIP: Don't visit Sihanoukeville – Some older South East Asia itineraries will advise a visit to Sihanoukeville on the way to Koh Rong, but this city is no longer the glorious destination it once was. Enormous Chinese investment has seen hundreds of ugly skyscrapers clogging the skyline, most only catering to package holiday tourists. There are few backpacker hostels, the beaches are flooded with litter and crime is high, it has gained the deserving nickname 'shits-ville' amongst travellers. I recommend heading straight for Koh Rong.
11. Koh Rong
By this point I'd spend over 6 weeks travelling in South East Asia and still hadn't seen a real beach, luckily this is where the islands at the south of Cambodia did not disappoint. With a mix of beautiful white beaches and dense jungle terrain, your time on the island of Koh Rong can't go wrong. Look out for some epic weekly beach parties at some of the island's bars.
Things to do on Koh Rong:
Relax on 4K beach
Jungle trek to long beach
Snorkelling boat trip
Experience the beach parties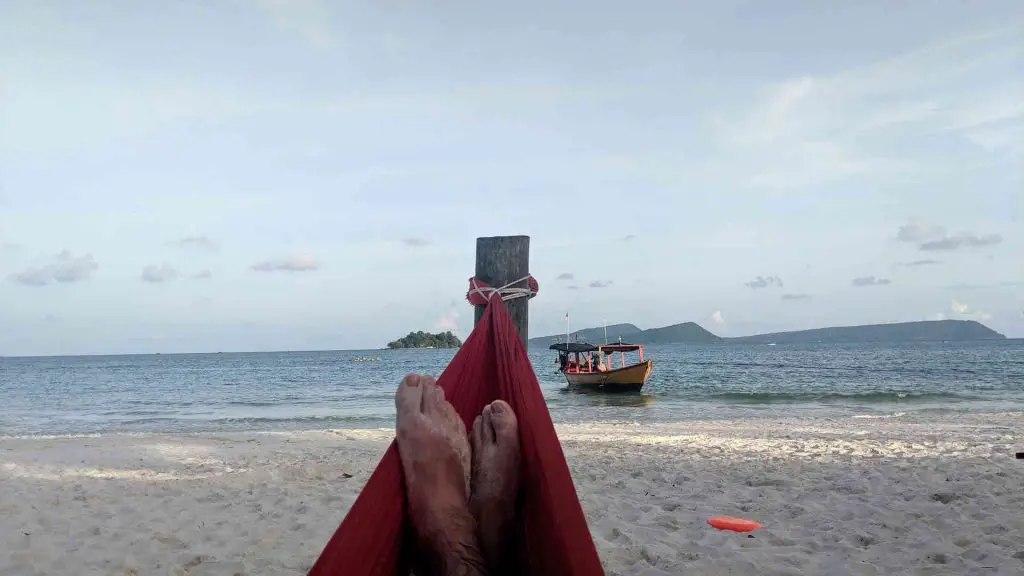 ---
12. Koh Rong Samloem
Just a short ferry journey away, the paradise island of Koh Rong Samloem is less developed and a little more easy-going than it's sister island. There are plenty of resorts scattered around, including a secluded experience at Mad Monkey, but I would recommend staying near the main serendipity pier for easy access to everything you need.
Things to do on Koh Rong Samloem
Watch the sun set at Lazy beach
See the luminous plankton
Full moon party at Jungle Bar
---
13. Kampot
Cambodia has a huge variety of destinations and the sleepy riverside town of Kampot is an altogether different experience. Once the country's many fishing port, today Kampot is better known for it's pepper. Flouted by locals as the 'best pepper in the world', Kampot pepper was Cambodia's first ever product to receive Protected Geographical Indication in 2016.
Things to do in Kampot
Day trip to Kep
Bokor National Park
---
14. Phnom Penh
Before leaving Cambodia, you'll want to make a quick stop in the country's capital, Phnom Penh. I'd recommend spending a little less time here than the previous destinations, but visiting the Killing Fields and S-21 museum is something you must-do whlst in Cambodia.
On a combined visit to the Choeung Ek Genocidal Centre (Killing Fields) and Tuol Sleng Genocide Museum (S-21), you'll learn about Cambodia's dark and harrowing recent history as it lived through a genocide that wiped out a quarter of the population.
I found it to be quite emotional as we heard the stories of survivors on the audio tour but really interesting and hugely worthwhile to anyone who has even the slightest interest in Cambodian history.
Things to do in Phnom Penh
Killing Fields and S-21 museum
Speakeasy and rooftop bars
Royal Palace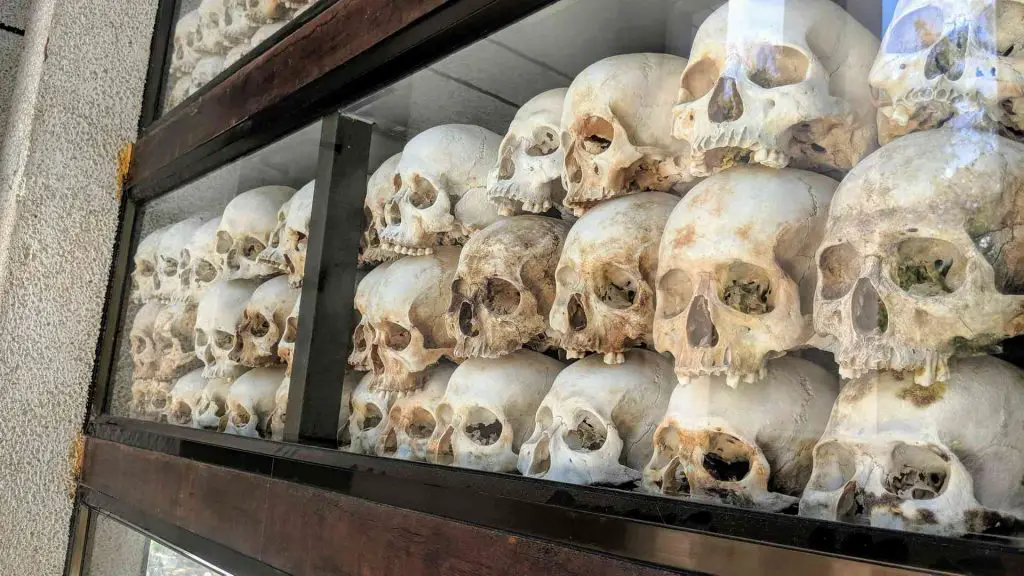 ---
Crossing the Cambodia-Vietnam border
Vietnam is the only country on my South East Asia itinerary that you'll need to apply for an e-visa in advance of arriving in the country. I recommend doing this about 5 working days before you plan to enter the country to allow enough time to receive it. You'll be required to give a specific entry date which I recommend you stick to.
---
Vietnam [4 weeks]
Average spend in Vietnam: £30/day
15. Ho Chi Minh City (HCMC)
Formerly known as Saigon, the city was renamed after Ho Chi Minh, the former politician who lead Northern Vietnam forces to success during the Vietnam war. Your visit to HCMC will be brimming in history as many of the attractions are dedicated to telling the story of the Vietnamese war.
Things to do in Ho Chi Minh City
Cu Chi Tunnels
War Remnants Museum
Visit the Mekong Delta
Ben Thanh street food market
Where to stay in Ho Chi Minh City? Check out this guide to my favourite hostels
---
16. Dalat
Over 1,500m above sea level, Dalat provides a much needed break from the heat found in the rest of Vietnam. But it's not just the temperate climate that attracts visitors to this hillside resort, Dalat has stunning waterfalls, beautiful lakes and a city that is oddly charming.
Things to do in Dalat
The Crazy House
Alpine Roller Coaster
Here are my best hostel recommendations in Dalat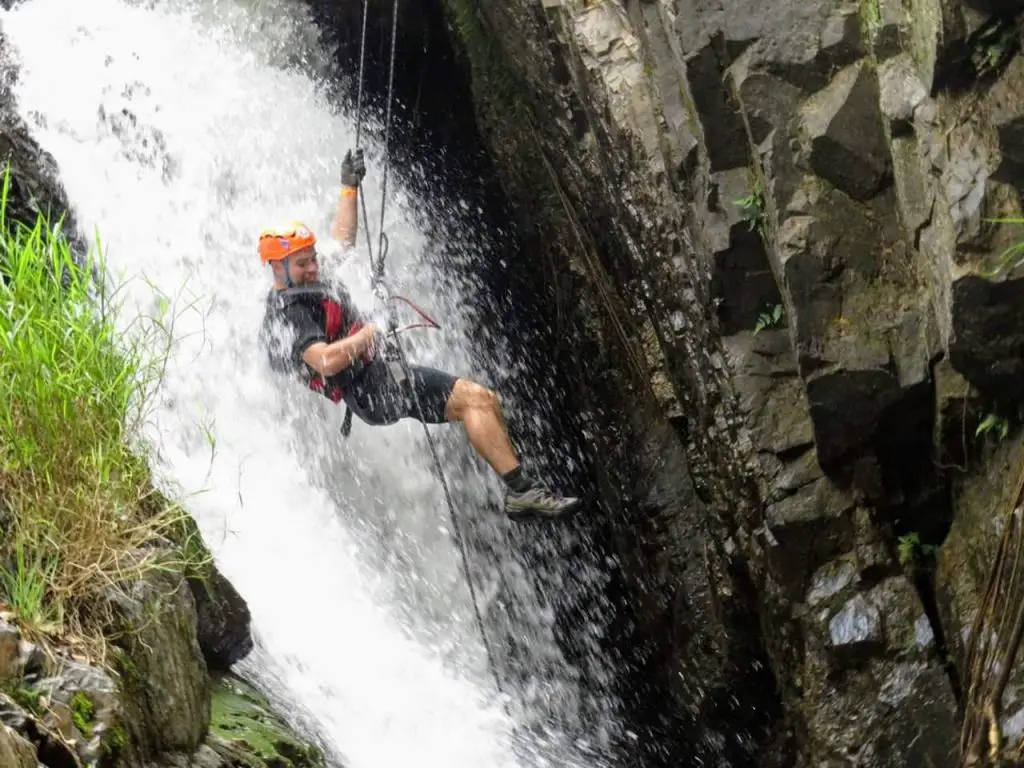 ---
17. Hoi An
From Dalat, jump aboard one of Vietnam's sleeper buses and head north to Hoi An. The sleeper buses in Vietnam are much nicer than neighbouring countries and provided you don't sit at the back, you'll be treated to your own individual reclining seat.
The ancient town of Hoi An will capture your heart. With the entire city centre designated a UNESCO world heritage site, it's traditional architecture and local crafts have been well preserved. It's become known for it's lanterns which light up the city's streets and rivers by night making it one of the most photogenic destinations in Vietnam.
Things to do in Hoi An
Explore the beautiful old town
Take a lantern crafting workshop
Cycle through Tra Que Vegetable village
An Bang Beach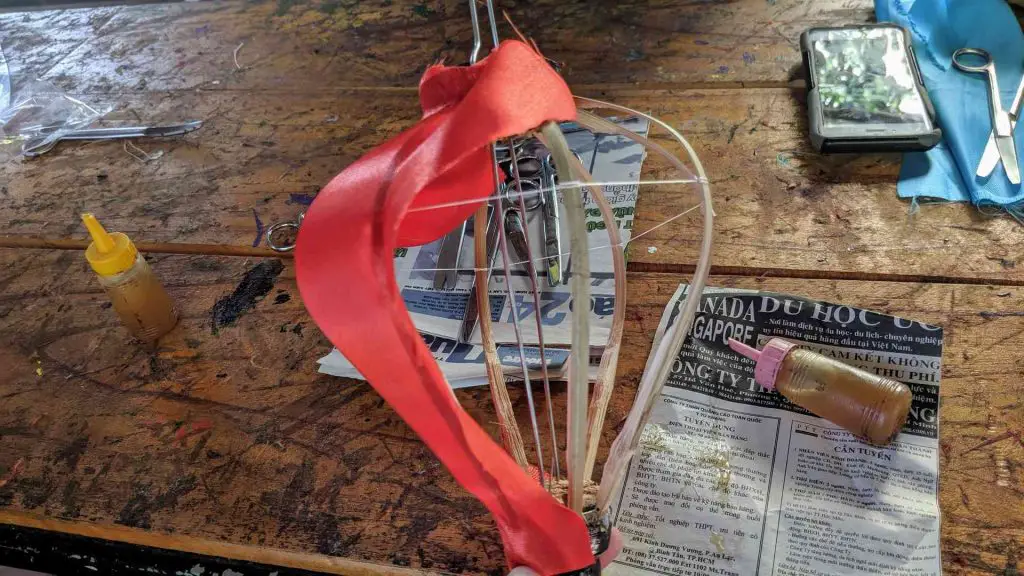 ---
Hoi An to Hue via the Hai Van Pass
The journey from Hoi An to Hue featured on top gear where the Hai Van Pass was described as 'one of the best coastal roads in the world'. I was really keen to make this journey for myself so rented a scooter from a rental shop in Hoi An that allows drop off in Hue, they even transported my backpack for me. The journey took a full day, with many other beautiful landmarks to stop off along the way, I can high recommend doing it.
---
18. Hue
Hue's position in the very centre of Vietnam has seen it play a crucial role as capital of the Đàng Trong Kingdom and of the Nguyen Dynasty. It's important historical role can be observed by the large citadel found in the city, with huge stone walls and a vast surrounding moat. The impressive tombs of former emperors can also be visited, each designed by the emperors' themselves before they died.
Things to do in Hue
See the imperial city
Visit the abandoned water park
Royal tombs
---
19. Phong Nha National Park
Phong Nha is an exquisite region that has been blessed with an incredible networks of caves, including the largest cave in the world. However, a visit to this record breaking attraction comes with a 2 year waiting list and a USD $3,000 price tag. Luckily, for us backpackers, Phong Nha also has some great budget caving options, including the Dark cave, Paradise cave and Phong Nha cave.
A trip to Phong Nha would not be complete without a visit to The Duck Stop. Here, you can play with over 100 friendly ducks that will follow you around and give you a 'foot massage' with their beak, this is the most I laughed during my trip.
Things to do in Phong Nha
Kayaking and mud bath at the Dark Cave
The Duck Stop
Boat trip through Phong Nha Cave
---
20. Ninh Binh
Ninh Binh is often called 'Ha Long Bay on land' due to the protruding limestone monoliths scattered across the landscape akin to those in Ha Long. One of my highlights of Vietnam was the Trang An boat tour where we took a small rowing boat around these beautiful cliffs and caves.
Things to do in Ninh Binh
Trang An or Tam Coc boat trip
Hang Mua caves view point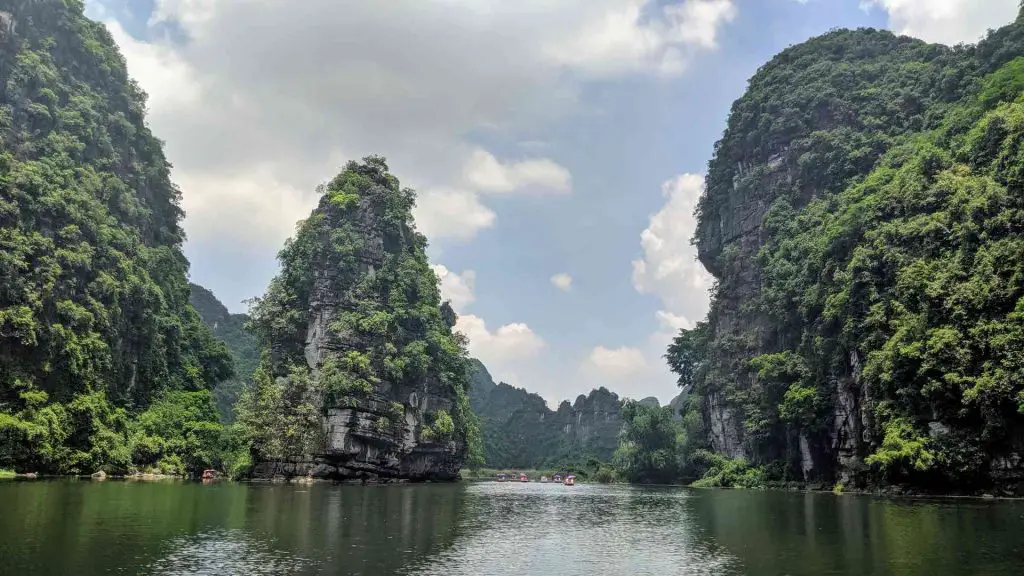 ---
21. Cat Ba Island
Many budget backpackers, including myself, now decided to skip Ha Long Bay which has become riddled with package tourists. Instead, I headed for neighbouring Lan Ha Bay which is part of the same geographical formations as Ha Long Bay but much more affordable.
Cat Ba Island is the launching destination for Lan Ha Bay cruises but also has a number of other attractions including a vast national park to discover..
Things to do on Cat Ba Island
Lan Ha Bay cruise
Hiking in Cat Ba national park
Sunrise at Canon Fort
---
22. Hanoi
With over 1,000 years of history, Hanoi is bursting with culture from every corner. Navigating through the city and weaving between the chaotic traffic presents a challenge in itself.
Originally, there were 36 streets, each dedicated to a certain trade. Some of these streets have remained true to this, it's baffling to walk down a street where every single shop sells the exact same items. Whilst exploring the city I came across a street for shoes, a street for kitchenware, a street for hand tools, etc.
No visit to Hanoi is complete without a visit to the legendary train street. Here, an array of quirky cafes line the edges of a train track. Twice a day they must rush around to bring their tables and chairs inside as they prepare for the train to speed past. It can become overcrowded when the trains are due to pass so visit earlier on to properly enjoy it.
Things to do in Hanoi
Train street
Explore the old quarter
The Note Cafe
Friday + Saturday night street market
Also read: The best hostels in Hanoi for solo travellers
---
Getting from Hanoi to Southern Thailand
From the second part of my South East Asia trip, I'd be heading down the southern peninsular, starting with the south of Thailand. Whilst you could fly straight from Hanoi to the south of Thailand, it works out cheapest to fly to Bangkok and take a sleeper bus to the south.
---
South of Thailand [2 weeks]
Average spend in South of Thailand: £42/day
23. Koh Tao
By now you'll likely be over half way through your 4 months journey and ready for a little more beach action. The first stop in the South of Thailand is Koh Tao. Literally meaning 'turtle island', Koh Tao was originally an island for political prisoners.
Nowadays, the island is renowned for diving, it's the perfect spot for beginners with more diving qualifications awarded here than anywhere else in the world. But the island also caters to more experienced divers with Sail Rock considered one of the best dive sites in the gulf of Thailand. Those looking for a more intimate diving experience may want to consider a Thai liveaboard, these usually depart from Khao Lak and head out in to the Andaman Sea for up to 10 days.
If diving isn't your thing, it's also a popular spot for snorkelling where you could end up swimming with baby sharks or turtles just off the shore.
Things to do on Koh Tao
Get a diving qualification
John Siwan View Point
Snorkelling boat trip
---
24. Koh Samui
Thailand's second largest island has a raft of activities to keep you occupied in between some good beach time. From a coffee shop suspended up in the jungle to the delicious street food and boxing at Lamai saturday night market.
Tourists also flock in their droves to see Hin Ta and Hin Yai, rocks that are famed for their likeness to male and female genitals. It tickled me to watch some of the photo shoots that were taking place at these rocks.
Things to do on Koh Samui
Tree Bridge Coffee
Hin Ta and Hin Yai rocks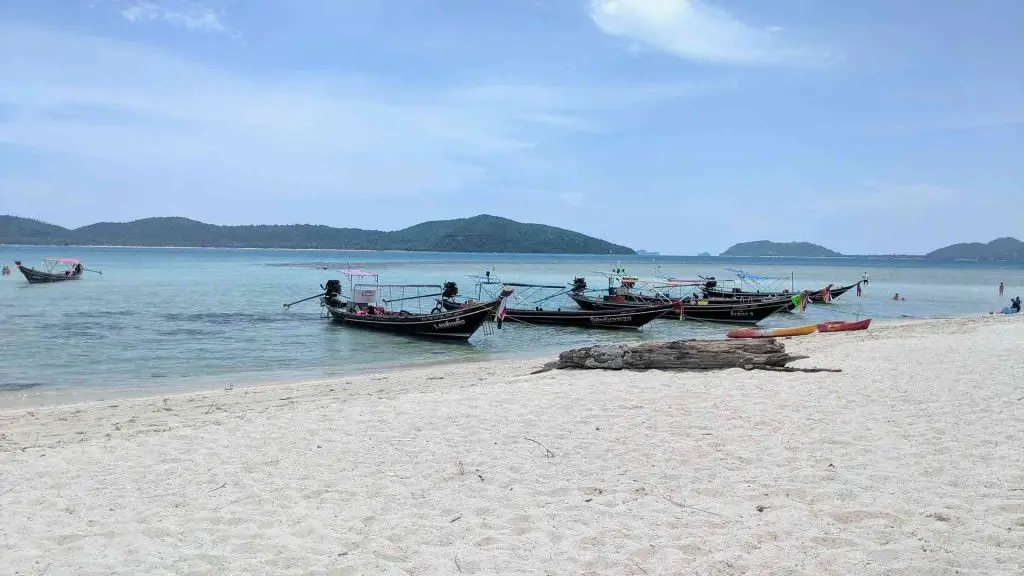 ---
TIP: Although I visited Phuket on my trip, I wouldn't recommend it at all. Not only was it crazy expensive but also my least favourite place. There were some nice viewpoints and I met some awesome people, but it generally feels quite tacky and would be better suited for stag/hen parties (aka bachelor parties for my friends across the pond) rather than backpacking.
25. Koh Phi Phi
I'll warn you now, the little island of Koh Phi Phi will steal your heart. From the extraordinary views straight from a post card, to the vibrant nightlife unlike anything else I'd experience during my 4 months in South East Asia.
Although the infamous Maya Bay, made famous by the movie 'The Beach', is closed to tourists, there's an abundance of other remarkable beaches to explore by foot or by boat. In the evening, head to Reggae bar where amateur tourists are encouraged to try their hand at Muay Thai in return for a bucket of cocktail for their sportsmanship – get in the ring if you dare.
Things to do on Koh Phi Phi
Take a snorkelling day tour
Sunset at the viewpoint
Muay Thai at Reggae bar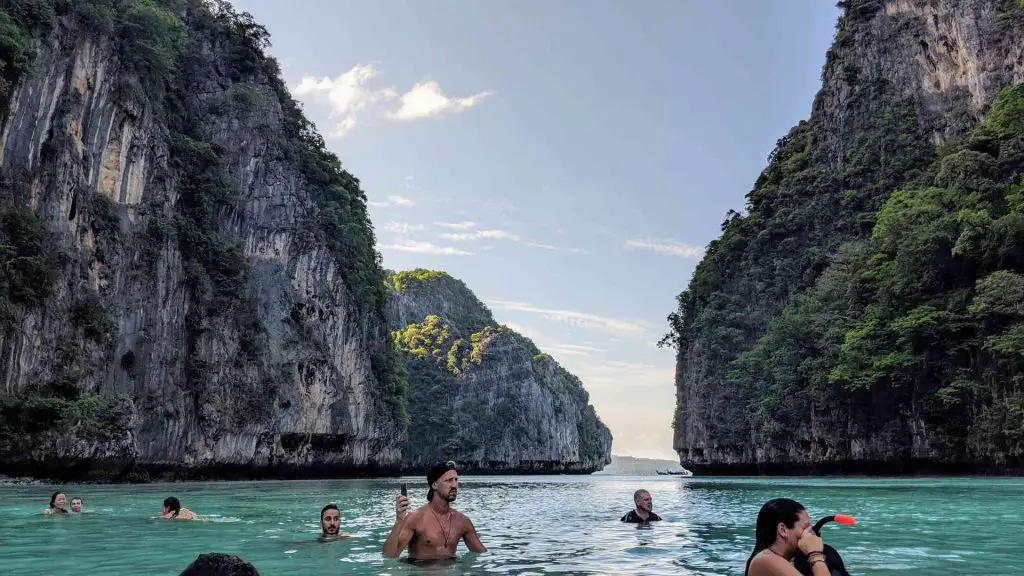 ---
Malaysia + Singapore [2-3 weeks]
Average spend in Malaysia: £30/day and Singapore: £33/day
Note: I could probably have spent less but after being on the road for 3+months I ended up splashing out on a sim card in Malaysia, more upmarket hostels and eating in a few nicer restaurants, even still I thought it was cheap prices.
26. Penang
The narrow streets of Penang's capital, George town, is a destination famed for it's multiculturalism. Here, Chinese, Indian and Malay influences come together to form an interesting array of architecture, art and cuisine unlike anywhere else in the region.
Look out for the creative Banksy-style murals found on streets throughout the city, some incorporating objects such as bicycles or swings making the art come to life.
Things to do in Penang:
Street art tour
Penang Hill
Batu Ferringhi beach and night market
---
27. Cameron Highlands
If you love the great outdoors then a few days in the Cameron Highlands will be right up your street. The beautiful Cameron Highlands is a resort made up of a few small towns in the hills of Pahang district, the centre being Tanah Rata.
From here you can take one of the 13 hiking routes of varying difficulties or visit the numerous tea plantations that flourish under the warm climate with heavy rainfall.
Things to do in the Cameron Highlands
Hiking
Tea plantations
Pick-your-own strawberry farms
Time tunnel museum
---
28. Kuala Lumpur
In Kuala Lumpur, an eclectic mix of culture, architecture and cuisine fuse together to form the country's capital city. Whilst you won't want to spend too much time here, a visit to the capital with give you an insight in to the diversity of Malaysia. The city is in a seemingly endless battle to keep up with the rapid development of neighbouring Singapore which gained independence from Malaysia just 50 years ago.
Things to do in Kuala Lumpur
See the Petronas towers
Cocktails on a helipad at Heli-bar
Batu caves
KL Forest Eco Park – small jungle within the city
---
29. Malacca
Once the capital of the Malay kingdom and an important trading port, Malacca has been through many regime changes including Portuguese, Dutch and subsequently British colonial rule which saw the demise of Malacca's influence.
Things to do in Melacca
Visit Jonker Street weekend market
Sunset at the floating mosque
St Paul's Church ruins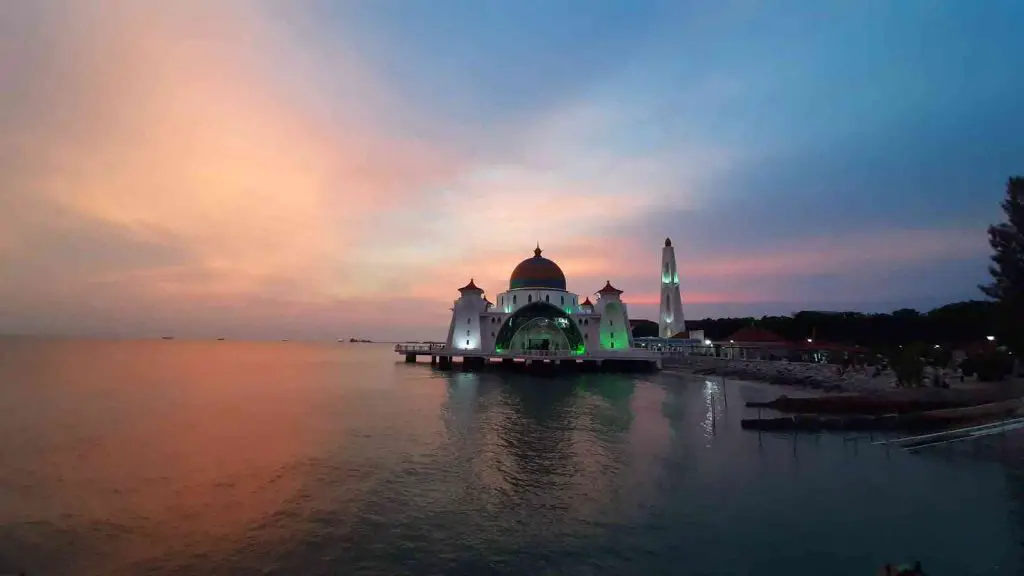 ---
30. Singapore
The final stop on my epic 4 month South East Asia itinerary is Singapore. This modern city at the southernmost point of continental Asia is a massive contrast to some of the other destinations in the region. Clean, green and full of incredible architecture, Singapore would almost blend in better in the west than it does in South East Asia.
Although generally more expensive than neighbouring countries, if you follow my Singapore on a budget recommendations it's still possible to have a good time at an affordable price. I'd recommend spending 3-4 nights here to fully appreciate it.
Things to do in Singapore
Marina Bay Sands Light Show
Gardens by the Bay
Eat at one of the Hawker Centres
---
Got Longer in South East Asia?
If you move around quicker than me or have longer than 4 months in South East Asia, then you may want to consider these additional destinations:
Phillipines
Unlike the other destinations which can all be reached via land, you'll need to fly to the Philippines which lies East of Vietnam, but there are plenty of cheap flights from most airports in the region.
Whilst you'll probably begin your adventure in the capital of Manilla, the country is made up of thousands of islands to explore. Palawan and Cebu are some of the most popular spots to visit in the Philipines where you'll also find some of the best diving in the world.
Bali, Indonesia
One of the most popular destinations in SE Asia is Bali which is known for its backpacker and digital nomad scene. An interesting fact about Bali is that many people wrongly assume Bali is a separate country whereas it's actually the name of four islands (the main island of Bali plus 3 smaller islands) in Indonesia.
It's full of temples, caves, museums, and waterfalls, with the top attraction being the Sacred Monkey Forest Sanctuary.
---
Related Questions
How Much Does it Cost to Travel South East Asia for 4 Months?
During my 4 months backpacking in South East Asia, I averaged £32 per day (equivalent to USD $40 or €36) whilst living reasonably well. I stayed in mid-range hostels, ate street food or in average priced restaurants, didn't hold back on the touristy stuff and got wasted alot experienced the nightlife culture.
My spending varied significantly between countries, from an average of £21 per day in Laos up to £42 per day in the south of Thailand, I've included my average spend for each country below which doesn't include inbound/outbound flights, travel insurance or visas.
---
Pin this post: