As an affiliate I may earn a commission on any qualifying purchases, including those from Amazon, at no extra cost to you.
After 3 visits to Barcelona, I've tried almost everything Barcelona has to offer for tourists, so I decided to put my experience to good use and create an itinerary for inspiration.
You need at least 3 days just to see the basics, but there is so much to do that I'd recommend spending 5 days in the city to really get a feel for it.
In this guide, I've outlined my recommended day-by-day itinerary that will help you maximise your time and fit in the main attractions.
Itinerary in Brief
Day 1 – Get to Know the City
Free walking tour
Ciutadella Park
Beach
Flamenco
Day 2 – Everything Gaudi
Sagrada Familia
Casa Mila and Casa Batlló
Park Guell
Bunkers del Carmel
Day 3 – Football, Fountains and Food
Camp Nou
Montjuïc
Montjuïc Fountain
Rooftop Bars
Day 4 – Day trip to a Montserrat
Montserrat Monastery
Hiking in Montserrat
Food Tour

Day 5 – Final day in Barcelona
City bike tour
Tibidabo


---
Full 5 Day Itinerary
Let's jump into the full details of my recommended agenda for 5 days in the city.
Day 1 – Get to Know the City
On your first day in the city, I recommend taking some time to orient yourself and soak up the city's thriving atmosphere.
Walking Tour – Gothic Quarter, Cathedral
My favourite way to get to know a city is via a tour, the Sanderman's free walking tour that departs from the Jaume I Metro station every day is my top pick. Check their website for all the times.
The tour will take you around the Gothic Quarter which is a famous spart of the city containing Barcelona Cathedral along with many interesting
---
Ciutadella Park
The walking tour ends at Ciutadella park so it's a great opportunity to have a wander around the park at your own pace.
In the park are plenty of green areas to relax after your walking tour or you can stroll around the fountain which is another creation that Gaudi had a hand in making.
 At the end of the park is the Arc de Triompf, built by Josep Vilaseca as the grand entrance to the park for the Universal Exhibition which took place in the city in 1888. It's built of red brick and incorporates many symbols of Catalonia which was revolutionary at the time.
---
Beach
Next on your itinerary, I recommend heading down to the beach and enjoying the sea views. There are a number of beaches spread along the shore starting with Barceloneta which is the most popular and also has a lively neighbourhood of restaurants and cafes.
However, Barceloneta is very busy, so I recommend walking a bit further down where it will quickly quieten down.
---
Flamenco
A great activity for your first evening is a Flamenco show. This traditional form of dancing has its origins in southern Spain; however, you'll find plenty of venues to enjoy it across the country, including Barcelona.
The dance imitates the courtship display of the flamingo and is characterised by hand clapping, foot tapping, and expressive body movements. Of course, the dancing is just one part of the display.
It will usually be accompanied by a live band, singing and the traditional costumes.
I personally recommend Los Tarrantos as a great place to watch a show,  this is one of the oldest venues in the gothic quarter with daily shows at 7.30pm. However, there are plenty of other venues across the city.
---
Day 2 – Everything Gaudi
You can't move in Barcelona without someone mentioning Antoni Gaudi, he has worked on Spain's most famous landmarks, many of which are in Barcelona.
Sagrada Familia
First up on the agenda of all things Gaudi, is the main attractions itself, the Sagrada Familia. It has 18 towers, each with its own meaning. The central tower is the tallest and represents Jesus Christ.
Construction of this large basilica started in 1882 and was taken over by Gaudi a year later. He would continue to work on this project for the rest of his life until he died in 1926 when he was ran over by a tram.
The basilica still remains unfinished after 138 years of construction, but it's expected for the final touches to be finished by 2026. Nevertheless, you can still visit the building and marvel at its grand interior. If you want an amazing view, you can even take a tour up one of the grand towers.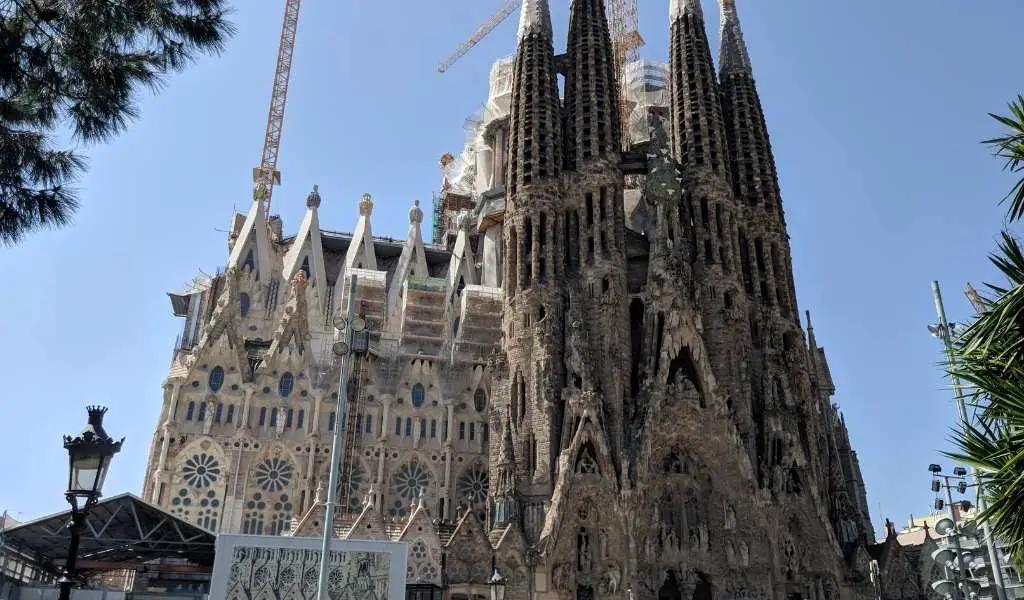 ---
Casa Mila and Batlló
After visiting the Sagrada Familia, you'll get a good feel for Gaudi's unique style which feels very much inspired by nature and fairy tales. Next on your schedule, I recommend heading to check out a few more of Gaudi's works to see his style in action.
The two I recommend are:
Casa Mila: First is Casa Mila (also referred to as La Pedrera), this is about 20 minutes' walk from the Sagrada Familia, or you can take the L5 metro to diagonal station. It was originally commissioned as the home for the Mila family (hence the name) but today it's open for you to explore. Even from outside, you'll be drawn in by the colourful exterior, the building looks like it's made out of strange bones with a reptile roof. You can take an audio tour through the building and wander around the unique rooftop.
Casa Batlló: Secondly is Casa Batlló, this is just down the road from Casa Mila so you can easily walk between them. This building wasn't originally built by Gaudi, but he completely redesigned it and gave it that Gaudi touch.
If you only have time to visit one, then I'd recommend Casa Mila as the better overall experience.
---
Park Guell
Park Guell is another must-visit Gaudi attraction in Barcelona. This is located a little further out of the city centre, so you'll need to take the L3 metro line to Vallcarca and then walk a further 20 minutes.
Most of the park is free to visit, but the monumental zone is a paid area that contains most of Gaudi's work. I would recommend you pay a visit to this area; you'll need to book in advance and select a time slot as they limit the number of visitors per hour.
---
Bunkers del Carmel
Whilst you're in that area of the city, it's a great idea to visit the Bunkers del Carmel. This is about 25 minutes of walking from Park Guell, there isn't any direct public transport between the two so if you want to avoid walking then you'll need a taxi (usually plenty outside Park Guell).
The bunkers have a varied history, initially used during the Spanish civil war to defend the city, then as a shanty town and eventually they fell into disrepair for many years. But in 2011, they were renovated to make them more accessible and a tiny museum of their history was added.
The bunkers are best at sunset, so I'd recommend timing your visit to arrive around half hour before the sun goes down for the perfect panoramic view. I'd recommend taking a few drinks to enjoy as the sun sets.
Note: there is a short, but steep walk up steps to get to the bunkers.
---
Day 3 – Football, Fountains and Food
If you like football then set aside the morning for this, followed by an evening exploring the famous hill in Barcelona, Montjuïc.
Camp Nou
Football fans won't want to miss one of the most stadiums in the world. Camp Nou is home to Barcelona FC where some of the top players have made a name for themselves including Xavi, Ronaldinho and more recently Lionel Messi.
If you take the stadium tour, you'll get to see the changing rooms, the press area and walk out on to the pitch through the tunnel. There's also an interesting museum full of memorabilia.
I would only recommend this if you are a big football fan and I'd advise booking in advance if you're visiting at peak times.
---
Montjuïc
I recommend dedicating the afternoon to visiting Montjuïc. This is a hill that sits to the south of the city and is best known for the landmark Montjuïc castle (Castell de Montjuïc) that sits at the top.
There is a cable car that goes to the top and back down again, when I visited, I chose to take a one-way ticket to the top and then enjoy the walk back down which includes some beautiful gardens (Check out Jardins de Mossèn Cinto Verdague) and the opportunity to take a peek in the Olympic stadium and its museum showcasing some memorabilia.
Whilst at the top, I recommend you pay the entrance fee and go in Montjuïc castle, there's not a huge amount to see but there is an incredible view across the sea and some information about the castle's role over the years.
---
The Magical Montjuïc Fountain
If you choose to walk down, you'll eventually end up at Montjuïc fountain (Font Màgica de Montjuïc). The fountain is a nice place to hang out during the day, but if you're able to wait until after dark, that's when the real magic happens.
There are some impressive facts about Montjuïc fountain, including more than 3000 jets and 4000 lights that are synced to music in a daily light show.
The shows last 20 minutes with 2 shows per night and are completely free, the timing varies depending upon the season but usually start between 8pm and 9pm – check the times before making plans.
There is also an art gallery and a history museum near the fountain.
---
Rooftop Bars
To finish off a busy day, why not visit a few of the city's rooftop bars and enjoy a drink with a view. These tend to be located in hotels, but are usually open to non-guests too, provided you're willing to buy something of course.
There is one right near the aforementioned fountain at Hotel Pulitzer, which is my personal favourite (shown here), but a few others include:
Sky Bar (found at Grand Hotel Central)
Terraza Colón (found at Colón Hotel)
Terraza Ayre (found at Ayre Rosellón Hotel) – this one has a great view of the Sagrada Familia
---
Day 4 – Day trip to a Montserrat
On day 4 of your trip, it's a great opportunity to get out of the city and enjoy a day trip. There are a few great options, but my favourite is Montserrat monastery.
Montserrat
Montserrat is the name of the mountain range that sits outside Barcelona, it takes about an hour to get there on the train which is the easiest way. At the top of the mountains is Montserrat monastery (officially known as Santa Maria de Montserrat), a Benedictine monastery that was built into the mountain many centuries ago.
It is reached via cable car or rack railway. Once at the top, you can explore the abbey and visit the shops and museum. But the very best thing to do is go on a hike further into the mountains on one of the routes. There are both short and long hikes with options for all abilities.
Just remember to check the last cable car or railway time before you head off exploring.
---
Food Tour
By now, you'll likely have tried some of the best Spanish and Catalonian cuisine. But there's nothing like being shown around by a local who knows the best places and the best dishes.
Spend the evening on one of the cities food tours. I have personally tried out Sanderman's food tour (you can get your ticket during the free walking tour mentioned earlier), but there are also a few other popular ones including Devour Barcelona or Secret Food Tours Barcelona for a more intimate experience.
Must try dishes include paella, patatas bravas (Spanish potatoes), cured meats and, of course, some sangria to accompany it.
---
Day 5 – Final day in Barcelona
On your final day in the city, you may just want to spend some time relaxing on the beach before you leave. But, on the off chance that you are still in the mood for exploring the city, here are some recommendations.
City Bike Tour
On your fifth day in Barcelona, I recommend switching things up with an alternative mode of transport to get around the city. Yes, I'm talking about a bicycle.
Many hotels and hostels in Barcelona offer free or discounted bike rental if you fancy navigating yourself. Personally, I enjoy finding a group tour where I can just follow along at my own leisurely pace and get some information fed to me along the way.
I can't remember the specific company I used for my bike tour, but the City Highlights Tour by eBikes is one of the top rated bike tours that takes you around the city centre, parks and along the sea front.
---
Tibidabo
Despite its name, Mount Tibidabo is more of a big hill than a mountain. It sits on the outskirts of Barcelona with its peak visible from most parts of the city. A great end to your Barcelona trip would be to visit the hill for picturesque views of the city.
There are a number of things to do on Mount Tibidabo:
Tibidabo amusement park – The amusement park on Mount Tibidabo is the oldest running in the country. The rides are all aimed at small children including a carousel, dodgems and their infamous Avió airplane ride where a replica plane spins around in the air to simulate flying.
Temple of the Sacred Heart of Jesus – My favourite attraction at the top is the church on the summit. The church has incredible neo-gothic architecture and sits on top of a small fortress. At the top is a huge bronze statue of Jesus.
Torre de Collserola – This is Barcelona's TV tower that stands at 288m tall. It has a number of floors including an observation deck that is open to the public. You do have to pay a small entry fee but will be rewarded with a panoramic view of the city from one of the highest spots. Personally, I think the view from the top of the church is just as good and half the price.
That brings us to the end of this 5-day agenda, I hope you've found it useful and wish you a great trip!