As an affiliate I may earn a commission on any qualifying purchases, including those from Amazon, at no extra cost to you.
Britain's train network is the oldest in the world, and with over 15,000km of train tracks across the country, it's no surprise that it's one of the most convenient ways to travel around the country.
But, train travel in Great Britain can be quite expensive if you don't have a season pass or book in advance, this can be cumbersome for backpackers travelling around Britain. This is why they have launched Britrail, an interrail-esque pass for train travel in Britain. Here's a full guide to help you understand whether its right for you.
---
How Does Train Travel in Britain Work?
To understand whether a Britrail pass is right for you, it's worth understanding the basics of train travel in Britain:
Where to buy tickets: A train ticket can be purchased in online, at stations or from a conductor on the train. Most busy stations now have electronic ticket gates where you must scan a valid ticket to enter or exit. Mobile ticketing is now commonplace in Britain.
Advance fares: Advance fares go on sale 12 weeks in advance of each journey. These are single tickets for set destinations A-B and are non-refundable. There are a set number of advance fares per journey and they are considerably cheaper than a standard fare. Some journeys will sell out of advance fares a few weeks in advance, some may still have advance fares on the day of travel. Each of the 18 train operators in Britain have different rules on when advance fares which can be found here.
Youth fares: In Britain, a child's fare is available for anyone under 15. There are no youth fares but a 16-25 railcard can be obtained for an annual fee of £30, these are also available to international visitors when purchased as a station.
---
What is Britrail?
A Britrail pass will allow you to travel on most trains across England, Wales and Scotland (see exceptions). There are two types of BritRail passes available.
Continuous: This allows unlimited travel for the duration of your ticket which can be from 2 days up to 1 month
Flexible: A flexi pass allows a set number of travel days within the duration of your ticket. For example 3 days within 1 month.
Britrail Pass Discounts
Standard Adult: For anyone aged 26 – 59 who isn't a British citizen
Youth Discount: If you're 25 or under you can get a youth pass which is 20% cheaper than an adult pass.
Senior Discount: If you're 60 or over you can get a senior pass which is 15% cheaper than an adult pass.
Group Discount: If you're travelling in a group of 3 or more, you'll be eligible for a 20% discount on your passes. However, you will need to continue travelling together otherwise the passes will not be valid.
Family Discount: Under 5's travel free on British trains anyway. With each adult pass, one child aged 5-15 can travel for free. Additional children can travel at 50% discount of a standard children's fare. Children can not travel for free or discount with saver pass.
Regional Passes
As well as the standard Britrail pass, there are regional passes that are only valid in certain regions of the UK. If you're travelling through multiple regions, you'll need to ensure you have passes that are valid in both for that journey.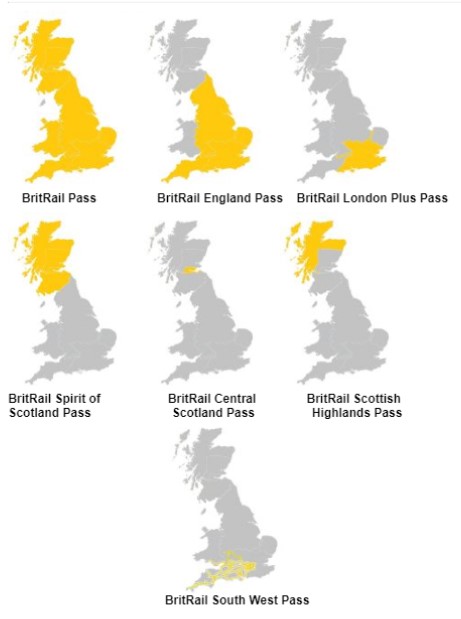 BritRail England Pass – For train travel anywhere in England
BritRail London Plus Pass – Train travel in South East England including popular destinations such as London, Brighton, Bath, Cambridge, Oxford, Salisbury and Stratford-Upon-Avon.
BritRail South West Pass – For train travel in the Southwest region from London across to Devon and Cornwall. Popular destinations covered include London, Bath, Oxford, Windsor Castle, Salisbury and Winchester. Also extends in to South Wales to Cardiff and Swansea.
BritRail Spirit of Scotland Pass – For train, coach and ferry travel across Scotland.
BritRail Central Scotland Pass – Train travel across the central belt of Scotland covering Edinburgh, Glasgow and Stirling.
BritRail Scottish Highlands Pass – Train, coach and ferry Travel across the west highland line, covering Glasgow, Inverness, Skye and Fort William.
Note: Unlike other Britrail passes, the Scottish passes are only valid after 9.15am.
---
How Much Does Britrail Cost?
The cost of a BritRail pass is as follows:
| | | |
| --- | --- | --- |
| | YOUTH | ADULT |
| 2 days continuous |  €      62 |  €    102 |
| 3 days continuous |  €      92 |  €    153 |
| 4 days continuous |  €    114 |  €    189 |
| 8 days continuous |  €    148 |  €    275 |
| 15 days continuous |  €    246 |  €    409 |
| 22 days continuous |  €    307 |  €    512 |
| 1 month continuous |  €    363 |  €    605 |
| 2 days within 1 month |  €      78 |  €    130 |
| 3 days within 1 month |  €    117 |  €    194 |
| 4 days within 1 month |  €    146 |  €    243 |
| 8 days within 1 month |  €    209 |  €    348 |
| 15 days within 2 months |  €    314 |  €    524 |
Correct as of Aug 2019 – 2nd Class, travel in England, Wales and Scotland
---
How to use a Britrail Pass
M-pass
Some of the Britrail passes are available as mobile passes. If you purchase a mobile pass (known as a Britrail M-pass), you'll receive a download link to get your pass on your mobile. The pass is scanable at most ticket gates. Some ticket inspectors may not have a scanner but can check the M-pass manually.
Seat Reservations
With the exceptions of night trains, seat reservations are not required for travel on UK railways whether travelling with a Britrail pass or not. However, for long intercity journeys and those at rush hour you may want to reserve a seat otherwise you won't be guaranteed one and may end up standing. Seat reservations can be made for free at stations with a ticket office.
Night Trains
Britrail is valid on the two main night trains in the UK:
Caledonia Sleeper – From London to Scotland and vice versa. A seat on the Caledonia sleeper is free with a reservation from the service centre on 0141 555 0888. However, for a bed you'll need to pay a supplement of £100 for 1 person or £140 for 2 people which can be bought online from Sleeper.Scot.
Night Riviera – A Britrail pass is valid on the London to Cornwall Night Riviera sleeper however you'll need a sleeper supplement at £80 for a single-berth room or £110 for a 2-berth room. Call great western telesales on 0345 7000 125 or visit a station.
Exemptions
The pass does not work on heritage railways, London Underground/Overground services, the Eurostar or other tram services such as Manchester Metrolink and Glasgow Underground.
---
Is It Worth Buying A Britrail Pass?
THE SHORT ANSWER:
Yes, it's usually worthwhile.
THE LONG ANSWER:
I looked at a typical one month itinerary through the UK (excl Northern Ireland). This included London, Salisbury, Plymouth, Bath, Oxford, Liverpool, Lake District, Glasgow, Inverness, York and Cambridge.
The cost of buying end-to-end tickets for the journey varied depending upon how far in advance the tickets were booked. Here is the summary of the costs I found.
Cost of buying end-to-end tickets:
| | | | | |
| --- | --- | --- | --- | --- |
| | Buy on day | Buy a day ahead | Buy a week ahead | Buy a month ahead |
| Adult | £652 / €718 | £477 / €524 | £425 / €468 | £298 / €328 |
| Youth | £465 / €510 | £347 / €382 | £313 / €344 | £228 / €251 |
The equivalent Britrail pass needed for this would be the flexible 15 days in one month pass costing £415 / €457.
Is it worth buying a Britrail pass?
Yes, if you are a youth, it will usually be cheaper to book a Britrail pass than end-to-end ticket, even if you book a month in advance.

However, If you're an adult, it will be cheaper to book end-to-end tickets in advance as long as you can book at least one week ahead. If you need to be more spontaneous than this, then you're better off getting a BritRail pass.
---
Britrail vs Interrail
An Interrail pass is similar to Britrail only it covers train travel across the whole of Europe, these are only available to European citizens. For non-European citizens, a Eurail pass works in exactly the same way (I have no idea why these are separate).
Interrail passes are available as a global pass (allowing travel across all 31 Interrail countries) or a one-country pass (allowing travel in one country only). Eurail passes are only available as a global pass.
Here are some common questions:
Should I get a Britrail pass or an Interrail one-country (GB) pass?
An Interrail one-country pass for Great Britain is identical to a Britrail pass in terms of the trains it covers. However, Britrail has more options with 12 varieties on sale, compared to 5. It is also worth bearing in mind the different benefits as outlined below.
Should I get a Britrail pass or an Interrail/Eurail global pass?
The answer to this question is not so clear cut as it depends on your trip. There are benefits and drawbacks of using a Britrail pass vs an Interrail pass, here is a summary of them.
BENEFITS OF BRITRAIL
🇬🇧 CHEAPER: Where there are comparable passes, Britrail is almost always cheaper. See pricing comparison table here.
🇬🇧 REGIONAL PASSES: Regional Britrail passes are available for England, Scotland, London and the South-West. These are even cheaper than the standard Britrail pass.
🇬🇧 SHORTER TIME LENGTHS: BritRail continuous passes start from 2 days, compared to a minimum of 15 for Interrail, and the flexible passes have the option of 2 days in 1 month which again is lower than Interrail offer.
🇬🇧 MOBILE: Unlike Interrail which only offer paper tickets at the moment, some of the BritRail passes are now available as mobile tickets. You can download your pass as a PDF to your phone, tablet or any other device and scan it at any barcode scanner. No more lost or torn passes!
🇬🇧 2 FOR 1 AT 200 ATTRACTIONS: With Britrail, get 2 for 1 entry at over 200 UK attractions, including football stadium tours, sightseeing tours, theme parks, national trust buildings, castles, museums, zoo's and many more.
BENEFITS OF INTERRAIL GLOBAL
🌍 FLEXIBILITY: The beauty of Interrail is the single ticket with flexibility to travel freely between 31 countries whereas Britrail is limited to one country
🌍 LONGER TIME LENGTHS: Whilst Britrail has the upper hand for shorter passes, Interrail/Eurail global passes can last up to 3 months which is ideal for long backpacking adventures.
🌍 EUROSTAR: Interrail/Eurail global passes will work on the Eurostar provided you have made a valid seat reservation. A Britrail pass will not work on the Eurostar.
🌍 INBOUND/OUTBOUND JOURNEY: All global passes allow one inbound and one outbound journey in your home country (if you're from an Interrail country)
🌍 OTHER DISCOUNTS: Get 10% discount at Meininger, St Christopher's and Generator hostels in London and Edinburgh, up to 30% off ferries to Ireland or the Netherlands and 20% off Sandermans tours in London, Liverpool and Edinburgh
So in summary, if you're only visiting Britain or spending a significant proportion of your trip in Britain then a Britrail pass will give you best value, especially if you're in a small group to take full advantage of the benefits. If you're visiting Britain as part of a much longer euro-backpacking trip then an Interrail/Eurail global pass will give you more flexibility.
---
Where to Buy Britrail Passes?
Britrail passes cannot be bought directly from Britrail, visit a third party vendor such as ACP rail to get one.
---
Like it? Pin it!