As an affiliate I may earn a commission on any qualifying purchases, including those from Amazon, at no extra cost to you.
Situated 1,500 meters above sea level, Dalat is a hillside city in Vietnam surrounded by beautiful countryside. At the beginning of the 19th century, the city was still a relatively small town but it really flourished under French Colonialism when it became a popular resort for the wealthy rulers. This is evident from the abundance of french-style villas that remain scattered across the city.
Dalat has been one of my favourite stops on my South East Asia backpacking trip, not least because the cooler climate was a much needed break from the sweltering heat across the rest of Vietnam.
Itinerary Highlights
This itinerary covers all of the best things to do in Dalat, here is the day by day breakdown.
Day 1 – Discover the gems of Dalat with a walking tour around the city, then hop on the vintage train to see Linn Phuoc Pagoda.
Day 2 – Take the cable car to Paradise Lake, from here you can walk to Datanla waterfall to ride the Alpine Roller Coaster.
Day 3 – Hire a bike and ride through the beautiful countryside where you'll learn how silk is produced, taste freshly roasted crickets and see where snake wine is made.
---
Where to stay?
The hostels in Dalat all seem to be small family-owned hostels offering tours and family dinners so you can't really go wrong. I personally enjoyed Pretty Backpackers which was great as a solo traveller. However, to help narrow your decision down, I've pulled together a list of my recommended hostels in Dalat for each type of traveller.
---
Detailed 3 Day Itinerary
There are a huge number of things to see and do in Dalat, Vietnam and the surrounding areas, but here are my top picks for 3 days in the city.
Day 1 – Walking Tour of the City
On your first day, get to know the city with this walking tour including some of the best things to do in Dalat. Be spontaneous and don't worry about diverging from the itinerary, there is nothing better than wandering the streets of a brand new place for the first time.
Get Lost in the Crazy House
Crazy is definitely the best word I could think of to describe Hằng Nga Guesthouse, AKA the Crazy House. The entire building is like a piece of art inspired by nature. The main buildings have been designed to look like trees with stairs running over the roof and an entire area themed like an underwater aquarium.
It's easy to understand why the crazy house is rated as the best thing to do in Dalat. It's a building that you really need to see to understand but the closest thing I can describe is the architecture by Spain's Antoni Gaudi.
It is possible to stay at the guesthouse but at over 1,200,000 dong per night, I'd rather pay the 50,000 dong entry fee and visit during the day. You'll need about an hour here to explore the whole building and it looked like they were building new sections too.
Check out the Cathedral
After the crazy house, head towards the large lake in the centre of Dalat. On the way you'll pass by Dalat Cathederal (although I'd definitely describe it as more of a church). It's not too special but worth having a browse since you're passing by.
Stroll Around the Man Made Lake
At the heart of Dalat lies the beautiful Xuan Hong Lake, named after the Vietnamese poet of the same name. Don't be mistaken, this lake is completely man made and was only constructed around the middle of the 20th century. With a path right around it's perimeter, the lake has become a popular place for an afternoon stroll or cycle.
Spend some time enjoying the views and you could even jump on one of the swam paddle boats if you fancy.
Take a Vintage Train from Dalat Railway Station
Next head towards Dalat railway station which is about 20-30 minutes walk from the lake or about 5 minutes in a taxi.
Nowadays, Dalat railway station is open as a tourist attraction rather than the functioning transportation service it once was. You even have to pay 5000 dong to enter the station itself.
The station hails itself as the most ancient one in Vietnam and was recognised as the architectural site of the nation in 2001.
There is one vintage train service still running that goes to Trai Mat which I suggest taking. The train runs 6 times per day in each direction with times listed below (correct as of May 2019). The cheapest seats will set you back 72,000 dong for a single or 108,000 for a return.
Times from Dalat Railway Station to Trai Mat
Outward: 05:40, 07:45, 09:50, 11:55, 14:00, 16:05
Return: 06:40, 08:45, 10:50, 12:55, 15:00, 17:05
*Correct as of June 2019
Learn Your Fortune at Linn Phuoc Pagoda
Upon arriving in Trai Mat, head towards Lin Phuoc pagoda just a few minutes walk away. This is one of the most stunning pagodas I've come across in Vietnam. However, being one of Dalats top attractions means it's a huge tourist hot spot which slightly ruins the magic of it.
This Buddist pagoda has many hidden surprises, look out for the dragon made out of 12,000 beer bottles, the hidden stairway that leads down to a scary underground dungeon representing hell, lifelike monk statues and the Bodhisattva (Lady Buddha) statue made from flowers.
This pagoda is dedicated to Quan Am (sometimes known as Guan Yin) so you'll notice the 40ft tall white statue of her (pictured above). Just behind the statue is a box from which you can take a "fortune" in return for a small donation.
Coffee with a View at Panorama Coffee Shop
Whilst you are in this part of Dalat, Vietnam, it's worth checking out Panorama coffee shop. To reach it, continue walking up the hill away from the train station. It's a little bit of a walk (around 20 minutes) but well worth it. You'll be rewarded with a really trendy photography-themed coffee shop that has a fantastic view across the Vietnamese countryside.
A Brief History of Dalat at Lam Dong Museum
Take the train back to the centre of Dalat, although your return ticket will have a set time, it will still be valid on any of the return trains that day. Located near Dalat train station is Lam Dong Museum providing a history of the local area. For 15,000 dong it's worth an hour of your time.
In particular I enjoyed the section about the various ethnic groups that have lived in the area and the difference between them in terms of clothing, housing and traditions. The museum also houses some ancient artifacts and provides information on ways of life, politics and the devastating recent history. The ticket also includes access to the Nam Poung Queens Palace at the rear of the museum and some traditional outdoor games.
---
Day 2 – Cable Cars and Roller Coasters
On your second day, I suggest going a little further out of the city to explore Paradise lake and Datanla waterfalls.
Take the Cable Car to Truc Lam Monastery
The first stop on day 2 will be Truc Lam Monastry, but rather than getting a taxi, I suggest taking the super scenic route via the cable car.
With over 50 cars, there is never much of a wait at the cable entry statin on Robin Hill. In total, the structure spans a total length of over 2km, passing over a beautiful pine tree forest with panoramic views of the city.
The cable car is 60,000 VND for a single or 80,000 VND for a return ticket. If you are following this itinerary I suggest getting a single ticket and taking a taxi back from Datanla falls.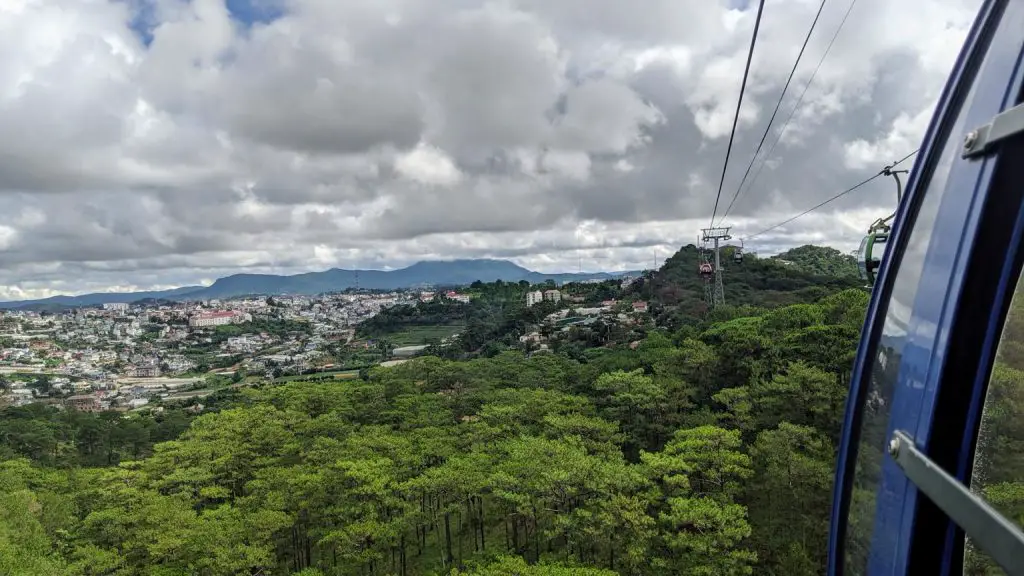 Truc Lam is a Zen Buddhist monastery, this is a form of Buddhism popular in China, Japan and Korea that places significant importance on meditation compared to other popular forms of Buddhism. I didn't particularly enjoy the monastery itself due to the vast number of tourists it attracted so I quickly made my way to the huge lake at the bottom of the monastery which was much calmer.
Discover the Paradise Lake
Tuyen Lam Lake, also known as Paradise lake, is an enormous man made reservoir where you can take a boat tour, hire kayaks or simply enjoy the beauty of the lake from the coffee shops that line it's shore. Look for Pini coffee, this cool café is filled with classic cars and bikes and has an outdoor seating area where you can overlook the lake.
Ride the Alpine Roller Coaster at Datanla Falls
From the lake it is a short walk to Datanla waterfalls, the next stop on my Dalat 3 day itinerary. It will take about 25 minutes although it's not the most scenic of walks as it's next to a main road so you could also take one of the taxi's that tend to wait around by the lake or the monastery.
The thing that makes Datanla falls special is the Alpine roller coaster that gets you to the bottom and back up again. Each car can fit two people and you control how fast or slow it goes with the lever. This is great providing you don't have someone in front of you going super slow.
I recommend taking your own food and drink as it's a little expensive once you're there. Spend some time to enjoy the falls and the area before taking the coaster back to the top.
Once you're done, you can either head back to the cable car if you purchased a return ticket or get a taxi or motorbike back to the city centre, there are always plenty waiting around at the entrance gates.
Night Market
On your second evening in Dalat, I suggest taking a visit to the night market where you'll find a abundance of stands selling everything from clothes to food.
---
Day 3 – Exploring the Countryside
On your third and final day in Dalat, I suggest getting out to see the surrounding areas of Dalat which are really beautiful. There are various other ways you could do this, such as a tour group, easy rider or public transport but renting a scooter or motorbike will give you and is one of the cheaper options.
See the Incredible Elephant Falls
Start with a ride out to Elephant falls, from here you can work your way back to Dalat, stopping at all the attractions on the way. The falls are in Nam Ban village which took about 1 hour to reach.
This waterfall was far more impressive than Datanla and much easier to reach as it is right near the road. The water thunders over the 30m drop in huge quantities, you can feel the mist from quite a distance as you approach it.
See How Silk is Made
Located in the same village as Elephant Falls is Cuong Hoan Silk Factory. If you've paid for parking, I'd recommend leaving your bike at the falls as the factory is easily in walking distance.
For an entry fee of 10,000 dong, you can watch an informational video in English about how the silk is made and then witness it first hand in their factory. You can even see the real life silk worms that spin the cocoons.
The women in the factory don't speak any English but they seemed happy enough to have visitors and be in the photos. At the end of the tour you can purchase some silk products that are produced there from scratch.
Taste Freshly Roasted Crickets
The next stop on the journey back to Dalat is Thien An Cricket Farm. You can see a variety of different insects in the farm and they show you how they catch them using an old egg box,it's pretty impressive but also very gross.
The tour doesn't take long but the best part is tatking the crickets at the end. They will provide you with a plate of freshly cooked crickets and some sweet chilli sauce, they actually don't taste too bad, a little bit like the skin of a chicken.
TIP: It can be a little difficult to find the cricket farm so look out for the below sign.
Snake Wine, Alligators and Ostriches
Just across the road from Thien An Cricket Farm is Anh Tuan Distillery. Here you'll see where they make different types of rice wine including some with snakes in amongst other animals.
Randomly there were also live crocodiles and ostriches in the back which aren't used in the wine, I'm still not 100% sure why they are there.
Optional stop: Bao An Weasel Coffee Farm
Next door to the distillery is Bao An weasel coffee farm. If you've not heard of weasel coffee, it's produced from the poop of weasels who are fed a diet of pure coffee beans. I'd heard great things about this delicacy and was excited to visit and try the coffee. However seeing the weasels in the cages was quite sad and in the end I decided not to purchase the coffee.
Maze Bar
In the evening, check out one of the coolest bars I've come across in South East Asia, the Maze bar (actually called Café Trem Mai which translates as 100 roofs bar, but everyone knows it as Maze bar).
The bar is designed to be a maze, work your way from the bar at the bottom up to the top via the winding passageways – be prepared to get very lost, especially if you've had a few beers. The building is filled with small hidden booths where you can sit and enjoy watching passers by get lost in the weaving corridors.
---
Fancy an Adventure?
If you've enough time and love an adventure, then you can't miss canyoning in Dalat. It's a little expensive at $70 bit is one of the best things to do in Dalat, or indeed in the whole of Vietnam.
We abseiled down waterfalls, zip-lined in to rivers and went for a slide down some rapids. Read my full post on Canyoning Tours in Dalat for more information.
---
Pin This Post: