As an affiliate I may earn a commission on any qualifying purchases, including those from Amazon, at no extra cost to you.
Using the train network is the best way to get from Bangkok to Chiang Mai and vice versa. The journey covers a distance of 680km and takes around 14 hours with numerous trains leaving Bangkok each day.
Whilst there are a few day time options, most travellers choose to take the night train as I did during my 4 months in Southeast Asia. As well as being environmentally friendly and reasonably priced, travelling by sleeper train also saves a night accommodation which is always a positive.
I've put together this guide with everything you need to know about travelling from Bangkok to Chiang Mai by train.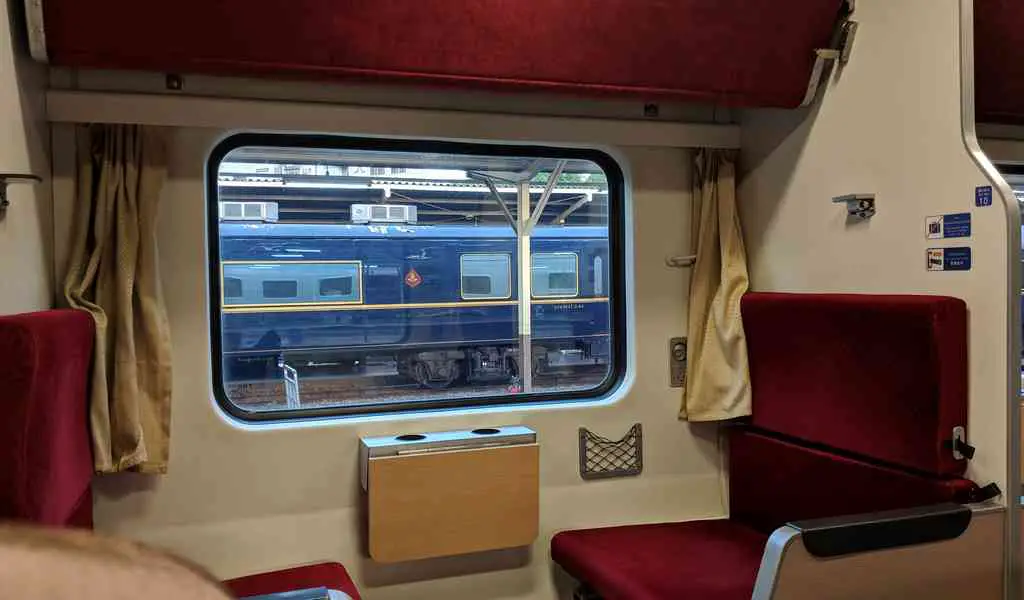 Departure and Arrival Stations
Trains depart from Hua Lamphong which is the main train station in Bangkok. This station can get extremely busy to allow time to navigate it and ask the staff if you're lost. There are 4 main ways to get to the station:
TAXI – This is the most comfortable and convenient way and will cost around ฿100 from Koh San Road and can be split with up to 4 other people. Make sure to ask to go on the meter.
TUK TUK – If you fancy a more local experience, a Tuk Tuk will cost up to ฿150 from Koh San Road depending upon your negotiation skills but you will struggle to fit more than 2 people with luggage.
MRT SUBWAY – Bangkok's subway stops at Hua Lamphong and can cost between ฿20-50, however bear in mind that there is no station near Koh San Road
BUS – The bus is the cheapest option from Koh San Road to Bangkok train station, it costs just ฿10 but the journey can take upwards of 30 minutes in a sweaty local bus
Trains arrive at Chiang Mai railway station which is about 2.5km from the centre of Chiang Mai. Here are the 3 main ways to get from Chiang Mai station to your accommodation (assuming it's in the city centre):
TAXI – A taxi from Chiang Mai train station to a location in the city centre will cost in the region of ฿100-200 which can be split with up to 4 other people.
TUK TUK – As soon as you leave the station, you'll find plenty of Tuk Tuk drivers offering their services, they will try to overcharge you but don't pay more than ฿200 to the city centre.
SONGTHAEW – You'll spot the red Songthaews offering shared journey's in Chiang Mai. Within the city centre any journey is ฿20 however as the station is outside of the city centre, expect to pay 40 baht.
WALK – I arrived on a beautiful sunny morning so actually decided to walk to my hostel, this took about 45 minutes but luckily, I pack light.
---
Train Timetable from Bangkok to Chiang Mai
| Train No. | Depart Bangkok | Arrive Chiang Mai | Duration | Seat/Sleeper |
| --- | --- | --- | --- | --- |
| 7 | 08:30 | 19:30 | 11hr | Seats only |
| 109 | 13:45 | 04:05 | 14hr20 | Sleeper |
| 9 | 18:10 | 07:15 | 13hr05 | Sleeper |
| 13 | 19:35 | 08:40 | 13hr05 | Sleeper |
| 51 | 22:00 | 12:10 | 14hr10 | Sleeper |
---
Upper or Lower Berth
The lower berth is the most comfortable option, you'll find it to be more spacious and has its own window. The upper berth is slightly smaller and a little more awkward to get to but for that you will pay a cheaper price.
I opted for an upper berth and one of the biggest frustrations was that the light was on all night – you should be prepared with an eye mask if taking an upper berth.
---
Day travel vs Sleeper train
Whether you choose to travel through the day or night will depend on your own preference. If you enjoy watching the world go by, travelling during the day will reward you with endless views of paddy fields and mountains in the distance.
My own preference is to take long journeys at night so that I can wake up in a brand new destination ready to explore. It also saves on a night's accommodation so is worth the extra cost compared to a seated journey.
---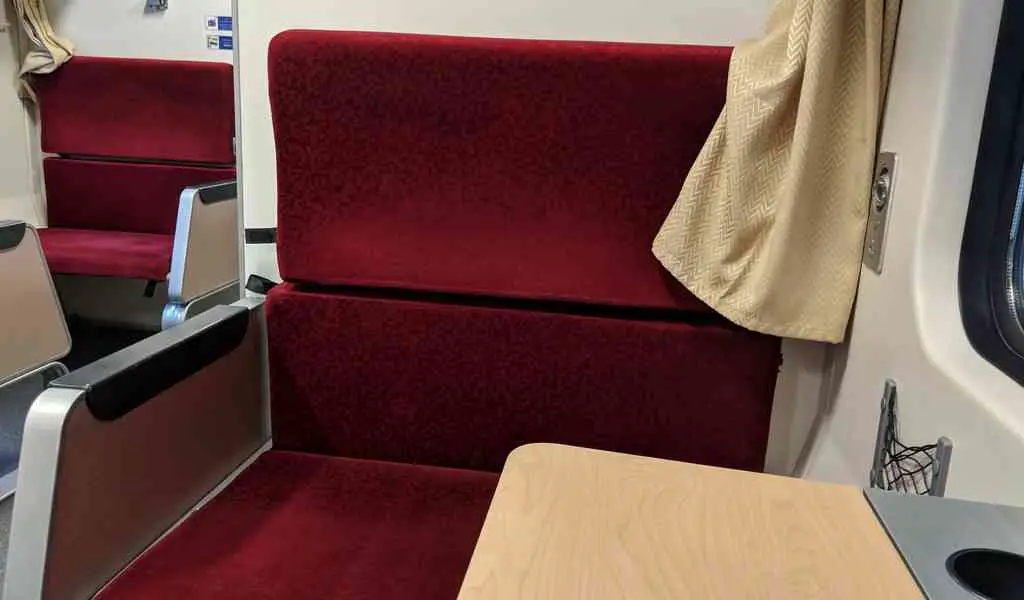 How Does a Train Compare to Other Modes of Transport?
The journey would take about 8hrs by car without any stops or traffic. Realistically you'd want to plan a bit more of a road trip with a few days to see the sights in between.
If travelling by plane, you would spend 1hr15 in the air. However, total journey time including security, travelling to/from the airport, etc would be about 4 hours. The cost of flying is about ฿600 – ฿800 (£15-20).
---
3 Ways to book your ticket
1. Book your ticket online
The best way to book your ticket online is using 12go.asia.
Whilst you'd expect booking online to be cheaper, for this particular journey this is not the case.
Expect to pay around ฿150-250 more for booking online. I would only recommend this during peak periods of the year when the main trains (no.9 and no.13) can become fully booked or when you cannot get to a station/tour operator in advance.
Online options are also far more limited than at a tour operator or station.
2. Book your ticket at a tour operator
You can book train tickets from Bangkok to Chiang Mai through most tour operators or hotels in both cities. Sometimes this may include pick up from your accommodation, other times you will need to make your own way so check this when buying your ticket.
Prices can vary depending upon how much commission the operator is taking so you may need to barter. If you're staying near Koh San Road, I can recommend the tour agency at New Merry V Guesthouse as offering great value.
3. Book your ticket at the station
You can also book your ticket at any major station in Bangkok or at the main station in Chiang Mai.
---
How Much Does it Cost?
Whilst you'd expect booking online to be cheaper, for this particular journey this is not the case. Online tickets tend to be in the region of ฿1200-1300 whereas I booked at a local tour operator in Bangkok and ended up paying ฿950 (about £23).
| | Station/Agent | Online |
| --- | --- | --- |
| 1st Class AC Sleeper | ฿1653 | |
| 2nd Class AC Sleeper **Most Popular** | ฿1041 | ฿1291 |
| 2nd Class AC Seat  | ฿641 | ฿891 |
| 2nd Class Sleeper | ฿581 | |
| 3rd Class Seat  | ฿231 | |
These prices are based on one person in a lower berth. For an upper berth, you can save about ฿50-100.
---
What's it like on-board a sleeper train from Bangkok to Chiang Mai?
The journey begins with the beds folded away so for the first few hours you'll be in a regular seat either facing forward or backwards. You will have an opportunity to order a basic meal for the evening and to reserve breakfast. I took my own snacks so can't comment on the quality of the food but it didn't look to good.
About 2 hours into the journey (based on the 18:10 train, may vary for others) the conductor will turn the seats in to beds and make them up with sheets and pillows ready for your night's sleep. Anyone who has travelled on sleeper buses in Southeast Asia will be relieved to know that it's only one person on the top berth and one person on the bottom so you won't be snuggled up with strangers. Each bed has a privacy curtain as well as a light and plug to keep you powered.
There is an on-board shop, but the selection is limited. If you're a solo traveller like me, you won't want to leave your luggage unattended for too long whilst you find it so I'd recommend purchasing anything you need ahead of your journey. The sale of alcohol is banned on-board however there doesn't seem to be any official rules about passengers who take their own.
About half hour before arriving in Chiang Mai, the conductor ensures everyone is awake and proceeds to fold the beds away before the final stop. At this point, breakfast was served to anyone who had ordered it the night before.
---
Top Tips for taking a Thailand Sleeper Train
Stock up on snacks – There are a few shops within Hua Lamphong station, but the options are limited so I suggest stocking up before you leave for the station.
Take an eye mask – As I mentioned earlier, the main carriage lights are left on all night which is extremely frustrating. I recommend preparing yourself by purchasing an eye mask in advance. These can be picked up extremely cheaply in Bangkok.
Wear warm clothes and socks– If you travel in 2nd class sleeper berth like I did, be prepared for extremely good air con. In fact, it actually gets quite chilly at night. The blankets provided are very thin, so you'll want to ensure you keep warm with a few layers.
Ear plugs – Luckily my carriage was fairly quiet, but I have heard stories of travellers being plagued by noisy families whilst trying to sleep. If you're easily disturbed, take some ear plugs to help sleep.
Download movies + music in advance – Even if you've got a local SIM or roaming data, you will lose connection for most of this journey as you travel through the middle of the country so ensure you have entertainment downloaded in advance.
---
Can I Take a Bicycle or Motorbike on the Train?
Yes you can take a bicycle or motorbike from Bangkok to Chiang Mai by train, however there will be an additional cost. You will need to purchase a cargo ticket and place your bicycle or motorbike in the cargo carriage. The fee for a bicycle will be around ฿120 whereas a motorbike can be in the region of ฿1200.
Cargo tickets for bicycles or motorbikes cannot be purchased in advanced and you may be required to show proof of ownership. Make sure you have rope or bungee cords to secure your bike.
---
---