As an affiliate I may earn a commission on any qualifying purchases, including those from Amazon, at no extra cost to you.
Choosing a backpack is never easy, especially if you're shopping online to get the best price but aren't able to try it on. That's why I've pulled together an entire guide with my favourite recommendations that should help in your search.
Whether you're buying for travel or the outdoors, whether you're a pro or beginner, I'll cover the best backpacks for all occasions.
Quick Summary
Here are my top 6 picks, keep reading below for the full selection:
Image
Overview

Best for Travel: Osprey Farpoint Trek 75

• Mesh suspended back panel prevents you from sweating too much
• Front loading and spacious

Runner Up for Travel: Osprey Farpoint 70

• Detachable smaller pack for use during day trips
• 210D nylon material and YKK zippers
• Laptop compartment

Best with Wheels: Kathmandu Hybrid 70L Trolley

• Switch easily between a backpack and wheel along suitcase
• Strong and durable

Best for Hiking: Osprey Aether AG 70

• Osprey's anti-gravity suspension system gives the feel of weightlessness
• Compatible with Osprey Daylite bag

Hiking Runner-Up: Berghaus Trailhead 65

• Curved hit belt sits comfortably against body
• Excellent features given it's price

Budget Pick: Vango Sherpa 60:70L

• Hydration compatible and trekking pole holders
• Has an air channel, although no mesh suspension system
---
Do I Need a 70L Backpack?
In terms of travel, a 70L backpack is best suited to travelling in colder climates or where you'll be visiting multiple different climates on your trip.
You should easily fit 1-2 weeks worth of clothing in your pack, including multiple layers for the weather. Provided you're able to wash your clothes along the way, this could last you many months of travel.
For outdoor adventure such as hiking, trekking and camping, a 70L backpack should last you up to a week with all of your clothing, equipment and food.
I put together this handy infographic with some guidance on backpack size. Remember that every situation will be different depending upon your packing style, trip details and whether you are sharing equipment with others, so judge accordingly.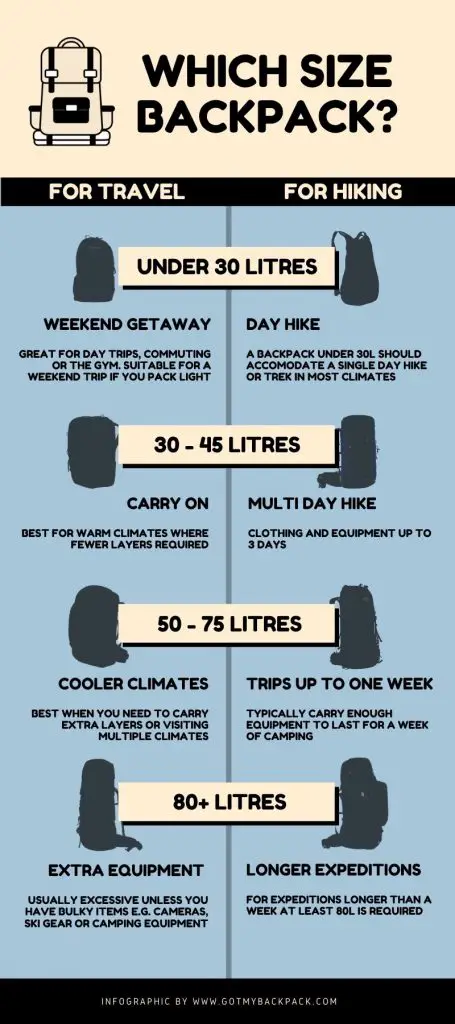 ---
Best 70L Backpacks for Travel
Here are the best 70L backpacks:
Below are my full reviews of each backpack, along with the pros and cons of each.
The Farpoint Trek 75 is an extension of the Farpoint series that encompasses some of the features from their trekking backpacks and is my overall favourite 70L backpack for travel.
See Fairview Trek 70 for women's fit
✓ Mesh suspended back panel prevents you from sweating too much
✓ Front loading makes it perfect for travel
✓ Spacious compartments on the lid and base
✓ Straps zip away neatly for checking in
Despite sharing the same name as the Osprey Farpoint below, the Farpoint Trek 75 is quite a different backpack and I actually prefer it to the regular version.
Whilst it's a travel focused bag, the addition of some features from trekking packs makes it much better for carrying around and you could happily double it up for use on hiking trips.
The bag is made from 420D Nylon along with solid YKK zippers for durability, it's also very water resistant.
It has a trampoline mesh suspension back panel than helps keep the pack away from your back for good ventilation. The torso and load lifters are fully adjustable to get the right fit and distribute the weight correctly.
The Farpoint Trek has a large front-loading main compartment, this means it opens like a suitcase making it easier to pack, this is something I always look for in a travel bag.
It also has lid pockets, side pockets and water bottle pockets that are easily accessible whilst wearing the bag. You'll find plenty of handy smaller pockets on the front and interior of the bag for keeping belongings safe.
Like a traditional hiking backpack, it has a bottom pocket with a divider that can be used for sleeping bag or jackets, or you can remove the divider to create an even larger main compartment.
It features Ospreys straight jacket compression system, as you tighten the compression straps it pulls around two flaps that keep everything nice and compact and hides the zips from view.
---
The original Farpoint design is made up of a 55L main pack, with removable day pack attached on the front, taking it up to 70L.
See Fairview 70 for women's fit
✓ Front loading makes it ideal for travel
✓ Detachable smaller pack for use during day trips
✓ Has a laptop compartment in the day pack
✓ Straps zip away nicely for checking in
✗ Doesn't have the same suspended back system as the Trek version so not as comfortable for long periods
✗ Main compartment much smaller than the Trek version
For such a large backpack, the Farpoint 70 is lightweight and extremely durable due to being made from 210D nylon material and YKK zippers, as you'd expect from Osprey.
The pack is available in a variety of colours, I usually find the dark green to be very popular so I recommend going for one of the other colours so you can recognise your bag more easily.
The backpack is made up of a 55L main compartment and a 15L day pack attached to the back. The daypack can be removed for use by itself and includes a laptop sleeve and lots of smaller organisation compartments for your personal belongings.
The main compartment is a decent size although obviously it's not as spacious as the Farpoint Trek due to the daypack. Most importantly, it's front loading, meaning it opens like a suitcase rather than like a traditional top loading rucksack, this is ideal for travel.
---
Best Backpack with Wheels
This hybrid from Kathmandu features both backpack straps as well as wheels and a telescopic handle. Switch easily between a backpack and wheel along suitcase.
✓ Functions really well as a backpack
✓ Straps fold away for use as a wheeled bag
✓ Strong and durable
✗ Single telescopic handle can be hard to manoeuvre
A 70L backpack can quickly get heavy when you're travelling for long periods of time. So, having the option to wheel it can be invaluable, especially if you're travelling with children too.
The Kathmandu hybrid backpacks are some of my favourite wheeled backpacks, mainly because they have been built as a backpack first, rather than a suitcase with straps as an afterthought. This means it functions really well when carrying on your back and you'll hardly notice that it's got wheels.
When you are using it on wheels, all of the straps fold away nicely so they don't get in the way or catch on anything.
It's made of Polyester and Nylon with a single telescopic handle, however, this can be a bit harder to manoeuvre than the traditional dual telescopic handle found on other wheeled backpacks.
The main compartment is front loading just like a suitcase and inside you'll find plenty of room for your belongings. This backpack would probably work best with packing cubes as there are no separate compartments inside. However, there are plenty of places on the outside for smaller items.
---
Best 70L Duffel Backpack
This tough 71L bag made from water resistant ballistic nylon is ideal for those who prefer carry handles but occasionally need a backpack too.
✓ Made from durable ballistic nylon
✓ Really spacious interior
✓ Top handles, shoulder straps and handles for multiple ways to carry
✗ Not comfortable as a backpack for long periods of time
The North Face Base Camp line of duffel bags is known for it's long lasting strength, with strong lockable zippers, big grab handles and made from water resistant ballistic nylon.
The medium size duffel comes in with a 71L capacity with most of this coming from a deep main compartment. You'll probably want to use packing cubes with this beast.
The bag is very versatile, it can be used with the hand grips, shoulder strap, as a backpack or with the various bulky grab handles.
As you'd expect from a duffel backpack, it's not going to be the most comfortable to wear on your back for long periods of time as there is no suspension or air channels.
The straps aren't particularly well padded either, if comfort on your back is super important, I'd recommend opting for a different style of bag such as the Osprey Farpoint Trek above.
---
Best for Hiking and Trekking
The Aether 70 backpack features Osprey's anti-gravity suspension system which will significantly reduce the weight on your back and spread it through your body, plus many other features make this the best hiking backpack.
See Osprey Ariel for women's fit
✓ Incredible anti-gravity system that makes the load feel lighter
✓ Compatible with Osprey Daylite bag or remove the lid for a mini sling bag
✓ Great back ventilation and weight distribution
Osprey's Aether AG (or Ariel AG for women's fit) is easily my number one choice in this size bag thanks to a durable build, Osprey's anti-gravity system and extreme comfort for multi-day hikes and expeditions.
The anti-gravity system is a leading innovation by Osprey that makes the weight of a pack feel a lot lighter than it is by gripping to your hips, this is the best feature on the bag and the reason why it's my top recommendation.
The pack is also suspended by a mesh panel, so it doesn't sit directly against your back, this allows great air circulation to stop you getting really sweaty.
In terms of compartments, the main sack is quite wide so it's fairly easy to find items you need despite being a top loader.
There's also a base compartment for your sleeping bag or if this isn't required, you can remove the divider. There are two exterior lid pockets, one for the included rain cover and another for quick access items.
The lid detaches and turns in to a mini sling bag that's big enough to carry a few smaller items on any short adventures away from camp.
This bag is daylite-compatible, so if the 70L size isn't big enough, or you just need a smaller pack for moving around in the day, then you can attach Osprey's 15L daylite pack to it.
---
With a well padded back panel and shoulder straps, vari-quick adjustment and a removable day pack, this is a easily one of the top hiking backpacks, but the price tag puts it out of reach for most hikers
✓ Extremely comfortable cell foam padding
✓ Detachable day pack in lid
✓ Great back ventilation
✗ Heavy pack at 3kg
✗ Very expensive
The Deuter Aircontact Pro series has been around for a while but continues to improve with regular updates, in 2020 the ventilation was improved which Deuter claims to have provided 15% less sweating. It was also made lighter but at 3kg it's still a heavy pack.
The torso height and shoulder straps both adjust super easily through the vari-quick suspension system and the padded cell phone shoulder straps provide a lot of comfort.
The extra 15L comes from the ability to fill the bag beyond the top of the pack and everything is secured with a drawstring. The straps on the lid then expand over the top of the bag even further.
Similar to the Osprey Aether, the lid compartment can be removed completely and used as a 10L day pack.
Other notable features include an easy access drink pocket, Deuter's vari-quick adjustable torso and a robust suspension spreads the weight really well.
---
A less expensive but slightly smaller hiking and trekking backpack that will adequately suit trips up to 5 days.
✓ Curved hit belt sits comfortably against body
✓ Good price for the features
✗ Ventilation not in the same league as Osprey and Deuter above
✗ Smaller than other packs here
With the Deuter and the Osprey being such epic hiking backpacks, they are quite pricey so I'm including the Berghaus Trailhead 65 as an option for those on a mid-range budget.
It is slightly smaller than 70L but has loads of storage space that could last you up to a week on the trail if you pack efficiently, including a bottom compartment, trekking pole holders, lid pockets and side pockets.
The curved hip belt is a nice addition that moves with your body as as you walk so it's very comfortable. The airflow is okay but not as good as the Aether and Aircontact packs mentioned above.
If you want to read more about the Trailhead 65 then check out my 60L backpack review.
---
Best Under £100
A spacious backpack for outdoor adventure with comfy straps and a price tag under £100.
✓ Lower compartment, lid pockets and expandable side pockets
✓ Very good price
✓ Hydration compatible and trekking pole holders
✗ Air flow lacking compared to other backpacks
✗ Not as durable compared to Osprey or Deuter packs
For a budget priced backpack, the Vango Sherpa has a very comfortable back system due to the vast amount of padding.
It will work nicely for expeditions, with hydration sleeve compatibility, lower compartment for sleeping bag, trekking pole holder and an included rain cover.
It does have an air channel, however, without the mesh suspension system found on other hiking backpacks, you are still likely to get sweaty.
The side pockets are what provide the additional 10L taking the total backpack size to 70L. When not in use, the compression straps can keep these nice and snug.
Other pockets on the exterior include water bottle pocket, zipped hip belt pockets, lid pockets and another smaller compartment on the front. It also has lots of loops for hanging things off.
FAQs
Will 70L Fit as Carry On?

No, a 70L backpack will not fit as hand luggage so will need to be checked in. The biggest size backpack that will usually fit as hand luggage is 45L.
I hope this has been a useful guide and I wish you good luck with your backpack hunting!
---
---
Kieren is the avid traveller behind the blog. His adventures have included Interrailing through Europe, road tripping the US and backpacking SE Asia.