As an affiliate I may earn a commission on any qualifying purchases, including those from Amazon, at no extra cost to you.
Are you struggling to choose between a backpack or a wheeled suitcase for travelling? Well you don't need to choose between them because you can have both.
With a wheeled backpack you get the best of both worlds, they have shoulder straps and a full back support system for when you're happy to carry the backpack as usual, but also wheels at the bottom of the pack and a discreet handle hidden away within the frame.
However, you will have to bear in mind the extra weight that a wheeled backpack has over a standard backpack due to these extra parts that must be incorporated.
In this guide, I'll share some of the best wheeled backpacks for world travellers and talk through the pros and cons of each.
Quick Summary
In a rush? Here are my top three wheeled backpacks. Find the full list and further information about each pack below.
 
Overview
 

Best Overall: Osprey Farpoint Wheels

• Well padded on straps and back
• Straight-jacket compression straps to keep luggage neat and sucure
• Durable build with YKK zippers
• See Fairview Wheels for women fit

Runner Up: Kathmandu Hybrid

• Available as 32L, 50L or 70L
• Mesh padding provides air flow against your body
• Combine nicely with the Gluon day pack

Serious Comfort: Deuter Helion

• Air channel keeps your back well ventilated when carrying as a backpack
• Dual telescopic handle for sturdiness
• Heavier than the two previous bags
---
Buyers Guide
Before jumping into the recommendations, I've outlined three key considerations that are specific to backpacks with wheels:
Size
The biggest consideration is whether the backpack is the right size for your needs. If you're travelling to warmer climates, then I recommend looking around the 40L range, this has the advantage of fitting as carry-on luggage too. If you'll be travelling to cooler climates, or more than one continent, then you might want to opt for a larger size pack to fit in the extra layers.
Most of the backpacks I reviewed were available in more than one size, so I've listed all size options within my reviews below. I've also put together this useful backpack size infographic which should prove useful in determining the right size.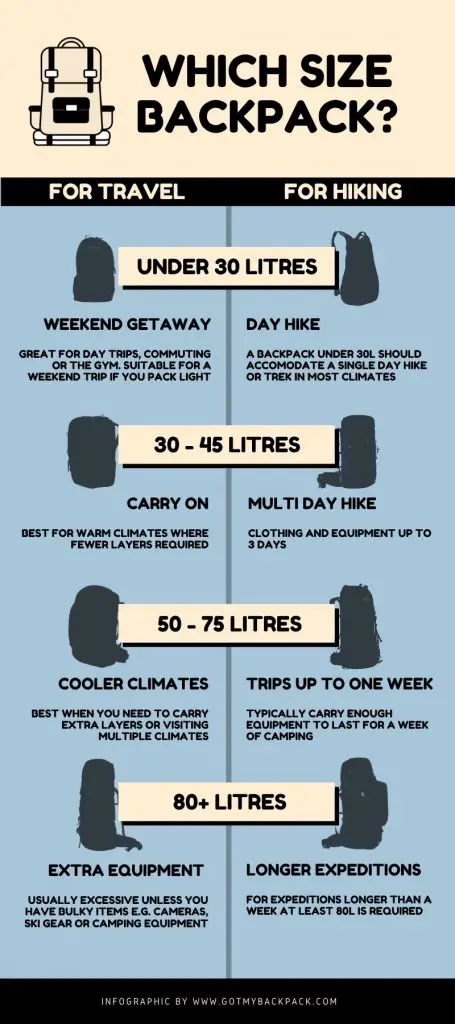 Weight
One of the downsides of a wheeled backpack is the extra weight that the handle and wheels add. Keep an eye on the weight of each product, make sure that it won't end up being to heavy to carry on your back as this can be cumbersome and bad for your posture over long periods of time.
Durability
Of course, you'll consider durability when buying any travel backpack, but with wheeled backpacks you should pay particularly attention to the durability of the wheels and handle. Some of the cheaper brands aren't very rugged and could damage easily. The telescopic handle is a key point, those with dual handles tend to be more stable, but single handles can also work well.
Look for backpacks with replaceable wheels, these have a tendency to wear down over time so it's nice to be able to fit newer wheels as opposed to getting a brand-new backpack.
---
Best Wheeled Backpacks
These are the top wheeled backpacks available in the UK:
Below are my full reviews of each backpack with the pros and cons.
Osprey Farpoint Wheels
Note: For women's fit see the Fairview wheels
Sizes: 36L or 65L // Weight: 2.8kg (65L) // Material: 210D nylon
If you've read any of my blog posts, you'll know by now that my go-to backpack is an Osprey Farpoint. But when I bought the original backpack, little did I know that they also do a larger wheeled version.
As with the regular Farpoint/Fairview backpacks, it is front loading which means it opens like a suitcase, this is my favourite style backpack for travelling.
The straps have a great amount of padding and the sternum strap provides plenty of support. When you want to wheel it, the backpack straps can be stowed away and pull out the extendable handle that's really steady.
It has Osprey straight jacket style design; the compression straps wrap around the bag and keep everything neat and secure. This is great when taking it through airports or storing it away in a hostel or hotel.
Osprey products are always high quality, this backpack in particular is made from 210D nylon which I think is the best backpack material due to being lightweight and strong. The bag also has best-in-class zips and large durable wheels. Featured here is the 65L version, but it's also available as 36L.
---
Kathmandu Hybrid Trolley
Sizes: 32L, 50L or 70L // Weight: 3.4kg (70L) // Material: 210D nylon
This Kiwi backpack brand is definitely one to watch, I really love their bags. My runner up backpack with wheels is this Kathmandu Hybrid. Not only does it look great, but it's very functional too.
This backpack has been around for more than five years, but Kathmandu keep reviewing and improving the design. Their latest iteration is lighter than before and has extra padding for comfort. The back panel of the pack does have some mesh padding for air flow, but the straps can become uncomfortable if carrying for long distances.
The bag is made from Nylon which is known for having an excellent strength-to-weight ratio. The pack is front loading which is the preferred style for travelling. When you want to wheel the backpack along, there is a single telescopic handle that comes out of the top.
One of the great features is that you can easily attach their 18L Gluon pack which you can then use as a day trip whilst out and about on your travels.
---
Deuter Helion
Sizes: 60L or 80L // Weight: 3.9kg (80L) // Material: 420D polyamide
If comfort is a key priority, then I recommend the Helion from Deuter.
The straps are serous backpacking straps, with bulky padding for comfort and an air channel to keep you cool and allow air to circulate while carrying it. It's definitely one of the comfiest wheeled packs from my reviews.
It's made from a 420D polyamide fabric which looks to me like nylon, although Deuter haven't specified.
When you want to use the wheels, the straps pack away really nicely that you'd never even know they are there. It has a huge grab handle on the front of the backpack so you could also carry it like a duffle. However, this one is much heavier than the two previous bags so it's best when used on wheels.
There is a large main compartment, plus a small organisational compartment. Apart from that, it doesn't have any additional compartments, so I'd recommend packing cubes with this one.
---
Eagle Creek Expanse
Sizes: 30L or 78L // Weight: 4kg (78L) // Material: 420D polyamide
This bag looks most like a traditional wheeled bag, especially when the strap system is neatly tucked away in the zipped compartment. They easily tuck out and hook to the bottom of the bag when you want to carry it on your back.
Where this wheeled backpack excels compared to the others is in it's durability. The fabric is abrasion resistance with heavy duty wheels that are extra large so you won't have any problem on different terrains. The only downside is that this durability adds extra weight.
The bag is available in two sizes, a carry on sized 30L and a larger 78L which has the advantage of an adjustable torso length and a hip belt that isn't found on the 38L size.
The bags don't have a huge number of pockets other than the main compartment and a handy quick access pocket at the front with a key hook.
I like that the zips of the main compartment can be secured without a lock, this makes them less vulnerable to theft.
This has a solid dual telescopic handle which is one of the most durable of those I reviewed. Eagle Creek are so confident in the workmanship of the bag that it comes with a 'no matter what' lifetime guarantee.
---
Samsonite Guardit 2.0
Sizes: 29L // Weight: 2.2kg // Material: Polyester
If you want something that looks a little more elegant and suitable for busines travel, then this Samsonite backpack is a great choice. Th original Guardit backpack was one of the best sellers in its category, however the 2.0 adds the wheels and telescopic handle that takes it up another notch.
At 29L, it's small and compact so should fit as carry-on luggage for even the most stringent of airlines. Samsonite have created a 'smart sleeve' which is a horizonal strap on the back to slip it over the handles of a larger suitcase.
Unlike the other backpacks I have mentioned so far, it's made from polyester instead of nylon which doesn't have the same strength-to-weight ratio but is still a decent material and is known for being quick to dry.
The main selling point for business travellers is the excellent padded laptop compartment that can fit up to a 15.6" laptop, plus there is plenty of room for notebooks, tablets and more in the compartment.
The bag is comfortable to carry on your back, although you won't want to use it for long duration as it doesn't have the air channels or padding of a backpacking pack. When using it on wheels,
Samsonite do also have a Pro version of the backpack that is much more rugged thanks to an extra strong nylon material and has extra pockets. It's a great bag, however, it's very expensive so I think it would be out of budget for most.
---
Mountain Warehouse Voyager
Sizes: 35L, 50L or 50+20L // Weight: 3.2kg // Material: Polyester
My budget pick is this Mountain Warehouse Voyager. Okay, so it's not the very cheapest wheeled backpack out there, but in terms of value for money it scores very well with me.
It's a 50L backpack with small, but rugged wheels and a single telescopic handle. When you don't want to use the straps, they can be secured away behind a zip panel.
It's made from polyester which is easy to care for and doesn't absorb water, however it's not as lightweight as nylon used in some of the other backpacks I reviewed. The form is very robust and the telescopic handle feels like it will last which is a point where many other budget backpacks fall down.
There are some online reviews that mention the zips breaking, however personally I've never had a bad experience with a Mountain Warehouse product so I wouldn't be swayed by those.
The backpack shared here is the 50L version, however there is also a 35L version and a 50+20L which is the same as this but with a second smaller pack that connects to the front.
Featured image credit: Osprey