As an affiliate I may earn a commission on any qualifying purchases, including those from Amazon, at no extra cost to you.
In Northern Thailand, Chiang Mai is an essential stop on the banana pancake trail through Southeast Asia. The city is less overwhelming than the capital, Bangkok, but still has plenty of things to keep you busy including temples, markets and heaps of day trips.
There are a huge number of hostels in Chiang Mai so I've put together this guide to help weed out the best ones for anyone travelling solo in the city.
---
---
Is Chiang Mai Good for Solo Travellers?
Chiang Mai is one of the easiest places to visit as a solo traveller, no matter what your travel style is. As well as being one of the major stops when backpacking in Southeast Asia, it's also a digital nomad hot spot so the town is brimming with expats and the locals are accustomed to socialising with tourists.
Thailand in general is very safe for travelling alone and Chiang Mai is no different. There was not a single moment where I didn't feel safe in the city and everyone I met was really welcoming.
Not everyone likes to travel in the same way so I recommend finding a hostel that suits you. In this guide, I've included a range of hostels that are popular with solo backpackers but some are more chilled, some are for the party and some are about the facilities. I hope you find what you're looking for.
Top 5 Solo Traveller Hostels
Stamps – Best Overall
Activities almost every day that you can easily join using the blackboard
Lively and sociable bar with regular bar crawl and club night
My FAVOURITE hostel in Thailand as a solo traveller
From £7 per night for 8 bed mixed dorm
Stamps is easily one of the best hostels in Chiang Mai for solo travellers, if not the whole of Thailand.
Stamps is a staple on the backpacker trail and attracts a huge number of solo travellers so you'll never be short of new friends. They have daily tours which can easily be signed up for via the blackboard including ethical elephant sanctuaries and airsoft. On one of the days, a staff member took a group of us for an epic trip to grand canyon water park.
The bar area is always sociable and there are usually reps on hand to ensure everyone is having a good time. Around 10pm each night, everyone heads out on a bar crawl and then to the local club. This is also ideal for anyone who doesn't fancy a night out as the hostel quietens down.
Almost everyone that stays here will extend their stay, but make sure to do this the night before as it will most likely be fully booked in peak times.
Check latest prices : Booking.com | Hostelworld
---
Large pool for cooling off after the humid days
The MOST comfy beds and pillows you'll find in a hostel dorm
Chilled out hostel with common area and bean bags for relaxing
From £5 per night for 12 bed mixed dorm
If there was an award for the best nights sleep in a hostel dorm, I would definitely have to award it to Brick House Hostel. Between the thick comfy duvet, powerful air con and multiple fluffy pillows, I slept like a log.
The hostel also has a large pool outside, perfect for when you've been out exploring the humid city of Chiang Mai. This was much more of a chilled hostel with a nice atmosphere around the pool during the day. The hostel had great facilities including a laundry room and a (small) gym.
**It seems like this hostel has been taken over by Bodega since I visited but the reviews still sound really positive.**
Check latest prices : Booking.com | Hostelworld
---
Alexa Hostel – Best for DIGITAL NOMADS
Fast WiFi and great working space in downstairs cafe
Attracts a lot of digital nomads so you'll meet like-minded people
Excellent dorms with privacy curtain and large lockers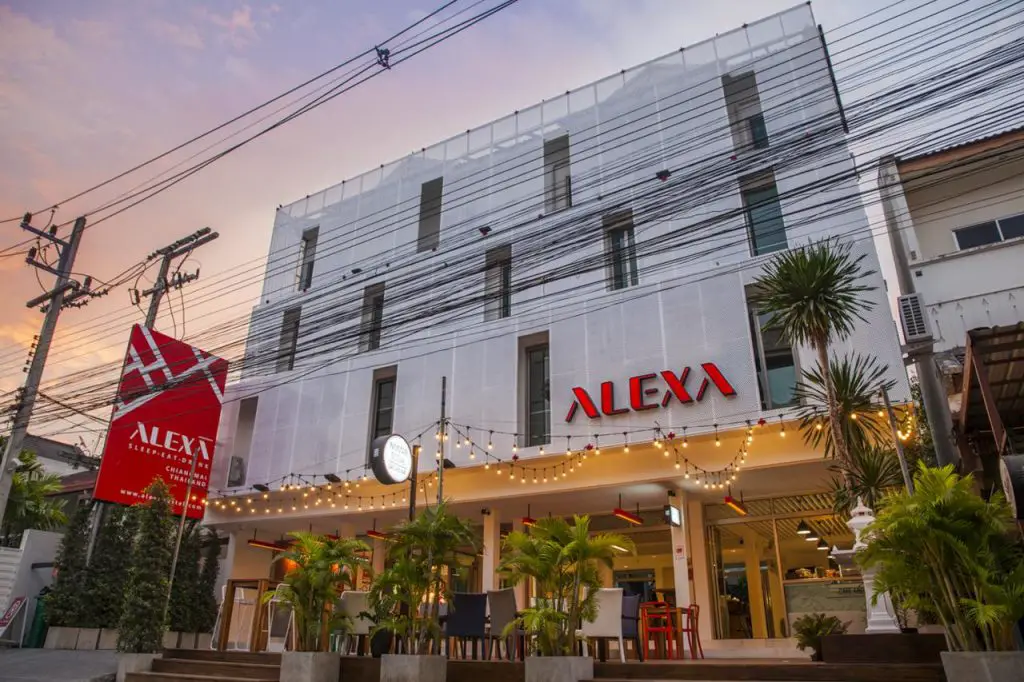 From £7 per night for a mixed dorm
This new hostel is slightly further away from the old town in the hip neighbourhood of Nimman. With a comfortable but quiet atmosphere and super speedy WiFi, it's a great place to get your head down and get some work done. The cafe downstairs doubles up a a great working space and also serves food.
Alexa hostel tends to attracts a crowd of digital nomads so it's not as sociable as the others on the list, however they do hold live music every Thursday and Friday if you need to let your hair down a little.
Expect super professional staff and great facilities including some of the cheapest laundry in Chiang Mai. The rooms are ace with comfy pod-style beds, privacy curtains and large lockers to keep your digital nomad belongings safe.
Check latest prices : Booking.com | Hostelworld
---
Legendary pub crawl with drinking games
Fun reps that help you get to know other solo travellers with ease
Attracts a young party-animal crowd
From £5.50 for a 4 bed mixed dorm
With a legendary pub crawl 3 nights per week that can attract up to 100 backpackers, Bodega is undeniably the best hostel in Chiang Mai for solo travellers who love a booze-fuelled party.
The staff and reps at this hostel will make sure that you're mingling with other guests so nobody is left out. Expect wild drinking games and interesting rules such as the much loved 'free vodka for no pants'. The atmosphere here is very lively and attracts a younger crowd so it might not be for everyone.
It seems like Bodega have also taken over Brick House Hostel (mentioned above) allowing guests to access their pool as another added bonus.
Check latest prices : Booking.com | Hostelworld
---
Hug Hostel – Best Chilled Hostel
Super social hostel for solo backpackers
Rooftop terrace with bar and a great view
Cooking and yoga classes
This is a chilled out, friendly hostel that's perfect for a relaxed stay in Chiang Mai. The location is just outside the city walls, but it's still in walking distance to everything you need including lots of nearby shops, restaurants and bars.
This is an ideal hostel for solo travellers as there are plenty of opportunities to meet fellow guests on the rooftop and in the lounge area where there are comfy pillows and a big TV to watch Netflix whilst chilling.
They also run regular activities such as cooking classes and yoga which are fun and sociable. The staff are very approachable and can help you book all other tours and activities in Chiang Mai.
The rooftop has a bar with happy hour and an amazing view, what more could you want at sunset in Thailand.
View on Hostelworld
---
Hostels Worth a Mention
Shared family dinner with other guests (extra charge)
Fun volunteers and friendly owner who gets involved
Good common areas for socialising
The facilities are Thailand Wow Hostel are basic, but it more than makes up for this with the atmosphere. If you're travelling alone then this is a great place to meet fellow travellers.
I love that this is one of the few hostels in Chiang Mai that offer a shared family dinner, this is common in other parts of Southeast Asia but doesn't seem to be a thing in Northern Thailand, but it definitely should be. Gather together for
Lots of group activities including Muay Thai, lady boy shows, trivia nights and more. They also run a cooking class which is well worth joining.
They have lots of volunteers who are there to ensure you're having a good time, but the owner will definitely get involved as well, a super friendly local who wants to make your stay the very best.
View on Hostelworld
---
Modern chic hostel
Super clean and comfy beds
Common area with ping pong tables
This hostel is in a great location in Chiang Mai, but that's not the only reason it's an epic stay. It's a modern hostel with a chic vibe, not what you'd expect in Southeast Asia but works well.
The hostel facilities are top notch, the mattresses on the beds are comfy and everything is really clean including spotless toilets. Th beds have thick curtains so you can have some privacy and also helps keep light and noise out in the dorms.
They will go above and beyond to ensure you have everything you need, from free tea, coffee and fruit all day, to giving you water bottles with access to free refills which is very useful when you can't drink the tap water and much more eco-friendly.
The common room has a decent kitchen for guests and a ping pong table which makes an unawkward way to meet some other solo travellers.
View on Hostelworld
---
A peaceful hostel with group activities for solo travellers including cooking and yoga classes
Although Hostel Lullaby is located within the old town which is the heart of the city, the relaxed atmosphere feels like you're a world away and it makes a great place to base yourself to explore the city.
If the free yoga and cooking classes aren't enough for you, they have group outings and lots of social spaces to hang out, so you'll be sure to make friends with other solo travellers during your stay.
View on Hostelworld
---
A hostel that is literally like being in someones home.
Attracts solo backpackers and digital nomads looking for a homely stay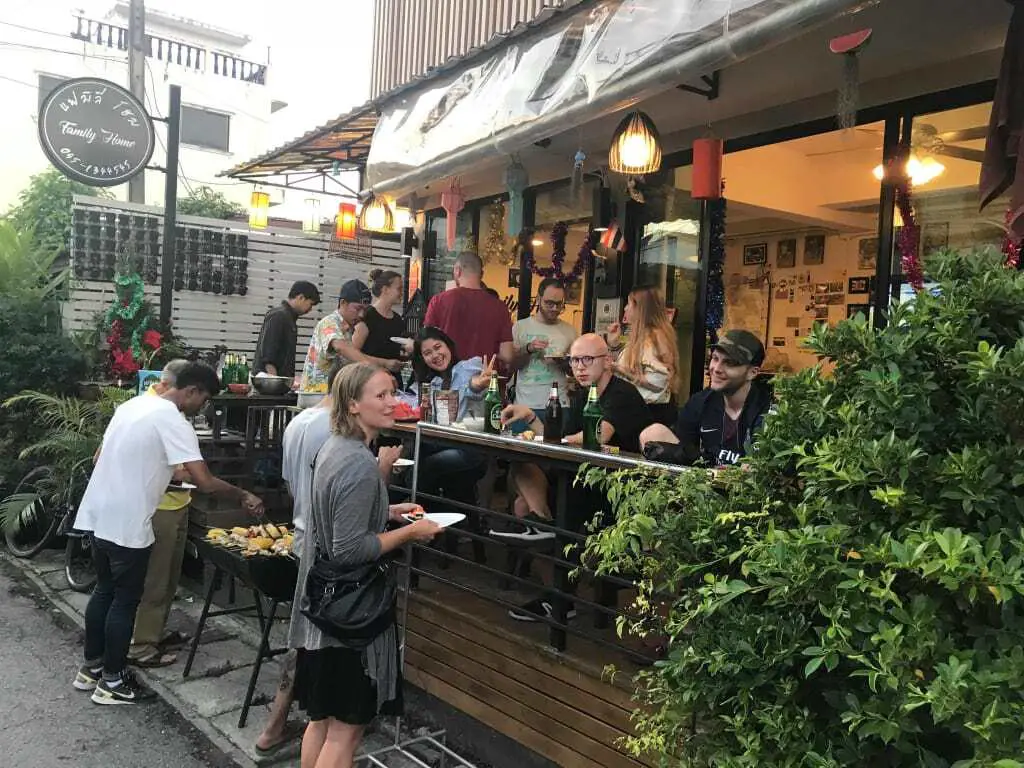 Family Home Chiang Mai is all about a social, family vibe with daily group activities. This Is not a party hostel at all and it's located in a quiet part of Chiang Mai so you'll get a good nights sleep.
The hostel attracts a lot of solo backpackers and digital nomads. The facilities are decent but the only downside is that the beds are super close together.
View on Hostelworld
---
---