As an affiliate I may earn a commission on any qualifying purchases, including those from Amazon, at no extra cost to you.
Ho Chi Minh City (formerly known as Saigon), is Vietnam's largest and busiest city that will keep you intrigued during your visit.
Although the skyline appears to be developing with modern times, there are plenty of opportunities to learn about the city's history, not least ton mention its key role in the Vietnam war.
I began my 4 weeks solo adventure through Vietnam in the city and can't recommend it enough. I created this guide to the best hostels in Ho Chi Minh City for solo travellers so that you too can have an epic stay. Whether you're looking for a party hostel or a chilled vibe, I've got your covered with these recommendations.
---
Quick Result:
---
Where to stay in Ho Chi Minh City?
Ho Chi Minh City, formerly known as Saigon, is divided up in to 24 districts, but the majority of tourists will look to stay in district 1. This provides convenient access to city's daytime attractions and it's buzzing nightlife.
The area is particularly popular with solo backpackers which has resulted in a flourishing hostel scene. All of the best hostel that I recommend here are in district 1. However, if you scroll to the end, I give a few hostel recommendations in other popular districts for tourists.
---
Check out my guide to solo travel in Ho Chi Minh City for top tips on things to do when visiting the city alone.
---
Best Hostels in Ho Chi Minh City for Solo Travellers
Hostels are a great choice for solo travellers but making sure that you choose one with a great social vibe is key.
Overall, the best hostel in Ho Chi Minh City for solo travellers in Hideout Hostel.
I stayed here and couldn't have had a better time, it was easy to meet other solo travellers with the tours and the free beer.
It attracts a lot of other solo travellers who will be making their way through Vietnam.
If you prefer a bit more of a chilled atmosphere, then I recommend The Like as the best hostel in Ho Chi Minh City for you.
This hostel has lots of chill out areas for meeting other backpackers and still runs events to help you mingle.
Let's get in to my full list of best hostels in Ho Chi Minh City:
---
Hideout hostel is the overall best hostel in Ho Chi Minh City for solo travellers, and I speak from my own experience. It struck a nice blend of friendly and welcoming whilst still having great nights out.
Expect rooftop parties each night which are perfect for solo travellers looking to mingle and meet others travelling alone.
If you're just beginning your solo trip through Vietnam, Hideout hostel is the perfect place to find some travel buddies as it attracts a lot of solo travellers following the same route.
The facilities are what you'd expect from a hostel and they offer tours at reasonable prices which are popular with guests and a great way to meet other backpackers.  
Unfortunately, there is no kitchen, but they offer a free breakfast each morning and the convenient location means you have cheap street food right on your doorstep.
---
Vietnam Backpackers Hostels (VBH) were founded entirely to provide an upbeat party atmosphere. On this front, their hostel in Ho Chi Minh City does not disappoint at all.
Expect parties every night and the usual themed nights you've come to expect from VBH such as quizzes and fancy dress.
The hostel attracts the usual VBH crowd of young party goers so you'll either love it or hate it depending on whether you fall into this category or not.
With large dorms and clean bathrooms, the facilities are also top notch. As with all other Vietnam Backpackers hostels, you'll be given a wristband that can be used for your dorm, locker and for buying food and drink at the bar.
---
Despite being a fairly new hostel on the scene, Flipside is absolutely smashing it and will have you coming back time and time again. The staff here are incredibly friendly, and the atmosphere is generally very sociable.
Most guests will spend their time on the rooftop where you'll find a bar, a pool and chill out areas. Their 'Flipside burger' is a good bet if you're a bit peckish.
The Flipside team make it really easy to meet other solo travellers, with shared dinners and events most evenings including quizzes and beer pong.
The bar generally closes around 10pm to make sure everyone can have a good night's sleep, those still up for a partying can hit the nightly pub crawl that heads towards backpacker street.
Make sure you get the right one as there are two Flipside hostels in Ho Chi Minh City – Look for 'The O G Hostel' or use this link:
---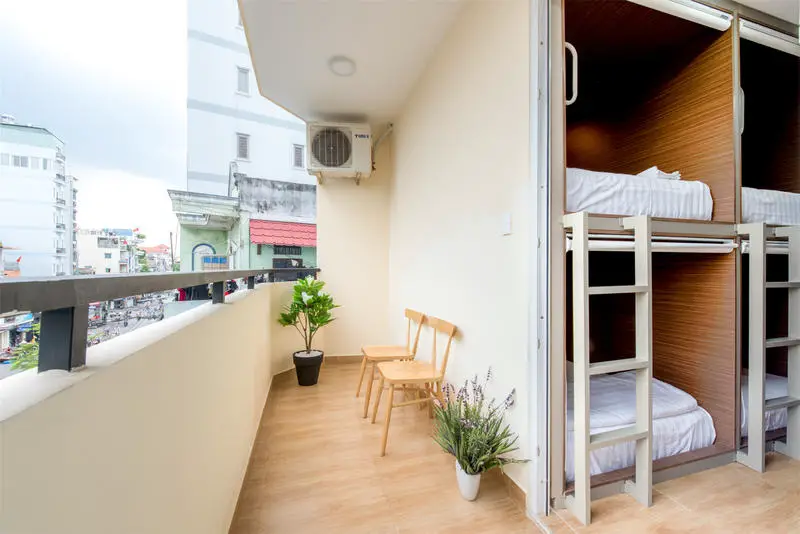 If you're looking for the best hostel in Ho Chi Minh City that caters to digital nomads, I recommend Vy Da Backpackers 2.
The hostel has fast Wi-Fi (may have a hard time connecting but it's worth the wait) and is located a 10 minute stroll from CirCo, one of the top co-working spaces in the city.
The hostel has large lockers which are ideal for anyone travelling with a lot of gear and the beds offer a decent amount of privacy and are quite comfy for a hostel.
In terms of facilities, this hostel has everything you need, from booking tours and renting to scooters to laundry and photocopying. The hostel is always nice and clean, and the staff are willing to help.
I'd describe the social vibe here as low key; many guests choose to keep themselves to themselves but if you're looking for people to hang out with then you'll probably have some luck by heading to the rooftop bar.
---
The Like **Best CHILLED SOCIAL Hostel**
Not all hostels in district 1 of Ho Chi Minh City are founded upon wild parties, The Like is a sociable hostel with a much more relaxed atmosphere.
It isn't a party hostel, but that's not to say it's boring. The daily free beer is a great way to start mingling and there's usually some kind of night out that follows for those not ready to hit the sack.
A big bonus is the fantastic air conditioning which is highly required in Ho Chi Minh as the city can get quite stuffy.
The breakfast at this hostel also stands out and in particular has some great vegetarian options. If you're looking for friendly staff and a great welcome to Vietnam, this is the hostel for you.
Other Districts in Ho Chi Minh City
I highly recommend staying in district 1, especially if you're a solo traveller but the area also caters well to families and those looking for a more upmarket experience. However, if you'd like to stay elsewhere in Ho Chi Minh City, here are a few other suggestions that you could try.
District 3 – This has more of a local feel and is even easier on the bank account, if you're on a super tight budget or want to get in to the midst of local life you might opt to stay here.
This district borders district 1 so you may stay here for cheap accommodation and stroll in. Language exchange hostel offers great value for money and hosts language exchanges which is a nice touch.
District 5 – This district is Ho Chi Minh City's Chinatown, stay here if you're hoping to be close to fantastic Chinese delicacies.
If you're staying here, I recommend Common Room hostel for an all round sociable atmosphere but with the luxury of a quiet night's sleep.
District 10 – In the past district 10 has been rarely frequented by foreigners, however the area is becoming popular with expats due to having several great attractions and a cheaper cost of living.
The best hostel here is DaBlend which offers a quieter atmosphere away from the busy backpacker street.
---
More Hostels in Vietnam:
---