As an affiliate I may earn a commission on any qualifying purchases, including those from Amazon, at no extra cost to you.
Lisbon is the second oldest city in Europe, only beaten to the title by the ancient city of Athens. It's also an incredible city to visit with a huge number of great tourist attractions in the city itself and several beautiful sandy beaches right on its doorstep.
The city is becoming a popular hot spot in Europe, not least because it's cheap as far as Western Europe standards go. Some of the best things to do in Lisbon include Sao Jorge Castle, the tower and monastery at Belém and some of the great street art around the city. You'll also want to try one of the city's delicacies, a Portuguese Tart.
There is a mixed bag of hostels in the city, ranging from small family run businesses to larger commercial environments so I've put together this guide to help you find the best hostels in Lisbon for each type of traveller.
---
Check out my 2 day Lisbon Itinerary for tips on what to do in the city
---
When to visit Lisbon
The peak season in Lisbon is July – September when the weather is best. The weather is hottest during August when temperatures can soar above 35⁰C.
I recommend visiting during shoulder season when the weather is still hot but there are less crowds. Shoulder seasons in Lisbon are May-June and September.
---
What to expect from hostels in Lisbon
The price of hostels in Lisbon varies from £11-24 however the average price for a decent hostel is around £19.
The checkout time for hostels in Lisbon is usually around 11am, although there are a few hostels on this list that offer 12noon checkout for that extra bit of sleep.
Many of the hostels in Lisbon provide a free continental breakfast and most have a family dinner where you can share a meal with other travellers, although these usually cost extra.
---
Brief Summary:
---
Best Hostels in Lisbon
Perfect balance of lively atmosphere without going over the top
Large hostel but still has a friendly 'family hostel' vibe
Not in the city but easy access from nearby metro station
After having such a great time with Sant Jordi hostels in Barcelona, I couldn't be happier to include them in my list of the best hostels in Lisbon as well.
With a chic style, Sant Jordi Lisbon has the perfect balance of lively atmosphere without going to over the top. Each evening there are group dinners at an affordable price followed by drinks in the bar and a pub crawl. There are also plenty of activities to keep you entertained during the day.
Although this is a large hostel, it still has the friendly vibe of a family hostel which is thanks to the wonderful staff, if you're lucky they may even treat you to a welcome shot on arrival. The hostel isn't right in the city centre like most others on this list, however it's right by a metro station so this shouldn't cause you too many problems.
The beds are comfy, and the free breakfast goes down a treat after those pub crawls.
---
Best BUDGET Hostel in Lisbon – Urban Garden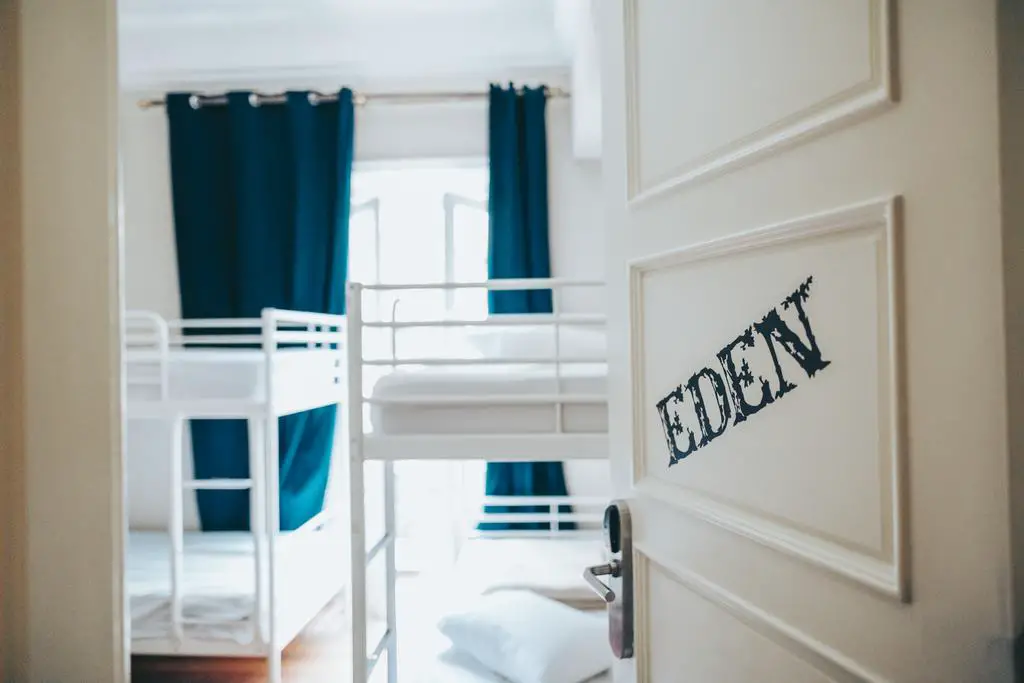 Basic hostel but with all key amenities
Good social scene
BBQ's and themed evenings to help mingle
If the bank account is looking a little low so you're on the hunt for a budget hostel, then Urban Garden is right up your street. It's a basic hostel but still has all the essential amenities and a thriving social scene.
The downside to this hostel is that it's located at the further end of the city near the main park, rather than right in the centre. If you like parks then that's perfect but otherwise you'll need to use the nearby metro stop to get in to the city.
The hostel has a spacious common area which is great for mingling and they arrange events such as BBQ's or themed evenings. You may want to brush up on your beer pong skills as this is usually on the cards. Overall, the hostel is great value for money and one of the cheapest hostels in Lisbon.
---
Best Party Hostels in Lisbon
Best PARTY Hostel in Lisbon #1 – GSpot Lisbon
Unrivalled party atmosphere in Lisbon
Beer pong, drinking jenga and more activities every night
Good location in the middle of the city
This is without doubt the best party hostel in Lisbon. With booze-filled activities every night ranging from beer pong to centurion challenges and always followed by a pub crawl (extra charge for this), your stay at GSpot Lisbon will be far from quiet.
The hostel is in the heart of the city with great access to the bars and restaurants. Be aware that there is an age restriction of 18-35.
---
Best PARTY Hostel in Lisbon #2 – Yes! Lisbon
Situated right in the heart of the city, Yes! Lisbon is one of Lisbon's best hostels for anyone looking to party. This hostel has a upbeat party atmosphere with a shared family dinner and evening events.
For those times when you want to relax, there are plenty of great options including couches and bean bags in the common area, perfect for getting rid of your hangover.
As for the facilities, the beds are comfy and the rooms are always spotless, every member of staff here is super friendly. They do their best to keep the guests quiet at night, but it is a lively hostel so if you're looking for early nights and peaceful sleep, perhaps this isn't for you.
---
Best Hostels in Lisbon for Solo Travellers
Rooftop bar with pool and great sunset spot
Daily happy hour with FREE beer and sangria
Sunset Destination Lisbon has an amazing location looking across the estuary of the Tagus river and is right near the main square so everything you need is within a stones throw. The rooftop has a bar, a pool and is the perfect spot to watch the sun setting. Expect a daily happy hour with FREE beer and sangria and sometimes even a BBQ. The breakfast here will go down well if you're a fan of pancakes.
Run joint tours and pub crawls with partner hostel Lisbon Destination Hostel.
---
As its name suggests, this hostel is geared towards solo travellers. You can expect a buzzing atmosphere with plenty of opportunities to to meet other guests including great social areas and shared family meals for just €5.
This hostel attracts solo travellers from all over the world and the staff work hard to encourage a friendly environment where everyone gets along. To make mingling that little bit easier, there is a happy hour each night with cheap drinks, ideal!
The hostel has a train station, metro station and bus stop right outside the as well as plenty of bars and restaurants within walking distance so you should be sorted for your stay.
---
Many of you have requested a hostel in Lisbon with convenient airport access, however the hostels directly near the airport aren't particularly great.
Instead I would recommend Lisbon Destination Hostel. This hostel is literally inside a train station right by Restauradores Square where the aerobus picks up every 20 minutes from 8am to 9pm.
The hostel also has great common areas with free pool table, instruments to play and a fully equipped kitchen. The staff here are some of the friendliest in Lisbon and will do anything to make sure you have a good stay including very detailed explanations of the city's attractions. This is one hostel you'll definitely be back to visit.
---
Lisbon Nightlife
The nightlife in Lisbon starts late and finishes late. Most bars will be open until 2am on weekdays and 3am on weekends with clubs staying open longer. That being said, most bars don't get busy until after sunset.
The Barrio Alto district is best for nightlife in Lisbon with tons of pubs sprawled along its tiny alleyways.
Many hostels in Lisbon will offer a bar crawl or some sort of nightlife, however I can also recommend the Sandermans Lisbon Pub Crawl as a great way to experience the nightlife, particularly if you're a solo traveller looking to meet other travellers.
---
Public Transport in Lisbon
Here are the best ways to get around in Lisbon
Trams – the trams are the most convenient way to get around Lisbon but are also the most expensive. Scenic tram 28 is the one in the original style and are  popular with tourists. Tram 12 is an alternative to 28 but is a modern tram so it will be less busy. A single journey is €3 but a 24 hr pass is better value for €6.40.
Metro – the Metropolitano de Lisboa is the fastest way to get around the city and best for long distances. There are 4 lines but they can be hard to navigate as there are few interchanges between the lines .A single journey costs between €1 and €1.15.
Buses – there are 78 bus routes in Lisbon with many popular journeys operating 24hr services. A single bus fare costs €1.50.
Uber – if you need to take a taxi in Lisbon, I recommend using Uber which operates in the city. You'll be able to follow your journey on the map and will be much safer. Just watch out for surge pricing.
---
---