As an affiliate I may earn a commission on any qualifying purchases, including those from Amazon, at no extra cost to you.
Packing cubes offer the ultimate packing solution for backpackers, hikers, and people who love the outdoors. Not to mention anyone else who travels.
Packing cubes have the potential to streamline even the most disorganised packers into a packing extraordinaire.
There's a huge range of options available on the market, all with slightly different features, strengths and weaknesses.
To help you out I purchased all of the top brands available in the UK and put together this easy to follow guide to help you choose the best products for your needs.
What are Packing Cubes?
Put simply, packing cubes provide a material compartment which you use to pack and organise your belongings. Think of them as bags within your bag.
You use each packing cube to organise and pack your belongings. Then you pack the packing cubes into your main bag. This strategy helps you overcome some of the core problems of packing a backpack for travel or hiking.
Solving Age-Old Packing Problems
Normally, when you pack for a backpacking trip or a hike you follow the same strategy. Minimise the scenario when the item you most need is at the bottom of the bag.
We've all been there at least once – you need a clean pair of dry socks and you realise the spare pair is at the bottom. Or mid-hike a sudden rainstorm hits, and oh-no you thoughtlessly packed your rain jacket at the bottom of the bag…
This is where packing cubes come into their own. They offer a clever way to organise, compartmentalise, and easily access what you need, without digging through your backpack or unpacking it each time.
Features Summary
Packing cubes come in a variety of shapes, sizes and styles. They have different features targeting a range of people with different needs. I purchased a number of different types that I will classify as:
Regular travel packing cubes: Your standard run-of-the-mill cubes that could suit all manner of situation but mostly for travelling.
Compressed packing cubes: With special features for compressing your belongings together, best suited for those needing to save space as a priority.
Lightweight packing cubes: Made from a thinner material that doesn't add excess weight to your bag.
Budget packing cubes: The absoloute cheapest ones I could find available in the UK, for when money is super tight.
Waterproof packing cubes: Made from waterproof or weatherproof material which make a good choice for hikers, backpackers in the tropics/ rainy environments, or for people planning water-based outdoor activities such as rafting.
---
Buying Guide
When you choose your packing cubes there are a few key features to look for:
Size
Most packing cubes come in a variety of sizes, but some will offer a wider range than others. Considering the most frequent way you will want to use them, and the main bag you will use with the packing cubes can help you choose the size range which will suit you best.
Durability
In general, packing cube products will aim to offer durability, but there are a few key features to look out for which can indicate they will deliver on their claims.
Look out for ripstop materials (especially on lightweight products). This material uses lightweight nylon or similar and then you will see what looks like honeycomb shapes across the material.
Pay attention to the zips because this is where brands can sometimes cut corners to reduce production costs if they have YKK zippers then you know it's good quality.
Funky Features
Some packing cubes have funky features which offer clever and helpful solutions. Depending on where you plan to travel to, and what you will do on your trip some of these features may offer no benefit, or some features may offer awesome hacks. Some cool features to look out for:
Mesh windows
Waterproof cubes
Side-anchor points
Wide range of cube sizes
Compression cubes
Opening
Take notice when you choose your packing cube. Some products use zips which open half or part-way around the cube itself. It is much easier to use the packing cubes which can open fully.
Handles
Keep an eye out for packing cubes with handles. They don't all have this feature, but handles make the cubes much easier to handle.
Handles simply make pulling them out of your bag, picking them up to repack, or to temporarily put them into hotel room drawers/ cupboards much, much easier.
---
Packing Cube Recommendations
I've purchased and tested these products to save you the time and hassle. So without further ado, let's jump in to my recommended packing cubes.
Best Regular Travel Packing Cubes
If you want a simple but useful packing cubes for travel then regular packing cubes will get you started. They offer the ideal choice if you want to try packing cubes without investing in all-singing-all-dancing versions.
Perfectly functional, regular packing cubes do exactly what they say on the box. From the regular packing cubes I tried out, here are my three favourites:
Gonex – Best Overall
Gonex packing cubes offer a simple, budget-friendly, strong all-rounder solution that I highly recommend.
These packing cubes come in a good range of colours, I went for the black ones (see image above) and though they looked really smart.
They us lightweight ripstop fabric, have a mesh viewing panels so you can easily see what's inside and two way zips.
These features offer reassurance that the product has strength and durability as well as a lower-end cost. The handles make handling them easier when you put them to use.
They come in five different sizes – large, medium, small, xsmall, slim. When comparing these sizes directly with other regular packing cubes options there are some advantages.
For example, the medium size has a 9cm depth in comparison to the other options which have an 8cm or less depth. The extra 1cm does offer a little more functionality.
---
Amazon Basics
A well-made, straightforward packing cube with some handy features.
For an Amazon Basics product, I was surprisingly impressed with the quality of these packing cubes.
The product has good features such as using a lightweight ripstop fabric and a double way zip. The zips open all the way around and continue on to open up some of the 'hinge' sides as well.
Furthermore, the packing cubes also have a mesh top and handle, which make using the product that little bit easier, and irritation-free. You can remember what you put in each packaging cube at a quick glance using the mesh top.
They claim to help you travel with wrinkle-free clothes, but I didn't find a big difference with any other packing cube option when I tried them out.
All in all, the Amazon Basics packing cubes offer a good option for anyone wanting to try packing cubes for the first time without spending too much in one go.
---
G4Free
G4Free packing cubes come in an array of colours, and a good range of packing cube sizes.
G4Free might not be a household name, but if you've purchased any of their other outdoor or travel gear, you'll know that the quality is top notch for the price you pay.
These packing cubes have a water-resistant material and very sturdy zips so they will be very durable for both travel and hiking. The product has a mesh window which I always like to see and good grab handles for delving in to the depths of your bag.
If looks are important, you have 14 colours to choose from, this can be helpful for families wanting to colour code each persons belongings (or to simply brighten your travelling days).
---
Best Compression Packing Cubes
If you're planning a long-term trip, or you simply want to fit more in your backpack then choosing compression packing cubes will help you to organise and reduce the space your clothes take up.
First you place your clothes inside, close the first zip. Then, you will find a second zip which you can close, and as you close this second zip you compress the packing cube.
When you do this, they can take on a more rounded shape, but using compression cubes is a great way to reduce the space you use in your backpack.
Of the compression packing cubes I tested, these are the two I recommend:
---
Eono by Amazon
Take my top spot in compression packing cubes thanks to a sturdy build and a mesh side panel.
I really liked these Eono by Amazon cubes as they felt extremely strong so even as I filled them with lots of items and pushed them down to close the compression zip, I never felt like they would break.
They also have a mesh material side which is really easy to see what's inside each one, essential when using compression cubes so that you don't have to go through the trouble of opening two zips. The handles also seemed quite strong.
I really didn't have any gripes about this product, except for maybe the price which could soon mount up if you're purchasing multiple cubes.
Overall, the Eono compression packing cubes offer an excellent solution to reduce space in your luggage, and they offer very good prices considering the features on offer.
---
Gonex Compression Packing Cubes
Well-priced compression packing cubes with a good colour range
I have already mentioned the good quality of Gones packing cubes when reviewing their standard travel cubes, and to be fair this compression version also lives up to that expectation. It never felt like it was going to break even as I stuffed lots of clothes in.
The materials used seemed durable with good quality zips and handles, and with a much better price than the Eono packing cubes, I'd happily recommend them to you.
My main gripes come with the practicality of using them, you cannot see what's inside as there is no mesh panel so you'll need to undo two zips in order to gain access. Luckily there are tons of colours to choose from so if you can remember which cube your items are in then you're good to go.
The other reason why I rated this second place, is that the opening isn't as wide as the Eono. The zips only opened across two sides, it was still possible to pack but I prefer a much larger opening for ease.
All in all, if you want to reduce the amount of space your belongings take up in your bag, then these compression packing cubes will help considerably.
---
Best Lightweight Packing Cubes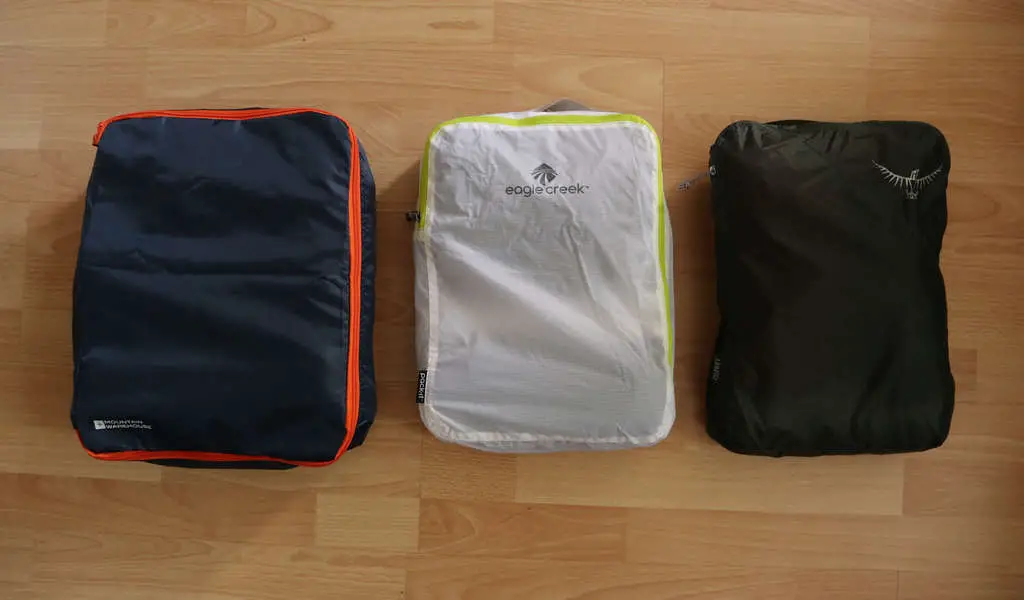 Lightweight packing cubes include many of the features of regular packing cubes. Only they provide these features in a lightweight format.
If you don't want your packing cube to add to the weight of your luggage, and you don't want to clutter up your home when not travelling, lightweight packing cubes make a good choice.
Here are my three top choices for lightweight packing cubes available in the UK:
Osprey Ultralight
A sleek ultralight packing cube offering simplicity and Osprey's usual quality standard.
The lightweight Osprey packing cubes have been very well made and use ultra-lightweight materials. They have a sleek design and utilise durable materials meaning the product will stand more frequent use.
Anyone who has purchased an Osprey product before, such as their backpacks, will be able to expect a similar quality level here.
In particular, a strong YKK zip which is a sign of quality. However, I do wish the zip would come around a little further to make a larger opening. Again, this isn't the end of the world, but it does make for a more fiddly pack.
You can get three size options, so not as many as the regular packing cubes tend to offer, but there is some choice.
Here is me being an Osprey fan boy with the Ultralight cubes in my Osprey backpack: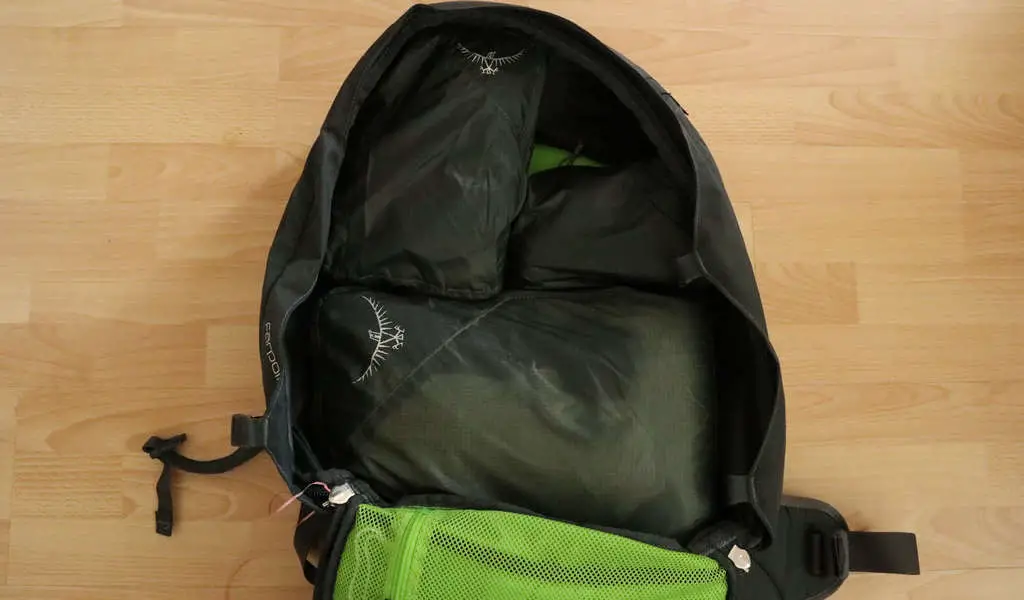 ---
Eagle Creek
An ultra-light single size brand, a simple solution ideal for backpackers.
The Eagle Creek packing cubes offer a good solution, particularly for backpackers who want one-size to simply stack and pack in their bag.
The lightweight materials mean the packing cubes themselves don't add to the weight or content of your bag. Yet, they allow you to simply and easily pack and organise your belongings.
The packing cubes have good strong handles and decent zips, although I did struggle a little after getting a shirt stuck in the zip during testing and it was touch and go as to whether the zip would pull through, however it did. Again, the zip didn't come all the way around the cube which was a shame too.
They do use translucent lightweight materials so you can somewhat see inside, but there isn't a proper mesh window. If you are apt to forget what you put where you may prefer a different product.
The one size option makes a good choice for people travelling with a backpack, but if you want a set of packing cubes with more variability in size choice this may not be the best option for you.
If you like to keep things simple, these ultra-lightweight packing cubes offer a well-made product to get you started using packing cubes.
---
Mountain Warehouse
A bold and lightweight packing cube system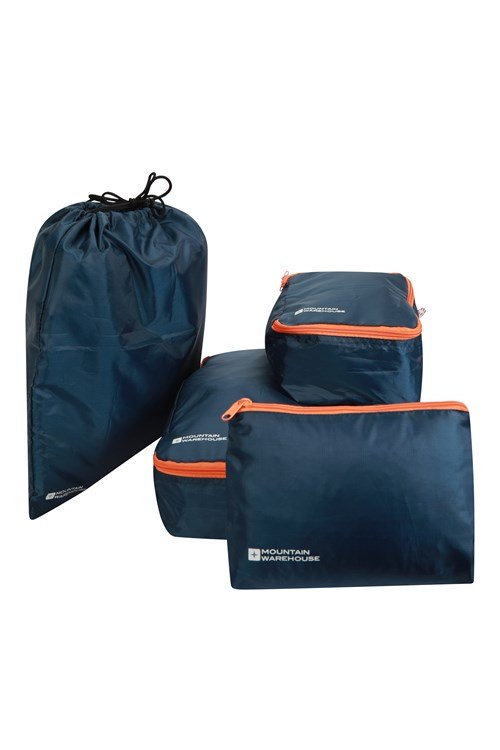 I had never intended to put these Mountain Warehouse products in the lightweight packing cube section as they are not marketed that way, but after receiving them I felt it was a good fit.
They have been made from lightweight ripstop fabric, and come in blue with bold orange zips. The two larger packing cubes have double zips which fully open across three sides, but none of them have a mesh window to glimpse quickly at the contents.
The smallest 'cube' is more of a wash bag than a proper packing cube, but nevertheless still useful. The set includes a useful laundry/shoe bag.
I did also feel that the build quality overall was lacking compared to the previous two lightweight packing cubes I have recommended, but the price makes up for this.
If you travel with a backpack, then this set may not make the first choice because each packing cube has a different size and they don't lend themselves well to the uniform shape of a backpack.
---
Best Budget Packing Cubes
Sometimes in life, cost is simply the priority. While many of the regular options won't break the bank, if you do want to keep your costs to the absolute minimum then these packing cubes offer the most punch for the least.
After testing these, I would highly recommend you splash out a little extra for the other cubes as you will benefit in the long run, I can't imagine any of them will last long. But nonetheless, here are my thoughts:
Vicloon
Super cheap set of eight packing cubes
The best aspect of these packing cubes are the sheer number of cubes you get for your pound. However, bear in mind they may not last as long as some of the slightly more costly options.
Despite the low cost, you still get a mesh window on the three largest, the zips fully open three sides, AND the compartments are notably deeper than many of the other packing cubes on offer.
Furthermore, they manage to offer 7 different colours. The set includes three packing cubes, three laundry bags, and two shoe bags.
The variability in the sizes means they may not pack best in a backpack, but for some people the low cost may make up for this slight disadvantage.
---
Wilko
Low cost set of three packing cubes
If you want low cost, then you will find it difficult to find a packing cube set with a lower price than this product.
Despite the low cost you still get good features included. For example, the packing cubes have double zips, the pockets fully open three sides, and there are mesh windows so you can easily see what's inside. The durability of these is likely to be poor, but that is too be expected for this price.
They've cut out the handles, and they only offer one colour, but if you want to keep your costs down you can probably live with those cons.
These are only available direct from Wilkinson's, so if you don't have a nearby store you will need to pay for delivery which will bump the price up.
---
Best Waterproof Packing Cubes
For those of you heading out into the wilderness, camping, or backpacking in a wet environment then you may want to prioritise a waterproof packing cube.
There is nothing worse than getting soaked on a hike and then finding all your dry changes of clothes are just as wet as the ones you've been wearing.
I've not personally tried these as they are a bit expensive, but based on other recommendations and reviews they seem like the best waterproof options.
Trakke Foulden Clamshell Packing Cubes
Scottish-made bright yellow seriously waterproof packing cube
These packing cubes are made in Scotland, by an independent company. A good reason in itself to support them. They make a high-quality product using durable weatherproof materials and aqua seal zips. They don't claim to be fully waterproof, but it seems like they will do a fab job.
On the downside they are rather yellow and don't have handles – but those things may not be a downside for everyone!
These packing cubes are also on the small side. You won't be getting your big heavy jumper in there, but they will definitely do to keep a set of thermals and other more lightweight clothes dry. Or they will do a good job of keeping your electrics and other essentials dry.
You could invest in a couple of cubes to put the most important things in. Then combine these cubes with other lower cost packing cubes for those belongings which aren't so critical to keep dry.
---
Nite Ize RunOff
High-tech zipper design makes this the ultimate waterproof small packing cube
A well-made packing cube aiming to keep your belongings truly dry. The product even boasts of being able to maintain dry contents when submerged for up to 30 minutes in 1m of water.
If you have items you must keep dry, then investing in one of two of these packing cubes to use in your backpack would be invaluable.
Needless to say, if you plan to put all your luggage into them, you will end up spending a lot. You can buy one or two of these as an investment to keep dry what is most important to you.
---
Conclusion
Packing cubes come in an array of choices, and hopefully now you have a better idea of what you want from yours.
My top recommendation for an all-round great product, are the Gonex packing cubes. These are suitable for both travel and outdoor adventure without breaking the bank.
As for specialist options, Eono by Amazon has my vote for compression packing cubes and Osprey for lightweight option.
Now, your packing has been sorted, you can get on with the best bit – your trip.