As an affiliate I may earn a commission on any qualifying purchases, including those from Amazon, at no extra cost to you.
As someone who travels a lot, I've been through my fair share of backpacks so I know how hard it can be to find one you like. But when you do, it can significantly improve your travel experience.
That's why I've put together this helpful resource. I'll share some of the key things to look for in a backpack for travelling, whether you're going for a city break or long term, and I'll share my recommended backpacks currently available in the UK.
Quick Summary
Here are my top 5 backpacks, keep reading for the full list with features and benefits of each:
Image
Summary
 

Best Overall: Osprey Farpoint 40

• Perfect size for carry-on luggage with most airlines
• Front loading for easy access
• Excellent quality with chunky zips

Best for Short Trips: Osprey Porter 30

• Perfect size for a shorter trip
• Front-loading makes it easy to organise
• Made from recycled material

Best for Long Trips: Osprey Farpoint Trek 75

• Suspended mesh back panel makes it very comfortable
• Huge capacity but still has a front-loading style

Budget Pick: Mountain Warehouse Traveller 60+20

• 2 in 1 backpack – 60L front-loading main pack with 20L daypack attached
• Large base pocket can be unzipped for extra space
What Size Backpack Do I Need?
Your travel style and destination will be a big influence on the size backpack that you need. My go-to size is a 40L, this is perfect for any short-term travel and long-term travel to warmer climates. If I was travelling to a colder climate, I would opt for a slightly larger pack to fit int eh extra layers of clothing required.
I've put together this helpful infographic with my recommended backpack size for you: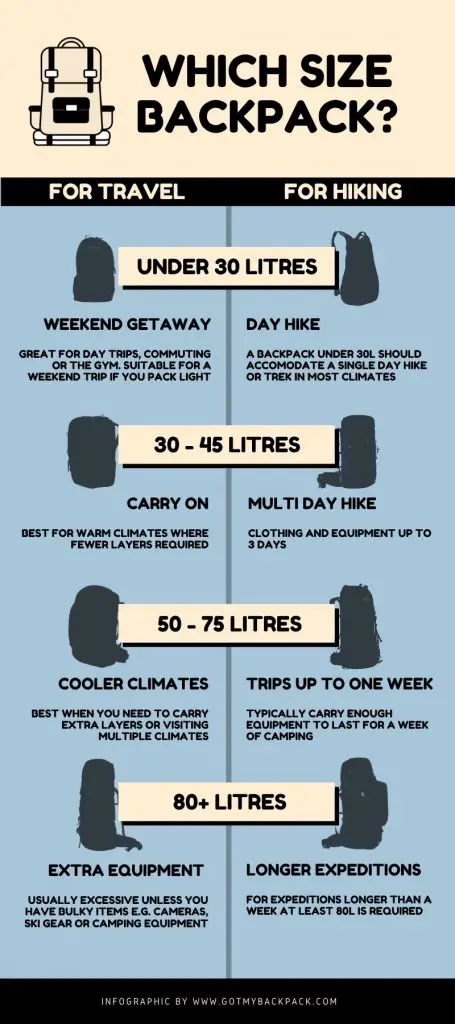 ---
Top 3 Things To Look For:
Here I've listed the three key things to look for in a travel backpack. This is my own opinion about the top features that matter to me, but there are plenty of other considerations such as whether it can hold a laptop, can the zips be locked, etc.
1. Front Loading
I can't stress enough how much a front-loading backpack will improve your travel experience.
I am surprised that there are still backpack guides that recommend anything other than front loaders as a good choice for travel. A front-loading backpack opens just like a suitcase, with a zip that usually goes around three of the edges like a panel.
No longer do you need to endure shoving your arm down in tot eh wilderness of a top loading backpack and feeling around for your belongings. Even if you use packing cubes (which I definitely recommend), you still have t take each cube out to find the correct one.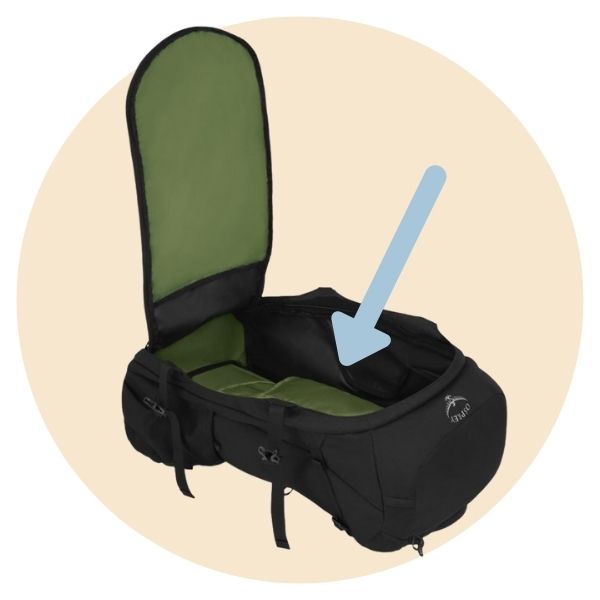 2. Breathable Back Panel
If you're used to carrying your backpack for long periods of time, you'll know how sweaty your back can get (hint: don't wear a light blue t-shirt!). Having a breathable back panel is key to allowing air to circulate and help prevent you being a sweaty mess. This can be done by the use of mesh material like you'd find on a trampoline and air channels that have been designed into the pack.
I did find one backpack with a suspended pack too which is even better (Farpoint Trek) however this is usually reserved for backpacks that have been designed for trekking or hiking.
3. Stability and Weight Distribution
An often-overlooked element of buying a backpack is how well it supports the weight in the pack. There are a number of features that can be added to improve weight distribution, you'll want to ensure that your backpack has all of these:
A: Load lifters – these are at the top of the should straps and help you align the pack and lift the weight from the shoulders.
B: Hip belt – A hip belt isn't just to keep the backpack strapped to your body, it actually serves a key purpose for weight distribution but spreading the weight of the pack through your hips, this helps relieve some of the pressure on your back.
C: Sternum strap – A sternum strap (also called da chest trap) helps keep the shoulder straps centrally positioned on your shoulders, this is particularly important when you have lots of layers on as the straps can easily slip off.
---
Best Travel Backpacks
My top recommended backpacks for travel are:
Below are my full reviews of each backpack along with images and links to buy.
Osprey Farpoint 40
Note: The women's fit is the Fairview 40 found here.
Material: 600D Ripstop Nylon // Weight: 1.4kg
I've travelled with this backpack for a few years now so have no problem recommending this as my overall top travel backpack.
The bag is front loading, so it opens just like a suitcase. It has expandable storage via a large zip which means you can squeeze it down if packing light or open it up for longer trips. I use this for both city breaks and long term travel.
The size is perfect, it fits on most airlines as carry-on luggage. It has a handy quick access pocket at the top where I keep passports, headphones, etc, then there's a laptop compartment on the front too.
The back panel is made from mesh, although there is no air channel down the middle so it can get a little hot if carrying for long durations. The straps, back panel and hip belt all have a nice amount of cushioning so it's comfortable to carry.
The straps can be stowed away in the zip compartment, allowing you to use the included shoulder strap or one of the large grab handles. Personally, I've never made use of this as I prefer to carry the bag on my back.
One thing I've noticed on my travels, lots of people do have this pack so you'll want to attach something recognisable to avoid any mix ups.
---
Kathmandu Litehaul 38
Material: Recycled Nylon // Weight: 1.4kg
Kathmandu is another of my favourite travel backpack brands. They are based in New Zealand, but their bags are gaining prominence in the UK too.
This pack has a panel opening at the front to open like a suitcase. It also has a quick access top pocket which has a wide zip, I much prefer the style to the typical brain lid of a backpack as it's far easier to find you belongings. The only downside is that it eats away into the main compartment space.
It has a large laptop compartment that can hold a 15" laptop and sits against your back where it is well protected.
The back panel is made from a mesh material with air channels which feels comfortable and allows air circulation. The straps also have a decent amount of padding. Like the Osprey, the straps can be hidden away if you want to use the shoulder carry strap or if you do decide to check the bag in at an airport.
It's very lightweight for its size at 1.4kg and also integrates well with Kathmandu's daypack which can be attached to the front.
---
Peak Design 45
Material: 400D Nylon // Weight: 2.05kg
In all the backpack reviews I've written (that's a lot!), the Peak Design 45L has more useful features than any other travel backpack.
It's made from weatherproof 400D Nylon which is renowned for being strong and lightweight. Having said that, the pack is quite heavy for its size at more than 2kg.
Considering this is a carryon size pack, it's super spacious and you could easily fit enough inside for long term travel. At its basic level, the pack is 40L. However, it can be expanded up to 45L, or compressed down to 30L when you pack lighter.
The straps stow away really easily, it's not a zip compartment like other bags, they just slide inside the back panel really smoothly.
Something really unique to this pack is that it can open it from the front or the back which is very useful providing you can remember where the belongings you need are stored (a skill you will quickly pick up).
On top of this there are plenty of other pockets on the inside and out, including a laptop sleeve up to 15". I also really like the hidden quick access pockets that are ideal for keeping passport or wallet in.
As you'd expect there is a sternum strap, load lifters and a hip belt. Although The hip belt isn't as well padded as other packs.
There are 3 colours available, personally I like the black, but there is also sage and midnight blue.
---
Mountain Warehouse Traveller 60+20
Material: Polyester // Weight: 1.85kg (main) + 0.58kg (daypack)
If you're after value for money, then Mountain Warehouse is the brand I recommend. You'll recognise the name as one of the leading travel and outdoor stores in the UK, but they also have their own brand of backpacks.
Featured here is their traveller 60+20 backpack which is a 2-in-1 solution. The main backpack is 60L and features a front-loading design which is my preferred choice for travel. It has a bottom compartment which would be suitable for storing a sleeping bag or the divider can be unzipped to give extra space to the main compartment.
Then there is a smaller 20L daypack which can be attached to the main backpack via a zip. This makes it really convenient to carry your day pack without the need to unpack it into your big bag every time you move around. This pack has bungee ropes on the front which are great for stashing any wet or dirty clothes, or for strapping obscure items to.
The straps of the main backpack can be stowed away like the other bags I have shared so you can use it as a duffel. There is also a built-in rain cover that will fit over both bags, a nice touch that you might not expect from a budget travel backpack.
Overall, the build quality doesn't feel as good as the other backpacks I have reviewed, however I guess you get what you pay for.
---
Kelty Redwing 50
Material: 420D Polyester // Weight: 1.44kg
The Kelty Redwing is a classic backpack that can be used on a variety of occasions. It's great if you want a multipurpose pack that will also be useful for hiking, expeditions or even as a large day pack.
As far as comfort goes, this is one of the best out there. It has a ventilated back panel that has lots of padding, plus it's realty stable due to the spring steel frame. The straps are also very comfortable and have mesh material all the way down them for breathability.
It has large wing side pockets which have been a signature of the Redwing range, these can be used for storing water bottles quick access items or can be used to keep your travel essentials organised.
It's made from 420D polyester, which is a change from the other packs here that mainly use nylon. Polyester isn't as lightweight as nylon but does fair better against the weather as it won't absorb water.
The bag has a hydration bladder pouch, which can also double up as a laptop sleeve if you don't have a water bladder.
---
Osprey Porter 30
Material: 500D Recycled Nylon Packcloth // Weight: 1.3kg
If you want to travel even lighter than the Farpoint 40, I'd recommend another of Ospreys packs, the Osprey Porter 30.
The main compartment is front loading, and, on the front, you'll find an organisational pocket that holds a laptop up to 15 inches.
Despite being 30L which sounds small, you can fit plenty inside the compartment, enough for a 2-week trip for most travellers, or long term if you're a frugal packer. There's also a handy pocket on the top which can be accessed without undoing the compression straps which is great for passport, keys, etc.
It's compatible with Osprey Daylite series which is a smaller pack that can be attached to the front, this is great for day trips whilst travelling so you can leave your main backpack at home.
Like the Farpoint 40, it also has the straight jacket style compression straps that wrap around the pack, this keeps it nice and compact whilst also hiding all of the zips and pockets out of sight. The only thing missing is a water bottle pocket.
---
Osprey Farpoint Trek 75
Note: The women's fit is the Fairview Trek 70 found here.
Material: 420D Nylon // Weight: 2.1kg
If you'll be travelling longer term and plan to pass through different climates or need extra gear, then I recommend a larger pack such as the Farpoint trek 75 (yes, it's another Osprey!).
Despite bearing the Farpoint name, it's an altogether different product from the Farpoint 40 I shared earlier. For starters, it has a back-panel system that you'd usually expect to find on Osprey's hiking backpacks.
There's a mesh back panel with the main pack being suspended, this means that the weight doesn't lean directly on your back. This allows a channel of air to pass between your back and the pack, making it less sweaty when carrying for longer periods of time.
The main compartment has a large front panel so it opens like a suitcase, I've not come across many packs of this size that have panel opening.
Besides the massive main compartment, there are plenty of other pockets scattered throughout the bag, including a top pocket that contains a rain cover, a front pocket for smaller belongings and extra pockets on the hip belt which the smaller Farpoint didn't have.
It also has a bottom pocket that can be used for extra storage space, or to carry a sleeping bag.
To keep everything as compact as possible, there are internal and external compression straps, including the straight jacket style compression that can be used to hide away all the zips and pockets. The straps can also be stowed away when not in use if you need to check the bag in.
---
Kathmandu Hybrid 70
Material: Nylon and Polyester // Weight: 3.42kg
If you enjoy a backpack but also like the thought of a wheeled suitcase, then I recommend the Kathmandu Hybrid as the best of both worlds.
As a backpack, this bag has a breathable trampoline-mesh back panel, straps and a hip belt that make it comfortable to carry.
If you prefer to pull it along, a telescopic handle pulls out of the top and the back straps can be hidden away. The wheels are rugged so will cope with most terrain and can also be replaced if they get significant wear and tear.
The bag is made from Nylon which is strong and lightweight, however the wheels and handle do add a fair amount of weight so you won't want to carry it around for prolonged periods of time..
It is front loading like a suitcase. with a large main compartment. There is a notable lack of additional compartments so packing cubes are advised with this product.
The bag is available in three different colours and also comes in alternative sizes including 32L and 50L. It is also compatible with Kathmandu's Gluon day pack which can be attached via the bespoke clips on both packs.
---
Comparison Chart
| | Osprey Farpoint 40 | Kathmandu Litehaul 38 | Peak Design Travel Backpack | Mountain Warehouse Traveller | Kelty Redwing 50 | Osprey Porter 30 | Osprey Farpoint Trek 75 | Kathmandu Hybrid 70 |
| --- | --- | --- | --- | --- | --- | --- | --- | --- |
| Capacity | 40L | 38L | 45L | 60+20L | 50L | 30L | 75L | 70L |
| Fits Carry-On? | Yes | Yes | Yes | No | No | Yes | No | No |
| Material | 600D Ripstop Nylon | Recycled Nylon | 400D Nylon | Polyester | 420D Polyester | 500D Recycled Nylon | 420D Nylon | Nylon and Polyester |
| Weight | 1.4kg | 1.4kg | 2.05kg | 1.85kg | 1.44kg | 1.3kg | 2.1kg | 3.42kg |
| Price | ££ | ££ | £££ | £ | ££ | ££ | ££ | ££ |
| Where to Buy? | Amazon | Amazon | Amazon | Amazon | Amazon | Amazon | Amazon | Amazon |