As an affiliate I may earn a commission on any qualifying purchases, including those from Amazon, at no extra cost to you.
Manchester is one of the UK's largest and most popular cities, establishing itself during the industrial revolution and now arguable the home of football, bands and soap operas.
Not only are there lots of things to do in the city itself, but it makes a great place to base yourself whilst you discover the north of England with many exciting day trips on your doorstep, most of which are easily accessible by public transport.
Here are the 9 best places you can visit on a day trip from Manchester using the railway network.
1. Liverpool
Follow in the footsteps of the Beatles in the Northwest's second biggest city. Here you can learn more about the fab four at The Beatles Story, an immersive journey into their story.
The city also has a huge array of museums from the Tate Liverpool for contemporary art enthusiasts, the Maritime museum for history geeks and the Anfield museum and stadium tour for footie fanatics.
Liverpool is one of the cheapest day trips to take by train from Manchester, costing an average of £2.80.
Getting there: The train from Manchester Piccadilly station to Liverpool Lime Street takes around 1hr and costs as little as £2.80 when you book in advance or from £5 for on the day travel – View tickets.
2. Blackpool
Blackpool is a destination that will split opinion, whether you love it or hate it, Blackpool is a classic British seaside destination with something for everyone.
This is Britain, so expecting a sunny day at the beach can be ambitious, but whatever the weather there are loads of activities including the Blackpool Tower, Madame Tussauds and the dungeons.
But top of the bucket list has to be Blackpool Pleasure Beach, a theme park that's one of the most visited tourist attractions in the UK and is home to the country's tallest roller coaster, the Big One.
Getting there: The direct train from Manchester Piccadilly to Blackpool North takes 1hr20. Prices can be secured from £5 when you book in advance or £9 when purchased on the day of travel – View tickets.
3. The Peak District
Travel less than an hour South of Manchester by train and you'll be in the heart of the peak district surrounded by nature, a stark contrast to being in one of Europe's busiest cities.
In the UK's oldest national park, the Peak District, you'll find plenty of great hiking routes for all abilities as well as quaint little villages and caves to explore. Make sure you get your hands on a Bakewell Tart during your visit as these originated here.
Getting there: You'll find a number of towns in the Peak District that are easily accessible by train from Manchester:
Edale – A popular trip is to take the train to Edale station where you can do the Mam Tor ridge walk.
Hathersage – Take the train to Hathersage for access to the Hope Valley which hosts many hiking, cycling and climbing routes. The most established walking route here is towards Stanage Edge. On this route you'll pass through the stunning surroundings that inspired Charlotte Bronte as she wrote Jayne Eyre and walk along the cliffs that featured in Pride and Prejudice, a must for literary fans.
Buxton – Buxton is slightly larger than Hathersage and Edale and is the highest market town in England. Activities here include Poole cavern, Go Ape outdoor adventure, the opera house which hosts live events all year and the Pavilion Gardens which features over 23 acres of indoor and outdoor gardens with a lake and a concert hall.
4. The Lake District
North of Manchester you'll find England's largest national park, the Lake District which covers over 2,362 square kilometres including forests, lakes and mountains.
For the hikers, Scarfell Pike is England's highest mountain and can be found in the lake district. It takes about 2-3 hours to ascend the 978m high beast of a mountain. Plus, keep an eye out for the famous Rannererdale Bluebells
The Lake District has long influenced many writers including William Wordsworth, John Ruskin and Beatrix Potter. Fans of the Peter Rabbit author can visit the Beatrix Potter gallery in Hawkshead where you'll find original pieces of her work.
At the heart of the Lake District is Lake Windermere, the longest lake in England at 10.5 miles. You can experience the beauty from the water by taking one of the Windermere lake cruises that operate throughout the year.
Getting there: Most people heading to the Lake District by train will get off at Windermere station which takes 2 hours, with tickets starting from £7.50. This route is advised booking in advance as fares can rise – View tickets.
5. Southport
Southport is a large seaside town north of Liverpool that's best described as a very British day out. It's home to the oldest iron pier in the UK and is well known in the golfing world having hosted several Ryder Cups.
You'll find long sandy beaches surrounded by nature reserves and natural dunes which can be accessed via walking or cycling paths.
The Sefton Coastal Path is a popular choice, you can head down to Ainsdale Sands passing through the Birkdale Hills Nature Reserve which takes about 1hr30 and you can then get the train back to Southport.
If all that walking doesn't sound like your thing, Southport has plenty of other options. Its home to Southport Pleasureland, a theme park with 4 roller coasters, a log flume and plenty of rides and games for all the family.
There are also some very obscure things to do in Southport, including the British Lawnmower Museum and the Model Railway Village.
6. Llandudno
Llandudno is a seaside town in north wales that's about as British as they get. There's a 19th century pier, arcades and a long beach.
In summer, you can board the Great Orme Tram which is the only cabled-driven public road tram in Britain. It heads up to the summit of Great Orme, a rocky country park just outside Llandudno, where you can venture one of the walking trails or enjoy the view from the summit café.
7. Birmingham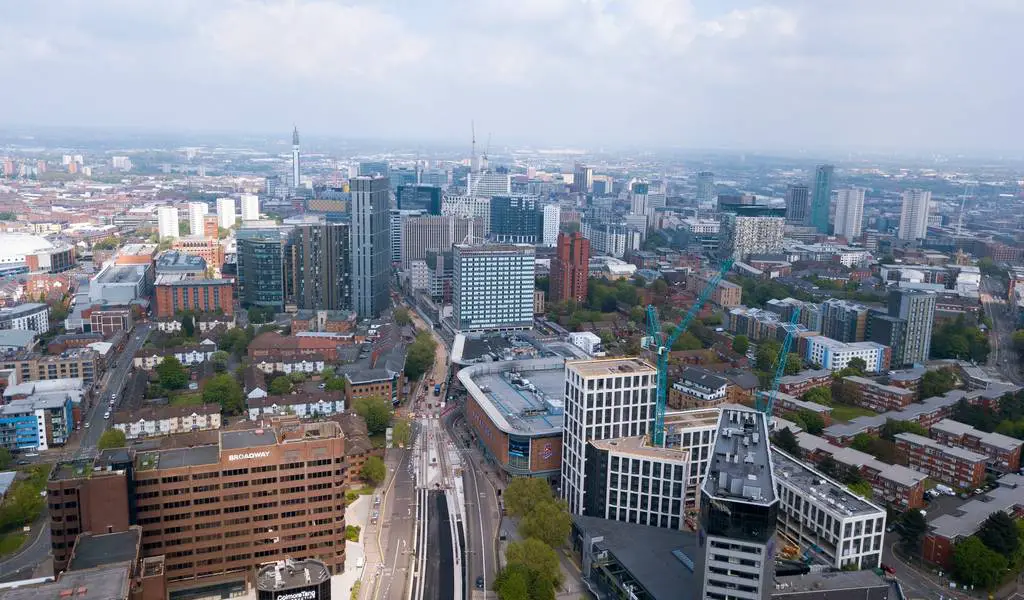 Birmingham has garnered attention in recent years thanks to the popularity of Peaky Blinders, but it had been attracting tourists long before this thanks to its central location, fascinating history and more than enough activities top keep you busy.
It's at the heart of the UKs canal network and in fact boasts more miles of canals than Venice which makes for some beautiful canal walking and cycling trails.
The city hosts some epic museums including Thinktank, a family friendly science museum, the national motorcycle museum, the Jewellery Quarter museum where you can see the process of jewellery being made and, a more obscure choice to say the least, Coffin works; a coffin workshop turned museum.
Birmingham also boasts a great foodie scene, with more Michelin star restaurants than any other UK city except London and is home to the Balti triangle, an area of Birmingham with more than 100 curry houses that is said to be the birthplace of the Balti curry, a popular dish in the UK.
Getting there: It currently takes about 1hr30 from Manchester Piccadilly to Birmingham New Street and costs about £8.50. – View tickets.
8. York
York is an epic city full of cute streets and historical attractions. Top of the York bucket list will be York Minster, a 1,300 year old cathedral that's one of the best in the world.
You'll also need to check out the city walls. These were built to defend the city in Roman times and have played a major role in the city's history. Nowadays, they make a wonderful walk with great views.
After this you can head to York's busiest street, the Shambles. With cobbled stones and boutique shops it's like taking a stroll down Diagon Alley, in fact it was one JK Rowling's inspirations for the street.
Now that you've had a view of modern day York, it's time to see what it was like int eh past, head to the York Castle Museum which is an immersive step back in time where you can wonder the city's streets, complete with olden day actors.
Getting there: There are more than 50 trains per day from Manchester to York costing on average £9.50 and taking about 2 hrs – View tickets.
9. Chester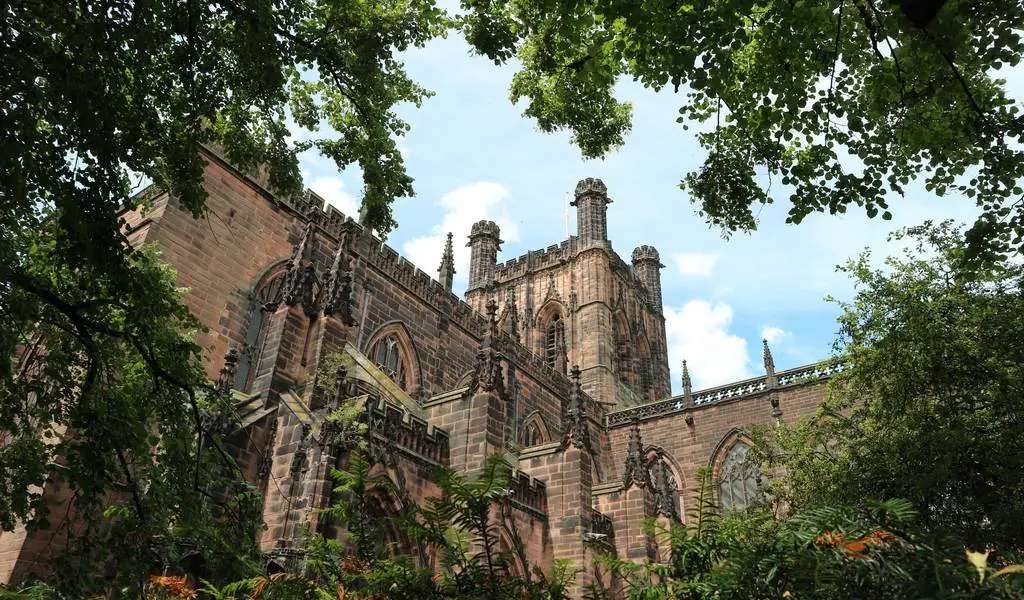 Chester is known for its extensive Roman walls which still run their entire route around the city and date as early as the 1st century. They are touted to be the longest and most complete in England.
Aside from the walls, the city also boats and impressive cathedral and a river that is best enjoyed from one of the sightseeing boat trips, or for the more adventurous, by renting a kayak.
The city is booming during the summer months with a huge number of bars and restaurants lining the street and Chester racecourse that host events on most weekends.
Getting there: According to the The Train Line, it takes about 1hr20 to reach Chester by train from Manchester with almost 50 services running each day – View tickets.
---
---
Pin this: