Of all the cities I've visited in Europe, Venice is my favourite, the world-famous canals and historic buildings make it an amazing destination. Here are some interesting facts I learnt during my visit.
I love to wander the streets on my own, even if it does mean getting lost countless times. But I also love learning about the history and culture of a city, so on my recent trip I decided to take a guided walking tour.
Being the budget traveller that I am, I decided to take one of the free tours. I used a company called La Bussola – highly recommended. I took the 10am tour which lasted over 3 hours, starting at Campo Santo Stefano (not far from the Pont de l'academie).
Top tip: If taking a tour, remember to allow plenty of time to get to the starting point. It can take longer than you think as there are only 4 bridges over the grand canal.
The tour was led by a local who was full of knowledge about the city, here are 16 interesting facts about Venice I learnt during the tour (all fact checked online):
Venice is one of those places that you could spend days wondering the streets and enjoying the atmosphere. But if you're short on time, it's still possible to discover the best of Venice in 2 days.
Venice is built on millions of petrified logs that have been driven in to the ground. These logs were mainly from Alder trees (known for its water resistance). These were bought to Venice by boat from other countries such as Slovenia and Croatia.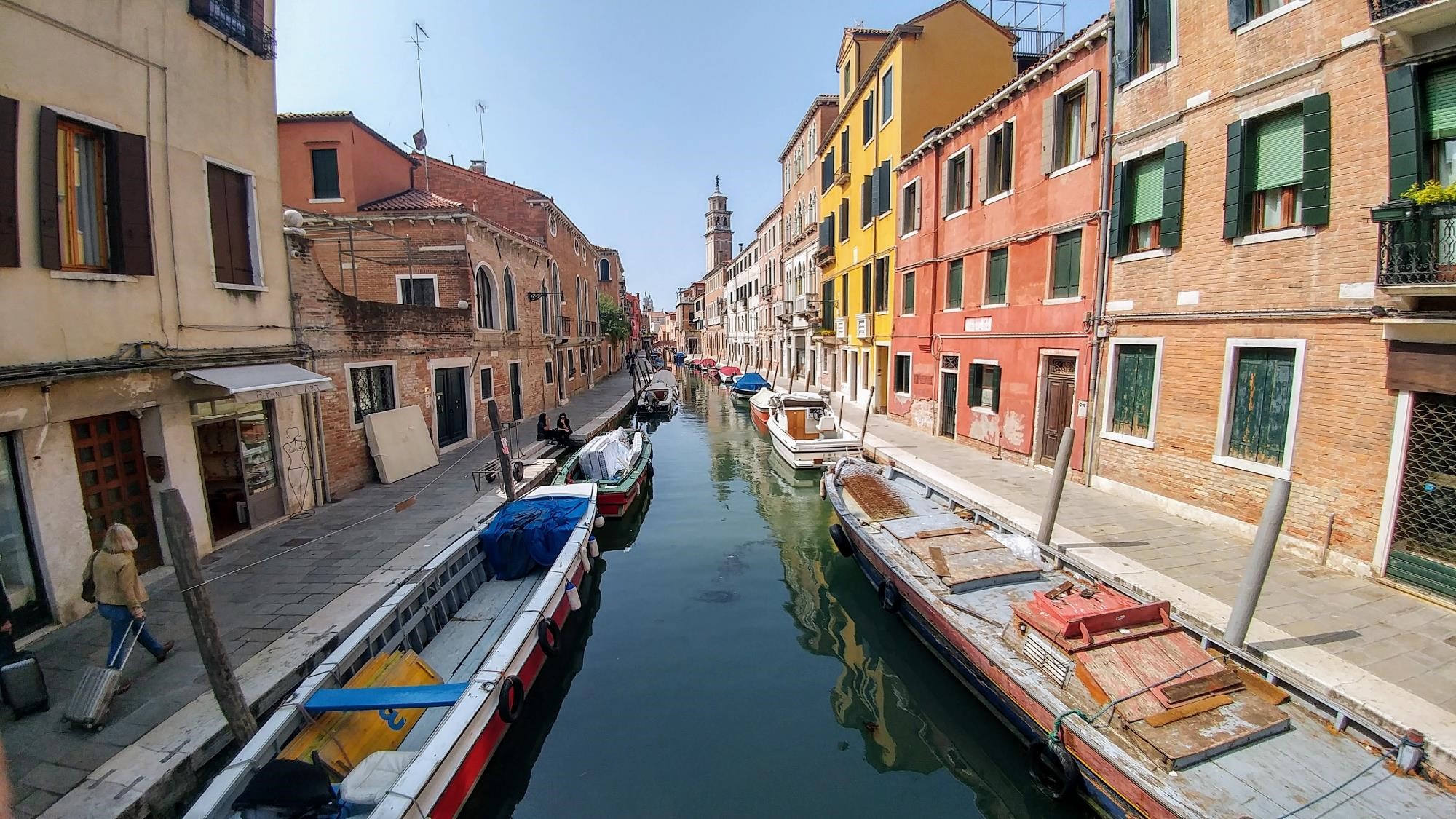 The city is formed of 118 islands
The 118 islands that make up Venice are connected by around 400 bridges and over 170 canals. The city is located in the Venetian Lagoon which is a wold heritage site.
Venetians are unhappy about unsustainable tourism
The ever-increasing number of tourists visiting Venice is a sore-point amongst the locals. Venice now receives over 20 million tourists per year, a figure which continues to increase. The guide explained to us that many residents believe this is unsustainable and more than the city can cope with.
Locals are leaving Venice
Conversely, the local population of Venice has rapidly decreased in recent years as many leave due to increasing cost of living and overcrowding of the city. There are now around 55,000 full time residents, compared to 120,000 just 30 years ago. Some experts have predicted that unless something is done about population decline, there will be no full-time residents by 2030.
Analysis has shown that the city is subsiding by about 1-2mm per year. This is due to both natural causes such as the Adriatic plates upon which Venice sits being driven into the sea, and man-made causes such as the continued extraction of water from the city over the past century.
Venetians paraded a casket through the city
When the number of local residents living full time in Venice dropped below 60,000 in 2008, residents held a fake funeral to raise awareness of the decline. This saw them transport a casket through the city on 3 gondola, not much changed following this protest and numbers continue to decline.
Only got one day in Venice – view this itinerary from EverywhereForward
The cost of living is significant
As a visitor, I felt that Venice was expensive, but the guide explained that an apartment in Venice can cost upwards of €1million (£890k). These high prices are driven by the substantial tourism – many houses are bought up and turned into hotels and restaurants.
There are only 3 or 4 new gondoliers each year
You need a professional licence to become a gondolier. After centuries where the profession was handed down from father to son, there is now a gondolier course. However only about 3 or 4 new licences are granted each year. The course involves 400 hours of training to learn the skills needed and an apprenticeship with a gondolier. Candidates must also study and take an exam on Venetian history and landmarks.
Venetians hate cruise ships, and with good reason
The guide made a good argument for why cruise ships should not visit Venice, they bring large amounts of pollution and displace around 90,000 tonnes of water per ship which damages the lagoon. Not to mention bringing an additional 30,000 passengers per day in peak season, many of whom do not spend much money in the city.
Flooding is an increasing concern for locals
Venice is prone to flooding when high tides occur in the Adriatic Sea usually during December and January. Combine this with the rising sea levels due to climate change and you'll realise why Venetians are increasingly concerned. There is a siren system to warn about upcoming flooding so they can prepare but the local told me that nowadays most of them have a flood warning app too. I noticed lots of wooden walkways around the city, particularly St Marks Square, ready for flood waters.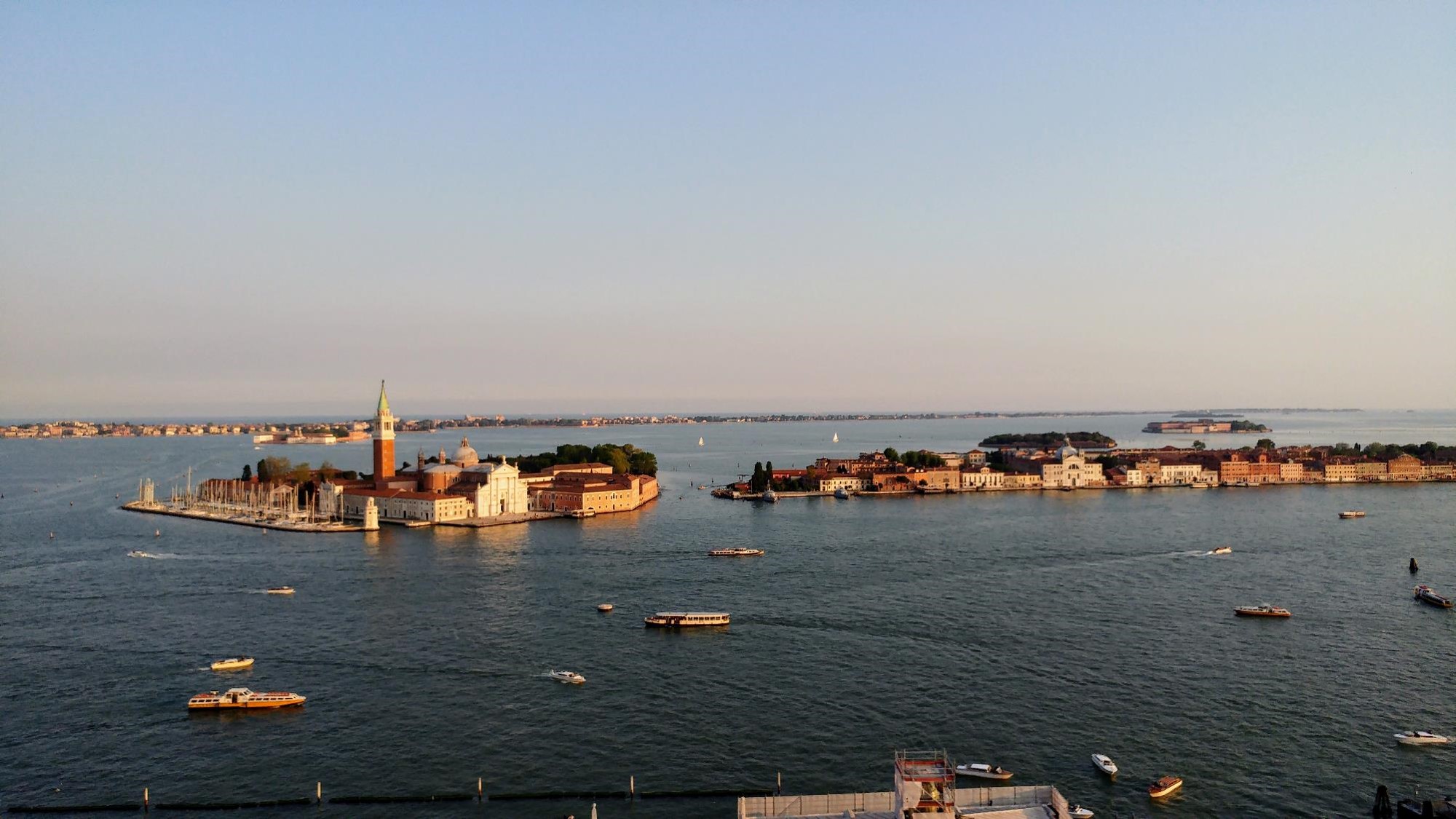 Gondoliers are among the most well-paid workers in Venice
A gondolier can earn a salary of around €100,000. However, there are now only around 400 gondoliers in Venice, this is compared to around 10,000 in the 16th century.
Venice is home to one of the narrowest streets in the world
Another fact about Venice is that the narrowest street in the city, Calle Varisco, is just 53cm wide.
Cycling is forbidden in Venice
A relatively unknown fact about Venice , Skateboards, Roller Skates or Bikes are not allowed. Although given the number of bridges, I can't imagine this would help get around that much quicker anyway. Big fines are in place if you're caught using these transport methods.
There is only one female gondolier
I was told that 2010 saw the arrival of the first officially recognised female gondolier. Although this was no the game changer that it was hoped to be. Today, Giorgia Boscolo, the daughter of a gondolier, remains the only female in the profession that has been almost exclusively male for a thousand years.
Gondolas are black by law
Another interesting fact about gondolas in Venice; the outside must be painted black according to an old city law. Before this law was passed, gondoliers would decorate their gondolas to attract customers. The guide told me that all the designs would have been an eye sore, and also meant that the richest noblemen with the most to spend on decorating their gondolas would have an advantage. I noticed that many now decorate the inside with fancy materials to distinguish themselves.
St Marks Companile is one of the newest additions to Venice
The current bell tower, one of the most recognised landmarks, was only built in 1912 after the original collapsed in 1902. The collapse was a significant event for Venice at the time, likely the result of a combination of unsuitable foundation, a history of damage from fires and earthquakes as well as the regular flooding of the square in which it stands.
I hope you found these facts as interesting as I did, Venice is an amazing city that you need to visit if you haven't yet.