As an affiliate I may earn a commission on any qualifying purchases, including those from Amazon, at no extra cost to you.
The golden pass route from Montreux to Lucerne is one of the iconic scenic train journeys that Switzerland is famous for.
The route stretches through 6 regions of Switzerland, passing through stunning mountain terrain, alongside 8 lakes and stopping in cute Swiss villages and resorts along the way.
Many of the trains on the route have panoramic windows, stretching right to the top of the carriage for maximum visibility as you pass through the alps.
This guide will share everything you need to know for planning your journey along the Golden Pass Train Line.
The Golden Pass Train Route
The Golden Pass line runs from Montreux to Lucerne, and vice versa. But, this isn't one continuous train journey, you'll need to make a few changes on the way although I'd recommend seeing as much of the country as you can.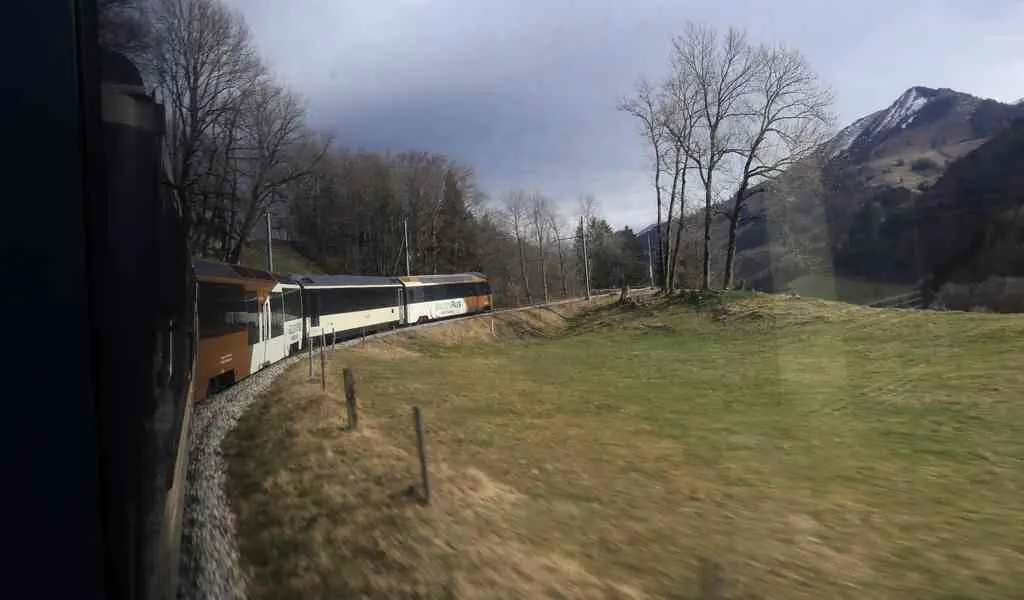 The journey can be split in to 3 main sections as detailed below. I've based this on the direction that we took from Montreux to Lucerne, but they also run in the opposite direction.
MOB Line: Montreux – Zweisimmen
This line is known as the Montreux-Oberland-Bernois (MOB) line. The journey from Montreux to Zweisimmen takes about 1hr50 with the first train leaving at 05:37 and the last train at 22:14. Both panoramic and classic golden pass traiins operate on this line, I'll run through the differences in the next section.
BLS Line: Zweisimmen – Interlaken West
This is the Bern–Lötschberg–Simplon (BLS) railways. Direct trains on this route between Zweisimmen and Interlaken West take about 1hr, some trains change at Spiez taking 1hr20. The first train leaves at 05:39 and the last train at 23:04.
Zentralbahn: Interlaken Ost – Lucerne
This line is known as the Zentralbahn. The journey takes about 1hr50 with the first train leaving at 07:04 and the last train at 20:04. Other non-direct trains are also available.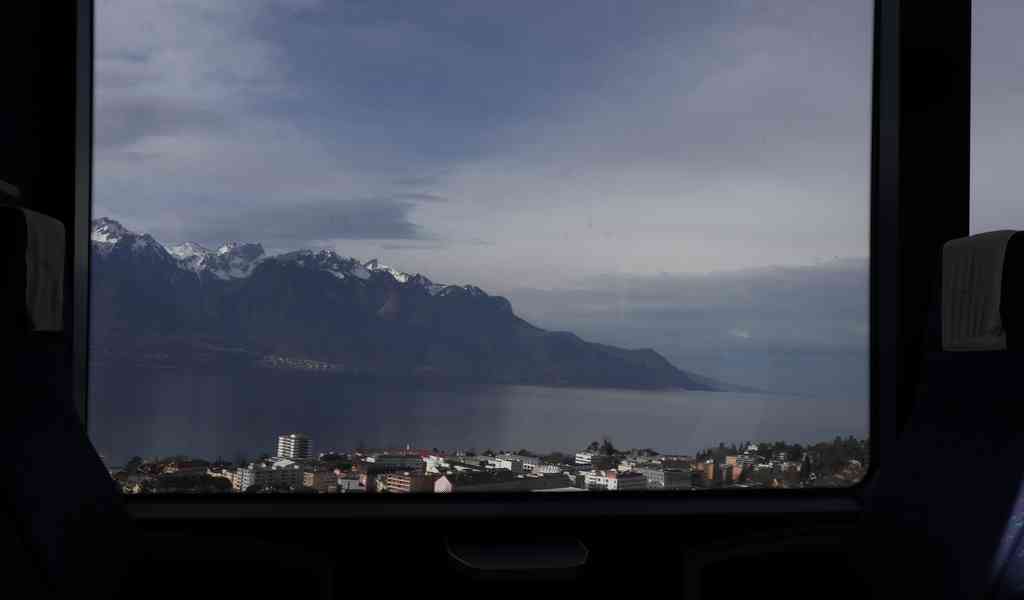 ---
Golden Pass Classic vs Panoramic Coaches
On the first portion of the journey, Montreux to Zweisimmen, there are both Panoramic and Classic Golden Pass trains running on an alternating schedule. We rode on a Panoramic coach which had large view windows that went to the top of the carriage.
The classic coaches are a little more retro and offer a glimpse at what train travel might have been like a few decades ago when the iconic Orient Express graced the rails in Switzerland.
To tell which type of train you'll be boarding, the prefix of the service number for trains with panoramic coaches is PE (Panoramic Express) whilst for classic coaches, the service number begins with an R. This only affects the Montreux to Zweisimmen section.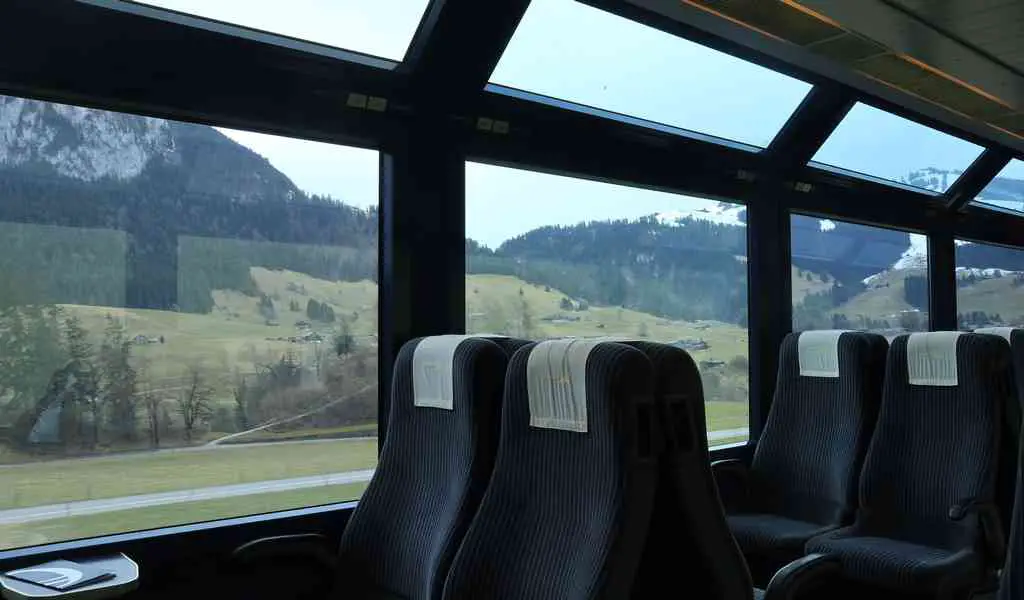 ---
Prices on the Golden Pass Line
The cheapest option for travelling along the Golden Pass will entirely depend upon the circumstances of your trip. I'll break down a few of the main options below:
1. Travelling the Golden Pass Line with an Interrail or Eurail Pass
An interrail or Eurail pass is valid on the entire golden pass route with no reservations required. We decided to use interrail passes for our journey along the Golden Pass line as we would also be taking other trains in Switzerland so it made the best sense financially.
Adult cost: A 3 day adult Interrail pass for Switzerland costs £123 (CHF152). This is equivalent to £41 (CHF51) per day.
Youth cost: A 3 day youth Interrail pass for Switzerland costs £107 (CHF132), equivalent to £36 (CHF45) per day.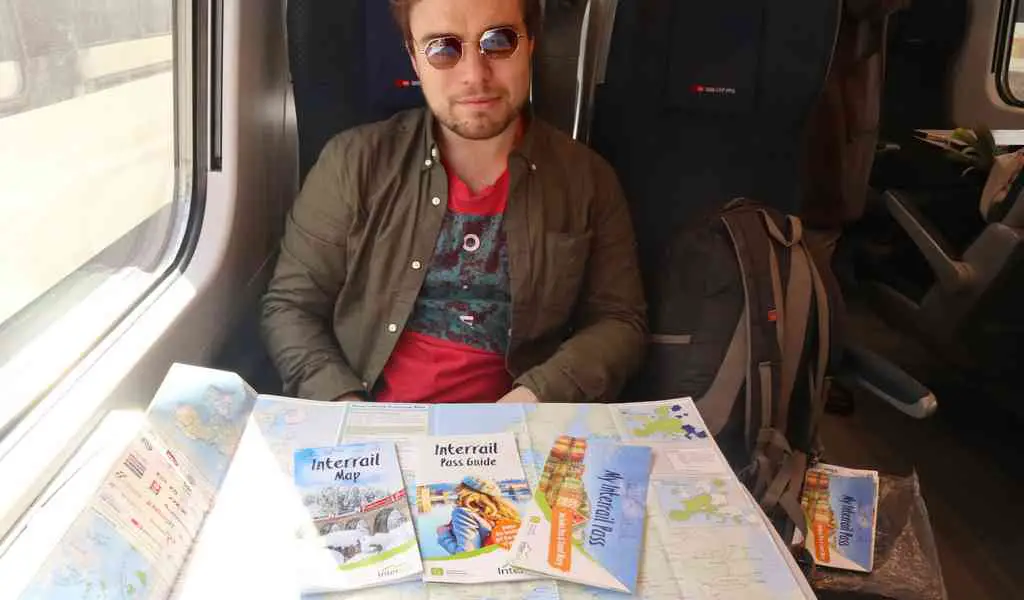 ---
2. Travelling the Golden Pass Line with a Swiss Travel Pass
A Swiss rail pass is valid on the entire golden pass route with no reservations required. This is more expensive than an interrail pass but comes with many extra benefits as it is valid on many of the funiculars and private railways as well as discounted or free entry to many attractions along the way. I've detailed some of these in my article about the best things to do in Lucerne.
Adult cost: A 3 day consecutive Swiss rail adult pass costs £287 (CHF232). This is equivalent to £95 (CHF77) per day.
Youth cost: A 3 day consecutive Swiss rail youth pass costs £245 (CHF198). This is equivalent to £82 (CHF66) per day.
---
3. Cost of End-to-End Tickets on the Golden Pass Line
The cost of taking the journey using end to end tickets isn't particularly more expensive than using a travel card, however you lose a lot of the flexibility that this provides. If you purchase tickets for set trains in advance, it's not as easy to hop off whenever you like or change your plans.
I worked out that the journey detailed below would cost about £77 (CHF95) excluding the boat from Interlaken to Brienz, or £100 (CHF124) with the boat. This isn't drastically different to using the passes. However, bear in mind that the passes have other benefits in terms of discounted entry to attractions, etc, and become more economical as you purchase them for longer periods.
So, Which Pass is Best?
Here is a summary of the most cost-effective way to make the journey:
If you'll only be travelling along the Golden Pass and have a strict itinerary, then you'll be better off buying end to end tickets.
If you're visiting as part of a broader journey through Switzerland or Europe, then an Interrail/Eurail pass will offer better value.
Finally, if you plan to visit lots of high-priced attractions along the way, then a Swiss Travel Pass will be the best option as it provides free entry.
---
---
When is Best to Take the Golden Pass Train?
You can take the Golden Pass Line at any tie of year however you may want to tailor it towards your tastes:
During summer, expect warm sunny weather as you trundle through the countryside. This is peak tourist season so all of the activities will be open, but it can get quite busy. The highest mountains will still have snow at the top, but you won't be able to do many winter sports.
Riding the Golden Pass Line in Winter
During winter you may experience wind and snow which leads to a beautiful train ride through the snow-covered landscape. If you enjoy winter sports such as skiing, snowboarding, snowshoeing and sledding, then this is the perfect time to go. Many of the viewpoints will be closed and access to funiculars will be limited as some are only open in summer.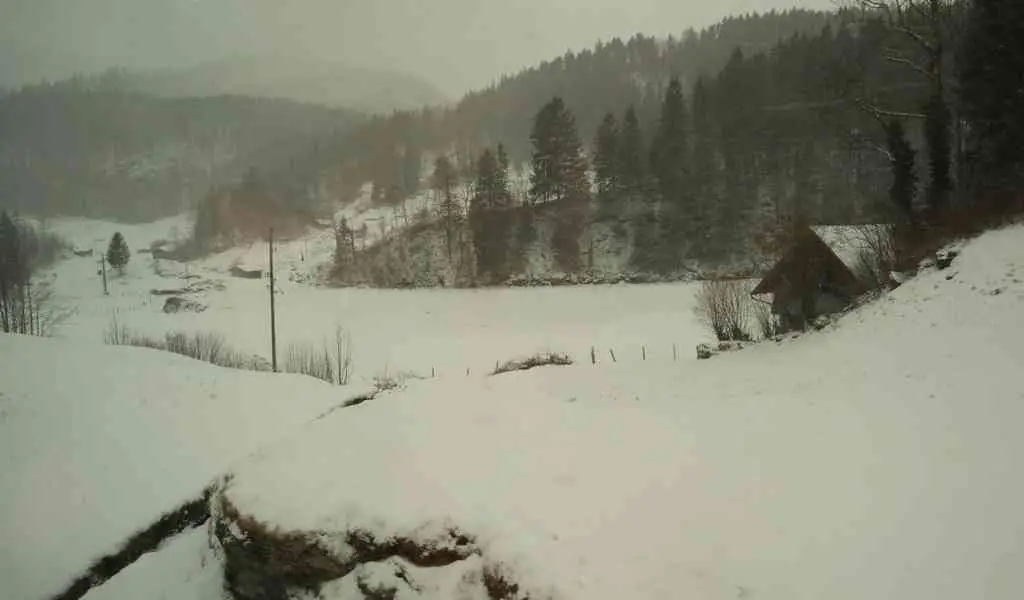 ---
Best Stops Along the Golden Pass Train Line
Whilst the entire journey could be made in less than 6 hours, I recommend splitting your time up and making time to explore some of the best destinations along the way.
1. Montreux
The starting point for the Golden Pass train line is Montreux, but don't forget to allow time to explore this lovely little town which is full of things to do.
The highlight must be Chillon castle which is just a short bus journey away. Visit the castle at sunset for an incredible view across Lake Geneva.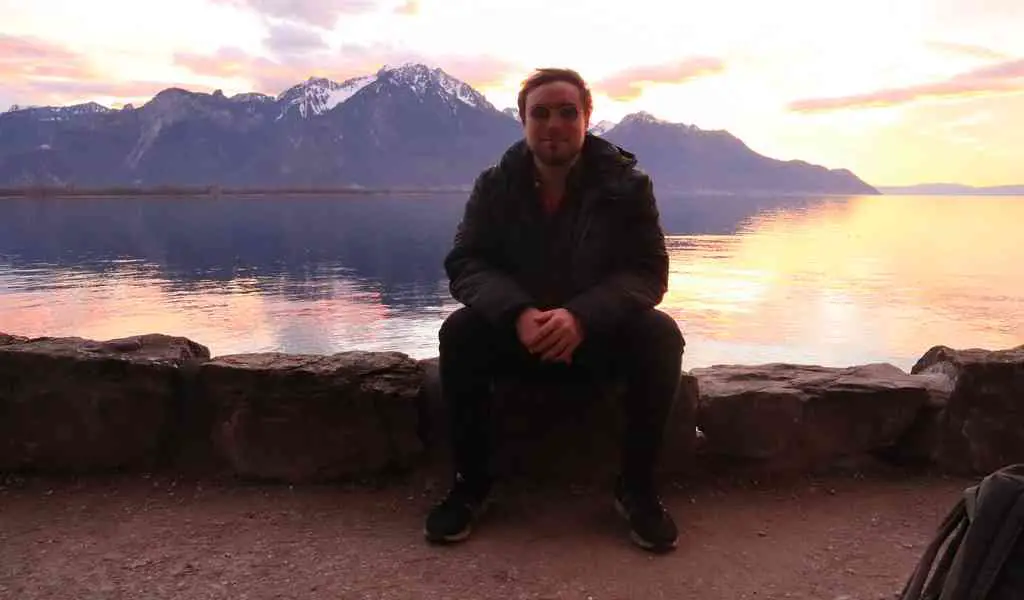 2. Gruyeres
Getting to Gruyeres: This involves short detour, take the train from Montreux towards Zweisimmen, but get off at Montbovon and take the local line toward Gruyeres.
The small village of Gruyeres doesn't sit on the main golden pass line but is easily accessible via a short detour. Leave he train at Montbovon and switch to the local line, Gruyeres is just a 20 minute journey away. The times of the trains work out nicely to allow exactly 59 minutes in Gruyeres which is just enough time to visit the Cheese Factory, see chocolate being made and grab a bite to eat.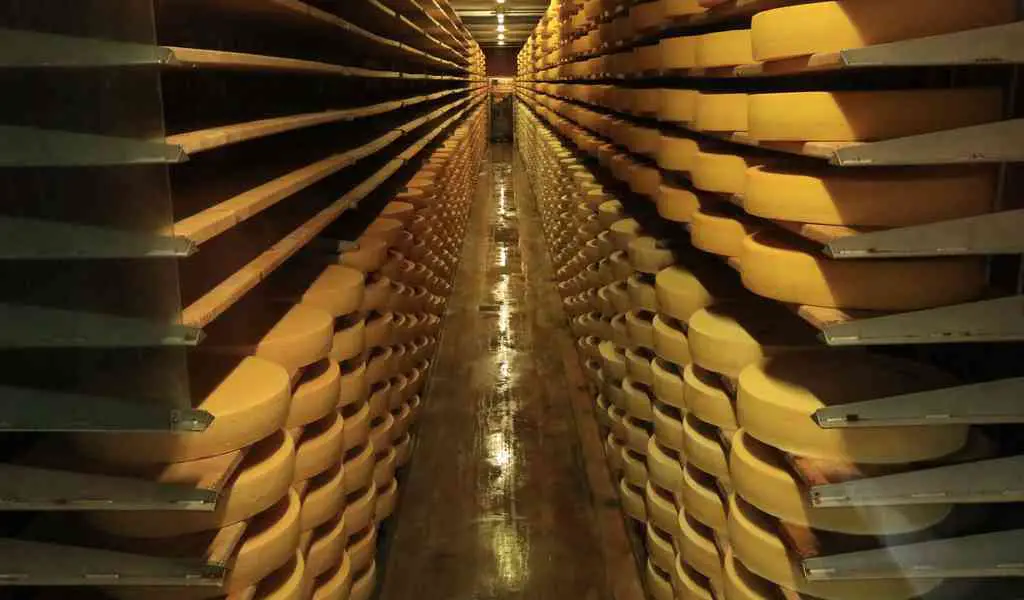 3. Interlaken
Getting to Interlaken: From gruyeres, board the local line back to Montbovon and board the next train towards Zweisimmen. Change at Zweisimmen for the train towards Interlaken.
In central Switzerland, Interlaken is nestled between Lake Thun and Lake Brienz and surrounded by stunning mountain ranges. This makes it ideal for anyone wanting to explore the outdoors. Interlaken is also the departure point for Jungfraujoch, the highest railway station in Europe. During the summer months, you can take the funicular railway from Interlaken up to the Harder Kulm viewing platform for an incredible view across the town.
Find the best youth hostels in Interlaken with my helpful guide.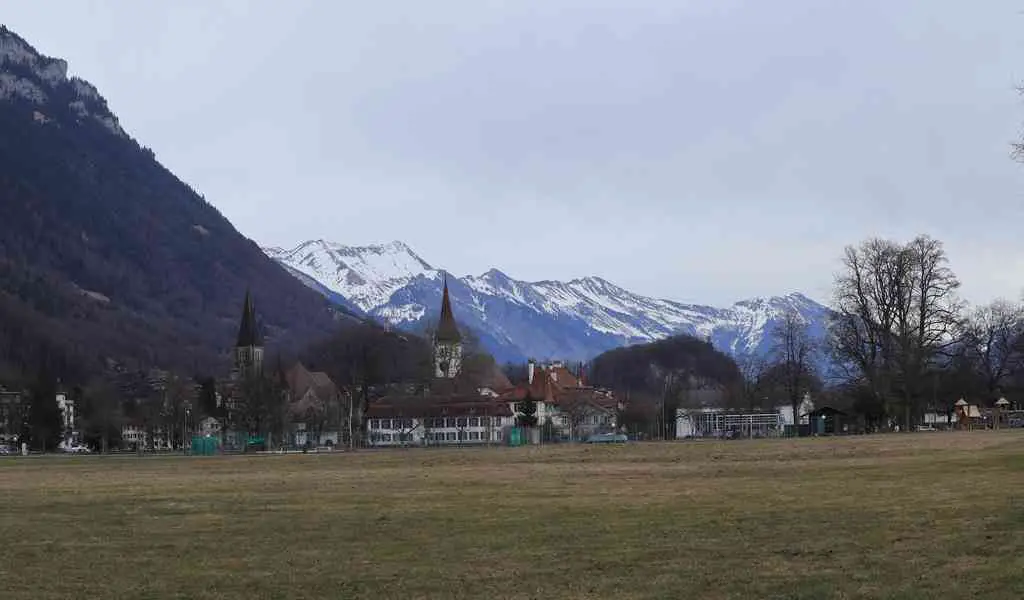 4. Lauternbrunnen
Getting to Lauterbrunnen: There is a direct train from Interlaken Ost to Lauterbrunnen that runs regularly.
From Interlaken I recommend taking some time to visit Lauterbrunnen. Here you'll find a picturesque little village sat between rocky cliffs which is known for Staubbach Falls, one of the highest free-falling waterfalls in Europe.
From Lauterbrunnen you can take a 1 hour hike along a valley path towards Stechelberg to fully enjoy the outdoor experience. Once you reach Stechelberg you can take the 141 bus back to Lauterbrunnen and the train back to Interlaken Ost, ready for the next part of your journey. (if you don't fancy the 1 hour hike, you can catch the bus back to Lauterbrunnen from several bus stops along the way without going all the way to Stechelberg).
5. Brienz
If you want to make your journey a little more diverse, consider adding a ferry in to part of it. Rather than boarding the final leg of the journey at Interlaken, you could take the ferry from Interlaken across Lake Brienz to the small village of Brienz at the other side. Here, you can board the same Golden Pass train a few stops later. If you are travelling with an interrail/Eurail pass or Swiss Travel Pass, these are also valid on Lake Brienz.
6. Lucerne
Getting to Lucerne: From Interlaken the final leg of the Golden Pass line goes straight to Lucerne.
The Golden Pass line ends in Lucerne which sits on the fourth largest lake in Switzerland, Lake Lucerne.
From here, you can visit the 2,100m giant of Mount Pilatus where on a clear day you can see 72 other mountain peaks. For those a little more adventurous, 3,200m high Mount Titlis lies just a 45 minute train journey away.
I recommend spending a few nights in the city as there is plenty to discover. Here are my top recommended hostels if you're visiting Lucerne on a budget.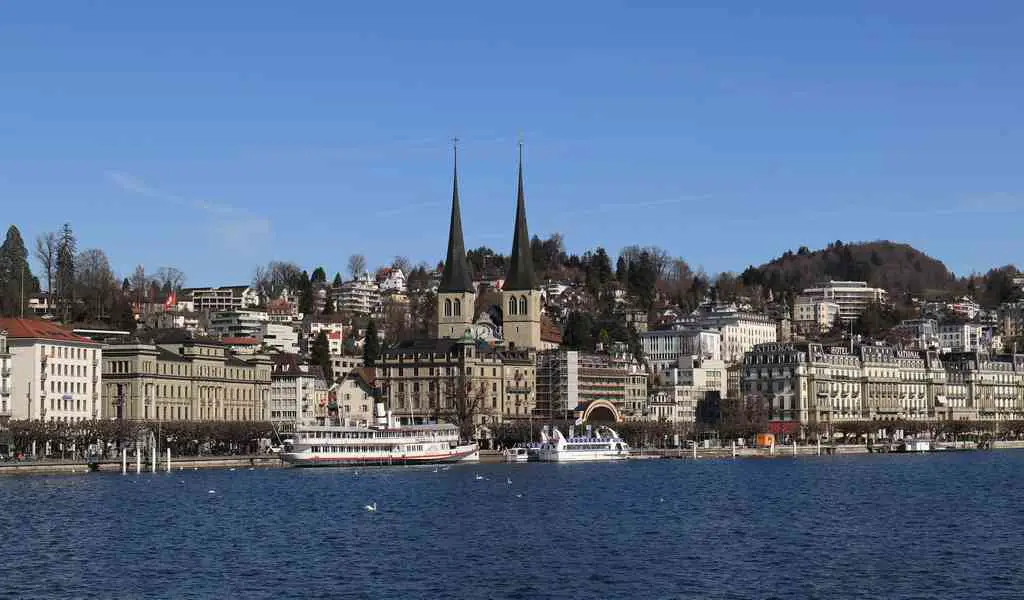 ---