As an affiliate I may earn a commission on any qualifying purchases, including those from Amazon, at no extra cost to you.
London is undeniably one of the world's greatest cities and home to many iconic British attractions including Big Ben, Buckingham Palace and, of course, the beloved London bus.
The city is also on one of the most expensive to visit which has lead to a thriving hostel scene as backpackers and city breakers look to keep costs down.
With more than 80 to choose from, it can be overwhelming so I've put together this guide to break down the best hostels in London with a key focus on those suitable for solo travellers.
---
This is part of my best hostels guide that also includes Manchester, Cardiff, Barcelona, Prague and Budapest.
---
Quick Summary:
---
Overview of Hostels in London
Almost all of the good hostels are part of a chain which is likely due to the high price of property in London.
Check in time in London is usually between 2pm-3pm which is very common in Europe. However, the 10am average check out time might leave a few of you feeling flustered. Look out for a couple of 11am check out hostels here.
Seasoned backpackers might expect all hostels to have a kitchen, but in England this is never a given so you'll want to check if you plan on cooking your own meals.
---
Best Hostels in London for Solo Travellers
✓ Free shared meal every night
✓ Friendly and homely atmosphere
✓ Great for partying but also chilled areas for relaxing
✗ Located away from the city centre
This is a super friendly hostel with a family-like feel. The staff and volunteers here will end up becoming great friends during your visit to London.
I've included this as a party hostel because it's lively and the staff know how to give you a fun night. However, it's also great for those looking to chill out, especially the downstairs area with comfy sofas and Netflix.
There is a free meal every night made by the staff where you can join everyone to eat it together, a great place to make some new friends before the evening antics.
If you'd rather cook your own food, there is a decent sized communal kitchen.
When you're ready to explore the city, they'll help you organise your activities including a daily walking tour.
The only downside to this hostel is that it's out of the city centre, the nearest tube station is about a 12 minute walk or there is a bus station about 5 minutes away.

Also on Booking.com
---
✓ Fun activities every night with clubbing afterwards
✓ Social lounge area
✓ Good kitchen facilities
✗ A little but out of the way
✗ Bar can be noisy until 3am which isn't great if you're trying to sleep
Wombats has a reputation for being a fun-loving party hostel, and London is no different. This hostel is clean, safe and, most importantly, a lot of fun.
This is a big party hostel with a 'wom-bar' in the basement where you'll find reasonably priced drinks for London and your next fellow travellers.
They have all sorts of activities such as games nights or beer pong and then clubbing in London afterwards so be prepared for a late one.
For those not going out at night, it can be a bit noisy so be prepared for this.
The facilities are great with:
Key card lockers
Lights and plugs next to each bed
Lounge for mingling with other guests
There is also a good kitchen which is essential when visiting London so that you can keep costs down by making your own food. There's a nice eating area which is also quite sociable and a coffee machine.
Breakfast isn't included but it's a pretty good price for what you get.
Check in from 2pm and checkout before 10am

Also on Booking.com
---
✓ Lively evenings in the bar with cheap food/drinks
✓ Events including themed nights and karaoke
✗ No kitchen facilities
✗ No general lounging area except for the downstairs bar
Good bar which is great for meeting people and has cheap food and drinks (by London standards).
The beds were clean and comfortable with USB charging sockets next to each.
In a good location, about 10 mins walk from Euston station and with lots of great little cafes around. They also rent bicycles at the hostel which is great for exploring the area on a budget.
They hold some events and activities which are great for solo travellers such as walking tour in the day and karaoke, movie or themed nights in the evenings.
Apart from the great bar, the facilities are mediocre with no general lounge or kitchen. This is a lively party hostel so music can go on late, especially on weekends.

Also on Booking.com
---
Best OVERALL Hostel in London
✓ Free shared dinner followed by nights out
✓ Great lively communal area
✓ Clean and comfy
Hostel One has two hostels in London, both of which offer a similar lively vibe that's great for solo travellers. However, I'd recommend the Notting Hill hostel first and foremost.
They have a free shared dinner included followed by drinking games and a daily night out that's always wild.
If you'd rather stay in, the communal area is super cosy, you'll always find someone to hang out with here. As well as the evening activities, Hostel one Notting Hill also arranges day trips.
The staff here will always be happy to help you out and they do an excellent job of keeping everyone happy.
Overall, the facilities are well designed and clean, and its great value for money. Check in is from 3pm and checkout at 11am.

Also on Booking.com
---
✓ Nice small hostel with a family vibe
✓ Free shared dinner every night
✗ Limited toilets can cause queues in mornings
✗ Can get noisy at night
Astor Museum Inn is a snug little hostel close to Oxford street and is literally right behind the British Museum.
This has a lovely homely feel with a great free dinner every night at 7.30pm followed by events such as a pub crawl in the neighbourhood if people are interested.
The hostel is cheap by London standards and offers a no-frills experience. That being said, there is a kitchen with everything you need, plugs and locked by each bed and a breakfast for just £1.
It's generally quiet a social hostel depending upon who is staying, and they arrange walking tours which is a good way to mingle.
The biggest qualm is the limited toilets available which can cause queues if lots of people are trying to get ready at the same time. Overall, a great little hostel. Check in is from 2pm and check out is at 10am.

Also on Booking.com
---
✓ Cheap for London
✓ Sturdy beds with privacy curtains, lights and plugs
✗ Out of city centre, although 30 minutes from key attractions via the tube
✗ No events for solo travellers
✗ Small kitchen
London isn't an easy place to travel on a budget, but if you're after a cheap hostel then head north out of the city centre and you'll find palmers lodge.
Although it's not in the centre, with Willesden Green underground station just a few minutes' walk away you can be at Bond Street or Westminster within 30 minutes.
The hostel doesn't organise any events, so you'll be left to your own devices to make new friends. But being such a large hostel there is always someone around to strike up a conversation.
There are a lot of beds in some of the dorms, but it never feels squashed. The beds are great with a wooden structure – nothing worse than a bunk that moves when someone climbs up.
The beds also have privacy curtains, plugs and lights which is great.
Most of the facilities are great such as the bar and the bathrooms. Although, for such a big hostel, the kitchen is small, and you have to leave a deposit for certain kitchen items which is unusual.
Check in is from 2pm and check out at 10am.

Also on Booking.com
---
Best LOCATION: SoHostel
✓ Excellent location in Soho
✓ Reasonably priced food and drink (for London)
✓ Large spacious rooms
✗ No kitchen or fridge
✗ Limited showers so can be a wait
I stayed here on my most recent trip to London and it was clean, spacious and in a great location just a few minutes' walk from Tottenham court road and just 10 minutes from the British museum.
It has a surprising amount of space in the dorm rooms for a London hostel and a decent common area including a bar and a games room.
Unfortunately, there isn't a kitchen or a fridge but luckily the food in the bar is a good price and there is a convenience store just around the corner.
The atmosphere is lively but not a party vibe. Having said that, there is a pub crawl most nights and they also run karaoke occasionally too.

Also on Booking.com
---
My Verdict
My hostel recommendations are targeted at solo travellers, so you'll generally find a strong social vibe with events and activities to make new friends.
If you prefer a chilled out atmosphere, Hostel One Notting Hill is my recommended choice for solo travellers.
They have a cost communal area and shared dinners every evening.
For solo travellers looking for an upbeat party hostel, Hostel One Camden will be right up your street.
This hostel also offers a shared dinner which is usually followed by drinking games and a night out.
If you're visiting London on a tight budget, then you'll need to look a little outside the city centre to somewhere like Palmers Lodge – Hill spring.
This hostel has top notch facilities and although they don't run any events, the onsite bar is a great place to meet other solo travellers,
---
Other Good Hostels in London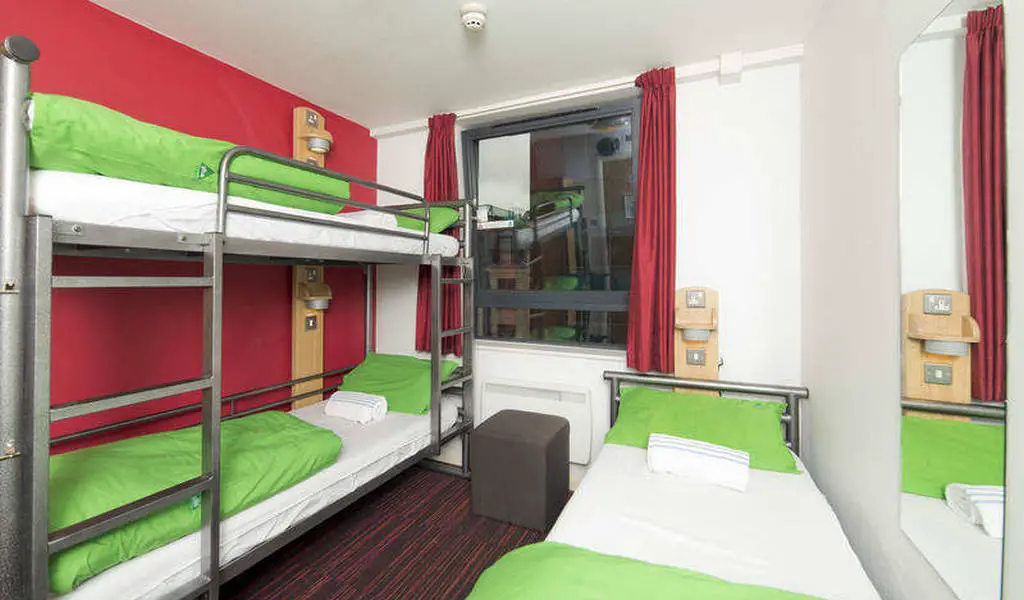 With nice facilities and a funky vibe, YHA Oxford Street is located in a former hotel and providing guests with a large common area with board games, comfy beds and a well equipped kitchen for cooking your own meals.
This hostel attracts a wide variety of ages and has a very quiet atmosphere so best suited to travellers who aren't looking to go out partying. Be warned about the 10am check out which is early for hostels in London and strictly enforced.

---
Located near to tower bridge and borough market, St Christopher's Village is one of several hostels from the chain in London that brings an upbeat atmosphere thanks to its Belushi's bar beneath the hostel and various events.
This hostel is home to Britain's first pod hostel dorms, inspired by the Japanese, these high tech pods give optimum privacy whilst keeping the prices of a dorm room.

---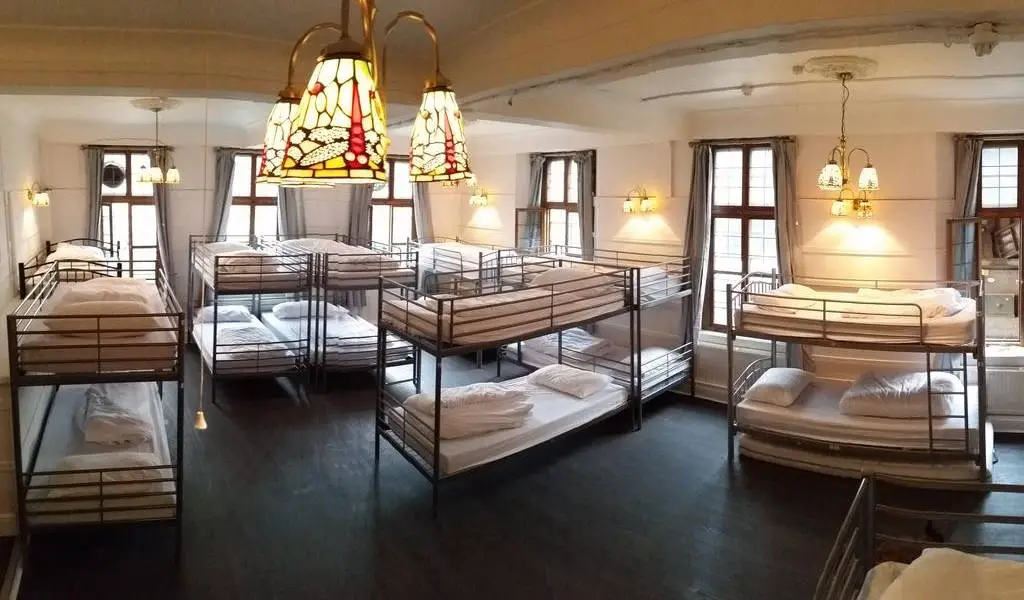 The staff are the highlight of The Walrus Bar and Hostel, everyone is extremely friendly and attentive right up to the manager who is always around and happy to help out.
The hostel has great access to the city, most attractions are in walking distance or there is a bicycle station and tube stations right near the hostel. It's great that breakfast is included, and you get discount at the downstairs bar for staying in the hostel. The bar is quite sociable but closes at 11pm so sleeping is not a problem.

---
You get great value for the price you pay at Safestay Elephant and Castle.
There are comfy beds with privacy curtains, a nice lounge and bar area with cheap food and drink and it's in a good location within walking distance of many top London attractions.

---
If you can look past the dated décor, Astor Hyde park is a family-vibe hostel that's a whole lot of fun.
The hostel hosts lots of activities designed to help solo travellers mix and find new friends as well as plenty of common areas for relaxing with TV's and sofas. The hostel has an epic breakfast or a large kitchen if you prefer to make your own meals.

---
Wrapping Up
That's it for my solo traveller's guide to hostels in London. My main recommendations are Hostel One Notting Hill and Hostel One Camden. That chain are doing an excellent job when it comes to hostels for solo travellers and they can be found right across Europe.
---
---