As an affiliate I may earn a commission on any qualifying purchases, including those from Amazon, at no extra cost to you.
Sat between the Juggernauts of South East Asia that are Thailand and Vietnam, Cambodia can often be overlooked or passed through quickly. But such a diverse country with many fascinating attractions deserves a little more attention.
I spent just over 3 weeks backpacking in Cambodia during my trip across Southeast Asia, just enough time to give me a small taste of what the country has to offer, I'll surely be returning again!
Cambodia has been through very hard times in recent history with a genocide wiping out over a quarter of the population just 40 years ago. Whilst this has left a dark shadow, the country has done a huge amount to move on from this and the people are incredibly friendly.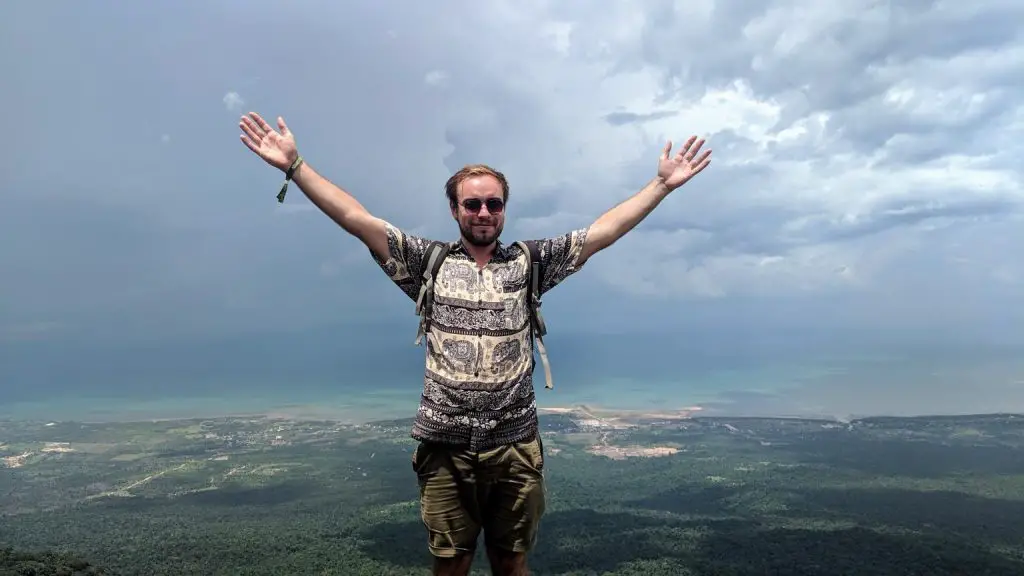 ---
Quick Cambodia Facts
Driving: Drive on the right side of the road. International driving licences are not valid, but police rarely check.
Currency: This is a strange one. Use both US dollar and Cambodian Riel for smaller change. Generally 1$ = 4000 Riel. ATM's can charge $4-5 US dollars for international withdrawals.
Language: The local language is Khmer but English is widely spoken in tourist areas.
---
Cambodia 3 Week Itinerary
The country has it all, from the bustling cities to the sandy island beaches, I tried to include a variety of destinations when planning my Cambodia trip. I prefer to take things easy when travelling so this 3 week itinerary is quite a relaxed pace, if you're the type of traveller who prefers a busy itinerary then you can condense the time or add an extra destination.
---
1. Siem Reap [4-5 nights]
After spending over 3 weeks in Laos which is known for it's laid back atmosphere, I was ready for the liveliness of Siem Reap and it did not disappoint. This was one of my favourite cities I've so far visited in South East Asia, with similar vibes to Bangkok but smaller and not as over whelming.
Of course, no trip to Siem Reap would be complete without a visit to the infamous Angkor Wat. Although named after the most famous temple, Angkor Wat is actually an enormous complex of temples from the ancient Khmer empire.
If you're a temple nerd then I recommend getting the 3 day pass and spending a little longer in Siem Reap, this will allow you to experience the huge variety of temples that Angkor Wat has to offer. However, for most people who just want a taste, the 1 day pass should be enough.
If you don't mind an early start then sun rise at Angkor Wat should be on your Cambodia bucket list. It may attract a huge crowd but there is a good reason – it's incredibly beautiful. It also means you can start to visit some of the other temples before the weather gets too hot.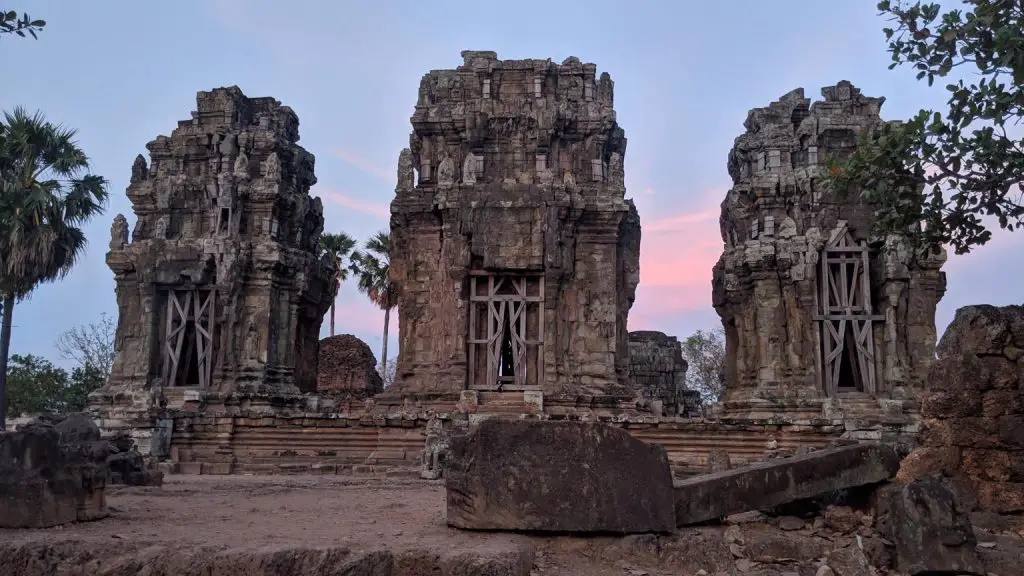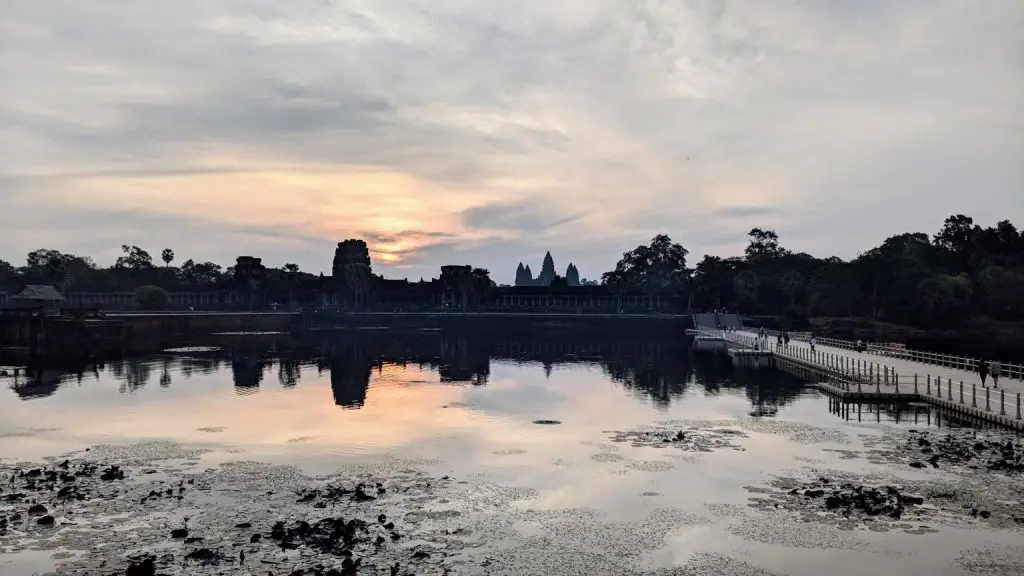 There's actually more to the city than Angkor Wat so I recommend spending the most amount of time here to see everything, you could easily spend 5 days in Siem Reap without being bored.
When it comes to food and drink, Siem Reap has a lot to offer from street food to restaurants and all and at very affordable prices, including $0.50 draft beer at most of the bars. I recommend trying an Amok Curry or Lok Lak.
It has a bustling nightlife centred around it's Koh San Road-style pub street which makes a great addition to any Siem Reap itinerary.
---
2. Koh Rong [4 nights]
Situated in the south of the country are a number of islands, one of which is Koh Rong.
The journey from Siem Reap to Koh Rong is long so you can opt for a night bus. You'll pass through Sihanoukville where you'll catch a ferry to the islands. I wouldn't recommend spending any time in Sihanouville, it's one pf the ugliest cities I've seen with the vast amount of construction projects dominating the skyline, your time is best spent on the islands themselves.
Instead, head straight for Koh Rong where a paradise awaits. I instantly fell in love with the island as the ferry approached the main port, Koh Toch. Here you'll find a range of shops, bars and restaurants as well as accommodation in the form of guest houses and hostels if you want to stay close to the action. I spent my first few nights in a dorm room here and it was super convenient.
A short 20 minute walk through the jungle (there is a path don't worry) and you'll find 4K beach, this was the most beautiful spot during my 3 weeks in Cambodia. I spent my final few nights on the island here and it was incredible, each morning I would wake up and go for a refreshing ocean swim before having breakfast looking across the sandy beaches.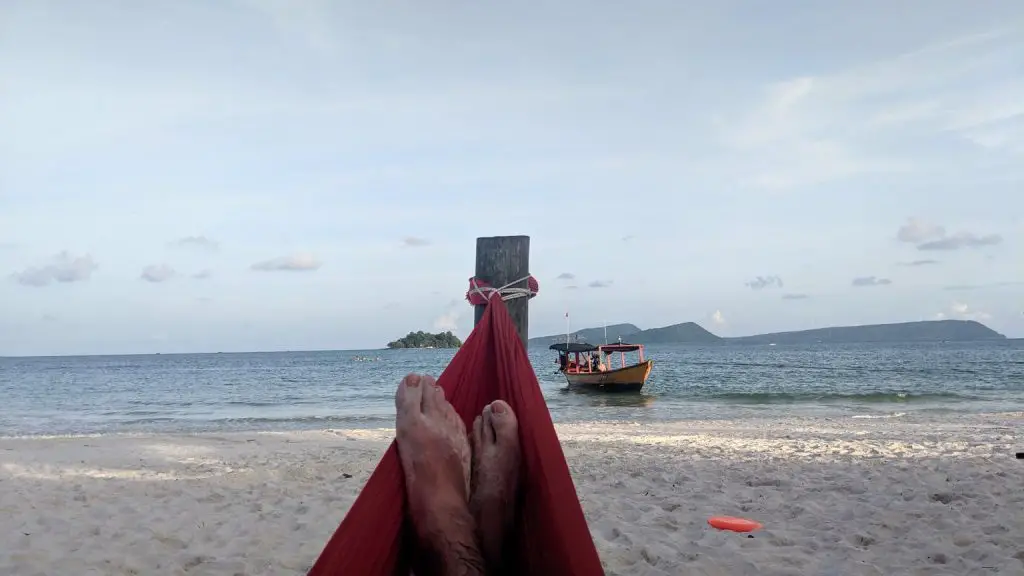 ---
3. Koh Rong Samloem [3 nights]
They say '2 Rongs don't make a Right', but I have to disagree. Koh Rong's sister island, Koh Rong Samloem, is just as beautiful but with a much more relaxed atmosphere, perfect to spend a few days chilling in the sun.
Just like Koh Rong, there are a few options of where you could stay but I would recommend picking somewhere in Saracen Bay. This was a perfect blend of laid back beach life with enough bars and restaurants to visit in the evening. 
---
4. Kampot [4 nights]
The best thing about spending 3 weeks in Cambodia is that you'll get to experience how diverse the country is. My next destination was the sleepy riverside town of Kampot, situated about 3.5hrs along the coast from Sihanoukville.
At the base of the Bokor National Park, Kampot is famous for it's pepper. So you won't be surprised that my first recommendation of what to do is visiting one of the pepper plantations.
La Plantation is a fantastic social enterprise that helps support hundreds of jobs in the community and contributes to the running of the local school. We learnt so much about pepper and even got to try a few different varieties, read more about my visit to La Plantation in Kampot here.
From the pepper plantation you'll be conveniently placed to visit the nearby town of Kep where you can visit the crab market to eat some freshly caught crab and complete the circuit with a drive along the scenic coastline to Kep beach.
---
5. Phnom Penh [3-4 nights]
The final stop on my Cambodia 3 week itinerary is the busy capital Phnom Penh. Life in the city is certainly at a higher pace than the last few stops. It's definitely not one of my favourite cities but my main reason for including it on this 3 week itinerary is for the rich history that you can learn about here.
Visiting the Choeung Ek Genocidal Center (AKA the killing fields) and the Tuol Sleng Genocide Museum based in the former S21 prison to learn about Cambodia's recent history was an emotional day but perhaps one of my favourite days in this 3 week Cambodia itinerary (history nerd alert). The audio tours at both the killing fields and S21 museum were really informative and probably the best audio tours I've ever experienced. It will be a tough day but definitely worth it.
The are also some great Khmer restaurants in Phnom Penh and a range of awesome bars. My favourite was the Eclipse Sky Bar at the top of the Phnom Penh tower for an incredible panoramic view of the city. At $3 for a beer it's more expensive than the rest of the city but you pay a premium for the location and it's still good value compared to western prices.
You can also check out some of the city's hidden speakeasy bars, including one that looks like a London Underground station from the outside and one where you have to enter through a coca cola vending machine.
---
How Much Does it Cost to Travel in Cambodia?
I found Cambodia to be expensive compared to the other countries I visited during my 4 months in South East Asia, tourist activities in particular seemed overly expensive (e.g. Angkor Wat). There was also huge variation in prices in different parts of the country with the islands being very expensive.
I spent 24 days in Cambodia and spent a total of $1,121, equivalent to about $46 per day (£36 / €40). This includes all transport, accommodation, food, drink, activities, etc but excludes the visa.
Some costs to consider:
Beer: $0.50 in cities, $1+ on islands
Accommodation: $2-3 in cities, upwards of $5 on islands
Food in a restaurant: Between $2-5
Angkor Wat: 1 day pass $37, 3 day pass $62
---
Pin this: