As an affiliate I may earn a commission on any qualifying purchases, including those from Amazon, at no extra cost to you.
Interrailing is experiencing a revival as backpackers of all ages embrace travelling across the continent by train.
With an array of passes available from a few days up to 3 months, it's possible to enjoy an interrail adventure whatever your time frame might be.
I'd always recommend immersing yourself for as long as possible, but if you've only got a few weeks to play with, here are 6 interrail route suggestions.
Pro Tip: If you're having your pass delivered to the UK, it's cheaper to buy your pass through Interrail by National Rail. They also offer faster delivery and theft protection for 40% OFF- See Passes.

Remember, if you are not European, you'll need a Eurail pass instead of an Interrail pass!
Top Interrail Routes for 2 Weeks in Europe
Here are my 6 recommended routes through Europe for two weeks:
Route 1: The Nordic Trail
Route 2: The Beastly Eastly Route
Route 3: Best of the West
Route 4: Viva Italia
Route 5: Classic Central
Route 6: Head for the Med
Below is a breakdown of each route with the destinations and best pass to buy.
Route 1: The Nordic Trail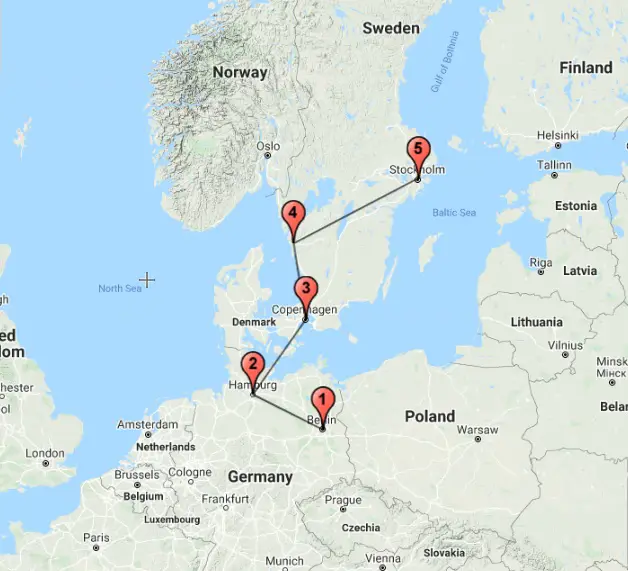 This 2 week route begins in the diverse German capital of Berlin and heads north towards the Nordic countries.
Route Includes: Berlin, Hamburg, Copenhagen, Gothenburg and Stockholm
Which Pass? 4 Days within 1 month Global Pass
There's something about the German capital that makes me want to go back again and again.
As well as being rich in history with the Berlin wall and the Brandenburg Gate, it also has a cool hipster vibe with a great nightlife.
In Hamburg you'll see a different side of Germany to the edgy capital.
Hamburg was instrumental in success of The Beatles, follow in their footsteps with a visit to the Reeperbahn red light and party district.
If you prefer the outdoors, check out the nearby beaches of Elbstrand and hike up The Süllberg hill for epic views.
This beautiful waterfront city is my favourite Nordic destination with plenty to get your teeth stuck in to including the colourful harbour, the alternative free town of Christiania and Tivoli gardens amusement park that inspired Disneyland.
Gothenburg is the perfect introduction to Swedish culture and is known as it's culinary capital. Restaurants here will serve some of the freshest sea food straight from the north sea.
Visit Sweden's largest fish auction over at Gothenburg harbour or head to the top of The Lipstick building for views of the city (or visit Ramberget for an equally incredible view for free).
The final stop is Scandinvia's largest city, Stockholm. The city is actually built on 14 different islands, connected by 57 bridges and best explored from the waterways.
Be sure to explore the old town, known as Gamla Stan, where cobbled streets and medieval buildings make it feel like you've stepped back in time.
Abba fans will want to check out the Abba museum, full of old records, memorabilia and their outfits.
---
Route 2: The Beastly Eastly Route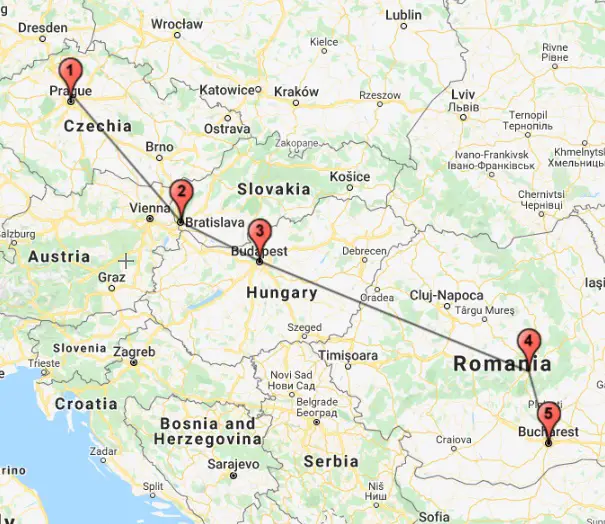 This route begins in the party capital of central Europe, Prague, and heads east. Here, you'll find the daily cost of travel to be much cheaper than Western Europe so you can splurge out on the fantastic food of the region.
Route Includes: Prague, Bratislava, Budapest, Brasov, Bran Castle (Day Trip), and Bucharest
Which Pass? 4 Days within 1 month Global Pass
Whilst in Prague, you must taste the beer. As for tourist attractions, a visit to Prague castle and the medieval astronomical clock that's been ticking since 1410. are essential.
Life in Prague revolves around Charles bridge where buskers and street artists line the bridge to entertain passers by.
Some of the more quirkier things in the city include being able to bathe in beer and Vytopna restaurant where you drinks are delivered by the 400m of model railways running through the restaurant.
Surrounded by vineyards and mountains, Bratislava is one of the smallest capital cities in Europe.
That doesn't mean it's lacking in things to do such as Bratislava castle, St Martins cathedral and interesting collection of statues across the city.
Next on to Budapest in Hungary. The city is the result of the unification of two former towns, Buda and Pest. Originally separated by the river, Buda was the more relaxed and classier side whilst Pest was known as a bit of a party destination – little has changed today!
Be sure to visit Buda castle, the Szechenyi Baths and the third largest Houses of Parliament in the world which closely models the UK version.
OVERNIGHT TRAIN – the journey from Budapest to Brasov is long but luckily you can take the overnight train with an interrail pass. A compulsory bed reservation will cost €13.40 (correct as of Jan 2020) – book reservations online. (1 night)
---
With cute winding streets and ancient buildings, This small Transylvanian city makes a nice break from the larger cities on this route. As well as visiting the cathedral and remains of the medieval walls, you can take a stroll up Tampa Mountain to the Hollywood-esque 'Brasov' sign that adorns the city.
DAY TRIP: The main reason for including Brasov on this itinerary is to visit Bran Castle, known as Dracula's Castle for inspiring the 1897 novel, Dracula.
After the quiet city of Brasov, you'll be ready for a little bit of liveliness and excitement to finish off your 2 week trip.
As well as checking out the bars and restaurants, take some time to visit the Dimitrie Gusti National Village Museum and the Palace of Parliament.
Route 3: Best of the West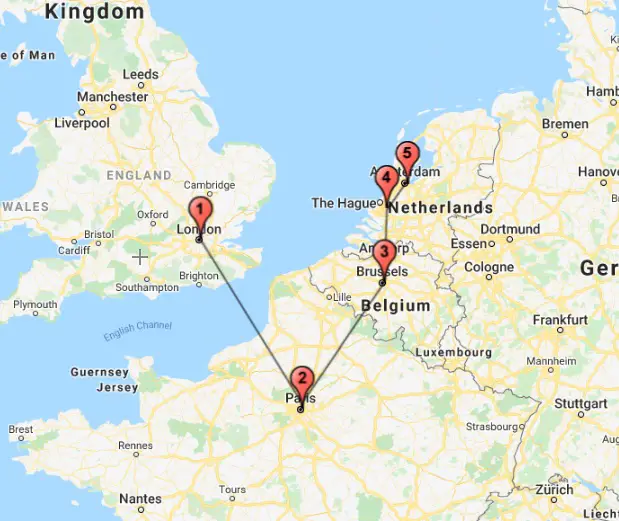 This route squeezes some of the very best Western Europe cities in to a 2 week itinerary.
Day to day costs won't come cheap here but it will be worth every penny and you'll make best use of your interrail pass as transport links can be super expensive.
Route Includes: London, Paris, Brussels, Bruges (day trip), The Hague and Amsterdam
Which Pass? 4 Days within 1 month Global Pass
When it comes to incredible tourist attractions, London is the gift that keeps on giving. Your London itinerary might include the London Eye, Buckingham Palace and the Tower of London.
Not to mention the hoards of great museums across the city, most of which are free of charge, including my top pick, the Natural History Museum.
The next stop will be Paris which can be accessed using your interrail pass on the Eurostar train between London and Paris, you will need to book a seat reservation for €30.
With it's amazing architecture such as the Eiffel Tower, Notre Dame and Arc Du Triomphe, world class museums including The Louvre and renowned French food, it's no wonder that Paris is the most visited city in the world.
Most of the attractions have entry charges so a Paris city card can be useful, you'll also save 10% on the price with your interrail pass.
Beer, chocolate and waffles are top of the agenda in Brussels. Delirium Café is a must-visit bar with the Guinness World Record for having the most beers on the menu.
Also check out Choco-Story Brussels for a chocolate making demonstration and try some of the Belgian waffles from vendors across the city.
DAY TRIP: It's essential that you visit the fairy tale city of Bruges with it's vast canal network, visiting this city is like taking a step back in time.
When interrailing through Europe, it's nice to have a little diversity in terms of the places you visit, that's why I recommend making The Hague your fourth stop on this 2 week trip.
From here you can get some beach time in nearby Scheveningen, visit Noordeinde Palace and check out Madurodam, a minature park with scale models of famous Holland's most famous landmarks.
Amsterdam is a city brimming with unique character and culture. The canal's are a great way to explore the city, I recommend grabbing a ticket for the hop on hop off boat to get around.
Key things to do include the Van Gogh museum, Anne Franks house, Heineken museum and the red light district.
---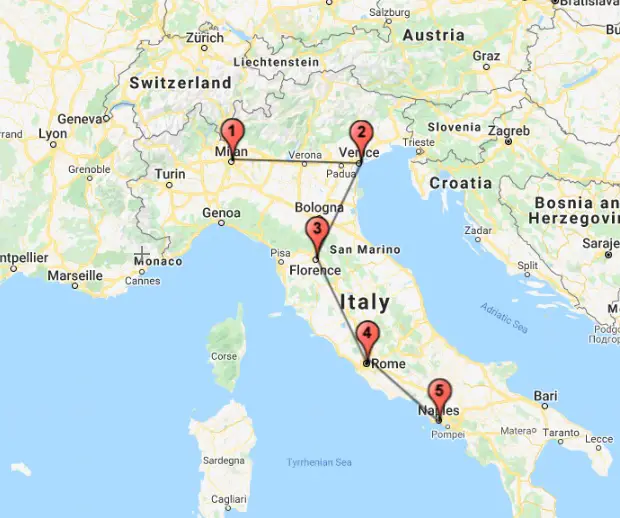 This 2 week interrail route takes advantage of a one-country pass instead of the global pass to discover the best of Italy. Highlights include the iconic cities of Rome, Florence and Venice as well as a taste of the countryside.
Route Includes: Milan, Venice, Florence, Cinque Terre (Day Trip), Pisa (½ Day trip), Rome, Naples and Pompeii (Day Trip)
Which Pass? 4 Days Within 1 Month Italian One-Country Pass
This journey begins in the busy metropolitan city of Mila where the magnificent Duomo di Milano will be top of the agenda. But don't spend too much time in the city itself, instead get out towards Lake Como and experience the beauty of the Italian countryside.
The city of Venice is actually made up of 118 islands, connected by only foot bridges and it's world famous canals.
St Mark's Square is the main piazza of the city and home to St Marks Basillica and the Doge's Palace which are both impressive pieces of architecture.
I recommend taking one of the free walking tours to properly understand how the city came to be and the real challenges it faces today including subsidence and flooding.
Florence is perhaps the most picturesque city in Italy with the iconic cathedral, known as il Duomo, adding a nice touch to the city's skyline. If you know anything about art then you'll know that Michelangelo's "David" sculpture is a big deal, find it here at Galleria dell'Accademia.
My personal highlight was visiting Piazza Michelangelo at sunset where the panoramic view accompanied by a live band.
DAY TRIP 1: Visit the 5 fishing villages of the Cinque Terre. Here, colourful houses are nestled in the cliffs of the Italian Riviera.
DAY TRIP 2: Secondly, a trip to Italy isn't complete without an iconic visit to the Leaning Tower of Pisa. As well as the tower, the neighbouring Cathedral is also really impressive and worth a guided tour.
Ancient history is everywhere in Rome, key attractions you need to visit include the Colosseum, the Roman Forum and St Peters Basilica.
Don't forget to toss a coin in to the majestic Trevi fountain to grant you good luck and ensure you return to the city again.
With the active volcano of Mount Vesuvius sitting in the background, Naples is the perfect final destination of your 2 weeks travelling through Italy.
The city is certainly a little rough around the edges, but it allows your to immerse yourself in Italian culture, be sure to check out the oh-so-good pizza in Naples.
DAY TRIP: As well as being in close proximity to the Amalfi coast, a great day trip is to visit the architectural gem of Pompeii and Mount Vesuvius.
---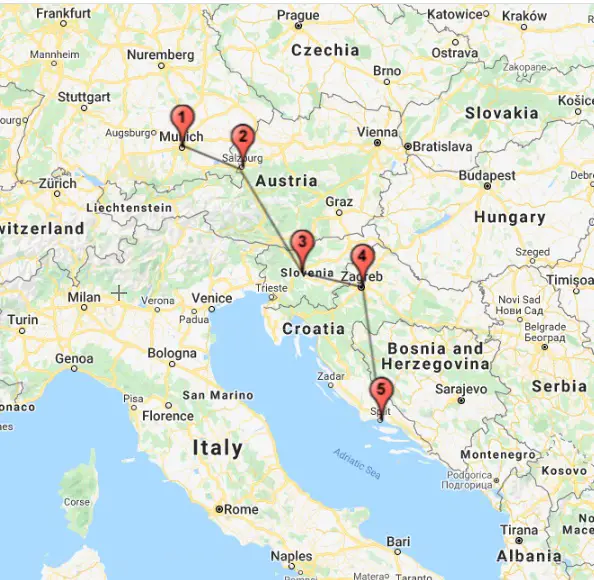 My next itinerary for spending 2 weeks in Europe focuses on the central countries with a route beginning in Munich and heading south through the alps towards the stunning coastlines of Croatia.
Route Includes: Munich, Neuschwanstein Castle (Day Trip), Salzburg, Ljubljana, Lake Bled (Day Trip), Zagreb, Plitvice Lakes (Day Trip) and Split
Which Pass? 4 Days within 1 month Global Pass
The city at the center of Oktoberfest is a great place to visit all year around.
Visit the Marienplatz central square, Olympiapark where you'll see the city from the 190m high viewing platform and sample Bavarian beer at one of the beer halls (Hofbrauhaus is recommended).
DAY TRIP: A day trip to the fairy tale Neuschwanstein Castle must be on your agenda. I visited the castle with Mikes Bike Tours where we also cycled through the surrounding countryside.
As the birthplace of Mozart and setting for the iconic Julie Andrews film 'the sound of music', there's plenty to look out for in this city. Be sure to take a walk up to the stunning fortress that looks out across the city.
Although Ljubljana is the capital of Slovenia, it doesn't have the feel of a capital city, more of a friendly town. The city is dominated by the beautiful Ljubljana castle that sits atop a small hill and is known for it's interesting bridges including the triple bridge and the dragon bridge.
I particularly enjoyed tasting Slovenian wines on the Ljubljana wine tasting tour.
DAY TRIP: Make sure you take a trip to the stunning Lake Bled where a cute little church sits on a small island accessible only by boat. Ring the churches bells 3 times for your wishes to come true.
The capital of Croatia is a city that's best enjoyed without a map or directions. It has a few interesting attractions such as the museum of broken relationships, but the motivation for visiting is to experience Plitvice Lakes.
DAY TRIP: Plitvice Lakes National Park is a an array of beautiful turquoise lakes connected by waterfalls and cascades. You could visit the lakes by yourself but I recommend taking a guided tour to ensure you visit the best parts and learn about their history and formation.
Last but least on this route is the stunning port town, Split. Acting as the gateway for island hoppers heading out to the Croatian islands, Split is always a hive of activity.
The city is home to the iconic Diocletian's Palace, one of the most preserved pieces of Roman architecture in the world. You'll also take a step back to the Roman ages with a wonder around Peristil Square.
---
Route 6: Head for the Med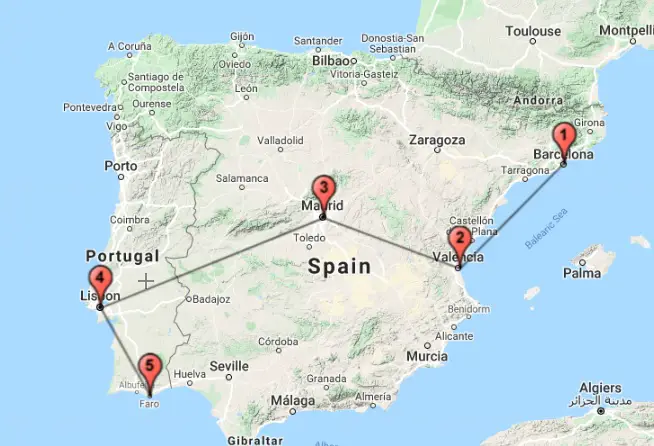 This interrail route will take you down the Iberian peninsular of Europe through Spain and Portugal for a nice mixture of lively cities and stunning beaches ending up in the beautiful Algarve to finish off that tan.
Route Includes: Barcelona, Montserrat Mountain (Day Trip), Valencia, Madrid, Lisbon, Sintra (Day Trip) and Faro
Which Pass? 4 Days within 1 month Global Pass
With it's beach, the nearby mountains and lots of things to do in the city itself, Barcelona is a must-visit city European city.
Discover the work of Spain's most famous architect, Antoni Gaudi, with a visit to the infamous Sagrada Familia, Park Guell and Casa Mila.
DAY TRIP: Take a day trip to Montserrat mountain and visit the monastery located high in the cliffs, you'll need to take a train to the bottom and get the cable car up.
When in Valencia make sure you allow adequate time to explore The City of Arts and Science, a complex of buildings including a science museum, a planetarium and performing arts halls that come to life with the latest technologies.
Also check out Valencia Cathedral, the bullring and the quart towers, the only remains from the original ancient walled city of Valencia.
After visiting tourist ridden Barcelona, you'll experience a slower pace of life in Madrid that feels much more Spanish. The Plaza Mayor and the Royal Palace are worth visiting along with an afternoon stroll through the huge El Retiro park.
DAY TRIP: There are a couple of enticing options for day trips from Madrid with my top picks being Toledo and Segovia.
OVERNIGHT TRAIN: Head to Lisbon on the night train allowing maximum exploration time. This will be valid with your interrail pass but you'll need to reserve a bed at a cost of €29.50 although you'll save on accommodation for the night.
There's no shortage of things to keep you busy in Lisbon with highlights including Belem, Jerónimos Monastery and the Santa Justa Lift. Lisbon has become the street art capital of Europe with a number of projects popping up across the city, look out for these too.
WHERE TO STAY: Here are my top hostel recommendations in Lisbon.
DAY TRIP: Break up your time in Lisbon with a visit to the colonial town of Sintra, known for it's iconic pastel coloured palaces.
Finish your trip with a few nights in the Algarve at the southernmost end of Portugal.
Allow adequate beach time to enjoy the Algarve sun but find time to explore Faro's old town and visit Praia da Marinha, one of the most beautiful beaches in the world. Public transport isn't great so this is best done as part of an organised tour.
Ready to book? Visit Interrail by National Rail for the best prices if you are having your pass delivered to the UK or Interrail.eu for delivery to other European countries.

Remember! Non-European citizens will need to book a Eurail pass instead of an Interrail pass.
---
What Makes A Good Interrail Route
Make the most of your pass
If you're investing in an interrail pass then you'll want to make sure you're getting bang for your buck. With a 2 week Interrail/Eurail pass is a great way to see a broad range of cultures in one all encompassing trip.
There is nothing wrong with staying in one country or city and immersing yourself (in fact, I encourage it), but if you're going to do this then you'd be better off buying end-to-end transport tickets rather than investing in an Interrail/Eurail pass.
You'll get best value for money in places where transport costs are typically high, that's why my route suggestions are heavily focused on Western and Northern Europe. If you plan to travel further East towards the Balkans or the Baltics, then an Interrail/Eurail pass is unlikely to be worthwhile.
Allow enough time and flexibility in each place
The great thing about an Interrail/Eurail pass is that you can remain flexible. You don't need to buy a ticket weeks in advance to secure a good price and most train reservations can be secured with a days notice.
With this in mind, the number of days I suggest for each destination should only be used as a guide. If you like a destination then spend longer there, if you feel like you've seen enough then you can move on sooner. I usually recommend at least 2 nights in a destination and 3-4 when there are lots of awesome things to do.
Start and end in a major transport hub
Logistically, you'll need to ensure it's cheap and convenient to get to your start destination and back home again. For each of the interrail routes for 2 weeks in Europe listed below, I've ensured that they start and end in a major transport hub.
Visit a variety of destinations
Capital cities are always the best places to go for an array of great things to do, but hopping from capital to capital might get over familiar so I try to include some smaller cities or beach towns in amongst the mix.
---
Ready to book? Visit Interrail by National Rail for the best prices if you are having your pass delivered to the UK or Interrail.eu for delivery to other European countries.

Remember! Non-European citizens will need to book a Eurail pass instead of an Interrail pass.
Pin this post: