As an affiliate I may earn a commission on any qualifying purchases, including those from Amazon, at no extra cost to you.
When you conjure up a vision of France, the first things that spring to mind are usually the Eiffel Tower and French Baguette's, but the country is full of hidden treasures waiting to be discovered.
The Chateaux of the Loire Valley, the coastlines of Southern France and the panoramic mountains on the Swiss border are just some of the items on the country's bucket list.
In this guide to Interrailing in France, I'll share everything you need to know about using your Interrail or Eurail passes in France including the best destinations, route ideas and the additional benefits you can get with your pass.
Pro Tip: If you're having your pass delivered to the UK, it's cheaper to buy your pass through Interrail by National Rail. They also offer faster delivery and theft protection for 40% OFF- See Passes.

Remember, if you are not European, you'll need a Eurail pass instead of an Interrail pass!
What is Interrailing
Interrailing is when you travel across Europe by train using an Interrail/Eurail pass.
This pass will allow you to travel on (almost) any train across 33 different European countries.
When the Interrail Pass was originally created in 1972, it was targeted at students, but nowadays Interrailing is popular with a variety of travellers, from gap year backpackers to family rail adventures.
There are both interrail and Eurail passes.
An Interrail pass is only available to European citizens, whereas a Eurail pass is the alternative for non-European citizens. They work in the same way although are priced differently.
In this guide I usually refer to Interrail passes, but everything can equally be applied to Eurail passes unless otherwise stated.
If you want to find out more, check out my Ultimate Guide to Planning an Interrail Trip.
---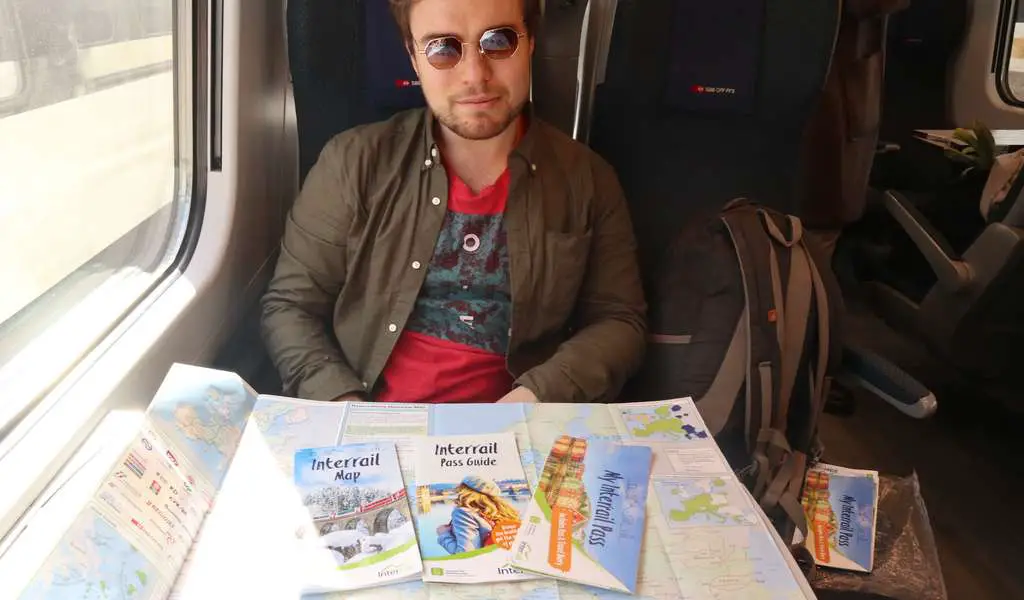 ---
Can You Use an Interrail Pass in France?
Yes, an Interrail pass is valid in France.
There are two passes you can use:
The Interrail Global Pass, which is valid in all of the 33 countries in the Interrail scheme, or the Interrail One-Country Pass for France, which is only valid in (you guessed it…) France.
If you're a non-European citizen, you'll be looking for the Eurail equivalents:
Eurail Global Pass or Eurail One-Country Pass for France.
Some trains require a reservation, you can check if your train requires a reservation using the Rail Planner app.
If you need to purchase a reservation, this can be done at stations or using the Interrail website for a €2 booking fee. You will need to validate your reservation at the yellow ticket stamper before boarding.
---
Best Interrailing Destinations in France
Paris
Climb the Eiffel Tower's 674 stairs
View the Sacre-Couer and Notre Dame (from the outside)
Take a boat trip down the Seine
You'll be familiar with Paris for being to some of Europe's most iconic landmarks including the Arc de Triomphe and the 324m high Eiffel Tower. But other great things to do in the city include visiting the museums where you'll find the Mona Lisa and taking a boat trip down the Seine.
RELATED POST: 9 Best Hostels in Paris
Nice
Get lost in the old town
Walk up to Castle Hill park for stunning views across Nice
Top up your tan on the French Riviera beaches
In the South of France, you'll find Nice which is just as famous for its museums as it's beaches.
The city is a great place to base yourself as you explore the French Riviera coastline that stretches along the Mediterranean Sea, including Monaco and Cannes.
Marseille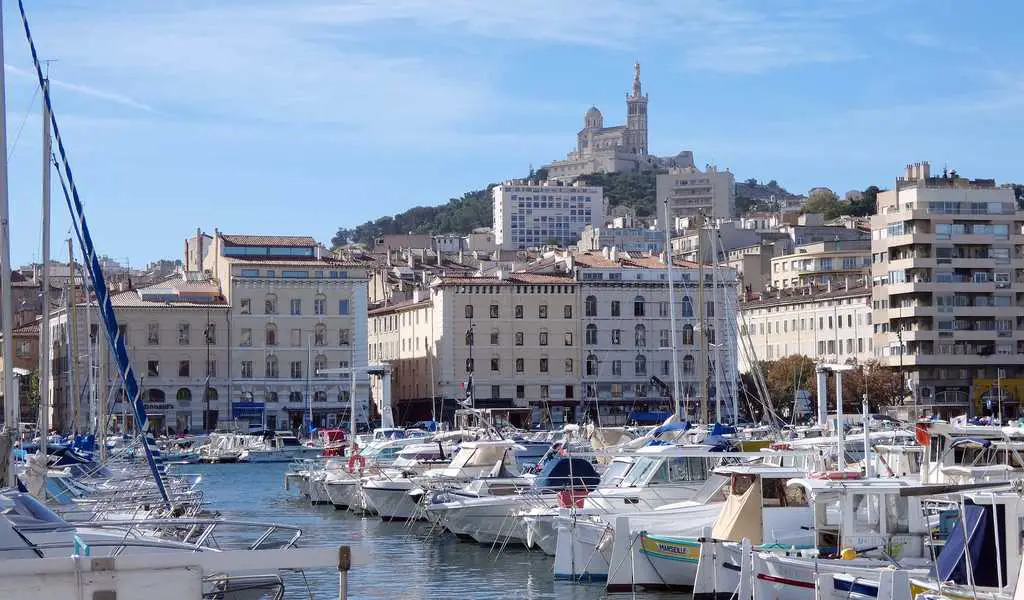 Visit the basilica, cathedral and old port
Take a trip to Les Calanques national park
Marseille is the second biggest city in France and one of the oldest. A visit to Marseille wouldn't be complete without seeing its iconic basilica and sampling it's iconic seafood dish, Bouillabaisse.
You can also visit the national park that lies just outside the city for hiking, kayaking and more.
Bordeaux
See your reflection at Place de la Bourse water mirror
Explore the Vineyards
Try Canelés, a French pastry unique to Bordeaux
Famed for its wine, Bordeaux is the best destination to experience the Southwest of France.
You can get out to explore the vineyards and the surrounding countryside or stay in the city where you'll find an huge water mirror that shows your reflection under a veil of mist.
Normandy
Visit Mont St Michel
Explore beautiful white limestone cliffs
See the D-Day beaches
In the North West corner of France lies Normandy, best known for it's stark coastlines and white cliffs.
Some of the best things to do in Normandy include visiting Mont St Michel where a medieval monastery balances on top of a small island and seeing the historic beaches and towns that witnessed the D-Day landings.
Loire Valley
Visit some of the 300 Chateaux in the region
Taste wine from local vineyards
The Loire Valley is a stretch in central France that used to be of strategic importance and is therefore home to incredible Chateaux, towers, palaces and banquet halls.
Combined with vineyards and cute villages, it's an essential stop when Interrailing through France. The main places you can stay in Loire Valley are Tours and Orleans, I recommend Tours for better accommodations choices.
Lyon
Visit a Bouchon
Experience the old passageways that run beneath the city and are unique to Lyon
Lyon is France's third largest city and can be found in the east of the country.
It is known as the foodie capital of France, not least because of its 20 Michelin star restaurants.
For most of us, the Michelin star restaurants will be out of reach, but you need to visit a bouchon, a type of family owned bistro restaurant that is only found in Lyon.
Strasbourg
See the cathedral that was once the tallest building in the world
Step back in time at Le Petite France, the city's historic quarter
Strasbourg is a beautiful city in the northeast of France near the German border. with large parts of the city recognised as a UNESCO world heritage site.
As you stroll around, the half timbered buildings and cobbled stones feel like taking a step back in time.
There are plenty of museums to visit as well as a cathedral which was the tallest building constructed in the 15th century.
Chamonix
Hike to Mer De Glace (glacier)
Take the Brevent cable car for beautiful views of the valley
Skiing in Winter
Located at the intersection of France, Switzerland and Italy, Chamonix is best known as a winter ski destination.
But, in the summer, the area presents opportunities for hiking, rock climbing, paragliding or just enjoying the views. This isn't the cheapest destination so budget travellers are best avoiding it.
Ready to book? Visit Interrail by National Rail for the best prices if you are having your pass delivered to the UK or Interrail.eu for delivery to other European countries.

Remember! Non-European citizens will need to book a Eurail pass instead of an Interrail pass.
---
Best Interrail Routes in France
France is a large, hexagonal (kind of) country so there is not an obvious Interrailing route as there is in other countries such as Italy.
Here are a few ideas to inspire you but I always recommend remaining flexible and not booking too far ahead as plans can quickly evolve.
If you have 1 week in France, I recommend visiting the three biggies:
Paris – Lyon – Marseille
For those who can spend 2 weeks in France, you can add a stop in the Loire Valley to spot some chateaux and explore the French Riviera:
Paris – Loire Valley – Lyon – Marseille – Nice
When time is a luxury, you may be able to afford 3 weeks in France. This would allow you to add some spots in Northern and Western France to the itinerary. This route runs anti-clockwise around the country:
Normandy – Paris – Loire Valley – Bordeaux – Marseille – Nice – Lyon
You can also check out my guides to Interrailing in Spain, Switzerland and Italy.
---
---
Accommodation
Here are the main accommodation choices when travelling through France:
Hostels
These are my preferred choice of accommodation when Interrailing, especially as I often travel solo so it's great for meeting people. You'll usually stay in a shared dorm and the good ones will hold events to help travellers mingle.
An average hostel is usually around €25-30, although can be as much as €45 in Paris. There are a number of destinations where there are limited hostels in France so you'll need to consider other options.
Hotels
A hotel offers a bit more privacy and luxury than a hostel but at the same time might not have a social atmosphere.
A budget hotel in most French cities is around €80 (£70) for a double room, or a mid-range hotel around €120 (£105). This will be higher in the capital and lower in many smaller towns and cities.
Airbnb
Airbnb provides many of the benefits of a hostel such as kitchen facilities and local knowledge but with the privacy of a hotel.
France has one of the biggest markets for Airbnb's, as such they are quite reasonably priced. Expect to pay €35-55 (£30-50) for just a room or €60-110 (£50-95) for a full apartment. Again, this will be more in Paris.
This is by no means an exhaustive list of accommodation options in Europe, other ideas include couch surfing, home sitting and camping. You have to choose the option that's right for you and your budget.
---
Trains in France
The main trains that you will use when Interrailing in France are:
TER – Regional train services with no reservations required
InterCité (IC) – National train services, reservations required on some lines
TGV – High speed train services, national and international, reservations always required
Intercités de Nuit (ICN) – Night train, reservations always required
There are also international train services operating in France including: ICE (to Germany), Eurostar (to Brussels and UK), Renfe-SNCF (to Spain), Thalys (to Netherlands, Belgium and Germany) and Thello (to Italy).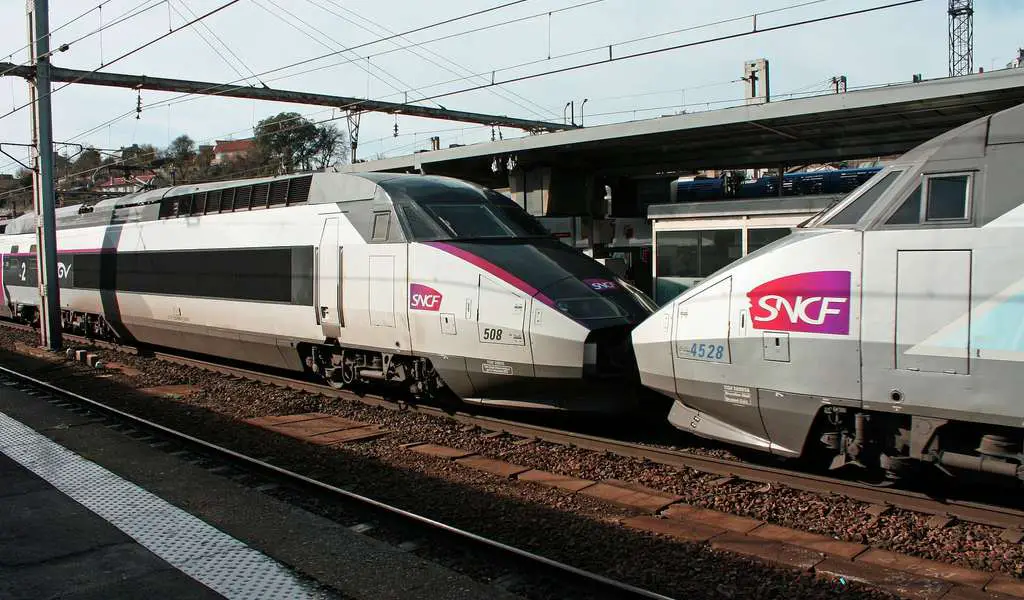 ---
Night Trains in France with Interrail
The main night train in France is called the Intercités de Nuit, you'll know you're booking this as the train number will begin with ICN.
Interrail passes are valid but you need a reservation.
A reclining seat reservation is €9; however, I'd recommend booking a couchette (like a shared dorm) which costs between €19 – 25 depending upon the season.
Intercités de Nuit has 4 routes in France, all starting in Paris and running to the south of the country.
There is also an international night train, Thello, that runs between France and Italy.
---
High Speed Trains in France with Interrail
TGV is the high speed rail service in France connecting major cities with speed and comfort.
Interrail passes are valid on the TGV but you need a reservation.
Reservations costs €10 and can be booked at stations or on the Interrail booking website for a €2 booking fee.
There are a limited number of reservations available to Interrail pass holders so book ahead of time in peak periods.
---
How Much Does it Cost?
France is one of the more expensive countries to visit in Europe. It's not quite as expensive as Switzerland or Scandinavia, but definitely more than Spain and Italy which it borders.
If you stay in hostels and manage your finances well, interrailing France for about £50-60 (€58-69) per day.
This doesn't include any pre-trip expenses such as your interrail pass or any train reservation fees.
---
Interrail Pass Benefits in France
Interrail and Eurail pass holders are entitled to a raft of benefits that vary by country. Here are the main benefits in France:
Hostels – Get a 10% discount at Europe's Famous Hostels (Lille, Marseille, Nice and Canal) and Generator Hostels (Paris).
Tours – Get a 20% discount on Sandermans tours in Paris including Versailles, Montmartre district and their pub crawl. I'm a big fan of Sandermans tours and highly recommend you try them – start off with their free walking tours and go from there.
City cards – I don't tend to recommend city passes as my itineraries never seem to warrant them. However, if you feel that you'll get the value, you can get discounts with your Interrail or Eurail pass in these cities:
Lyon: 20% discount on the first pass, 50% on the second
Nantes: 50% discount
Nice/French Riviera: 10% discount
Marseille: 15% discount
Bordeaux: 10% discount
Reims: 20% discount
Paris: 10% discount
Aix-en-Provence: 15% discount
Buses – There are some buses which Interrail/Eurail passes are valid on however the information about which buses is quite unclear. It's best to check validity at bus stations if you find you need to use a bus.
---
Since you've got this far – here's a SUPER embarrassing photo of me on my first interrail trip in France. You're welcome.
---
Can you use Interrail on the Eurostar?
Yes, an Interrail/Eurail Global Pass is valid on the Eurostar which travels between France, Belgium, the Netherlands and the UK. However, reservations are mandatory.
Eurostar reservations cost €30 for 2nd class or €38 for 1st class from London to France. There is a limited number of Eurostar reservations for Interrail/Eurail pass holders so book ahead in peak periods.
You must have a Global Pass to take advantage of this. Neither a one-country France or one-country Great Britain pass will be valid.
If you are British, a journey on the Eurostar counts as a journey in your own country and is therefore valid at the start or end of your trip.
You can book your reservation through Eurostar or the Interrail website.
---
Can you use Interrail/Eurail on the Paris Metro?
No, an Interrail/Eurail pass is not valid for urban transport, this means you cannot use it on either the Paris Metro or the RER services that run in Paris.
---
Is it Worth Getting an Interrail Pass in France?
Overall, I think it is worth getting an Interrail or Eurail pass if you plan to travel around significantly in France. This is because the train fares can be high, especially if you're booking last minute.
However, the shorter Interrail or Eurail passes (i.e 3-4 travel days) have a high cost per day so unless you'll be travelling on very expensive routes, you will probably be better off buying tickets at the platform if you're not around for long.
Ready to book? Visit Interrail by National Rail for the best prices if you are having your pass delivered to the UK or Interrail.eu for delivery to other European countries.

Remember! Non-European citizens will need to book a Eurail pass instead of an Interrail pass.