As an affiliate I may earn a commission on any qualifying purchases, including those from Amazon, at no extra cost to you.
Even within it's own borders, Spain is an incredibly diverse country but this is often overshadowed by the prominence of it's two major cities, Madrid and Barcelona. To fully appreciate Spain, you'll need to delve deeper than this.
Spain has a great network of high speed trains operated by AVE which you can board with an Interrail/Eurail pass and a €10 reservation, these spread to most of the common destinations so getting around the country is quick.
In this guide, I'll share everything you need to know about Interrailing in Spain, including which trains you can use, where to go and what additional benefits your Interrail/Eurail pass will get you.
Pro Tip: If you're having your pass delivered to the UK, it's cheaper to buy your pass through Interrail by National Rail. They also offer faster delivery and theft protection for 40% OFF- See Passes.

Remember, if you are not European, you'll need a Eurail pass instead of an Interrail pass!
What is Interrailing
Interrailing is when you travel across Europe by train using an Interrail pass (or Eurail pass for non-European citizens). This pass will allow you to travel on (almost) any train across 33 different European countries.
When the Interrail Pass was originally created in 1972, it was targeted at students, but nowadays Interrailing is popular with a variety of travellers, from gap year backpackers to family rail adventures.
There are both interrail and Eurail passes.
An Interrail pass is only available to European citizens, whereas a Eurail pass is the alternative for non-European citizens. They work in the same way although are priced differently.
In this guide I'll refer to Interrail passes, but everything can equally be applied to Eurail in Spain unless otherwise stated.
Find out more about Interrailing in my complete guide to planning an Interrail trip.
---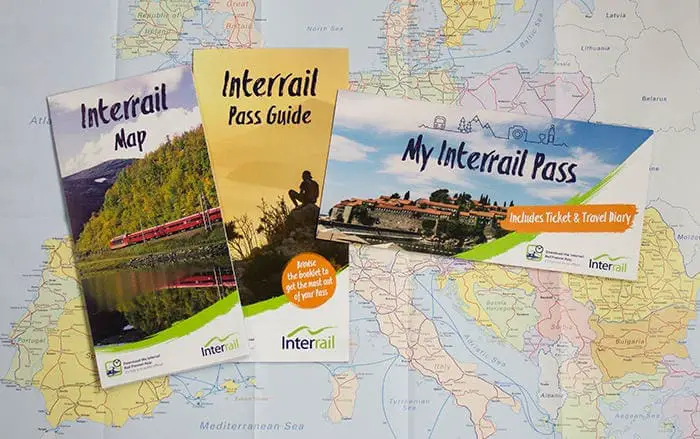 Can you use an Interrail Pass in Spain?
Yes, you can use an Interrail or Eurail pass in Spain.
An Interrail Global Pass and Eurail Global Pass are both valid on the rail networks in Spain, however, a large proportion of the trains require a reservation.
There is an Interrail Spain Pass (also called a Spain one-country pass) and an equivalent Eurail Spain Pass if this is the only country you'll be visiting on the trip. These are cheaper than global passes but are only valid in Spain.
There was previously an Interrail Spain Premium Pass however this has been discontinued.
Useful Links:
---
Best Destinations for Interrailing in Spain
Here are some of the top destinations you should add to your Interrail or Eurail in Spain itinerary.
Barcelona
Visit the Sagrada Familia and other Gaudi works
Football fans must visit the Nou Camp, home to Barcelona FC
Day trip to Montserrat monastery in the mountains
The city of Barcelona is a staple on any route Interrailing through Spain. The city is known across the world for the works of Antoni Gaudi, a famous Spanish architect who's work can be found throughout the city.
The most noteworthy of Gaudi's pieces is the unfinished Sagrada Familia that has been over 130 years in the making (pictured).
If you have time, you can take a day trip to Montserrat, a monastery in the mountains. You'll get a 50% discount on the cable car or rack railway if your Interrail/Eurail pass is valid that day.
Related Post:
---
Madrid
Try a Calamari sandwich
Visit the Royal Palace and El Retiro park
Day trips to Toledo and Segovia
Spain's capital is slap bang in the middle of the country so is easily accessible from almost any other city via the high speed train network.
Madrid has a real foodie culture with a vast number of restaurants, including the oldest restaurant in the world. Look out for the famous Calamari sandwiches which can be found around Plaza Mayor.
Related Post:
---
Seville
See a traditional Flamenco dance
Visit the UNESCO listed Real Alcazar
Seville is a beautiful city best known for it's narrow streets and its traditional Flamenco dancing. It's the third key destination when backpacking in Spain.
It's also a popular setting for many films and TV shows, the list includes Knight and Dav starring Tom Cruise and Cameron Diaz, Game of Thrones and some of the Star Wars scenes.
Essential things to do in Seville include the Real Alcazar and its impressive cathedral.
Check out the best hostels in Seville.
---
Ronda
The cliff town of Ronda is a great place to visit in the South of Spain and is easily done on a day trip from Seville.
The Puente Nuevo bridge seen here stretches across the 120m deep gorge connecting the two halves of the city.
---
Granada
Explore the hilltop fortress of Alhambra
Visit Sierra Nevada national park
Granada lies in the south of the country and is home to a huge hilltop fortress, Alhambra, that dominates the city. Alhambra includes palaces, a castle and a small town within its walls.
Using local trains, it's easy to reach Granada from Malaga or Seville without a reservation, whilst the high-speed trains connect it to larger cities including Madrid in less than 4 hours.
Granada is well placed to take a day trip to the nearby Sierra Nevada national park which is home to 2 out of 3 of mainland Spain's highest mountains plus trekking routes, cycling routes and more.
---
San Sebastian
Visit the old town area
Sample traditional Basque Country cuisine
Walk to the summit of Monte Urgull
In the Basque Country region of Spain. San Sebastian is a coast town that's sandwiched between sandy beaches and a number of hills that give great views of the city.
Whilst in the city, you need to try pintxos, the regions delicacy which is amazing! It's great for surfing and kayaking if you're into water sports.
The small town seems to attract a lot of attention hosting a well-known annual film festival and being crowned the European capital of culture in 2016.
---
Bilbao
This small town in Northern Spain is filled with many great art museums including the Guggenheim, a world famous modern art museum.
The town is also home to Europe's largest indoor food market and is another great place to try Basque country delicacies such as pintxos.
Bilbao is located directly in the middle of Santander and San Sebastian, so it makes a great day trip from either of these cities.
---
Valencia
Visit the City of Arts and Science which contains a planetarium, laserium and science museums (pictured)
Try authentic Paella
Get some beach time
Although Valencia is one of Spain's biggest cities, it's a maze of cobbled streets and alleyways that feel like a much smaller town. Look out for street art, cafes and plenty of Paella which originated here.
If you can plan your visit to be on the last Wednesday of August, Spain's most famous festival, La Tomatina, takes place near Valencia and sees a whole village throw tomatoes at each other all day.
---
Cadiz
Visit the free museum of the Roman theatre
Explore the squares, markets and cathedral of the old town
In the very south of Spain, near Gibraltar, you'll find Cadiz which has played a key role in history thanks to its strategic location.
The city was the launch point for Columbus' expedition to discover the world and you'll spot over 100 watch towers than were used to monitor the Strait of Gibraltar.
The city is often overlooked in favour of other better-known destinations but it's a great spot for some down time to explore the city and nearby beaches (some which featured in James Bond Die Another Day with Halle Berry).
---
Ready to book? Visit Interrail by National Rail for the best prices if you are having your pass delivered to the UK or Interrail.eu for delivery to other European countries.

Remember! Non-European citizens will need to book a Eurail pass instead of an Interrail pass.
Best Interrail Routes in Spain
Spain doesn't have one particular Interrailing route so you can craft it as you go. Here are a few suggested itineraries but I always recommend staying flexible and not booking too far ahead.
If you plan to add Portugal to your , you'll probably want to move Madrid to the end of your route and then take the overnight train from Madrid to Lisbon.
I would say that 10 days in Spain is the minimum time you'll need.
Here is my recommended 10 day Interrail tinerary in Spain, this short itinerary would not benefit from purchasing an Interrail pass unless you are visiting other countries or cities too.
Barcelona (4) – Madrid (3) – Seville (3)
If you have 15 days in Spain, I recommend adding San Sebastian at the start and weaving in Granada where you can explore the nearby national park.
San Sebastian (2) – Barcelona (4) – Madrid (3) – Granada (3) – Seville (3)
With 3 weeks in Spain, you'll start to fully appreciate the country. This extra time will also allow you to visit Bilbao, Valencia and Cadiz.
Try to work in an extra day or two somewhere for downtime as travelling flat out for 3 weeks can get exhausting.
Bilbao (3) – San Sebastian (2) – Barcelona (4) – Valencia (2) – Madrid (3) – Granada (2) – Seville (3) – Cadiz (2)
This is part of my Interrailing series that also includes posts on Italy, Switzerland and France.
---
Accommodation
Here are the main accommodation choices to consider:
Hostels – These are my preferred choice of accommodation for most Interrailers in Spain especially as I usually travel solo.

An average hostel is pretty much the same price across Spain and usually in the region of €15-25. However, if you're visiting Barcelona during peak tourist season, you will end up paying around double this.
ㅤ
Hotels – A hotel offers a bit more privacy and luxury than a hostel but at the same time might not have a social atmosphere and is more expensive.

A budget hotel in most Spanish cities can be found for around €50 for a double room, whereas a room in a mid-range hotel will likely cost closer to €100. Again, if you're visiting Barcelona during peak periods, expect to pay around double these rates.
ㅤ
Airbnb – Airbnb provides many of the benefits of a hostel such as kitchen facilities and local knowledge but still with the privacy of a hotel.

In Spain, Airbnb works out relatively similar to hotels in pricing.  For a private room in an Airbnb, expect to pay around €25-35 across most of Spain, and more like €50-60 for a small private apartment.

However, a small private apartment in Barcelona could easily set you back €130+ during peak season.
This is by no means an exhaustive list of accommodation options in Europe, other ideas include couch surfing, home sitting and camping. You have to choose the option that's right for you and your budget.
---
Trains in Spain
The main trains that you will use when Interrailing or using Eurail in Spain are the AVE high speed trains and the regional trains run by Media Distancia (train numbers for regional train begin with RE).
Spain is one of the few countries where reservations are required for most routes you will take. A reservation will vary between €4 – 10.
Use the Rail Planner app to find out which trains need reservations, you can usually buy them directly in the app.
Passes are valid on high speed and night trains in Spain, here is further information about these services:
Night Trains in Spain with Interrail
You can use night trains in Spain with your Interrail pass, however, there is little need for them with such an effective high-speed network that can get you across most of the country in under 5 hours.
However, you may need them for International journeys.
There are two main night train operators in Spain:
Trenhotel – Services within Spain and to Portugal. Reservation is required at €7 for a reclining seat or €29.50 for a couchette bed.
ㅤ
InterCités de Nuit – Connects Spain with France, Luxembourg and Switzerland. Reservation is required at €9 for a reclining seat or €19 for a couchette bed.
The main overnight trains you might want to use are:
Madrid to Lisbon – (Trenhotel 332/335) – Leaves once a day at 21:43 in Madrid, arrives at 7.30 in Lisbon
Barcelona to Paris – There is no longer a night train from Barcelona to Paris, however if you take a regular train to Latour de Carol on the border of France/Spain, you'll be able to catch the ICN 3980 that leaves Latour de Carol at 19:21 and arrives in Paris at 6:52.
High Speed Trains in Spain with Interrail
There are various high speed train operators in Spain but the main one you will use is AVE.
Interrail and Eurail passes are valid on all high speed trains, however you'll need to pay a reservation fee.
The reservation fees for each operator are:
AVE – €10 (2nd Class)
Avant – €4 (all classes)
Euromed, Alvia, Alaris, Altaria – €6.50 (2nd class)
Useful Links:
---
How Much Will I Spend?
It's hard to put a specific cost as it varies by travel style and according to where you go.
For an Interrail trip in Spain, I'd recommend allowing about €40-50 per day in most destinations providing that you're staying in hostels and stick to general budget travel principles.
Try to make your own food in the hostel as much as possible and limit the number of expensive attractions you visit.
However, when visiting Barcelona, you'll want to budget a little higher. I'd recommend in the region of €60-80 per day depending upon the season.
These costs do not include any pre-trip costs such as your Interrail or Eurail Pass or travel insurance. It also doesn't cover any train reservations which could be up to €10 per journey.
---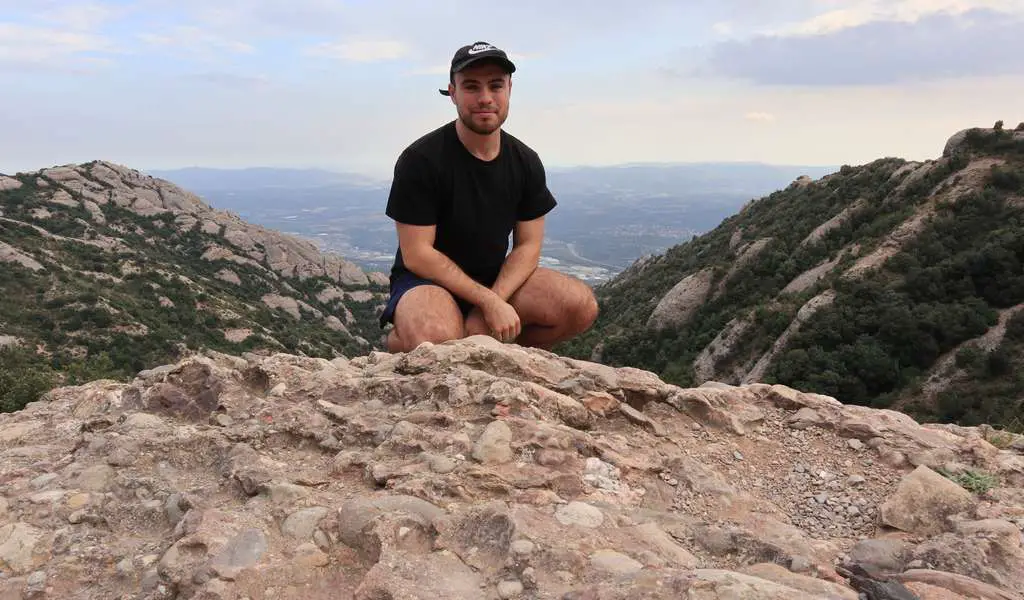 Interrail Pass Benefits in Spain
You're entitled to a range of extra discounts and benefits across Europe with your Interrail or Eurail pass. Spain is one of the best countries for the range of benefits you can get.
Here's a complete list of discounts in Spain with Interrail, please let me know if you discover any more:
Ferries – If you're travelling from Spain to Italy, Sardinia, the Balearic Islands or Morocco, you can get discounted ferry travel between 20-30%. Check here for full details.
Bike rental – Get 20% off donkey republic bike rental in Barcelona and Malaga.
Private Railways – Get a 50% discount on private railways operated by FCG, this includes the rack railway and cable car up to Montserrat which is the mountain just outside of Barcelona.
Hostels – Get 10% off at Europe's Famous Hostels (Barcelona, Bilbao, Seville, Granada, Malaga, Madrid and Valencia) and at Generator Hostels (Barcelona and Madrid).
Sandermans Tours – You'll know from reading this blog that I'm a big fan of Sandermans, you can get 20% off on all their paid tours in Barcelona, Madrid and Seville. This includes tapas tours, pub crawls and bike tours. Of course, I'd recommend trying out their signature free walking tours first.
City Cards – I never buy city cards but if you think you'll get the value from them, you can also get a discount with an Interrail or Eurail Pass in the following cities:
Barcelona – 10% off both the Barcelona Card and Barcelona Express Card
Valencia – 15% off the Valencia Tourist Card
Segovia – FREE tourist card although the card only entitles you to discounts
Discounted attractions – Get discount on the following attractions with your pass:
Gaudi's Crypt in Barcelona – 20% discount on entry
Casa Mila in Barcelona – €3 off at the ticket office (will get you the same price as booking in advance online)
Spanish Railway Museums in Barcelona + Madrid – 50% discount on entry
Museo Thyssen-Bornemisza Art Museum in Madrid – 15% discount on entry + 10% discount on audio tour
Veltra Tours – Up to 25% discount on Veltra tours in Madrid and up to 33% in Barcelona. Tours include Sagrada Familia guided tour, flamenco shows and various guided day trips.
Secret Food Tours – Get 15% discount when you book online for tours in Barcelona, Madrid and Seville.
Hard Rock Café – 10% discount on your bill in Barcelona, Madrid and Seville.
City Sightseeing Bus – You're entitled to a 15% discount on the city sightseeing buses in many cities across Spain, including Seville, Barcelona, Cadiz, Malaga, Santander and Toledo.
---
What is a RENFE Spain Pass?
A RENFE Spain Pass allows a set number of journeys on the AVE high speed trains.
The passes are similarly priced to the Interrail Spain Pass and Eurail Spain Pass at the lower level however for the longer passes, Interrail and Eurail is considerably cheaper.
If you are aged 13-27, you'll benefit even more from Interrail as it has a youth pass, whereas a RENFE pass jumps straight to adult passes from age 13.
The biggest benefit of the Renfe pass is that you don't pay any reservation fees on the trains which are €10 per time, however you are also limited to only the high speed train.
All things considered, I think you are better off with an Interrail Spain Pass or Eurail Spain Pass than a RENFE Spain Pass but you'll have to come to the right decision for your trip.
Obviously, if you're travelling beyond Spain then an Interrail/Eurail Global Pass is the only option.
---
This is embarrassing but here's me on my first solo trip EVER in Spain, don't judge:
---
Is it Worth Getting an Interrail Pass in Spain?
If you're travelling around a number of countries in Europe and are travelling for a longer period of time, then without doubt the Interrail Global Pass (for European Citizens) or Eurail Global Pass (for non-European citizens) offers great value.
If you're only visiting Spain and you're travelling for a short period of time, i.e. 3 or 4 travel days, then you may want to consider purchasing end-to-end tickets for your trip. If you can book these a week or more in advance, you'll save compared to the shorter interrail passes.
If you're only visiting Spain but will have 5 or more travel days, then it generally works out better to get an Interrail one Country Pass for Spain (for European citizens) or a Eurail one-country pass for Spain (for non-European citizens).
Ready to book? Visit Interrail by National Rail for the best prices if you are having your pass delivered to the UK or Interrail.eu for delivery to other European countries.

Remember! Non-European citizens will need to book a Eurail pass instead of an Interrail pass.