As an affiliate I may earn a commission on any qualifying purchases, including those from Amazon, at no extra cost to you.
With jagged snow-covered mountains, enormous lakes and cute villages, Switzerland is a great year-round travel destination. Plus, with a vast and efficient network of trains connecting every corner of the country, it's a perfect addition to any Interrailing itinerary.
This guide will share everything you need to know about Interrailing in Switzerland, including the best destinations, route ideas, costs and some of the additional interrail benefits you can expect in the country.
Pro Tip: If you're having your pass delivered to the UK, it's cheaper to buy your pass through Interrail by National Rail. They also offer faster delivery and theft protection for 40% OFF- See Passes.

Remember, if you are not European, you'll need a Eurail pass instead of an Interrail pass!
What is Interrailing?
Interrailing is where you travel across Europe by train using an Interrail (or Eurail) pass. This pass will allow you to travel on (almost) any train across 33 different European countries.
The Interrail pass was created almost 50 years originally targeted at students, but nowadays interrailing is popular with all sorts of people from gap year backpackers to family rail adventures.
There are both Interrail and Eurail passes.
An Interrail pass is only available to European citizens, whereas a Eurail pass is the alternative for non-European citizens. They work in the same way although are priced differently and there are slightly fewer Eurail choices.
In this guide I'll refer to Interrail passes, but everything can equally be applied to Eurail in Switzerland unless otherwise stated.
If you want more information about Interrailing, refer to my guides to interrailing in France, Italy or Spain.
---
Can you use an Interrail Pass in Switzerland?
Yes, an Interrail or Eurail Global Pass is valid in Switzerland.
The pass will work on all services run by SBB, the country's national rail company, as well as most private railway companies.
You'll be covered on all major routes between towns and cities including regional, high speed, international and sleeper trains. However, you may need to buy a seat reservation for some of these.
There is also an Interrail One-Country Pass for Switzerland. This is a cheaper option if you're only visiting Switzerland however this is only available for European citizens as there is no Eurail equivalent.
Switzerland also has a number of mountain railways, funiculars and aerial tramways (cable cars) which provide access to the Swiss Alps for skiing and mountain activities. An Interrail/Eurail pass won't cover these services, however many of them offer a discount to pass holders. See pass benefits section below.
Helpful Resources: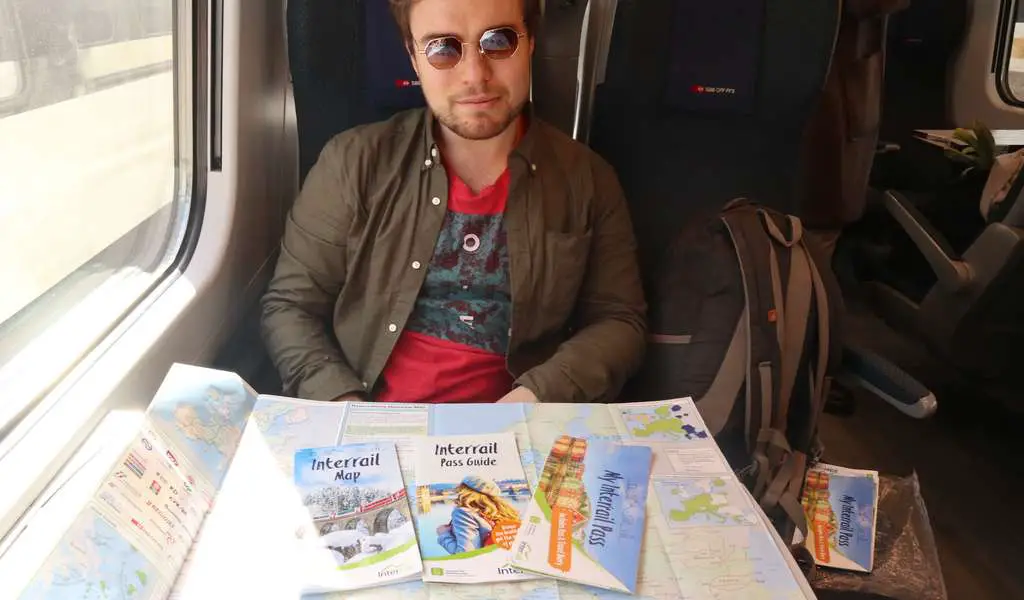 ---
Where should I visit in Switzerland?
Here are a few of the must visit places when Interrailing in Switzerland:
Montreux
There are plenty of towns and cities you can visit along Lake Geneva, but the small town of Montreux is my favourite. It has stunning views across the lake and is well placed for accessing many of the activities in the region. From Montreux you can easily stroll to Chillon Castle which is the best spot for sunset.
Related Post:
Interlaken
This town is situated directly between two lakes and is ideally located for accessing the Swiss Alps for skiing or hiking. You can also yourself here for visiting Lauterbrunnen and Grindelwald.
Related Post:
Lucerne
Slap bang in the middle of the country, with excellent transport links and great infrastructure, Lucerne is known as the gateway to Switzerland.
Lucerne is home to the Swiss Transport Museum which is hands down one of my favourite ever museums. In Lucerne you'll have several great mountains on your doorstep including Mt Pilatus, Mt Titlis or Mt Rigi, all of which can be easily visited on a day trip.
Related Posts:
St Moritz
Known as one of the world's greatest winter sports resorts and having twice hosting the Winter Olympics, St Moritz is like Mecca for winter sports fans. Here, you can try your hand at almost any outdoor sport, from sailing and kite surfing to tennis and horse riding.
Zermatt
Zermatt lies in the far south of Switzerland, at the foot of the legendary Matterhorn mountain which claims to be the sixth highest peak in the alps. Unless you're a pro climber, I'd suggest taking in the view of this jagged giant from the bottom.
However, you should visit it's smaller brother, Klein Matterhorn (Little Matterhorn), which is accessible via Europe's highest cable car station. Here you'll find the glacier paradise, an ice palace and beautiful panoramic views.
Zermatt is popular with hikers due to the many trails starting here and during the summers it attracts a lot of mountain bikers too.
Basel
Switzerland's third largest city is nestled away in the north of the city, right on the border.
You might best know Basel as the home of Roger Federer, but expect great markets, a thriving art culture and Basler Fascnacht, the biggest carnival in the country. I can recommend heading up Basel Minster cathedral for epic views across the city's skyline.
Zurich
Switzerland's largest city and its banking capital makes Zurich an expensive city, even by Swiss standards. I wouldn't recommend spending too long here.
However, with over 50 museums, thermal baths overlooking the city and a beautiful old town, it's a must visit destination when Interrailing in Switzerland.
---
Ready to book? Visit Interrail by National Rail for the best prices if you are having your pass delivered to the UK or Interrail.eu for delivery to other European countries.

Remember! Non-European citizens will need to book a Eurail pass instead of an Interrail pass.
Best Interrail Routes in Switzerland
If you have 1 week in Switzerland, I recommend making the most of the Golden Pass line. The following route will allow you to see some of the best towns and cities with day trips to Lausanne, Gruyeres, Mount Titlis and more.
Geneva – Montreux – Interlaken – Lucerne.
With 2 weeks in Switzerland, I recommend extending your route to include the Glacier Express line as below. In addition to the previous itinerary, you'll get to go up Klein Matterhorn and take the funicular to Blais da Muottas, a peak that's elevated over 2,500m.
Lucerne – Interlaken – Montreux – Zermatt – Brig – Chur – St Moritz.
If your itinerary allows 3 weeks Interrailing in Switzerland, you'll get an excellent taste of the country. Add Zurich, Schaffahausen and St Gallen to the beginning of your route to see the gigantic Rhine Falls and the Abbey of St Gall.
Zurich – Schaffahausen – St Gallen – Lucerne – Interlaken – Montreux – Zermatt – Brig – Chur – St Moritz.
---
Accommodation
Your main accommodation choices in Switzerland are:
Hostels – This is my go-to choice of accommodation when Interrailing in Switzerland. The hostels here are more expensive than the rest of Europe with prices generally around £30-40 but this is still better value than other accommodation.
ㅤ
Hotels – If you prefer a bit more privacy you could opt for hotels with options to suit most price ranges. A budget hotel will start from around £100 for a double room. Luxury hotels can cost as much as £400 per night.
ㅤ
Airbnb – An alternative to hostels and hotels is Airbnb. This can take a little more work to find a suitable place, but you'll usually be rewarded with a great price and top notch amenities.
This is by no means an exhaustive list of options for accommodation in Europe, other ideas include couch surfing, home sitting and camping. You have to choose the option that's right for you.
Helpful accommodation guides:
---
Night Trains in Switzerland with Interrail
It's unlikely that you'll need to use a sleeper train when travelling between two destinations in Switzerland. The country is small, and the trains are fast so most major journeys can be completed in under 4 hours.
However, if you're travelling internationally then a sleeper train can be a great way to make long distance journeys. You'll save time by travelling whilst you sleep and will save money on accommodation for the night.
Here are the three main night trains you may want to consider:
OBB Nightjet (NJ470)
Route: Zurich/Basel – Belin
Compulsory reservation from €34 for 6 bed couchette
Euronight Kálmán Imre (EN40462/40467)
Route: Zurich to Vienna, Salzburg, Innsbruck or Budapest
Compulsory reservation from €34 for 6 bed couchette
Euronight Lisinski (EN40414/40465)
Route: Zurich to Innsbruck, Lake Bled, Ljubljana or Zagreb
Compulsory reservation from €34 for 6 bed couchette
---
Scenic Trains in Switzerland with Interrail
Some of the services in Switzerland are known as scenic routes. This is because the trains have large panoramic windows and transport you through the picturesque scenery of the Swiss alps and beyond. You can usually travel on these lines with an interrail pass as you would on any other line but you may need a reservation.
Here are the main scenic routes in Switzerland valid with Interrail/Eurail:
Bernina Express
In the southeast of the country the Bernina Express runs from Chur to Tirano which is just over the southern border.
The journey takes about 4 hours in one go with key stations including Davos and St Mortiz. An Interrail or Eurail pass is valid for the entire route.
The panoramic trains on this route require a reservation costing £8-13, however the regional trains without panoramic windows do not require a reservation but will include changes.
Glacier Express
The Glacier Express is known as the slowest express train in the world, taking a total of 9 hours. The line runs across the south of the country, starting in Zermatt at the foot of the Matterhorn, and continuing to St Moritz.
The final part of the journey between Chur and St Moritz is the same as the Bernina express above. An Interrail pass covers the whole route however a reservation is compulsory costing £19-29.
Golden Pass Line
Starting in Montreux, on the edge of Lake Geneva, the Golden Pass Line runs across 3 mountain passes and alongside 8 lakes. It makes its way through Interlaken and finishes in Lucerne.
An interrail pass covers the whole route with no reservations required.
Gothard Panorama Express
This train begins in Lucerne in the centre of the country where the first leg of the journey to Flüelen is via a 3 hour boat.
Then you'll continue south by train to Lugano, near the Italian border. The cost is £19 for the train reservation and £8 for the boat.
---
How Much Does Interrailing in Switzerland Cost?
Switzerland is by no means a cheap destination to visit, in fact it's one of the most expensive destinations to travel in the world. You can keep your costs down whilst interrailing in Switzerland by staying in hostels, cooking your own meals as much as possible and avoiding the expensive attractions.
As a budget backpacker, expect to spend between 70 – 80 CHF per day (£58-67) when Interrailing in Switzerland. This excludes your interrail pass or any one-off expensive tourist attractions.
An Interrail Global Pass starts from £226 for adults or £170 for youths under 28.
An Interrail One-Country Pass (European citizens only) starts from £179 for adults and £144 for youths.
Ready to book? Visit Interrail by National Rail for the best prices if you are having your pass delivered to the UK or Interrail.eu for delivery to other European countries.

Remember! Non-European citizens will need to book a Eurail pass instead of an Interrail pass.
---
Interrail Pass Benefits in Switzerland
Interrail passes come with a raft of additional benefits beyond the train travel itself. These benefits can vary between countries so here is a run down of the benefits you can expect when Interrailing through Switzerland (also applies to Eurail in Switzerland):
Free travel on the S-Bahn metro system in Zürich
ㅤ
20% off Donkey Republic bike rental in Geneva, Le Locle, Neuchâtel, Sion and Yverdon-les-Bains.
ㅤ
Discounted cable cars including 50% off Mt Rigi cable car and 25% off the Stanershorn and Mt Titlis cable cars
ㅤ
Discounted travel on some private railways including 25% off journeys to Schilthorn, Jungfraujoch, Grindelwald and Lauterbrunnen, and 50% off journeys to Rigi Klum. Find full list of railways included here.
ㅤ
Discounted hostel stays with 15% off Swiss Youth Hostels and 10% off at Europe's Famous Hostels.
ㅤ
Free ferries on Lake Brienz and Lake Thun (both near Interlaken).
ㅤ
50% discount on ferries at Lake Biel, Lake Geneva, Lake Neuchâtel, Lake Lucerne, the River Rhine, Lake Zurich and Lake Constance.
This is not an exhaustive list but covers the main items; I recommend you carry your interrail pass with you and always ask if they offer discount.
Help me create the biggest list of Interrail discounts in Switzerland – tell me about any not listed here.
---
Interrail Pass vs Swiss Travel Pass
Switzerland has its own train pass called a Swiss Travel Pass which is a little more expensive than an Interrail or Eurail pass. When I knew I'd be travelling in Switzerland by train, I set out to understand whether I should buy a Swiss Travel pass or an Interrail pass.
A Swiss Travel Pass is an all-encompassing public transport card in Switzerland that covers trains, buses and boats as well as free or discounted cable cars, rack railways and museum entries. Similar to Interrail, there is a consecutive and flex version for travel between 3 and 15 days.
Here are the costs of a comparable adults 4 day in 1 month flexible travel pass:
Swiss Travel Pass: £266
Eurail Global Pass: £221
Interrail Global Pass: £215
Interrail One-Country Switzerland Pass: £127
Currencies converted 8/4/20
What benefits does a Swiss Travel Pass have that an Interrail pass doesn't have?
Both the interrail pass and the Swiss Travel Pass have lots of benefits, however the Swiss Travel Pass excels in some areas, here is a comparison of some key tourist ticket prices, this is not exhaustive:
Which Pass Should I Use?
When I laid out all the costs and benefits of each pass, there were clear instances where each pass offered better value which can be summarised as below.
If you're visiting other countries on the same trip:
If you only plan to visit Switzerland on the trip:
Ready to book? Visit Interrail by National Rail for the best prices if you are having your pass delivered to the UK or Interrail.eu for delivery to other European countries.

Remember! Non-European citizens will need to book a Eurail pass instead of an Interrail pass.