As an affiliate I may earn a commission on any qualifying purchases, including those from Amazon, at no extra cost to you.
Laos is such an underrated place and often overlooked in favour of neighbour Thailand. I recently spent just over 3 weeks in Laos and could happily have spent more time there. I especially loved the people, I met some incredible young Laotian people and they were some of the friendliest in South East Asia.
The north of the country is quite popular with backpackers and has been part of the "banana pancake" trail for a while. However, many people choose to skip the South which is a real shame as I had some of my best experiences here.
---
Want to learn more about Laos? Here are my 18 facts about Laos you probably won't know.
---
When to visit Laos?
The best time to visit Laos is during dry season from November to April. Wet season begins in May lasting through until October.
It's also worth bearing in mind that towards the end of dry season from March to April is also burning season when the farmers have huge fires to prepare the fields for the new crop. This can cause a lot of smoke in the atmosphere which can disrupt the views and cause some discomfort breathing at certain times.
---
Itinerary Highlights
Take a swim at Kuang Si Falls
Tubing in Vang Vieng
Motorbiking through the Champassak highlands
Watching the sun set on Don Det
---
Visit A Mary Road for tips about backpacking in South East Asia
My 3 Week Laos Itinerary
Here is my 3 week itinerary for visiting Laos. This itinerary allows for travel time and rest days so you'll find it goes at a pretty slow rate but you could speed it up a little if needed.
Luang Prabang (4 nights)
Luang Prabang is the cultural hub of Laos and often the first arrival point for most visitors, many will arrive on the two day slow boat from Thailand to Laos such as myself. The entire centre of the city is a UNESCO heritage site which has helped it retain a traditional look and feel.
The most popular thing to do in Luang Prabang is to visit Kuang Si Falls which are located about an hour's drive outside of the city. The water is the bluest I have ever seen and the splash pools are super cool for a refreshing swim, it's easy to see why these waterfalls are so popular. I'd recommend hiring a tuk tuk for the day if you have a group or taking a guided tour if there is only 1-2 people.
There isn't much of a party vibe in Luang Prabang (or any of Laos for that matter) so all the bars and restaurants generally close around 11pm. However, that doesn't mean the night ends for the backpackers, head to the local bowling alley (yes, that's right!) where the party continues until the early hours.
Make sure you visit the Unexploded Ordinances (UXO) Information Centre, despite being very small, you'll learn a huge amount about the role Laos played in the Vietnam war and how it continues to be affected today.RECOMMENDED PLACE TO STAY: I can recommend both Sunrise Riverside Pool Hostel and Chill Riverside Hostel, both have a great backpacker vibe and are good for meeting new people.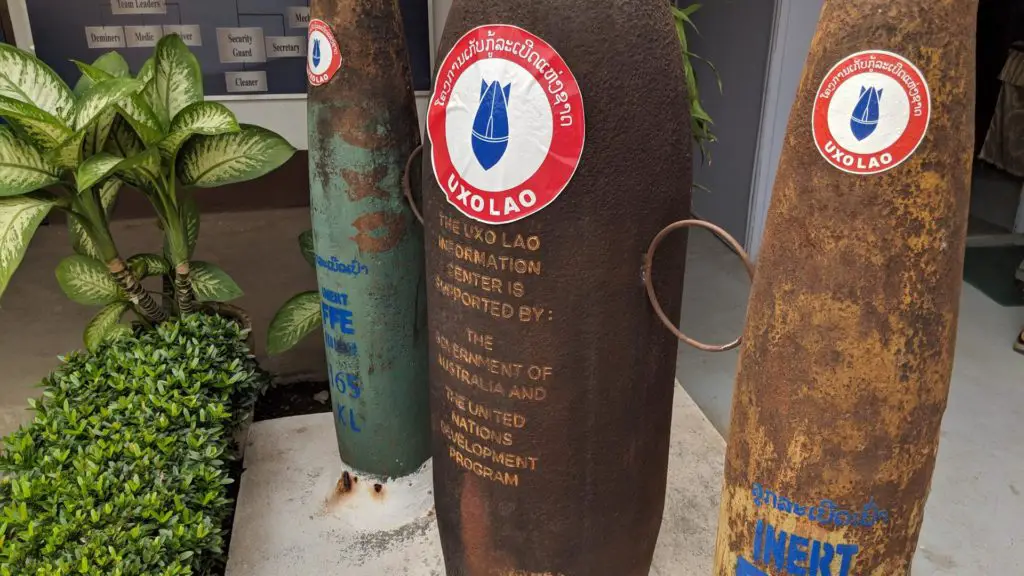 Vang Vieng (4 nights)
Head south from Luang Prabang (by perhaps one of the worst roads I've ever come across) and you'll reach Vang Vieng.
A spot for adventure lovers, Vang Vieng is an incredible town situated against the beautiful backdrop of the Lao countryside. Look out for the awesome viewpoints which are incredible if you can bear the heat to get there!
Vang Vieng earnt it's place on the backpacker trail for it's crazy river tubing. Whilst not as crazy as it once was, the tubing is now much safer and still a great way to spend an afternoon drinking alcohol whilst floating down the river.
Vang Vieng is also home to the blue lagoons Not many people realise, there are actually 3 lagoons. I visited lagoon 3 and was greeted with turquoise blue water, zip lines, diving platforms and a short climb to a viewpoint. If visiting lagoon 3, be prepared for a long bumpy journey, you'll want to get a songthaew or you could hire one of the dirt buggies available on the way.If you're feeling really adventurous, Vang Vieng hosts some incredible view points. Unfortunately the weather was far too hot during my visit, but look out for some of the best hikes in Asia. The most well known being the route up to Pha Ngeun viewpoint, but also look for lesser known viewpoints such as Pha Hon Kham.
RECOMMENDED PLACE TO STAY: If you're looking for a great social and party atmosphere, I can recommend staying at Nana's Backpacker Hostel, it has a pool, gym and a bar with free vodka and whiskey every evening (although you'll pay for mixers).
Vientiane (3 nights)
Perhaps one of the most laid back capital cities I have so far visited, Vientiane tends to get mixed reviews. I enjoyed my time there, particularly hanging out in the amazing bakeries scattered across the city. But if you're a person who enjoyed to be very active then limit your time here and make better use of your 3 weeks in Laos.
Situated about an hour outside the city is the Buddha Park featuring hundreds of statues from Buddhist and Hindu mythology including a giant dome which you can climb up for a great view across the park.
There are also many things to see in the city itself. Take a visit to Pha That Luang, Laos famous large golden stupa in the capital city that dates back to the 3rd century or climb the Patuxai War Memorial for a panoramic view of the city.
[Optional] Thakhek (3 nights)
I chose to skip Thakhek, as a novice rider I didn't fancy two long motorcycle loops in quick succession. But if you love to ride and have the time, this is a must-visit destination. Everyone I spoke to who did the Thakhek loop spoke very highly about it.
Pakse (3 nights incl overnight bus)
Pakse is the capital of Champassak region in the south of Laos and the next stop in my 3 week Laos itinerary. It's quiet atmosphere could fool you in to thinking it was a very small town but it's actually the second biggest city by population after Vientiane.
Pakse lies over 600km south of Vientiane so I decided to take an overnight bus to get there and have allowed for this in the 3 nights in Pakse Luckily, I managed to board a quiet bus but be warned that if you're travelling solo you may have to sleep next to a stranger.
Spend some time enjoying the city's quiet atmosphere and take a day to visit the old town of Champassak and the ancient ruins of Wat Phou which was built in the same style as Angkor Wat.
RECOMMENDED PLACE TO STAY: I can recommend staying at Empire Hostel and Bar for nice facilities at a reasonable cost. They will also store your main backpack whilst you ride the Bolaven Plateau (next destination).
Bolaven Plateau (3-4 nights)
The main reason I stopped in Pakse, is because it's also the launching point for the Bolaven Plateau motorbike loop (sometimes called the Pakse loop). The nights I spent on the loop were probably some of my favourite in Laos and are well worth doing.
Expect incredible scenery and lots of coffee plantations. There are also a huge number of waterfalls on the loop, most of which you can easily swim in the pools below.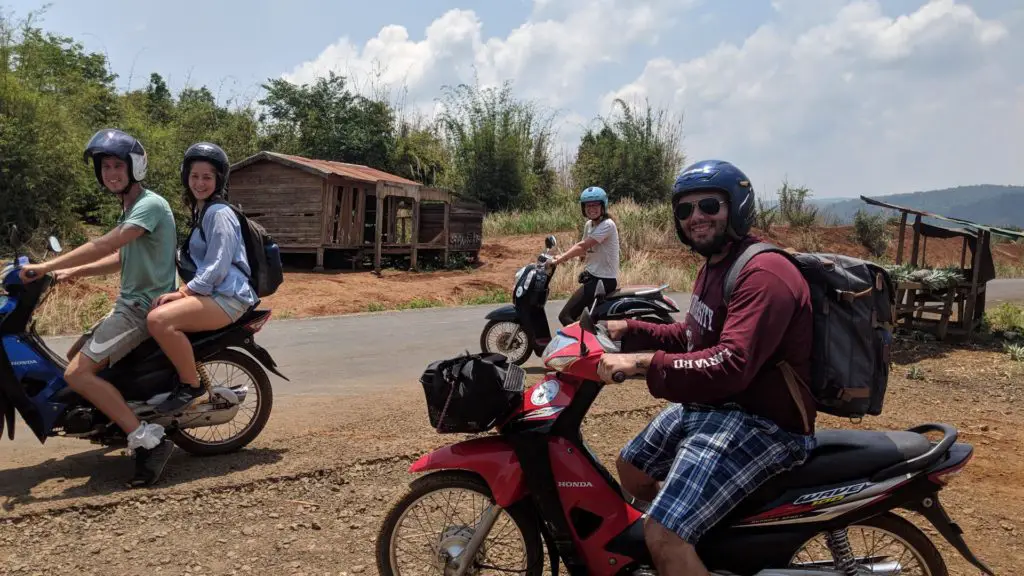 If you get the opportunity, stop of at Captain Hook's katu village and take one of his guided tours. This will give you a real (and slightly harrowing at some points) insight into traditional culture.
There is an option of the small loop which takes about 2-3 days or the big loop which takes 3-4 days, read my guide to the Bolaven Plateau motorcycle loop for more information.
Si Phan Don, AKA 4000 islands (3-4 nights)
In the very south of Loas, right near the border to Cambodia, is Si Phan Don which translates as the 4000 islands.
I know what you're thinking, Laos only has land borders so how can there be so many islands? Well, this is an area where the Mekong river splits in to many individual pathways creating small islands. I'm not sure there are 4000 islands but there are definitely lots of them.
Don Det is the main island with all of the guesthouses, bars and restaurants so you're best off staying here. It's such a beautiful place, I happily spent 4 days there doing absolutely nothing but enjoying the scenery and the amazing sunset. But there are a ton of things to do, including waterfalls, kayaking and spotting the near-extinct Irrawady dolphins.
There aren't many hostels on Don Det but you can get a riverside bungalow for 40-50,000 Kip. There are no ATMs on the islands so be sure to get enough cash to last you or you'll end up paying up to 10% fees for cashback.
---
Other Places to Visit in Laos
If you have more than 3 weeks in Laos, the north of the country sounds incredible, with hiking trails, stunning scenery and diverse forests. If I ever get the chance to visit again I'll definitely be checking out these places:
Huay Xai is a small town near the border with Thailand and is best known as the launching point to the gibbon experience which I only ever hear positive reviews about.
If you're looking for a little more adventure, the small hamlet of Nong Khiaw is a great place to stay for trekking, mountain biking and caving.
How Much Does it Cost to Travel in Laos?
In total I stayed in Laos for 28 days and spent 6.3M kip, equivalent to about 224,500 kip per day (about £20/€23/$26 per day). This included all accommodation, activities and transportation but did not include the visa.
Some costs to bear in mind:
A dorm room in an average hostel – around 40,000 – 60,000 kip per night
An Asian dish in a standard restaurant – around 40,000 kip
Cash withdrawal fees – 20,000 – 30,000 kip per withdrawal
Beer in a bar – 10,000 kip for a large Beer Lao
Motorbike hire – 50,000 kip per day in Pakse (semi automatic)
---
---
Pin this: