As an affiliate I may earn a commission on any qualifying purchases, including those from Amazon, at no extra cost to you.
Lisbon had been on my agenda for a while now, but with it's position on the most western edge of Europe I'd struggled to fit it in to any previous agendas. This year I finally made it and I'm sharing my 2 day itinerary with you for the perfect weekend in Lisbon.
Perched atop seven hills, the capital of Portugal is full of culture, history and great attractions. It has previously held a spot amongst the least visited cities in Europe however in recent years this has changed as lots of tourists have woken up to it's offering.
Lisbon is actually the second oldest city in Europe, even older than Rome and London. It is preceded by only Athens. However huge parts of the city were ruined during the Great Lisbon Earthquake in 1755 which almost wiped the city out entirely.
Best Time to Visit Lisbon
The best time to visit Lisbon weather-wise is late April to October, however I'd recommend visiting in either April-June or September-October when it is less crowded and the prices are cheaper.
---
Wondering where to stay in Lisbon? Here's my guide to Lisbon's best hostels
---
Two Day Itinerary
If you're short on time and only have 2 days in Lisbon then here is how I would recommend spending your time:
DAY 1: Explore the array of incredible attractions that lie within the city limits, including the cathedral, castle and the Santa Justa lift. In the evening, catch the train or tram to Belem tower.
DAY 2: Get out of the city and visit some of the beaches. Portgual is renowned for it's beaches and whilst many tourists head to the Algarve, there are actually some beautiful beaches accessible from Lisbon. On the way back check out some of the city's cool street art and finish with some food at Time Out Market.
Here is a full 2 day itinerary with a bit more detail and some photos.
Day 1: City Attractions
Commerce Square and Lisbon Cathedral
I'd recommend starting your two days in Lisbon from Commerce Square (Praça do Comércio), Lisbons main square located right near the sea, making it a great spot to people watch and enjoy the sun.
From here you can walk up towards Lisbon Cathedral, the oldest church in Lisbon built by its first king. The cathedral is free to enter.
Sao Jorge Castle
Next take a visit up to Sao Jorge Castle (St Georges Castle), be prepared for a steep walk! The castle is visible from most parts of Lisbon but is definitely worth a visit. As well as a really cool castle to explore, you'll also get some amazing views across the city.
You can explore the castles eleven towers and wander around the castle walls, there is also a café and a small museum so you can spend a few hours here.
The cost of entry was €8.50 for adults, €5 for students/concessions and free for under 10's (April 18).
Santa Justa Lift
After spending some time up at Sao Jorge Castle, head back down the hill towards the lively district of Chiado. On your journey you'll come across the Santa Justa Lift (also known as Elevador de Santa Justa or Carmo Lift).
Standing at 45m tall, the lift is an accidental tourist attraction as it was originally built as part of the city's public transport system as the easiest way to access the upper part of Lisbon. You can use the lift as part of the Lisbon 24hr public transport card, if you don't have this it
Avoid the queue – walk to the top!
The view from the top is amazing but with the slow lift only being able to carry 20 people at a time, I would recommend walking to the top as it will be much quicker. Once you're at the top, it's worth paying the €1.50 to head to the viewing platform for a great view across Lisbon.
Explore Chiado and Carmo Convent
From the top of the lift, you can easily head to Carmo Convent, a stark reminder of Lisbon's worst day, the 1755 Earthquake.
The quake happened during the holy event of All Saints Day as people took to the streets to celebrate. Church goers would have been among the 60,000 people thought to have died that day in the magnitude 9 earthquake.
Most of the city has been rebuilt, but the ruins of the convent in Largo do Carmo remain. Entry was €4 for adults, €3 for students (April 18).
After visiting the convent, spend some time wondering the streets of Chiado and Neighbouring Bairro Alto for great shops, restaurants and coffee houses.
Jerónimos monastery, Belém
For the final part of the day, catch tram 15 over to the suburb of Belém. Here you'll find some great attractions including the 500 year old UNESCO site of Jerónimos monastery (Mosteiro dos Jerónimos). This decorative church was built with taxes of imported goods from Africa and the far east to show how wealthy the Portuguese empire had become due to exploration.
Unfortunately, the monastery was closed by the time I had reached it so I cannot comment on what it is like inside – if you wish to visit make sure you arrive before closing time of 5pm (winter)/6pm (summer). Entrance is €7.00 and under 14's go free.
Belém Tower
Finish the day by watching the sun set behind Belém Tower (Torre de Belém, also known as Tower of St Vincent). This is located not far from Jerónimos monastery and shared the UNESCO world heritage site status.
It was originally a guard tower built on a small island in the centre of the Tejo Estuary, built during Lisbons age of discovery to protect the city. However the 1755 earthquake shifted the rivers course resulting in the tower now sitting right on the shore.
Day 2: Beaches of Lisbon
After spending your first day in Lisbon visiting the city's attractions, I'd recommend getting out of the city to see some of the surroundings. There are loads of great options for day trips from Lisbon but my favourite is a relaxed day exploring some of the nearby beaches including Cascais.
Carcavelos
There are lots of beaches easily accessible from Lisbon, the best part is that most can be accessed easily by public transport.
I'd recommend getting on the train from Cais do Sodré and heading towards Cascais. But don't head straight there, make sure you get off at some of the beautiful beaches along the way.
The train runs along the coast so most of the stops have a beach within walking distance. I can recommend Carcavelos as one of my favourite beaches, it was much less crowded and really beautiful.
Cascais
Once you arrive at Cascais, spend some time exploring the town. Although it is known for it's beaches, I found these to be over crowded and not particularly great but the rest of the town is ripe for exploring.
Once a tiny fishing village, it is now a centre of activity. Cascais market has plenty of stalls offering fresh produce whilst there are some really cool bars and restaurants scattered around the town.
Village Underground
On the way back to Lisbon, instead of heading all the way to Cais do Sodré, get off a few stops early at Alcantara-Mar and experience Village Underground. Made from old shipping containers and tram carts it provides a home to innovative office space as well as a restaurant and a cool coffee shop.
Explore the surrounding area and you'll also find lots of amazing street art from both famous street artists and local collaborators.
See my full post about street art in Lisbon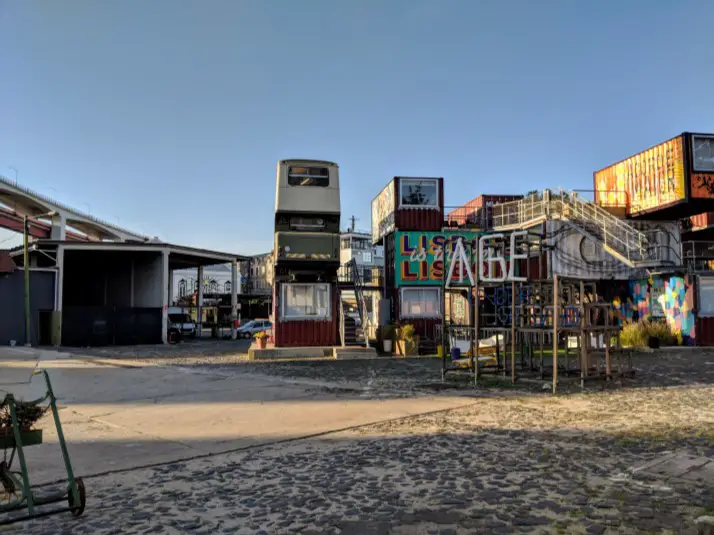 Time out market
I'd recommend finishing off your weekend in Lisbon by heading to the Time Out Market, this is easily accessible from Cais do Sodré.
The hall itself is over 100 years old but in 2014 it was renovated by Time Out Magazine Lisboa and is home to lots of local vendors and chefs. There's a huge variety of cuisine including cheeses, cakes, meat dishes and sea food.
If your itinerary allows longer than 2 days in Lisbon, try taking a trip to Pena Palace.
Where to stay? Tale a look at Girl with the Passport's hotel guide.
---
Top Tips for a Weekend in Lisbon
Allow plenty of time for sightseeing in Lisbon. This guide will tell you the best things to see in Lisbon in 2 days, but there is so much more! You could definitely spend more than a weekend in Lisbon, even a full week may not be enough see everything.
Wear comfy shoes. There's a reason it's known as the city of seven hills! If you plan on exploring by foot, make sure you're prepared for some steep streets.
Take a walking tour. One of the best ways to get to grips with Lisbon whilst learning about the history is to take a Lisbon sightseeing walking tour, they are usually free too, but remember to leave a tip if you enjoyed it.
---
Other Top Destinations in Portugal
Portugal's capital is a great place to spend 2 days or more but there is so much more to this beautiful country.
If you have more time, spending 2 weeks in Portugal is adequate time to see some of the country's other great gems including:
Sintra – a beautiful town with pastel coloured villas and palaces, it's possible to visit Sintra on a day trip from Lisbon.
Porto – the country's second largest city with narrow streets and ancient houses.
The Algarve – golden beaches and cute fishing villages looking out across the Atlantic.
---
---
Pin this: