As an affiliate I may earn a commission on any qualifying purchases, including those from Amazon, at no extra cost to you.
On my first interrailing trip around Europe, I over-packed, it happens to us all. But over subsequent visits, I've perfected my interrail packing list and I'm going to share it with you to help on your first trip.
For the most part, you shouldn't be worried if you forget an item. Almost everything you need is widely available in countries across Europe.
From clothes to toiletries, you'll have no problem sourcing the every day items. However, there are a few things that can be difficult or expensive to replace which I've highlighted at the beginning of my 'Interrailing Essentials' checklist.
My biggest packing tip is to PACK LIGHT. You'll be surprised at how many things you'll want to pack that you will end up not even needing.
Should I Take a Backpack or Suitcase?
I always use a backpack as my travel bag and would recommend you do too. Travelling with a suitcase is possible, but can be a bit more awkward if you are on crammed trains or wondering around cities and have to pull the suitcase with you.
Choosing a Backpack
Having a good backpack can make or break your trip so I suggest you invest in something that fits your needs.
For most people travelling through Europe in Summer, a 40L backpack is adequate size as you won't need to pack too many layers.
If you are travelling Winter, and in particular to some of the colder Scandinavian countries, then you should consider a larger 50L backpack to ensure you can carry more clothing.
Osprey Farpoint 40
This is my go-to choice for Interrailing, city breaks and backpacking in Southeast Asia.
Front loading – opens like a suitcase
Perfect carry on size for most airlines around the world
Strong zips and durable build
The Women's fit version is the Osprey Fairview 40.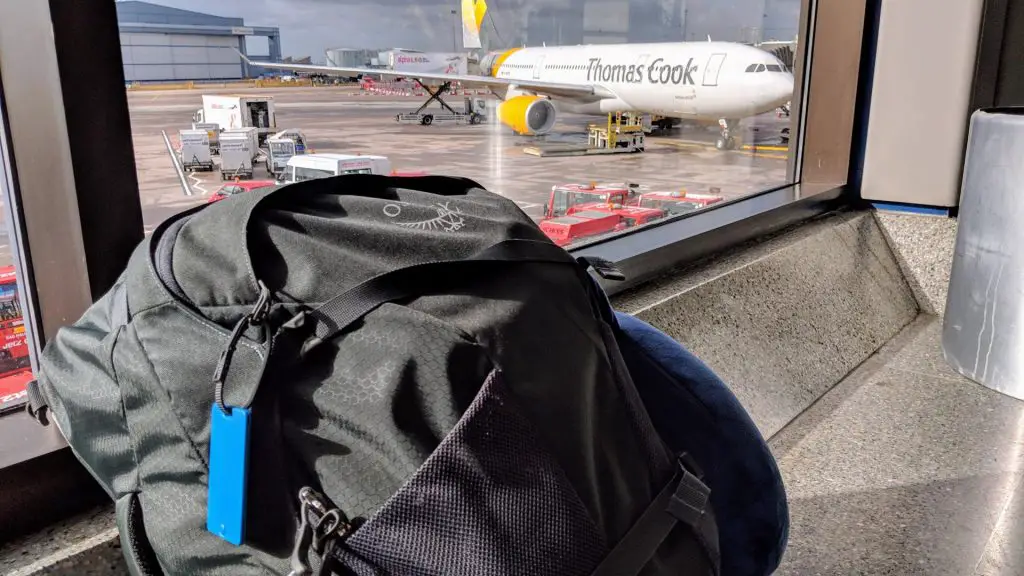 ---
Interrail Packing Essentials List
PASSPORT – It's always worth taking photocopies or at least storing a picture on your phone in case it gets lost or stolen.
VISA DOCUMENTS – If visiting from outside the EU, remember that only 21 of the 31 interrail are part of the Schengen zone meaning one visa will gain you entry in to all of these countries.
INTERRAIL PASS – Visit the Interrail website if you've not yet bought yours
DRIVING LICENCE – If you have an EU driving licence, this will be valid in most of the interrail countries except for Bosnia, Montenegro, Macedonia, Serbia and Turkey. If visiting from outside Europe, you may also need an international driving permit.
BANK CARD WITH FREE INTERNATIONAL USE – Across most of Europe use of bank cards is commonplace with contactless being the dominant form of payment in most western countries, so you'll want to make sure you can use your card fee-free. Monzo is an increasingly popular choice for travellers with a great app that allows easy transfers and easily suspending or cancelling your card when it gets lost.
I also recommend taking a spare bank card and keep it in a separate place to your main card. This will be very handy if your main card gets lost, stolen or declined. I usually keep a spare in my hostel locker.
ELECTRONICS – Don't forget your electronics such as phone, laptop, camera and be sure to include any accessories and chargers.
MICROFIBRE TOWEL – If you're staying in hostels or budget hotels, they often won't provided a towel so you'll need to pack your own or pay a fee. A microfibre towel is perfect for travelling as it dries quickly so you can keep packing it away and it doesn't take up a lot of room.
WATERPROOF BACKPACK COVER – Nothing worse than getting caught in a shower, this waterproof backpack cover fits various backpack sizes and has saved my skin on a few occasions.
PADLOCK – Most hostels have lockers but usually require you to take your own padlock so it's worth carrying one or two with you. I'd recommend getting one with a large loop as it's more likely to fit the lockers.
DAY BAG – You won't carry your large backpack around all the time, ensure you pack a smaller, lighter bag to take out and about during the day.
WATER BOTTLE – Be a more sustainable traveller by taking your own water bottle with you but make sure you check if drinking water is safe to drink in each destination.
EUROPEAN TRAVEL ADAPTOR – In mainland Europe, these are generally type F with 2 pins. If you are visiting the UK, you will need a UK adaptor too. This universal travel adaptor should have you covered.
WASHING TABLETS – Hostels and launderettes will usually have washing powder available to buy, but keeping just a few washing tablets on you is a good idea.
BATTERY PACK – Travelling with a battery pack will change your life. Most hostels now have plugs next to each bed but for the once that don't, a battery charger is very helpful. They are also handy on long journeys and day trips.
TOILETRIES – You can buy these in advance or pick some up on your way around – soap, shampoo, deodorant, tooth brush and paste, shaving equipment, aftershave, makeup, sanitary products, etc.
NAIL CLIPPERS + TWEEZERS – Helpful additions if you're travelling for a while.
PLASTERS (BAND AID) – Some travellers will opt for a mini first aid kit but personally, I tend to only carry plasters and paracetamol as these are the items I use most often. If you have any other incidents there will almost always be a first aid kit or pharmacy nearby.
---
Clothes (for men)
Remember that the weather varies across Europe so adjust accordingly, in the Scandinavian countries you'll need to take a few more layers than in Southern Europe.
Here is a rough men's clothes packing list to keep your travel bag light. Have some active clothes to had as well as something for the beach. I've never required anything too smart for the evenings, a casual shirt, jeans/shorts and trainers are usually fine for backpacker bars.
1 x Jogging bottoms
1 x Shorts
1 x Jeans
1 x Swim shorts
4-5 x Casual tops (including t-shirts, vests, etc)
1 x Casual button up shirt
1 x Jumper/sweater
1 x Light waterproof jacket [try a heavier jacket for winter or colder regions]
1 x Sun hat [also a woolly hat for winter or colder regions]
1 x Sun glasses
Socks and underwear to last c. 10 days
---
Clothes (for women)
This isn't my area of expertise but my good friend Inma from A World To Travel has jumped in to share her advice:
Layering is everything if packing light means anything to you. That, and leaving your heels and very fancy clothes at home. Dresses will get wrinkly anyway and chances are Europe's most charming places don't have an even tarmac.
1 x Shawl / Scarf
1 x Short (skirt, shorts or skort)
1-2x Leggings (black goes with everything, just saying)
1 x Comfy dress
1 x Swimming suit (bikini can double up as underwear if you run out of clean clothes)
4-5 x Casual tops (including 1 comfy cotton t-shirt, 1 sleeveless top, and 1 fancy top)
1 x Light cardigan
1 x Jumper/sweater
1 x Light waterproof jacket
1 x Sun hat (optional, your shawl can cover you from the sun)
1 x Sunglasses
Socks and underwear to last c. 7 days
---
Footwear
Casual trainers
Flip Flops
[Optional] Light hiking boots – If you plan on doing a lot of hiking or are travelling to colder regions, you may want to consider taking a pair of light hiking boots.
[Optional] Water shoes – If you plan to visit lots of waterfalls or go in the sea a lot, water shoes are ideal and they're usually light to carry too.
---
Things You Shouldn't Pack
Smart shoes – it's unlikely you'll need smart clothes
Books or guide books – If you're a big reader then I'd suggest a kindle. Alternatively you could carry 1 book as many hostels have book swap areas.
Sleeping bag or duvet – all hostels provide sheets, blankets, pillows, etc. If you are camping then you may wish to refer to a packing list more specific to this.
Too much cash – Card payments are commonplace across most of Europe and ATM's are widespread where this isn't the case.
---
Interrail Packing Tips
These packing tips apply wherever you are travelling, whether you're packing for Europe or heading further afield:
Roll your clothes up. This is the best way to pack your clothes to save space in your travel bag and avoid too much creasing. This travel packing tip was a game changer for me.
Keep smaller items in pockets or a toiletries bag. Otherwise you could lose a lot of time searching for those sun glasses.
Try packing cubes. These help keep your luggage organised and easier to find the things you need.
Attach something identifiable to your bag – a ribbon or strap – this will prevent any mix ups.
---
If you need help deciding where to go, check out my favourite European cities
Pin This Post: