As an affiliate I may earn a commission on any qualifying purchases, including those from Amazon, at no extra cost to you.
Are you wondering where to go on holiday in 2018? Well, who better to ask than the ones with the most experience exploring the world; travel bloggers. I asked 20 travel bloggers from around the world where they would recommend visiting in 2018. They're recommendations are below and include everything from Panama to Pakistan.
1. THE PHILIPPINES
Vicky from Vicky Flip Flop Travels
Vicky says: "Back in 2015 I boldly stated that my week sailing in the Philippines was one of the best of my life. I had such a good time out on the boat with my awesome fellow sailors, and spending the nights on a different desert island. Honestly, the beaches here were unreal. Totally underrated.
The Philippines is such a beautiful country, and there's so much to see, I'm planning on going back in February for three weeks to explore more.
If you're looking for somewhere cheap, with beautiful beaches and plenty to do, the Philippines are a great shout. Waaayy better than Thailand, although, Thailand definitely wins when it comes to the food."
Where to find Vicky:
Facebook | Instagram | YouTube
2. WALES
Monica from The Travel Hack
Monica says: "I think Wales is the place to travel in 2018. This gorgeous little country has a little bit of everything from golden beaches, rugged mountains, epic scenery, a great foodie scene, endless adventure activities, pretty little towns and villages and Wales even has over 100 castles!
It's beautiful and because it's so small you can explore a lot in a small space of time. The photo above was taken on Anglesey."
Where to find Monica:
Facebook | Twitter | Instagram
3. JORDAN
Lucy from Wanderluce
Lucy says: "Jordan is so underrated! People always ask me: "But is it safe?" And the answer is yes…..safer than Paris!! Jordan has everything, from the incredible architectural ruins of Petra and Jerash to the mythical Wadi Rum desert right through to the luxurious paradise of the Dead Sea (which is disappearing….) and the food is DIVINE! Go now, you won't regret it."
Where to find Lucy
Instagram | Pinterest
4. SLOVENIA
Jenny from She Gets Around
Jenny says: "More people are discovering Slovenia's secrets so get there quick before everyone else!
They have some of the world's most delicious wine (they don't export much so not many people have tried it), sensational views (make sure you visit Lake Bohinj as well as Lake Bled) and some incredible places to eat, most of which are selling ethically sourced, seasonal and local products.
I can assure you Slovenia will not let you down for a weekend break or longer trip, there is so much to see."
Where to find Jenny:
Facebook | Twitter | Instagram
5. NEW ZEALAND
Olivia from Olivia Round Town
Olivia says: "One of the most beautiful destinations in the world for untouched nature, adventure and spectacular freedom camping spots!"
Where to find Olivia:
6. SAN BLAS ISLANDS OF PANAMA
Francesca from Pasaportes Destino
Francesca says: "365 Virgin islands in a protected indigenous reserve, away from the tourism of large masses. Heaven on earth with islands just for yourself."
Where to find Francesca:
Facebook | Twitter | Instagram
7. RIO DE JANEIRO
Margherita from Outside Living Travel
Margherita says: "Rio de Janeiro is a kind of city that slaps you in the face and wakes you up from a quiet – almost boring – life. Because when you go down the street and jump into the deep of its life, unless you've been living in an even louder city and you're used to it, well… Rio it's a chaos of colours, people, voices, sounds, smells, multiple situations.
You can find yourself drunk while walking around and trying not to miss a detail of what's going on. The humanity is intense. People are people. Human beings. On top of their quality of being authentic."
Where to find Margherita:
8. FAROE ISLANDS
Megan says: "The Faroe Islands are a group of islands in the North Atlantic that are remote, rugged, and provide one of the coolest and most adventurous vacation experiences in the world.
You can rent a car and travel the islands at your leisure and it will become one of the most memorable trips of your life. The Faroes have waterfalls, otherworldly landscapes, puffins, and far more sheep than residents. Definitely a place to add to your 2018 travel list!"
Where to find Megan:
Facebook | Twitter | Instagram
9. PORTRUSH, NORTHERN IRELAND.
Taylor from The Things My Eyes Have Seen
https://www.instagram.com/p/BUVCFFlDmZB/
Taylor says: "I would have to say Portrush, Northern Ireland. It is a quaint, seaside town with lots of character. The people are genuine, and honestly the most friendly and welcoming people I have ever met.
You are close to the UNESCO World Heritage location of Giants causeway, within a short drive to Belfast and you can easily access it by train/bus. It is safe, family friendly, budget friendly, and everyone can appreciate the scenery!"
Where to find Taylor:
Facebook | Instagram | Pinterest
10. THE SHETLAND ISLANDS, SCOTLAND
Matt from The Travel Blogs
Matt says: "As the world shrinks there are fewer places you can go to get away from it all, the most northerly islands in Scotland, however, remain one of those.
You'll encounter friendly locals (people and puffins), stunning beaches, endless summer days or, in Winter, the Northern lights. Throw in the Viking history, ghost stories and folklore and places with amusing names, it comes highly recommended!"
Where to find Matt:
Facebook | Twitter | Instagram
11. MALAYSIA
Poorna from Presented By P
Poorna says: "t's the perfect combination of great cities, fabulous mountains, incredible beaches, and, of course, Borneo, the most amazingly intriguing jungle in the world. Plus, fantastic for all sort of shenanigans like diving and hiking."
12. GREENLAND
Elle from Travelling The World Solo
Elle says: "It is the perfect place to get off the beaten track and explore one of the planets last wildernesses!
If you want northern lights, very few other travellers, endless ice and snow and tonnes of opportunities for adventure – Greenland will be right up your alley! "
Where to find Elle:
13. OSLO, NORWAY
Abi from Inside The Travel Lab
Abi says: "Oslo is hitting its stride this year as a host of harbourside building projects and art work transform this beautiful fjord-surrounded city into a hub of energetic architecture and culture.
Get inspired by the Nobel Peace Prize museum, get thinking at the sight of The Scream and get naked at the water's edge with the locals as it's time for a (very) refreshing swim."
Where to find Abi:
Facebook | Twitter | Instagram | Pinterest
14. BANGKA, INDONESIA.
Marya from The Beau Traveller
https://www.instagram.com/p/BWIPFlQgbn6/
Marya says: "Because Indonesia is not just Bali, and if you want some kind of more laidback and cheaper destination to go to in Indonesia, Bangka (and Belitung) can be your alternative too. "
Where to find Marya:
15. LAOS
Tasha from Backpackers Wanderlust
Tasha says: "Laos is such an up and coming country in South East Asia. With delicious food which has a French influence and gorgeous architecture in cities such as the UNESCO world heritage city, Luang Prabang.
Explore the amazing nature in the countryside of Vang Vieng which is covered in caves and blue lagoons. Make sure not to miss the incredible Kuang Si Falls with the bluest water you'll ever see! "
Where to find Tasha:
16. COLOMBIA
Matt from Journey Seals Blog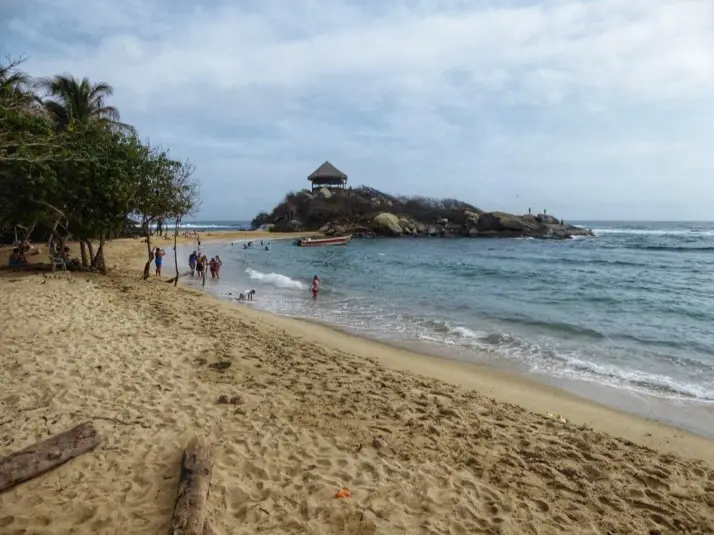 Matt says: "One of my favourite places I've ever visited. The landscapes, the cities and the history are all incredible and interesting in their own ways.
But what really makes Colombia a great place to visit are the people. They are super friendly and welcoming, and it will make your time there that much more enjoyable."
Where to find Matt:
17. PAKISTAN
Muhammad from The Tourist
Muhammad says: "I recommend everyone to visit Pakistan in 2018. Pakistan is full of amazing tourist destinations and beautiful people.
Here is a picture of Attabad Lake in Gilgit & Baltistan Region of Pakistan. This lake was made after an earthquake hits the region in 2011."
Where to find Muhammad:
Facebook | Twitter | Instagram
18. FRASER ISLAND, AUSTRALIA
Jamie from Abroad 365
Jamie says: "Fraser Island is the largest sand island in the world. Home to mysterious shipwrecks, the only pure dingoes left in Australia, fresh water lakes and forests atop sand dunes and starry skies, this island can be reached by a quick ferry ride.
Bring a 4×4 or hike and camp around the island on your own. Australia's most exciting island has to be Fraser!"
Where to find Jamie:
Facebook | Twitter | Instagram
19. ICELAND
Cristina from Criddle Me This
Cristina says: "A peaceful place of overwhelming natural beauty. Great to visit if you're wanting to explore a completely unique culture"
20. GALLE, SRI LANKA
Natasha from Seen in the City
Natasha says: "I would recommend Galle in Sri Lanka! Sri Lanka is a small island situated just off the coast of India, it is mesmerising and beautiful, offering a pared back version of the mania in some of the main Indian cities.
The beaches are beautiful and the views utterly stunning. It still feels like a relatively undiscovered location so I'd head there before it turns too touristy!"
Where to find Natasha:
Facebook | Twitter | Instagram
That's all folks. Hopefully this has been useful to help you decided where to go in 2018 around the world. If you need more inspiration, check out my favourite European destinations.