As an affiliate I may earn a commission on any qualifying purchases, including those from Amazon, at no extra cost to you.
Cambodia is a popular country to visit when travelling through Southeast Asia as it offers a wealth of diversity from the golden beaches to the sites of historical and archaeological significance.
It's only after visiting the country will you really understand what it has been through in recent history with a genocide wiping out millions of people within the last 50 years.
Despite its harrowing past, the country has moved on and is more welcoming than you could ever imagine to tourists and visitors.
Last year I went solo backpacking in Cambodia as part of my 4 month Southeast Asia solo trip. I wanted to create this complete guide to help those considering going it alone. I'll share all of the ways you can travel, from guided tours to independent travel.
---
Is Cambodia good for Solo Travel?
Yes, Cambodia is a good place for solo travel. If you want to visit completely independently, there is great infrastructure for getting around and most people who work in tourism speak at least basic English.
You won't want to be alone all the time so staying in hostels is the best way to make friends and you'll find that there are loads of solo travellers.
I was extremely surprised at just how many people were backpacking alone and it was rare that I couldn't find anyone to hang out with (although it did happen a couple of times).
For those of you who want to travel in Cambodia alone but aren't ready to do it completely independently, never fear as there are a few great choices.
You can opt for fully guided tours or hop-on hop-off tours. I'll share some recommendations in the 'How to travel solo in Cambodia' section below.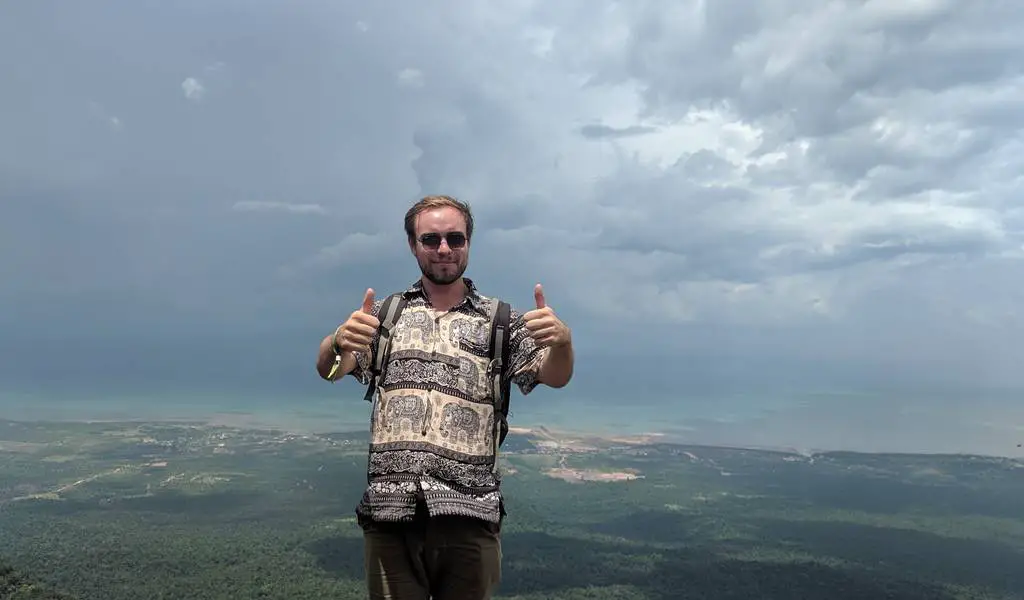 ---
Is it safe to travel to Cambodia alone?
Having recently come back from a solo trip, I'd say it's safe to travel alone in Cambodia. But as always, you'll need to keep your wits about you and shouldn't let your guard down.
You'll want to be particularly careful in Siem Reap which can have quite a wild nightlife scene, especially around the infamous 'pub street'.
Whilst you'll be relatively safe as the punishments for harming tourists are enough to put most locals off, your belongings may not be safe.
Look out for people working in pairs to pick pocket tourists or using women or children to ask for money. The simplest thing to do is not carry anything valuable and never give money to women or children begging.
Try to avoid being alone in this area at night, you'll usually find people in your hostel to go out with in Siem Reap as everyone is in the same boat, alternatively you can try one of the organised pub crawls such as the one at Mad Monkey.
As for the rest of Cambodia, exercise the same level of caution you would anywhere. Solo travellers will be familiar with being weary of pick pockets and this is no different.
If you're carrying a bag, be cautious of people driving past on bikes who could grab your bag and carry on driving.
I never came across anyone who had experienced this but it's something I was warned about and so kept in mind but overall, everyone was very friendly, and I had no issues.
The islands in the south of Cambodia are well worth visiting, but you may have seen the news about the British backpacker who drowned after a party on Koh Rong.
This story was hard hitting as she had been staying at the same hostel that I'd stayed in a few months earlier.
Do not be put off by this story as it's a rare occurrence, these islands attract thousands of backpackers every year with no problems.
Take care and do not go in the sea late at night or after drinking just to be on the safe side (sorry to be a party pooper).
I'm obviously not a solo female traveller and so I can't really comment on what it's like for females to travel alone in Cambodia.
However, I did meet many solo female travellers on my trip and they always shared positive views on travelling alone in Cambodia, usually encountering the same pros and cons that I experienced as a male.
---
How to Travel Solo in Cambodia
I personally choose to travel independently, but for anyone travelling alone for the first time, group tours are an excellent way to ease yourself in.
You'll find many solo travellers will do a group tour for the first part of their trip to get to know a new continent or country, and then allow time for independent travel afterwards.
Here are three main ways you can travel solo in Cambodia:
Let's jump in and explore each or use the links to jump straight to the relevant section.
1. Fully Guided Tours: G-Adventures in Cambodia
If you're looking for a full service guided tour where you have a group leader who organises everything then G-adventures is probably the best in the market.
They don't charge a single traveller supplement which is great but be prepared to share a room with someone of the same sex or stay in a dorm room.
You'll spend the trip with the same people, and you can opt for the 18 to thirty somethings tours if you're after a younger group.
Here are a few of their group tours in Cambodia but you can view the entire selection on their website.
This 10 day tour covers the essential stops in Cambodia including Siem Reap, Phnom Penh and Koh Rong.
It starts in Bangkok and finishes in Ho Chi Minh City, so you'll experience some of South East Asia's best cities. This is an 18-to-thirty somethings holiday and includes mix of hostels and hotels.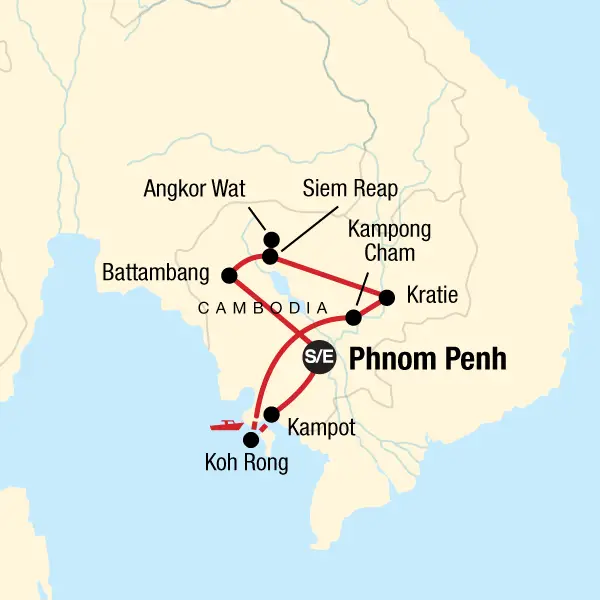 Get an in depth Cambodian experience with this 14 day experience. You'll also visit Kampot, Battambang and Kratie. This is tour is open to all ages and includes all hotel stays.
Cambodia is just the beginning of South East Asia, there's a lot to discover. G-adventures have lots of itineraries around the region.
This 30 day adventure covers Thailand, Laos, Cambodia and Vietnam. Keep in mind that it's a whistle stop tour with a lot in a short period of time.
2. Hop-on Hop-off Tour: Stray in Cambodia
Stray was set up over 10 years ago and since then they've been helping travellers get around in New Zealand, Australia and Southeast Asia.
A hop-on hop-off service like Stray is a great mid-way point between a fully guided tour and completely independent travel.
Their main hop-on hop-off service is called 'Freestyle Tours'. The premise of this is that you have a planned route to follow with transport, activities and accommodation booked.
However, at any point you can hop-off for as long as you want to spend extra time in a destination or do your own thing. As soon as you're ready to continue the tour, you just use the app to hop back on and everything continues.
The benefit of this to solo travellers is that you'll have the stray guides with you every step of the way to give you advice and help you on your journey.
You'll also meet plenty of other travellers who are doing the same tour as you, so you may decide to hop-off and hop-on together.
You can take up to one year to complete any of their tours.
There is also a 'Freestyle Pass' which is similar to the 'Freestyle Tour' only the accommodation and most of the activities are not included so you book these yourself.
Here are the Stray tours I recommend:
This is their Cambodia tour and covers the key destinations such as Siem Reap and Phnom Penh although it does not cover the islands of Koh Rong or Koh Rong Sanloem.
Accommodation is included for the 'hop-on' nights and both Angkor Wat and the Killing Fields/S21 Prison are included in the price.
This is an all-encompassing Southeast Asia tour and follows almost the exact same route that I took through the mainland countries so I can highly recommend it.
3. Solo Backpacking
Those with enough confidence to go solo backpacking in Cambodia will get a lot more freedom to craft their own itinerary and spend their time in the places they most enjoy.
Buses are the main way of getting around in Cambodia and these can usually be organised by your hostel or local tour agency for a decent price.
This will usually be a 'VIP bus' which I can assure you is not very VIP and will be a regular minivan.
Here are a few alternative ways you can book transport online:
12Go.asia – This is the closest as it gets to an all-in-one transport booking site in Asia. Once you put in your date and destinations it will search all available partners that can be booked online including buses, trains and ferries.
Giant Ibis – These are (in my experience) big air conditioned buses so you'll be travelling alot more comfortably than the typical VIP bus. Book online and you ca choose a seat. They operate between the major destinations in Cambodia. I also used Giant Ibis to cross the border to Vietnam and they did all of the immigration stamping for us.
If you're visiting the islands of Koh Rong or Koh Rong Sanloem, try to get a ticket that includes bus and ferry. The ferry ticket will usually be a return ticket so keep it for when you head back to the mainland.
---
Best Destinations for Solo Backpackers in Cambodia
Siem Reap
Visit the Angkor Wat temple complex
Spend a night on pub street
Siem Reap is a mjust0visit destination for solo travellers in Cambodia with Angkor Wat one of the essential things to do here.
This complex of temples was built from the 12th century onwards and is the largest religious monument in the world.
You can get 1 or 3 day passes for Angkor Wat; I'd recommend 1 day for most people to get a taste of it although temple nerds may want to opt for 3 to see a broader range.
Is Siem Reap safe for solo travellers? This is a commonly asked question as unfortunately it has a reputation for being a bit sketchy. Unfortunately it does live up to this name, especially around 'pub street'. I would avoid this area if you're alone at night and be weary of your belongings. Refer back to my safety advice above for more info.
Phnom Penh
Visit the killing fields and S21 museum
Cambodia's capital is known to divide opinion, with some loving it and others not so keen.
I personally think it's worth visiting just even just for the tours of the killing fields and S21 museum. On this day long tour you'll visit sites of the genocide which happened just 50 years ago in an extremely interesting. yet very sombre experience. Whether you're in to dark tourism or not, this will open your eyes to the country's devastating history and appreciate it even more.
I'd recommend stopping in Phnom Penh just to do these activities but there are lots of other things to discover in the city including lost of great rooftop bars and speakeasies.
Koh Rong + Koh Rong Sanloem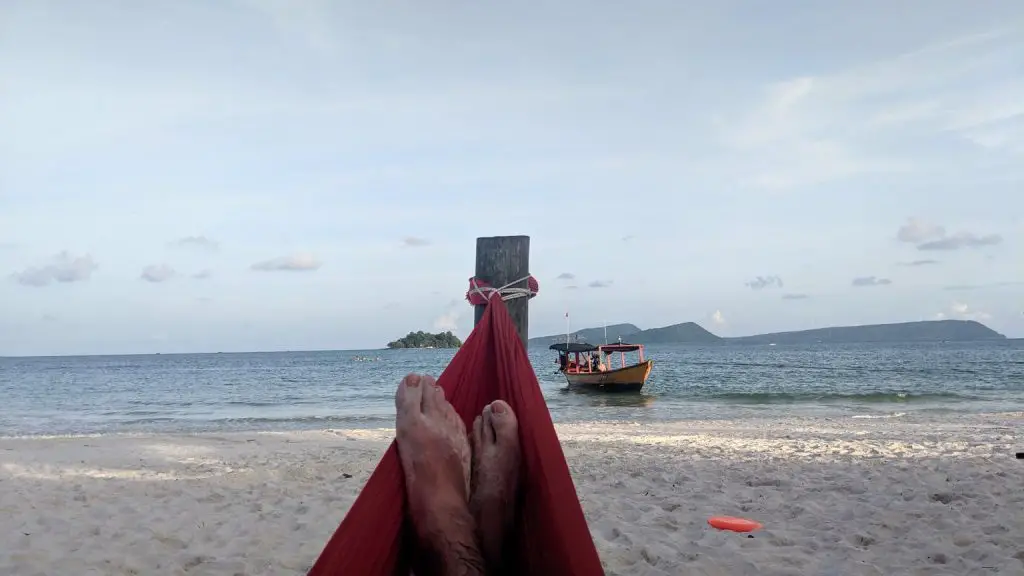 Get some beach time on the long golden stretches
Take a scuba diving tour
Party the night away at the raves and festivals
These two twin islands sit at the bottom of Cambodia and are well worth visiting. Koh Rong has a more upbeat atmosphere were regular festivals and parties whereas Koh Rong Sanloem is the more chilled out island.
Both are truly beautiful places to visit and cater well to solo travellers if you stay in the right places.
My recommended places for solo travellers to stay are Nest in Koh Rong and The Big Easy in Koh Rong Sanloem.
Kampot
Visit La Plantation pepper plantation
Take a sunset river cruise
Explore Bokor mountain
There's not much happening in the sleepy riverside town of Kampot itself, but there' plenty to discover in the surrounding areas.
From the bokor mountain tour that takes you out to the nearby national park, the sunset river cruise where you'll see incredible swathes of fireflies and the pepper plantations which will give you a whole new perspective on the condiment.
Battambang
Visit the bat caves
Ride the bamboo train
Battambang is a slightly more obscure choice but a great one, nonetheless. Here you'll find the bamboo train that runs along 7km of unused rail track.
These makeshift 'trains' are created from bamboo and powered by a small engine, quite an unusual activity and something a little different.
---
How To Visit Angkor Wat Alone
The highlight of any Cambodian itinerary will be Angkor Wat, the largest religious monument in the world.
Tickets for Angkor Wat will be one of the most expensive things you'll buy in the country. Options include a 1-day ($37), 3-day ($62) and 7-day ($72) pass.
For most travellers in Cambodia, a 1-day ticket will be completely fine.
If you're a solo traveller, here are 3 ways you can visit Angkor Wat:
1. Find some people to go with
Sorry for stating the obvious but this is the best way to visit. Ask around in your hostel and see if staff can match you up with other people.
Many hostels will have a daily list they can add you to. Most tuk tuk drivers will charge $20-30 for a full day which can be split between a group of 3-4.
2. Take a group tour
I recommend checking Get Your Guide for group tours, they will usually pick up from your accommodation. You'll end up paying about $20 per person for this option so it's the most expensive option.
3. Visiting by bicycle
Renting a scooter is common place for tourists in Cambodia and many will do so without a licence. However, it's a different story in Siem Reap as renting a scooter is illegal for tourists. Whilst some places will allow you to rent them, you may be stopped by the police or guards at Angkor Wat.
Therefore if you want to visit alone you can either rent an e-bike or a regular bicycle. Here is a guide from someone who has done it.
Remember – No matter which of these methods you use, the Angkor Wat entry price is in addition to the price you'll pay for a tuk tuk, tour or bicycle rental.
---
Cambodia Backpacking Itineraries
If you have 1 week in Cambodia, I recommend sticking to Siem Reap and Koh Rong to get a flavour of the country:
Siem Reap (3) – Overnight bus to islands (1) – Koh Rong (3)
With 2 weeks in Cambodia you'll have time to visit Koh Rong's sister island and you can finish with a few nights in the capital to see the killing fields and S21 museum:
Siem Reap (4) – Overnight bus to islands (1) – Koh Rong (3) – Koh Rong Sanloem (2) – Phnom Penh (3)
I'd recommend 3 weeks in Cambodia as an optimum amount of time, this will allow an all encompassing itinerary and a little longer in each destination so you're not rushed:
Siem Reap (4) – Battambang (3) – Overnight bus to islands (1) – Koh Rong (3) – Koh Rong Sanloem (3) – Kampot (3) – Phnom Penh (3)
Read my full itinerary from my 3 weeks backpacking in Cambodia. I actually skipped Battambang in favour of extra time at Angkor Wat but I'd only recommend this if you love love love temples.
---
Accommodation in Cambodia
Your main accommodation choices as a solo traveller in Cambodia are:
Hostels
This is my go-to choice of accommodation when travelling solo. The hostels in Cambodia are generally very cheap with excellent hostels from as little as £3.
You may pay a premium on the islands but you still shouldn't spend more than £5 per night.
Some of my favourite hostels in Cambodia were:
Yolo Hostel, Siem Reap – There's a pool and a great social vibe in the evenings with regular pub crawls. It doesn't have a great rating on HostelWorld but I can't work out why because I loved it.
Monkey Republic, Kampot – I didn't even stay at this hostel but I ended up spending more time here as my hostel didn't have a bar. Monkey Republic was great for solo travellers with a lively atmosphere and they organised tours. (they also had PG Tips which was a dream for me after months without tea!)
The Nest, Koh Rong – Koh Rong is like a paradise no matter where you are but 4k beach was my favourite part. The Nest is a hostel that backs out on to the beach. There were parties at night and I'd wake up and run to the ocean for a swim before breakfast – bliss times!
I recommend HostelWorld for hostel bookings in South East Asia.
Hotels
If you prefer a bit more privacy you could opt for hotels. As Cambodia is a cheap country you can get amazing hotels for a fraction of what you'd pay in Europe.
You can get decent budget hotel rooms for around £6-8 in most parts of Cambodia.
If you fancy some luxury, a 3 or 4 star hotel can be found as low as £20 per night although these are only in major cities such as Siem Reap and Phnom Penh.
I recommend Booking.com for hotels in South East Asia although occasionally you might find a better price on Agoda which is owned by the same company.
---
How Much Does it Cost to Travel Solo in Cambodia?
Many budget travel blogs will tell you that you can travel Cambodia on £20 per day, it's probably true that you 'could' but I don't think this is a typical cost. Especially considering that Angkor Wat is at least $37.
Overall, I would recommend you budget about £30-35 per day as a typical solo backpacker in Cambodia.
This includes staying in hostels, eating at budget restaurants or street food and accounts for the transport between destinations too.
If you're opting for the Stray hop-on hop-off bus, your daily costs will likely be closer to £55.
Those taking a fully guided tour in Cambodia such as the G-Adventures ones I mentioned earlier will end up spending around £70 per day so it's about twice as expensive vs doing it yourself.
---
Cambodia Solo Travel Tips
Stay in hostels. This is the best way to find other people to explore Cambodia with. There will be plenty of other solo travellers in hostels.
If you'd rather explore alone, staying in a hostel is a good place to get tips from other travellers on the best things to do alone in your destination.
Use organised tours if it's your first time travelling alone in Asia. A group tour is an easy way for anyone travelling alone in Cambodia to quickly and easily find a group of people to be with.
Beware of bag snatching. It's a good idea to minimise the number of valuables you carry. If you do have expensive valuables, you should leave them back at the hostel in a locked when not needed. For those items that you do carry, keep them close to you and ideally not on display. If you have a handbag, make sure you carry it on the side away from the road.
Avoid Sihanoukville! A few years ago, Sihanoukville was a great destination in Cambodia, however it has since experienced massive development and an influx of Chinese investment, so it's lost any sense of what it used to be.
The skyline is dominated by cranes which are erecting hundreds of skyscrapers simultaneously and all of the good hostels have been bought out by investors. It's also not particularly safe with gangs known to operate here.
 Use the correct change. The currency is confusing at first with both US dollars and Cambodian riel used in the same transactions. Locals sometimes try to take advantage of tourists who aren't familiar with it.
Always try to use the correct change and get accustomed to the money as fast as you can.
No night swimming or drunk swimming in the sea. Don't be that person. The example I shared above should be a lesson as to why swimming at night or after drinking is not a good idea.
---
Useful Links:
---
---