As an affiliate I may earn a commission on any qualifying purchases, including those from Amazon, at no extra cost to you.
Once the most important city in Europe, today Rome is a bucket list destination on any European itinerary and is increasingly becoming popular with solo travellers.
My second ever solo trip abroad was a week travelling through Italy beginning in the capital, so I can personally vouch for it as an epic destination to visit by yourself. This is all thanks to the historic attractions, amazing Italian cuisine and the friendly locals that you'll meet along the way.
In this guide, I'll share some of the best things you can do in the city whilst visiting alone, along with some tips on where to stay and how to keep safe. As they say, when in Rome…
---
Is Rome Safe for Solo Travellers?
Rome is a safe place to visit as a solo traveller and the majority of visitors will have no problems whatsoever. Having said that, you should always be cautious when travelling abroad and even more so as a solo traveller.
The main risks you'll face in Rome are pickpockets and scammers.
Here are some tips for dealing with these:
Avoiding Pickpockets
As with all tourist hot spots there are lots of pick pockets around, they operate stealthily so you may not even notice.
In particular, you must be cautious in crowded spaces (e.g. public transport) or when you're out and about at night. Only take essential belongings with you where possible and carry minimal cash – card payments are widely accepted.
Try not to be alone at night – even though you've chosen to travel solo in Rome, it's always good to try and meet other people to spend your evenings with, especially if you're planning on drinking.
You can often meet fellow solo travellers by staying in hostels or check out some of the evening activities I mention below.
Common Scams
Watch out for these common scams in Rome:
Petitions – The petition scam that's rife in Europe has also found its way to Rome. Someone will ask you to sign a petition for a cause that sounds irresistible, they may attempt to pick your pockets whilst your distracted or may be insistent that you make a donation afterwards. Don't sign any petitions.
Friendship bracelets – Someone will offer to give you a free friendship bracelet but once it's been secured to your wrist, they will insist you pay for it. Don't let anyone put a bracelet on you.
Bank phishing – If you do have any of your bank cards stolen, be weary of a scam where your bank calls, offering to block your card. Always make sure that you call your bank, not the other way around.
Taxis – Taxi drivers are ruthless in most parts of the world so be very cautious. They may try a manner of things such as extortionate pricing or taking you around long routes. You should rarely need a taxi in Rome, but if you do, make sure to get a legitimate one by asking your hotel/hostel to book it or using a ride hailing app such as Uber or MyTaxi. Some taxi drivers may tell you that Uber is not available in Rome, it is available however it's Uber Black which is a more premium service.
Read more about common scams in Europe with this helpful guide from Rick Steves.
---
Where to Stay
I opted to stay near Termini station which is the most popular place for tourists. Here you'll find plenty of accommodation options that are reasonably priced and with convenient access to all of Rome's best attractions.
An alternative area to stay is the Trastevere neighbourhood which is a trendy area that's popular with students and digital nomads. This area is a little away from the main centre of Rome but it's much quieter.
As I always do when travelling alone, I opted to stay in a hostel, you can opt for a dorm if you're on a budget or a private room if you'd rather your own space. Hostels are always full of solo travellers so you'll find someone to keep you company.
The hostel I recommend you choose near to Termini station is Rome Hello which runs lost of events to meet other solo travellers and has comfy common room areas for chilling out.
If you decide that you'd rather stay in the Trastevere neighbourhood, Trastevere Hostel is also a great choice for solo travellers.
Related: My complete solo traveller's guide to hostels in Rome
---
Things to do in Rome by Yourself
I'd recommend at least 3 days to see the essentials in Rome but you could easily fill 5. Here are some of the best things to do in Rome by yourself.
Free Walking Tour
Walking tours are an excellent way to orient yourself in a new city and as a solo traveller it's a nice way to meet other people and have a shared experience. As with most major European cities, there are free walking tours, but I always recommend tipping if you enjoyed the tour, about €10 is a fair price for an excellent 3 hour tour.
The main Rome free walking tour starts from the Spanish Square at 10am and 4pm daily, or you can use Guru Walks as a great platform for finding and registering for other free tours in Rome.
Visit the Colosseum
The Colosseum is Rome's most iconic attractions so a visit to the eternal city would not be complete without checking it out. The Colosseum is the largest amphitheatre in the world and in it's prime would have held 50,000 Romans.
Such a key attraction means it is always very busy.
There are a few options for visiting the Colosseum:
Regular ticket – You can queue up and purchase a regular ticket at the gate, this will cost €16 but you will have to queue and in peak times this could be significant.
Priority ticket – Purchase a priority advance ticket for a specific time slot and you don't need to queue. I'd recommend buying online in advance such as this one for €23. There are lots of ticket sellers outside the venue offering fast track, this is genuine but you'll pay a small fortune so avoid these and book online or at an official office.
Guided tour – On a guided tour of the Colosseum you'll get fast track entry as well as a fully immersive experience with a certified guide who will give you an overview of the history and point out key features. These can range from €40-80 depending upon the group size and language.
Which is best? I recommend getting a priority ticket in peak time or regular if you're visiting in off peak season. I also recommend you download the free Rick Steves Audio Europe guided tour. This gives you the best of both worlds as you'll avoid the queues and still get a guided tour but won't pay through the roof for it.
Before booking a ticket, read the below section about evening activities as you should consider whether to visit the Colosseum at night.
Roman Forum and Palatine Hill
The Roman Forum was the centre of Ancient Rome where all the important buildings and temples were found, traced as early as the 6th century. The area was eventually abandoned and became buried in the Earth only to be rediscovered and excavated in the 19th century.
Palatine hill sits within the same compound as the Roman Forum and is accessed with the same ticket, you can walk freely between the two.
Palatine is the centre-most of the seven hills that Rome was built on and was believed to be where Romulus, the mythical founder of Rome, lived with his brother Remus. This is also an excavation site and is home to Flavian Palace which is where the emperor of Rome would have lived.
Your Colosseum ticket will be valid at the Roman Forum and Palatine hill if you visit within 2 days of visiting the Colosseum. Again, I recommend using Rick Steve's audio guide as you walk around to understand what the ruins are that you're looking at.
Toss a Coin in the Trevi Fountain
The Trevi Fountain is arguable one of the most famous fountains in the world. It was designed by Nicola Salvi after winning a competition run by Pope Clemens XII in 1730 that attracted many leading architects.
There is a legend that says tossing a coin in the fountain will ensure you return to Rome, tossing two coins will ensure you find love.
Regardless of how true this is, the fountain racks up a massive €3,000 for charity every day during peak season and stealing from it was made a criminal offence.
As a solo traveller, I enjoy sitting near the fountain and people watching as all the tourists flock for a selfie.
Spanish Steps
You read that correctly, Rome is home to the Spanish Steps which are named after the Spanish Square below.
This area was where the Spanish embassy was originally found with the area around it being considered territory of Spain, hence where the name came from.
As you are visiting Rome by yourself, the Spanish Square has a number of cafes which are great to pull up a chair and enjoy the busy atmosphere.
Explore Rome by Bike
As a solo traveller I love to explore cities by bicycle and Rome is no exception. However, remember that Rome is a city built on 7 hills so if you're going to rent a bicycle be prepared for some endurance exercise.
The Lungotevere path along the river is a great cycling route as it's purely for cyclists and pedestrians so you won't come across Rome's chaotic traffic.
Many hostels will have free bicycle hire so ask about this if you're thinking about it.
If you're not feeling too fit, then renting e-bikes is a popular choice in Rome and will allow you to get up and down it's many hills without getting too tired.
Visit the Vatican
The Vatican City is the worlds smallest independent country and official residence of the pope. The Vatican is one of Christianity's most sacred places and is home to three iconic attractions, the Vatican Museums, Saint Peters Basilica and the Sistine chapel.
Saint Peter's Basilica – This isn't actually a cathedral but one of the worlds biggest churches. Luckily for those on a budget, it's free to visit, I'd recommend getting up early and visiting before the crowds.
Vatican Museums – This is the world's largest private art collection. I didn't book ahead and there was a HUGE queue, so I ended up missing out on the Vatican museums. Don't make my mistake and be sure to book your ticket in advance so you can rock up and head in at your dedicated time slot.
Sistine Chapel – At the end of the Vatican Museums is the Sistine Chapel, a large chapel that's known for its extraordinary renaissance art including a ceiling painted by Michelangelo. Entrance is included with the Vatican museums so you don't have to pay again, watch out for scammers who may try and charge you.
People Watching in Piazza Navona
Piazza Navona is the main square in Rome that's famous for having three fountains and a large Obelisk.
The square is always alive with activity, from tourists taking photos and kids chasing pigeons to street artists and musicians drawing in huge crowds. I recommend grabbing a spot at one of the restaurants lining the square and watch the world go by.
Relax at Villa Borghese Park
This is one of Rome's largest green spaces and the best one to visit when the weather allows. I love to take a blanket and lie in the park with a book or a podcast for some downtime in between exploring the city,
The park's main attractions include a large man made lake where you can rent a boat and Borghese Gallery which houses an extensive art collection (advance booking required).
Spend time wandering the park and you'll discover lots of hidden treasures sprawled across its 200 acres. Look out for the Victorian water clock that continues to calculate the time using water over 150 years after it's creation, and the small puppet theatre , Pulcinella, which might be aimed at children but is fun to watch.
At the far end you'll find Pincian Hill where you'll get a good view across Piazza del Popolo where the Egyptian obelisk can be seen.
---
Things to do in Rome at Night Alone
One of the hardest parts about travelling alone is finding things to do at night by yourself without feeling awkward or unsafe.
Most of the time you'll meet other travellers that you can hang out with enjoy a few drinks, but here are a few other evening activities suitable when you're travelling solo in Rome.
Colosseum at Night
It's worth seeing the Colosseum at night when it's beautifully illuminated against the dark sky. But did you know you can also go inside at night too?
You'll get a much better opportunity to appreciate the Colosseum with an evening visit as it will be less busy, and you'll get to visit lots of areas that aren't usually accessible with a regular day ticket.
Don't pay over the odds for this, use the official coop culture website and it should cost €24 for your ticket with a one hour tour. I've seen tours costing three times this price but you're not getting much extra value.
The Yellow Bar
This is a bar about 5 minutes from Termini train station that's popular with both locals and tourists so it's a good spot for a drink if you're looking to make some new friends.
It's part of YellowSquare hostel so you'll also find lots of backpackers from the hostel hanging out here. Sometimes there are bands, musicians and drinking games going on to keep you entertained.
Rome Food Tours
If you're looking for more of a food-filled activity in the evening then you may want to join a food tour where you can taste lots of wonderful Italian cuisine, lead by a knowledgeable local guide who can take you to the best spots.
I recommend browsing the tours over on Get Your Guide to find one that suits your tastes and budget. If you're stuck for a recommendation then Secret Food Tours are always a great option with experience creating tours in hundreds of cities.
Rooftop Bar
Rome has lots of great rooftop bars where you can enjoy a drink with a view. Unlike many capitals in Europe, the city doesn't have large skyscrapers, so you'll have an uninterrupted panorama across the rooftops.
I can't confess that I visited any rooftop bars during my own solo travels in Rome, so I'll refer you to this epic guide to the best rooftop bars in Rome.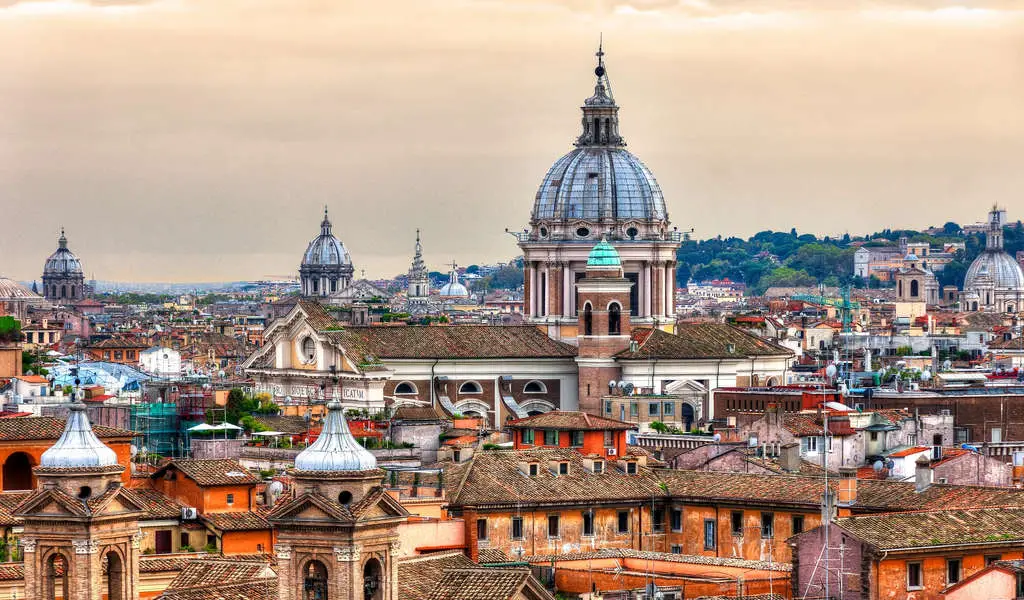 See an Italian Opera
If you love opera music or just generally enjoy live theatrical performances, then why not forego your typical bar crawl in favour of a classy evening at the opera.
Italy gave us many of the world's greatest opera singers, including Pavarotti himself, so where better to experience it than the country's capital.
There are regular performances at about 5 venues throughout the city, I recommend checking for information at your hostel/hotel or a tour office.
Ghost Tour
See the darker side of Rome with the evening ghost tour by City Wonders.
Their guides have been providing ghost tours for many years so are sure to give you a spine chilling evening, with stories that will leave you hanging on every sentence.
These are small group tours that take place in Rome's historic centre starting at Sant' Andrea Della Valle Church. This is the most popular ghost tour in Rome and a bargain at £22 so I recommend booking ahead in peak times.
Wrapping Up
Despite the connotations that Italy is a country for love and couples, I found Rome to be a fun-filled destination that's well fit for solo travellers and was a great start to my week in Italy.
I hope you've found my Rome travel guide useful. Have a great trip and remember to stay safe.
---
---