As an affiliate I may earn a commission on any qualifying purchases, including those from Amazon, at no extra cost to you.
Artistic Graffiti, is it a thing? If you'd have asked me a week ago I'd probably have said no, but then I visited Lisbon which really opened my eyes to street art in Portugal.
I had no idea that Lisbon was well known for its street artists until I stumbled upon The Crono Project whilst wondering the city. After a bit of research I found out that it was commissioned back in 2010 as a way of transforming abandoned buildings in the city.
I really started to take notice of all the different street art projects across Lisbon and realised that the capital is like an open art museum and easily one of the best street art spots in Europe.
Here are some of the pieces I spotted on the trip, from a graffiti crocodile through to a trash raccoon.
Where to stay in Lisbon? Check out my round up of the top hostels
Corporate Slingshot: Ninja vs Oil Giants
Let's start with the first pieces of street art I discovered. This was part of The Crono Project, established in 2010 as a collaboration to turn derelict buildings in Lisbon into pieces of creative art. The project saw 16 local and international famous street artists working together on these impressive designs.
The message couldn't be clearer, it's a ninja aiming a human sling shot at a man with a crown featuring the logos of the world's biggest oil companies. Note that the oil giant is drinking from a globe through a straw.
Artist: BLU & Os Gemeos
Where to find it: Immediately after exiting Picoas metro station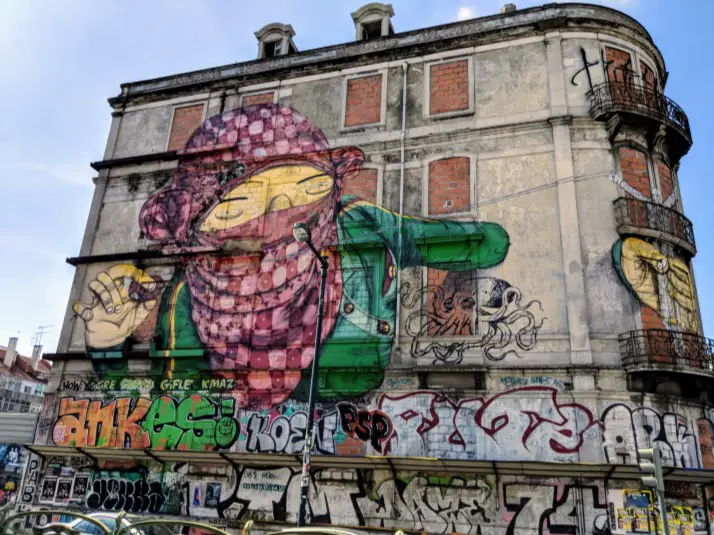 ---
Crocodile Tears: Oversize Graffiti Crocodile
This piece called 'crocodile tears' shows a crocodile climbing the building with a fish in his paw. In popular culture, crocodile tears generally refers to fake tears as crocodiles appear to weep tears whilst consuming their prey but it is merely a way of lubricating their eyes when out of the water for too long.
Artist: Ericailane
Where to find it: near Picoas Metro Station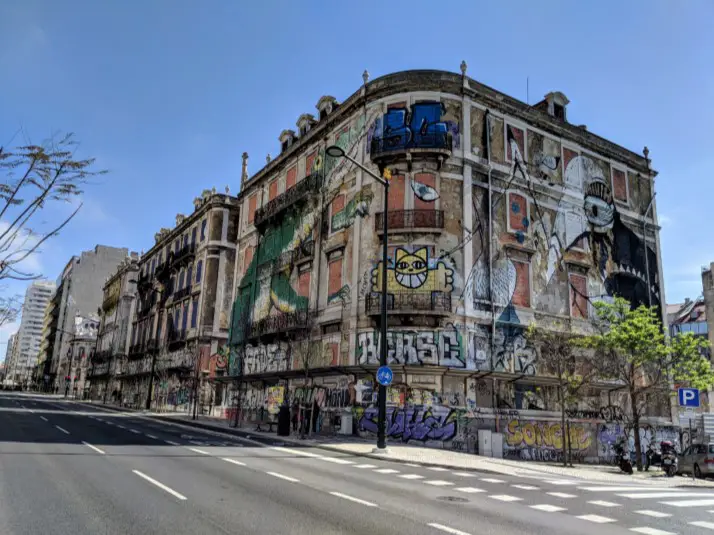 ---
Big Racoon Trash Animal
Made from waste such as old car parts, discarded computers and equipment from abandoned factories, the piece is aimed at raising awareness of the sheer volume of things we throw away. Bordalo II is well known for his 'big trash animal' murals, stating "The garbage of one man is the treasure of another.".
Artist: Bordalo II
Where to find it: near Beleem cultural centre
---
Shadow Man
The artist behind this one, Sam3, is known for his black shadow-like characters. In this piece, the giant shadow man is sticking his head and arms through the windows as if trying to make an escape from the abandoned building. The stars and moon that appear in the windows indicate that it's at night – wait, shadows at night?
Artist: Sam3
Where to find it: near Picoas Metro Station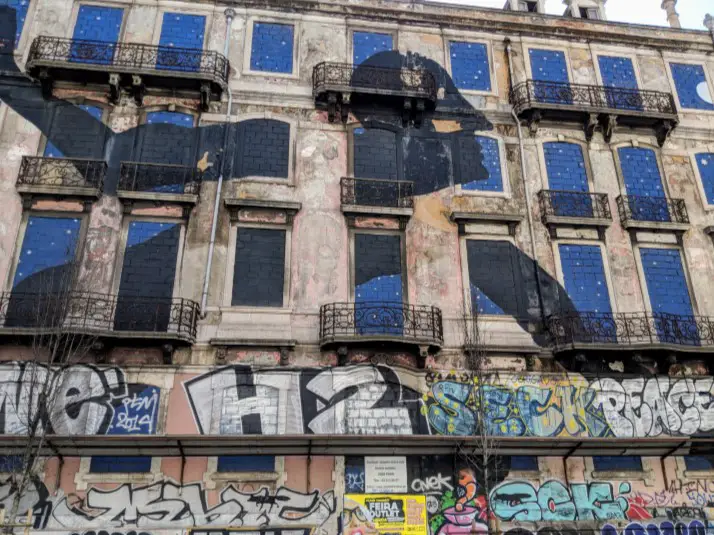 ---
Big Fox Trash Animal
Another piece from famous street artist Bordalo II, the 'Plastic Fox' as it is know, is part of an exhibition called 'attero' which featured similar pieces across the city. This is a fairly new piece of street art in Lisbon created on 2017.
Artist: Bordalo II
Where to find it: near Beleem cultural centre
---
The Face in the Building
Instead of using the traditional spray paint method to create his pieces, Alexandre Farto, aka Vhils works by chipping the plaster and concrete away from the wall to create huge pieces of detailed and life like work such as this piece of street art in Lisbon.
Artist: Vhils
Where to find it: Opposite Rua de Cascais, near Santo Amaro docks.
---
BONUS FIND: Village Underground, Lisbon
If visiting the previous mural, not far from this lies Village Underground Lisbon. Originally launched in London, this is a project that turns old unused objects like shipping containers and tram cars in to recycled workstations, restaurants, shops, etc – definitely worth checking out.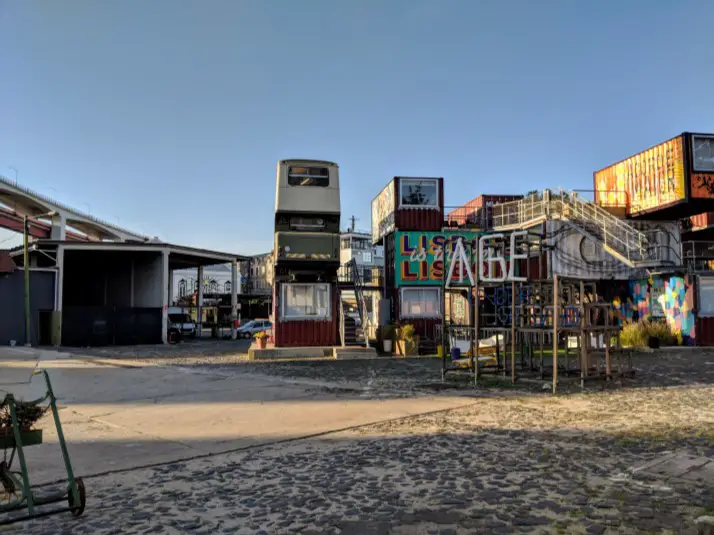 ---
Other Street Art in Lisbon
There is so much great street art in Lisbon, both from famous street artists and little known local artists, I didn't have anywhere near enough time to visit them all in my 3 day trip – but here are a few others I have starred on my map should I return.
It's worth bearing in mind that there is other street art in Portugal beyond Lisbon, so if you're visiting other cities, do some research and see what's about.
Crossroads
This piece is cleverly executed across an eleven story building and features an old lady with a dog and a duck. The artist has cleverly given the work a third perspective showing a different story behind the scenes.
Artist: Sainer
Where to find it: Avenida Afonso Costa (Olaias)
Breaking Bad Tribute
This one needs little description for any breaking bad fans, the artist wanted to paint a mural dedicated to Walter White and Jessie Pinkman.
Artist: Odeith
Where to find it: Damaia, Lisbon
Giant Horse
This giant horse merges the living with the un-living in a pastel coloured glory.
Artist: Aryz
Where to find it: Rua Manuel Jesus Coehlo, near Avenida metro station.
Pavement Art
This piece is called "Calçada" (pavement) and portrays singer Amália Rodrigues in the pavement. It is made out of traditional Portuguese paving stones and was actually created as a collaboration between Vhils and the city councils team who are responsible for paving the city.
Artist: Vhils
Where to find it: Rua de São Tomé
I would love to hear about other street art in Lisbon or just more generally street art in Portugal if you come across any – share in the comments below.
---
Other Great Street Art Cities in Europe
Lisbon isn't the only place with stunning street art in Europe, I can also recommend checking out the following places:
Berlin – Long known as the street art capital of Europe, Berlin has many pieces that explore the intersection between art and politics.
ㅤ
Manchester – As a former Manchester resident myself, I've seen many of the great murals across the city. These are often changing to reflect current affairs. for example, there was a surge in Game of Thrones street art around the finale and football-themed art was popping up when England were doing well in the World Cup.
ㅤ
Reykjavik – Although a pretty recent trend, the street art in Reykjavik has murals from Darcula to Whales, well worth doing a little tour if you're visiting.
ㅤ
Copenhagen – The hippie area of Copenhagen known as Freetown Christiania is full of street art. Its residents would call it an 'autonomous nation' with little police presence, I would recommend going here in the daytime to be on the safe side.
---
PIN THIS ARTICLE: