As an affiliate I may earn a commission on any qualifying purchases, including those from Amazon, at no extra cost to you.
Spend time on any major backpacking trail and you'll come across an Osprey backpack, and with good reason. They are strong, durable and extremely convenient. The broad range has you covered for all sorts of situations, but when it comes to Interrailing (also known as Eurail) through Europe, the Osprey Farpoint 40 is my best recommendation.
The Osprey Farpoint 40 comes in a S/M and M/L. For women, the Osprey Fairview 40 has all the exact same features as the Farpoint 40 but with a fit aimed at female bodies. Further details about the differences below.
---
Introducing the Osprey Farpoint 40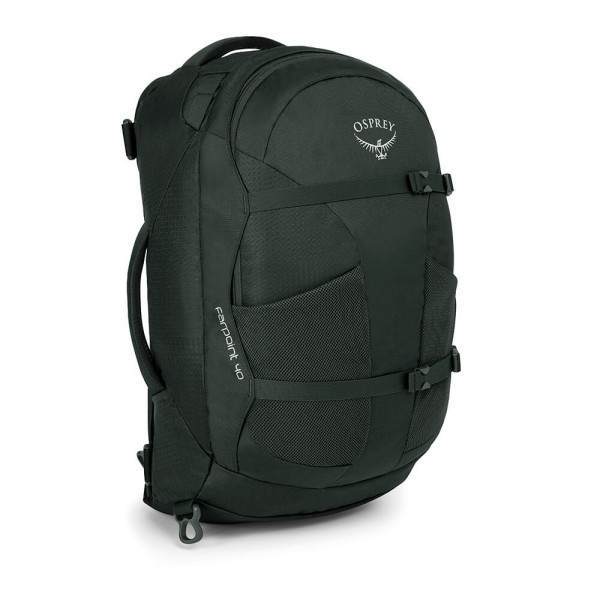 "Carried like a backpack, packed like a suitcase",, the front loading Osprey Farpoint 40 is the best backpack for your next Interrailing adventure.
The Farpoint 40 is part of a range that also includes a 55L, 70L and 80L backpack, but for Interrailing the smaller size is much more convenient.
Here are my TOP 4 REASONS why the Osprey Farpoint 40 is the ultimate Interrailing backpack:
SIZE – The Osprey Farpoint 40 is the perfect size to fit as carry on luggage with most airlines across the world so getting to your first destination and back home again will be a breeze. If you need to take flights during your trip, this can be done with ease too.
COMFORT – Interrailing can mean hours of uncomfortable trips and long walks to train stations, luckily the Farpoint 40 is extremely comfortable, with thick shoulder padding, strong suspension from the hip belt and comfortable fabric, this one is a winner for those inevitable long walks.
QUALITY – If you're buying an Osprey product, you can be sure that you're getting the real deal when it comes to quality. The last thing you want on your Interrailing adventure is for your backpack to break, but with strong zips and durable fabric, the Osprey Farpoint 40 is a safe bet for an Interrailing backpack.
FRONT LOADING – This is the NUMBER ONE thing to look out for when choosing a backpack. Front loading means it opens up like a suitcase as opposed to top loading like a traditional rucksack. A front loading backpack makes it far easier to find what you need without tossing everything out at each stop.
---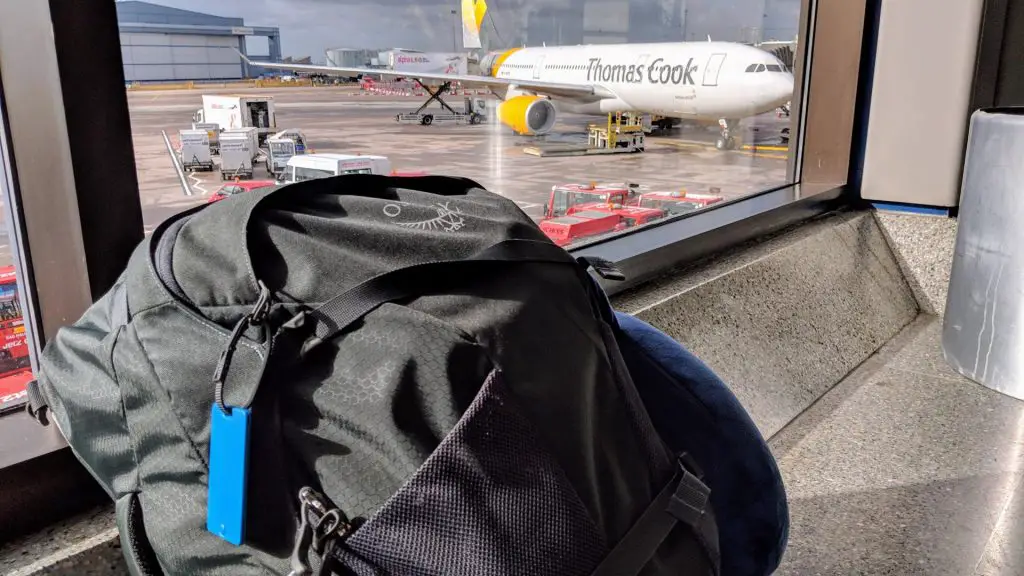 But, to keep a balance argument, here is my biggest frustration about the backpack…
IT'S EVERYWHERE!
Many people have cottoned on to the strength of this backpack over others on the market so you'll come across others with the same bag. This can cause confusion and could result in an accidental swap if you're not careful.
Overcome this my attaching some unique items to your backpack such as a cool key ring, a colourful ribbon or even a pair of shoes.
I can personally vouch for attaching the shoes – I've yet to have any issues.
Check latest prices on Amazon: Osprey Farpoint 40 | Osprey Fairview 40
---
Whats the Difference Between the Farpoint and Fairview?
As I mentioned earlier, there are subtle differences on the fitting of the Fairview 40 that make it suitable for women. The backpack has a lower center of gravity which creates greater stability and a narrower profile.
The hip belts have been uniquely angled to provide better comfort for women and avoid any discomfort in thighs or ribs.
There are no other changes to the bags features or performance.
Size Guide for Farpoint/Fairview 40?
Both the Farpoint and Fairview come in 2 different size options. To find the right fit, measure the length of your spine from your C7 (bump bone at base on your neck) to the iliac crest (top of your hips). Find the size that bets fits your back:
FARPOINT 40: Mens Size Options
S/M 15-19″ / 38-48 cm
M/L 18-22″ / 46-56 cm
FAIRVIEW 40: Womens Size Options
WXS/S 13-17″ / 33-43 cm
WS/M 16-20″ / 41-51 cm
---
Farpoint 40 Review After 3 Years
I've used this backpack for 3 years now, here is my take on it.
The Perfect Size
My biggest tip for anyone travelling across Europe, or anywhere for that matter, is to pack light. I used to travel with a much larger backpack but found that I wasn't using most of the items, needlessly carrying them with me from place to place.
Downgrading to a 40L backpack was the best descision.
Perhaps I didn't think this when I was trying to pack every shirt I owned, but once I had prioritised what to take, I didn't look back. All those times I had to walk for miles to hostels, when the hostel locker was unimaginably tiny or when I rock up for a flight long after check in had closed, I was thankful for my 40L.
The climate doesn't change drastically across the continent so choosing an interrail packing list that suits all of your destinations isn't too cumbersome.
That being said, if you are planning to experience a multitude of climates on your trip or if Interrailing is just one part of your trip, then you may need a slightly bigger bag. The same applies if you need to carry camping equipment.
Comfort
When you're spending a lot of time travelling which is likely if you're Interrailing, it's key to have a backpack that provides comfort.
The padded shoulder straps provide optimum comfort whilst the sternum strap across the chest and hip belt help spread the weight of the bag more evenly across your body to prevent any serious strain to your back.
Inside the Backpack
The backpack hosts a number of different compartments including the main compartment, a laptop sleeve, a 'slash-free' small outer pocket, water bottle pockets and more.
Whether I'm interrailing or travelling across other continents, I enjoy having a laptop with me so the Osprey Farpoint 40's padded laptop sleeve is perfect.
The downside to the laptop sleeve, is that it can be difficult to get a laptop in if the bag is jam packed full, so it's important to bare this in mind.
Lifetime Guarantee
Osprey products come with a lifetime guarantee. You heard that correctly, LIFETIME. They will repair your backpack no matter how long you've had it and if it's irreparable, they will replace it free of charge.
For those who spend a lot of time on the road, they will even replace it while you travel at one of their local distribution center.
Check latest prices on Amazon: Osprey Farpoint 40 | Osprey Fairview 40
---