As an affiliate I may earn a commission on any qualifying purchases, including those from Amazon, at no extra cost to you.
Italy as we know it today has only been a country since 1861, but it's culture and influence on the world dates back many centuries before this, not least it's role at the centre of the Roman empire.
For that reason, Italy has given us a lot to be thankful for, from the worlds most famous artwork, to foods that are still consumed across the globe.
In this guide, I'll share 36 incredible things that Italy is famous for.
1. Gelato
Gelato is a frozen dessert from Italy. It's similar to ice cream but tends to contain less air and richer flavours. Its origins can be traced to the late 17th century by Italian chef Francesco Procopio dei Coltelli.
Most gelato in Italy is produced in small artisanal dessert parlours rather than mass produced environments.
Italy is home to over 5,000 dessert parlours making gelato with popular flavours including vanilla, pistachio, mint chocolate and hazelnut.
---
2. Hand Gestures
Italians are known for throwing their hands in the air as they talk, you've probably seen it in Movies, TV or even in real life.
Yes, they really do this, but they aren't random gestures, each one has a meaning so as a foreigner, you never really known what they mean.
It's thought that the gestures originate from the Romans who used chironomia which incorporates hand movements in to everyday language.
These days, the meanings are usually quite rude so it's best you don't understand them.
---
3. Risotto
Risotto is a rice dish with origins in Lombard, Northern Italy. It's cooked in a broth to make it creamy and usually served with meat, vegetables, fish or seafood. The latter being particularly common in coastal towns of Italy.
It must be made with a short-grain variant of Italian rice, usually Arborio, as these absorb less water and give a sticky, creamy texture.
The dish is usually served as a starter or a side dish, rather than a main course.
---
4. Rome
Rome is Italy's capital city, although it's unlike any other capital city in the western world with just 3 buildings over 100m tall (compared to more than 50 in Madrid and 75 in Paris).
That's because Rome is better known for its relics from Ancient Rome, once the centre of the Roman empire.
Famous spots in Rome include the Colosseum, the Roman Forum (shown here), the Pantheon, Palatine Hill. There's also the Spanish Steps, Trevi Fountain and access to the Vatican with its Sistine Chapel.
---
5. Vespas
The Vespa is an Italian scooter that has earned its place in Italian culture. It was already popular thanks to its ability to weave its way through the crowded streets of Italian cities.
However, it's appearance in film solidified the Vespa as the ultimate way to explore Italy. Notably, the 1953 film, Roman Holiday, and La Dolce Vita in 1960.
Today, just over 70 years since the first Vespa, there are more than 34 models with millions sold across the world each year.
---
6. Pompeii
Pompeii was an ancient city in the South of Italy that was destroyed when Mount Vesuvius erupted in 79AD.
The city was preserved in time as it was buried in molten ash, with human remains and many objects being entombed. Many excavations have taken place during the 20th century to discover more about the city.
Pompeii is a UNESCO world heritage site and one of Southern Italy's most popular tourist destinations and makes a great day trip from Rome.
A new town called Pompei (with just one 'i') was founded nearby in 1891 and is the starting point for anyone looking to visit the ancient city of Pompeii.
---
7. Il Duomo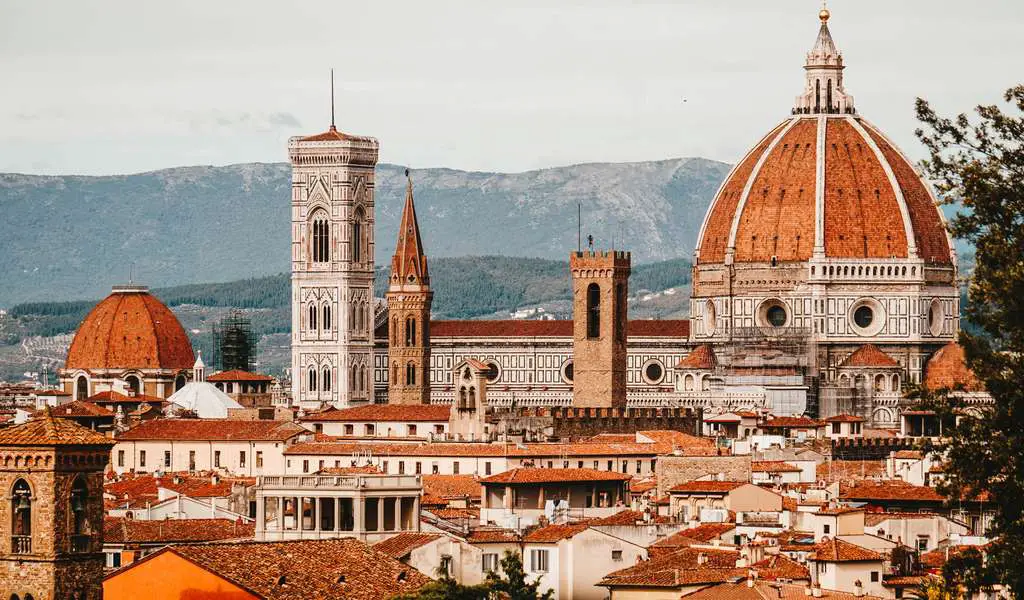 Duomo literally means cathedral in Italian. There are a number of well-known Duomo, the one that most people will know is in Florence (Cathedral of Santa Maria del Fiore).
Often simply referred to as Il Duomo, the cathedral has a pink, white, and green exterior in a gothic style with a large dome on top.
The cathedral was first built in the 13th century, with the dome added in the 15th century. Visitors can climb to the top dome for a small fee.
Other notable Duomo include the one in Milan (Duomo di Milano) and Siena (Duomo di Siena)
---
8. Michelangelo
Michelangelo was an Italian renaissance sculptor, painter and architect born in the late 15th century.
He is known for his mural on the ceiling of the Sistine Chapel in the Vatican that depicts the creation of Adam.
You may be familiar with a number of sculptures he created that are of significance today, including David (shown here) which is now found in Florence and the Pietà that's housed in the Vatican City.
Unlike many renaissance artists, he rose to fame during his lifetime which meant his life was well documented. He was the first artist to have a biography published before he died.
---
9. Mount Vesuvius
Italy is home to one of only two active volcanos in mainland Europe, Mount Vesuvius. It's located just outside the city of Naples in Southern Italy.
The volcano is around 17,000 years old and has erupted over 50 times, the most famous eruption was in the year 79AD when it wiped out the Roman city of Pompeii and an estimated 3 million inhabitants.
Today, Mount Vesuvius is a large national park that attracts tourists wanting to hike up to the top and take a look inside. The trail to the top is beginner-friendly and about a 4km round trip.
---
10. Leaning Tower of Pisa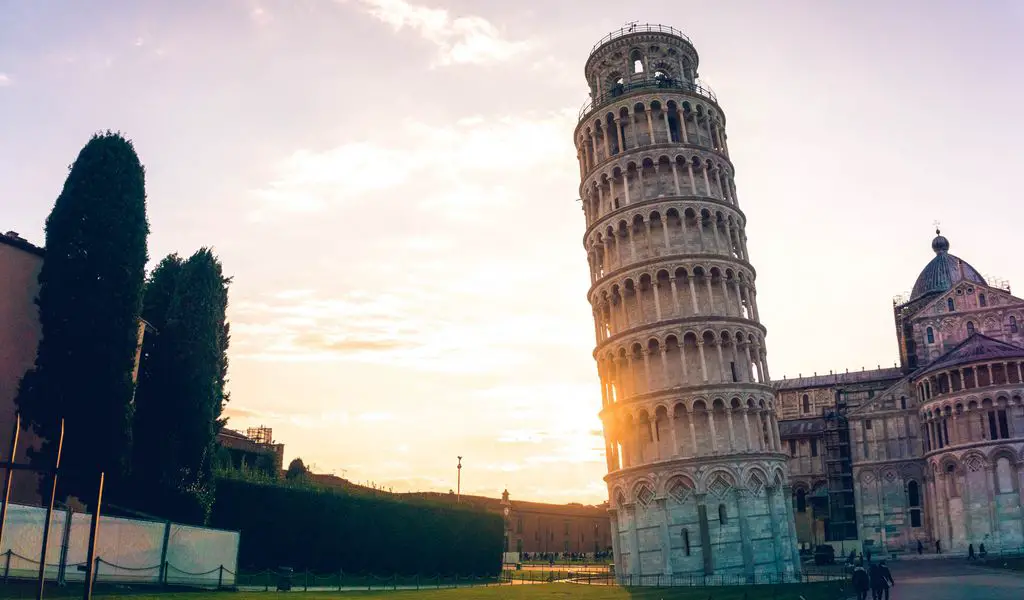 Italy's most iconic landmark is without doubt the Leaning Tower of Pisa, known for its tilt that was around 5.5° which saw the top around 4.5m off the perpendicular.
The tower is a free-standing bell tower that's part of the cathedral complex, however the tower has become more recognisable than the cathedral itself and has become a tourist hotspot.
The tilt was unintended and is due to the poor foundations. Renovation work has seen the tilt reduced to around 4° which engineers estimate will keep it stable for 200 years.
---
11. The Colosseum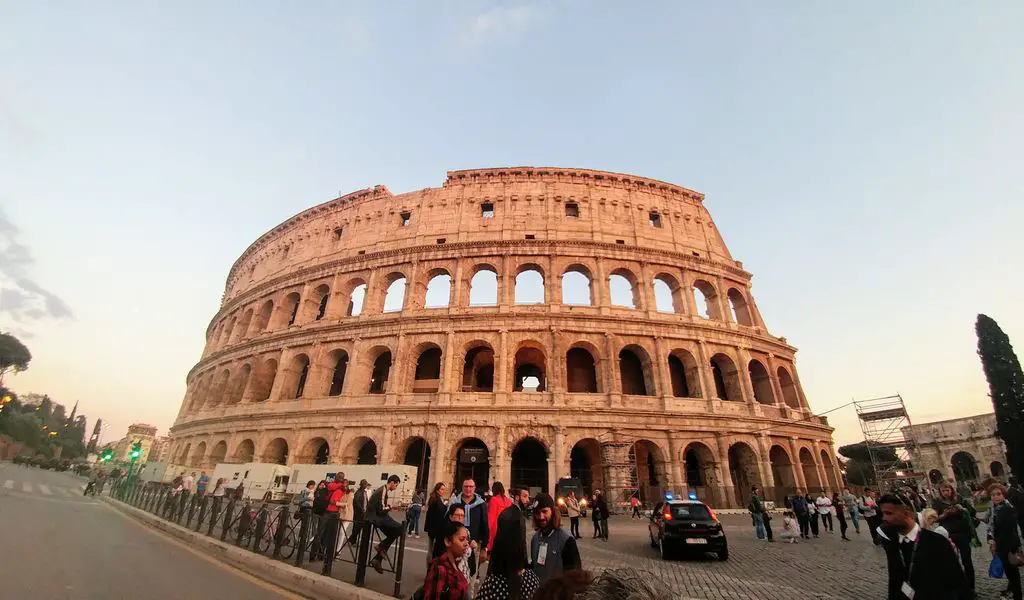 The Colosseum is a large amphitheatre made from stone and concrete in Rome.
It's believed to have been built between 72AD and 80AD when it would have been used as an entertainment venue for sporting events, concerts and gladiator fights.
At it's prime, it would have held around 50,000 – 80,000 spectators.
Today, it is partially in ruins and used solely as a tourist attraction. It's considered one of the New Seven Wonders of the World.
---
12. Italian Wine
Italy is the largest producer of wine in the world. Some of the best Italian wines include Barolo & Barbaresco and Prosecco.
There are 20 wine regions in Italy, varying from long coastal wine regions due to the shape of the country, and those in the hilly terrain with varying altitudes and soil conditions allow for unique characteristics.
The most well-known wine region is Tuscany which is home to top Italian winemakers such as Ornellaia which sells bottles in excess of £1000. If you're really into wine tasting, then you need to take a Tuscan road trip and stop off in Montepulciano and the Chianti region.
As well as premium varieties, Italy also gave us Lambrusco and Prosecco, both of which are popular budget alternatives to champagne.
---
13. Venice
Venice is one of the most recognisable destination in the world thanks to its unique make up of canals and bridges.
The main city of Venice is made up of 118 islands connected only by 400 bridges and 170 canals.
It's renowned for its gondolas, flat bottomed Venetian rowing boats that are the equivalent to taxi's, only on the canal.
Becoming a gondolier is no easy feat as you need a professional licence that's only granted after 400 hours of training and an apprenticeship with a professional gondolier.
---
14. Lake Como
Lake Como is found in the Lombard region, around 1 hour from Milan. It's not the largest lake in Italy but is widely considered the most beautiful.
The lake is 46km long and shaped like an inverted 'y'. There's a small uninhabited island in the middle called Isola Comacina which can be visited by boat.
Villa del Balbianello is a famous villa that sits at the side of the lake, this featured in James Bond Casino Royale and Star Wars II: Attack of the Clones.
Another popular lake in Italy is Lake Garda which is the country's largest lake.
---
15. Graian Alps
The Alps is the most extensive mountain range in Europe. The Graian Alps is the section of the range that spreads across the North of Italy, near the border with France.
This area has a dense number of mountains, with over 1,000 named peaks in the region, many of which are over 4,000m.
The tallest mountain in the Graian Alps is Mont Blanc (shown here) which is partly in Italy and partly in France and is the second highest mountain in Europe.
---
16. The Vatican
The Vatican City is an independent state with an area of about 100 acres in Rome, making it the smallest country in the world.
The Vatican is at the centre of Catholicism and remains home to the Pope since the 14th century.
There are a number of significant buildings within the Vatican, including the Sistine Chapel, St Peters Basilica and the Vatican Museum which holds many religious relics.
The Vatican is fully independent with its own flag and anthem. It also mints its own euros, prints stamps, issues passports and vehicle registration plates.
---
17. Trevi Fountain
The Trevi Fountain in Rome is one of the most famous fountains in the world, designed by architect Nicola Salvi.
According to legend, it you throw a coin in the fountain, it means you'll return to Rome. If you throw two coins in, you'll return and fall in love. If you throw three coins in, you'll return, fall in love and get married.
Many tourists visit the fountain to throw coins in, with an estimated €1.4 million thrown in each year which is used to help feed the poor. It's illegal to steal coins from the fountain.
The fountain has been featured in many films, notably Three Coins in the Fountain which is based on three American women who dream of finding love in Rome.
---
18. The Mafia
Crime and corruption have long been a problem in Italy, much of this is due to organised crime groups like The Mafia.
When referring to 'The Mafia' it's usually a reference to the Sicilian Mafia which was the original and most notorious group. However, there are numerous other organised crime groups across the country.
Due to anti-mafia groups and police crackdowns, the groups are more low-key than years gone by, but they still exist and continue to prey on those most vulnerable to further their wealth and power.
The Mafia has been portrayed in many films and TV series, most famously The Godfather and The Sopranos.
---
19. Italian Coffee
Italians are known for their love of coffee, or caffè as they call it.
Being one of the first European countries to import coffee beans, their coffee industry was one of the first to bloom.
In 1901, Luigi Bezzera, from Milan, first came up with the idea of forcing hot water through powdered coffee beans to create a strong drink, the first espresso.
Let's be honest, you can't escape the Italian influence in coffee houses across the world, from the Barista who serves you (Italian for barman) to the popular latte (short for cafe latte, which means coffee with milk).
---
20. White Truffles
A truffle is a type of mushroom or fungi that grows in harmony with a tree, allowing the tree to take in phosphorus in return for sugar which gives the truffles their flavour.
Italy is one of the few countries that has an abundance of truffles. You'll find both black and white truffles in the country, although the white truffles are far rarer and therefore very valuable.
White truffles are a sign of wealth and often sought after by luxury chefs with high end customers. Therefore, white truffles can attract prices in excess of €3,000 per kilo.
---
21. Italian Cheese
Italy has given the world a huge number of cheeses and has one of the oldest cheesemaking cultures.
It's origins in the country date back to the Romans who were enthusiastic about cheese and one of the first to export it across their empire, bringing it to France and Britain in the process.
The country is home to more than 400 dairies, some popular Italian cheeses you may have heard of are Parmesan, Mozzarella, Ricotta, Gorgonzola and Mascarpone.
---
22. Italian Fascism
Fascism is a political ideology that first came to prominence under Mussolini and his National Fascist Party which ruled Italy 1922 and 1943.
With a reputation for bullying as early as age 10, Mussolini was a fierce leader. He limited the judiciary, called a halt to free press and arrested political opponents.
In 1925, he declared himself a dictator and kicked out the opposition from parliament, abolished elections and brought back the death penalty.
---
23. Neapolitan Pizza
Italy gave us one of the world's greatest foods, Pizza. The most famous being the Neapolitan pizza from Naples which has become popular across Italy and also influenced the popular New York-style Pizza.
Whilst many pizzerias around the world attempt to copy this style, a true Neapolitan pizza must be made with authentic ingredients and in a wood fired oven.
The Neapolitan pizza is protected under various schemes including Traditional Speciality Guaranteed (TSG) scheme which specifies it must meet certain criteria to be called Neapolitan, and it's also a UNESCO intangible world heritage.
---
24. Italian Opera
We have Italy to thank for Opera after it was established in the country around 1600. Operas by Italian composers Rossini, Verdi and Puccini are considered some of the best in the world.
It's also home to some of the best opera venues. The Verona Arena, once a Roman Amphitheatre, is famous for open air performances, attracting a million visitors each year.
Luciano Pavarotti is Italy's best known opera singer, a tenor who also dabbled in popular music.
Pavarotti was one of the Three Tenors who famously performed at the 1990 World Cup and is commonly known as King of the High Cs.
---
25. Pasta
Another Italian cuisine that has gained worldwide appeal is pasta.
There are more than 350 varieties of pasta that go way beyond the spaghetti and farfalle that most of us know.
This includes long pasta, short pasta, filled pasta, sheeted pasta (lasagne), dumpling pasta and a number of speciality varieties.
Each region has signature dishes and cooking methods. Italians continue to consume more pasta than any other nation at around 26kg per person each year.  
Italy also remains one of the most prolific producers of pasta, making over 3 million out of the 13 million tonnes produced worldwide.
---
26. Fashion
Milan is widely considered to be the fashion capital of the world.
Many internationally renowned fashion brands are based in Milan, including Dolce & Gabbana, Armani and Prada.
Quadrilatero della Moda is the high-end fashion district in Milan that contains luxury brands and exclusive fashion boutiques. It's one of the most expensive shopping streets in the world.
Milan Fashion Week is one of the top four fashion weeks in the world, hosting glamorous events and attracting top names in the industry.
---
27. Leonardo Da Vinci
Leonardo da Vinci is a famous renaissance artist from Italy, best known for his piece the Mona Lisa which is one of the most famous and most valuable paintings in existence.
As well as his paintings, Da Vinci was quite the genius with expertise across engineering, human anatomy, mathematics and more.
He was often employed as an engineer during his lifetime, but his notes and drawings showed that he conceptually envisioned a number of inventions long before they became a reality, including the helicopter, parachute, solar power, the calculator and theories about tectonic plates.
---
28. Italian Sportscars
Italy has gives us so many luxury sportscars that it was impossible to include each one in my list.
Its best-known brands include Ferrari, Lamborghini and Maserati.
These three manufacturers have their headquarters within 15km of each other in Modena, an area known as  the International Capital of Sports Cars which produces almost a third of sportscars sold worldwide.
But it's not just the fast and the furious coming from Italy, they have produced cars of all shapes and sizes with the likes of Alfa Romeo and Fiat.
---
29. Carbonara
Pasta alla Carbonara (usually referred to as just Carbonara) is an Italian dish made with Pasta (usually spaghetti) and a creamy sauce containing egg, cheese, cream, cured pork, and black pepper.
It's a staple of Italian cuisine, although the recipe isn't that old, generally thought to have been first created in the 1900's.
---
30. Super Mario
Okay, so this might be a controversial inclusion since Mario was designed and created in Japan by Nintendo. But he is still one of the most well-known Italian characters of all time.
Mario, a video game character, is an Italian plumber who lives in the Mushroom Kingdom with his younger, but taller brother Luigi.
The various titles under the Mario franchise (Super Mario, Mario Cart, etc) have sold more than 600 million copies worldwide, making it the best-selling video game series ever.
---
31. Football
Italians are big fans of football (soccer) with one of the best national football teams in the world, having won the World Cup 4 times, equal to Germany and only beaten by Brazil who have won it 5 times.
Some of the most famous Italian footballers include Balotelli, Baggio and Buffon.
As for club football, Italy has some world-renowned teams including Juventus, AC Milan and Inter Milan. Their top tier domestic league, Serie A, is watched across the world.
Internationally, Italian clubs have won almost 50 European titles, making them the second most successful country in European football.
---
32. Christopher Columbus
Christopher Columbus was a famous Italian explorer known for being one of the first Europeans to discover the Americas during his four voyages.
Many people think Columbus was lucky, he intended to travel west to Asia, something that was disputed by many, but this led him to bump into America.
Although Columbus was an Italian born in Genoa, his expeditions were sponsored by Spain, after England, Portugal and France refused to back him.
Columbus wasn't the only famous Italian explorer, other notable figures include Amerigo Vespucci,  John Cabot and much earlier Marco Polo.
---
33. The Battle of Oranges
The Battle of Oranges is a festival that takes place each year in the Italian city of Ivera.
The main event is a large food fight involving lots of oranges. Nine teams on foot will throw oranges against those riding in carts.
The origin of the tradition dates back to a medieval folk law where the miller's daughter cut off the head of an evil duke. The battle is said to represent the battle between supporters of the miller's daughter (orange throwers foot) and those of the duke (orange throwers riding in carts).
Other events during the celebration which takes place between Sunday and Shrove Tuesday include a parade and a large bonfire.
---
34. La Dolce Vita
La Dolce Vita (translates as 'The Sweet Life') is a comedy-drama film set in Rome. It was released in 1960 and directed by the well-known Italian director, Federico Fellini.
The film is a week in the life of an Italian gossip journalist ashamed of his job but who loves the 'sweet' benefits it brings from booze to women.
The film has won awards at the Cannes Film Festival, Oscars and was nominated for 4 academy awards. It's widely considered one of the best films of all time.
---
35. Venice Carnival
Venice Carnival (Carnevale di Venezia) is Italy's biggest celebration and one of the best carnivals in the world, rivalling the likes of Rio and Notting Hill.
During the 2-3 week celebration in the run up to lent, the city attracts millions of visitors, wearing Venetian masks which were originally introduced to hide the social status of revellers.
There are parades down the canals, costume competitions and celebration events in Piazza San Marco, the city's main square.
---
36. Borsalino Hats
The Borsalino hat has become synonymous with Italy since they were first made in 1857.
They have been a staple of movies for generations, donned by private detectives, gangsters and policemen. Most notable would be Al Pacino in The Godfather and Harrison Ford's Indiana Jones.
The luxury hats were first produced in a small shop in Alessandria by the Borsalino family but were soon being exported across the world as a cult item.
---