As an affiliate I may earn a commission on any qualifying purchases, including those from Amazon, at no extra cost to you.
Lisbon is the capital city of Portugal and it's a beautiful place. It's referred to as the "city of seven hills," and trust me, you'll realise why this is as you walk around the hilly city.
The city of Lisbon is best known for it's iconic yellow trams, traditional Fado music, and the beautiful beaches that surround it. The city is also famous for its cuisine such as Pasteis De Nata and Bacalhau, both can be found in the popular Time Out market.
After spending plenty of time in the Portuguese capital, I got a real taste of what makes the city so special. I've put together this complete guide with 19 things that Lisbon is best known for:
1. Capital City of Portugal
Lisbon is best known as the capital city of Portugal. It was made the capital of the Kingdom of Portugal in 1255 and has remained that way ever since. It is the 10th largest capital city in Europe and the most westerly.
---
2. Iconic Trams
Lisbon is known for its iconic yellow trams! The most famous tram in Lisbon is #28 which runs between Praça da Figueira and Campo 24 de Agosto, via Baixa-Chiado, Avenida da Liberdade and Cais.
For those who want to explore Lisbon and get a glimpse into Portuguese culture, the Remodelado trams are an excellent way to do so. Not only will you be able to see the sights from your tram as it whizzes through Lisboa's streets, but you'll also be able to enjoy scenes of daily life in Portugal.
The trams are not only eco-friendly but also allow you to see different parts of Lisbon with stunning views. If you happen to be in the Alfama district, get off at Rua de São Miguel and have a look around.
---
3. The District of Barrio Alto
One of Lisbon's most famous districts is Barrio Alto. In the daytime, it's a relatively quiet neighborhood with tons of great restaurants and bars to explore.
At night, though, you'll be hard-pressed to find a spot on the street that isn't packed with people out for a good time. You can test out this theory by visiting during lunch or dinner time – if you see any open tables at all!
The area is one of the best spots in Lisbon to find some live music, maybe even some traditional Fado music.
---
4. The District of Alfama
Alfama is Lisbon's oldest district. It attracts tourists from all around the world for its distinctive charm and rich history, from which it gets its name. Alfama is full of narrow cobbled streets, and of course, being Lisbon, it is very hilly.
It's served by the iconic yellow tram number 28 and has more to offer than just history. Some popular attractions in Alfama include the cathedral, national pantheon, and the Castle of São Jorge. Don't forget about the artisanal shops, cafés, and excellent good viewpoints across the city.
---
5. Street Art
Lisbon's street art is some of the best I've seen to date. The artwork brightens up overlooked spots and contrasts with many of Lisbon's oldest buildings, creating a unique blend between old and new.
Whether or not street art is your thing, it would be hard not to be impressed by this dedication on both parts- artists who dedicate their time to these projects and locals who take care of them!
Portuguese street artist Vhils, who has been featured on MTV and other international media outlets in recent years for his revolutionary graffiti art, stands out as a prominent figure in the Portuguese artistic community. While many of their works are created anonymously, artists such as Vhils have shown that the country's underground urban scene is anything but bleak.
6. Pasteis De Nata
Pasteis de Nata is a Portuguese custard tart. They are made with puff pastry and custard is made of eggs, milk, sugar, and cinnamon to flavour. These little snacks are often sold at coffee shops to accompany your morning pick-me-up. Pasteis de Nata should be consumed freshly within 24 hours of production.
They were first invented in Jerónimos Monastery in Belém so are also known as Pastel de Belém. A café in Belém (Fábrica de Pastéis de Belém) still serves the original recipe which is locked away in a secret room and only known to a few who work there.
---
7. Golden Beaches
Lisbon (and Portugal more broadly) is known for its stunning beaches, many of which are accessible by car or public transport within 20 minutes or less.
Some of the best beaches near Lisbon are the small towns of Estoril and Cascais, found to the west of the city and well known for their south-facing beaches and the opportunity to swim in the sea which is often lukewarm during summer.
These beaches get very busy which I found detracted from the beauty of them, I'd recommend exploring some of the lesser-known beaches if you're planning a visit.
---
8. The Town of Sintra and Pena Palace
Located 25km from Lisbon, Sintra is a short day trip away. The town features many beautiful buildings, most notably the Pena National Palace (shown here) which is one of the most famous landmarks in Portugal. The palace is a collection of elaborately coloured buildings perched on top of a hill.
It was built as a summer residence for King Luis I and his wife Queen Maria Pia. It's home to some of the country's best art pieces including paintings by artists like Gustav Klimt, Henri Matisse, and Pablo Picasso. Pena Palace is often called one of the seven wonders of Portugal.
Although the palace is its best-known attraction, the rest of the town is full of grand villas, historic architecture, and several smaller castles. It was declared a UNESCO World Heritage Site in 1995. It is one of the most expensive towns to live in Lisbon, attracting only the wealthy.
---
9. Mercado da Ribeira (Time Out Market)
Mercado da Ribeira (Ribiera Market) was originally a corn market that served food for the Portuguese Navy during the 18th century. Today, this historic landmark is run by Time Out (yes, the magazine!) where you'll find a huge food hall full of local producers, gourmet stalls, and Michelin star chefs serving up everything you can imagine, from pizza to seafood.
The market gets very busy during peak times, with the main dining area being rowdy and chaotic, but it's a great experience. Most people do not realise that there's another area selling various other goods such as flowers, vegetables, cheese, fruit, fish, and bread. I certainly didn't spot this so keep an eye peeled.
---
10. Chourico Assado (Flaming Chorizo)
Chourico Assado (also known as Flaming Chorizo) is one of my favourite foods from Lisbon. It's found in bars and restaurants across the city and is quite literally served on fire, usually in a clay bowl that is placed on your table.
Wait for the flames to die down and you'll have a nice crispy sausage waiting to be eaten. It's not quite as spicy as the chorizo found in Spain, but the chargrilled taste makes the perfect snack.
---
11. Fado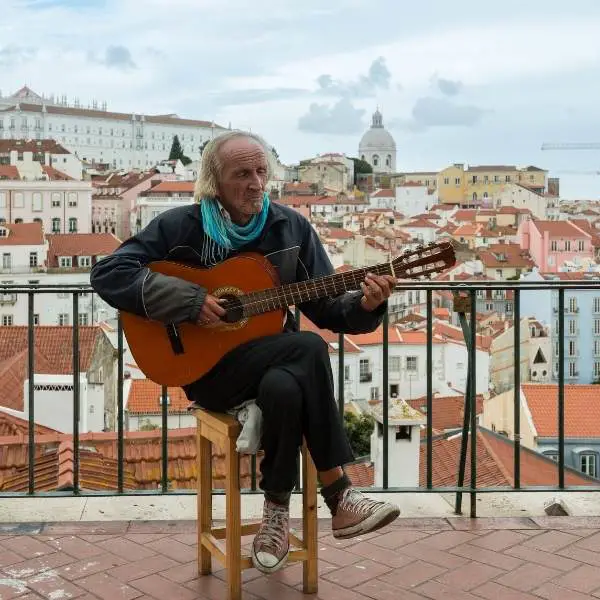 Lisbon is the city where Fado was born in 1887. The music has been famous worldwide since it rose to prominence in the 1930s and continues to be popular even today.
The music tends to be very expressive, some would even call it sad. The lyrics tend to be about deep and dark parts of life such as death and is usually accompanied by guitars. Popular Portuguese Fado artists include Amalia Rodrigues and Cristina Branco, search these names to hear some samples.
Fado is a genre of music that was designated as World Heritage status in 2011 by UNESCO, you won't have a problem finding a good Fado bar or restaurant in Lisbon, there's even a Fado museum you can visit to find out more.
---
12. LX Factory
Lisbon's former textile factories are now one of the city's trendiest places to shop and eat. If a textile factory doesn't sound like your cup of tea, you'll be pleasantly surprised as the area has undergone a lot of renovation whilst still keeping much of the original charm.
For shopaholics, there is something for everyone with a range of hipster stores inside and market stalls outside. But what gets me excited is the food options. There are tables set up on a beautiful balcony with options including Portuguese, Italian, and Japanese. Plus, there are some nice cocktail bars for a tipple afterward.
---
13. Ginjinha Liqueur
Ginjinha is a traditional Portuguese liqueur made by fermenting ginja berries, which are known for their cherry flavour. Spices such as cinnamon and cloves are added to give the liquor a very hearty feel.
Ginjinha is served in small chocolate cups, typically with a piece of fruit at the bottom. The small shot-sized drinks are sipped before the cup itself is devoured, making for one sensual drinking experience.
The best thing you can do on a hot summer day is to enjoy some Ginjinha while lounging by the water and enjoying your favourite types of fruit to taste.
---
14. The City of Seven Hills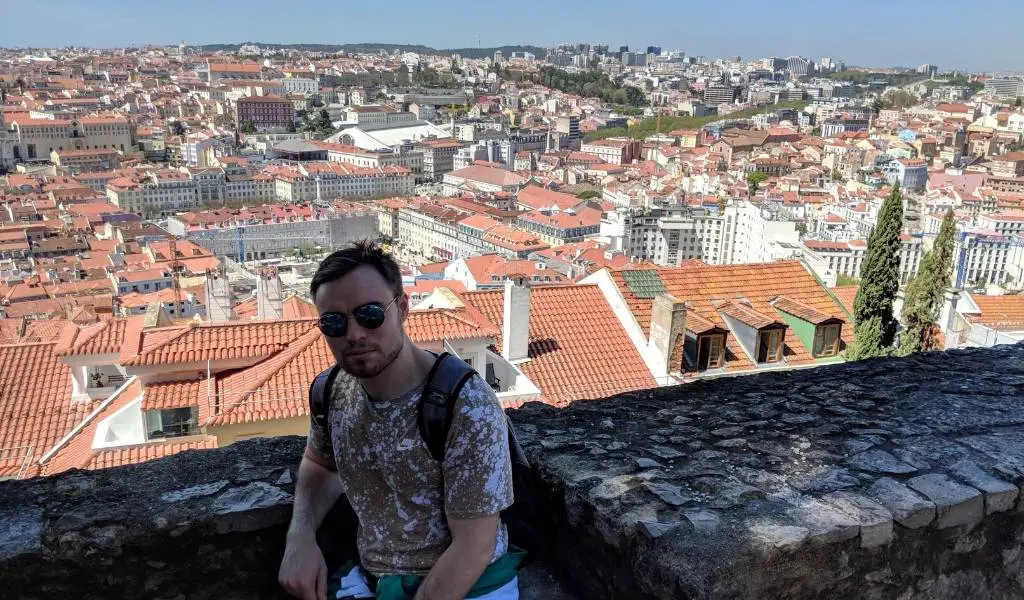 Lisbon is known as A Cidade Das Sete Colinas, which translates to The City of Seven Hills, and it's easy to see why. The city was built on top of seven hills (yes, just like Rome) so you'll be very fit after a few days exploring, trust me I've tried it.
One of these hills is São Jorge Hill, home to the famous Castle of São Jorge with excellent views across the city, whilst another is the hill of São Roque where you'll find the Bairro Alto district.
---
15. Tuk-Tuks
Remember I mentioned how hilly Lisbon is, well here's an answer to getting around the city. You might associate tuk-tuks with India and Southeast Asia, but they've made it to Europe too and Lisbon is at the forefront of the takeover.
There are more than 500 tuk-tuks in Lisbon and can be found on all the major roads and squares. However, these are not commonly used by locals and are purely for tourists. You can go on a full or half-day tour in these open-sided vehicles which make it easy to catch a glimpse of what life is like in this city.
They haven't been without criticism, the taxi drivers are not a fan and many locals were unhappy with the noise and pollution so new laws were introduced banning them after 9pm and mandating that they are all-electric going forward.
---
16. Azulejos Tiles
Azulejos are ceramic patterned tiles that can be found everywhere in Lisbon. They are used on floors, buildings, and even inside buildings to decorate them. Plus, they're often made with bright colours that set an exciting tone and make a great photo opportunity.
You will notice them on churches, metro stations, schools, and homes across the city. Not only are they decorative, but help with the temperature control of buildings.
Beautiful azulejo tiles can also be found elsewhere in Portugal as well as Spain. It's a tradition that dates back over 600 years when, in 1496, King Manuel I commissioned artisans from Seville to decorate the walls of his palace with brightly coloured ceramic tiles. There's even a museum to celebrate them.
---
17. Bacalhau (Portuguese Salted Codfish)
Bacalhau is a Portuguese way of preparing cod by salting and drying it. Bacalhau is commonly used as an ingredient in Portuguese cooking with more than 1,000 different recipes. It's usually served with potatoes and rice and accompanied by wine.
The Bacalhau method dates back to the days before fridges existed as salt was needed to preserve the fish.
---
18. Famous Explorers
Lisbon's famous port is one of the oldest in Europe and played a key role as the starting point for many famous explorers.
Vasco da Gama, Prince Henry the Navigator, Christopher Columbus, and Ferdinand Magellan all lived in Portugal and set sail from Lisbon to discover (or rediscover) far-off lands and start new trade routes. For example, Vasco da Gama set off from Lisbon in 1497 to reach India by sea and establish a maritime route.
To celebrate this, a huge 52m monument was erected in the Belem district featuring 33 prominent people from the 'Age of Discovery'.
---
19. Santa Justa Elevator
Finally, I couldn't list all the things Lisbon is famous for without mentioning the Santa Justa Elevator.
The enormous iron lift has long been part of Lisbon's public transport network and helps transport pedestrians from the lower parts of the city to the higher parts.
Although it's included in the public transport pass, it's quite a tourist attraction so you wouldn't use it as an alternative to the trams. However, it's worth testing out if you don't mind queuing for an hour.