As an affiliate I may earn a commission on any qualifying purchases, including those from Amazon, at no extra cost to you.
Oslo is the capital and largest city in Norway and one of the most popular cities to visit in Europe. Oslo offers visitors diverse attractions making it a perfect place for travellers to visit when it comes to history, art, culture, food, and outdoor activities.
Oslo is most famous for its museums and galleries such as the Viking Ship Museum, Fram Museum, and the National Gallery which is Home to The Scream by Edvard Munch. Oslo is also known for the Nobel Peace Prize and its unique opera house that allows you to walk on the roof.
Having visited myself a few years back, I fell in love with everything that it has to offer and learnt a lot about life in Oslo. In this guide, I'll share 17 things that Oslo is famous for, including cuisine, culture, and tourist attractions.
1. Oslofjord
The city of Oslo is situated at the end of the Oslofjord, a large inlet of water that connects Oslo to the Skagerrak strait which leads to the North Sea and the Baltic Sea.
It's not a traditional fjord created by a glacier, however, in Norwegian fjord is used to refer to a variety of waterways.
The Oslofjord has more ferries and cargo boats than anywhere else in Norway. It's also home to many Oslofjord islands, many of which are populated and some (such as Hovedøya and Lindøya) are popular with tourists who go island hopping.
---
2. The Nobel Peace Prize
Oslo has a long history of being the home to The Nobel Peace Prize, which is awarded annually to people who make significant contributions to peace in the world.
It was first awarded in 1901 and has been given out every year since then, except for a few years during World War II when it could not be awarded.
It's the only Nobel prize that isn't awarded in Stockholm, instead, it is awarded at Oslo's dedicated Nobel Peace Centre which also has exhibits portraying the history of the award.
---
3. Vigeland Park
Gustav Vigeland Park is a sculpture park in Frogner public park in Oslo, Norway. It's the world's largest sculpture park and one of the most famous attractions in Oslo.
The installation includes over 200 sculptures by Norwegian artist Gustav Vigeland (1869-1943) depicting human life from birth to death, set in an idyllic forest setting.
The statues range from life-size to huge monumental works with figures reaching up to 20 meters tall.
---
4. Bygdøy Peninsula
Bygdøy is a popular area found on the Western side of Oslo. It's known for some of the city's most expensive neighbourhoods as well as being a popular recreation area for tourists.
It is home to some of the city's top museums, a few of which I'll come on to talk about in more detail later on. You'll also find Huk beach which is one of my favourite places in Oslo and further down there is a nudist beach which has slightly less broad appeal.
---
5. Smoked Salmon
Norway is a tiny country in Northern Europe, but it has become famous for one of its most iconic dishes – smoked salmon.
The best quality salmon comes from the Lofoten Islands off the coast of Norway, and Oslo's airport even has an entire hall dedicated to showcasing this delicacy.
---
6. Tiger City
Oslo is a city in Norway that has been called Tiger City. No, it's not because the city is home to wild tigers, it's because author Bjørnstjerne Bjørnson referred to it as 'The City of Tigers' in 1870 as he perceived it to be cold and dangerous.
The nickname stuck and to celebrate it there are several tiger statues throughout the city, including around city hall and this one I found for a photo opportunity.
---
7. One of the Happiest Cities
You might think that being one of the most expensive cities in Europe might suck, but that's where you'd be wrong because Oslo's residents are rated as some of the happiest on the continent.
Luckily, the Krone is strong which means residents can afford to live in this premium destination. The houses are sought after and being so close to nature with the Oslofjord on one side and vast forests on the other will also help.
The city has a deep and entrenched culture too, with lots of interesting buildings, art installations, and festivals that take place throughout the city.
---
8. Munch's paintings at the National Gallery
Oslo's National Gallery (known locally as Nasjonalgalleriet) has a vast collection of works includes works from many famous artists, including Edvard Munch, Johan Christian Claussen Dahl, and Christian Krohg.
One of the most famous pieces in the gallery is Edvard Munch's The Scream which portrays human anxiety through an agonised face against a sunset backdrop.
---
9. Forests
Oslo has a lot to offer for nature lovers from all over the world- with more than 100 forested areas within its boundaries.
However it's best known for the vast forests which lie just outside the city, one of the largest such forests is Nordmarka which is popular in the summer for hiking and cycling. If you visit in Winter, you can also find plenty of Winter sports happening here too.
Another such forest is Marka which has renowned wildlife. Birds chirp, squirrels scurry about, and deer roam freely through these lush green forests that make up one-third of Oslo's area.
---
10. Oslo Opera House
What can be more picturesque than an opera house that's perched on the edge of the Oslofjord? The Oslo Opera House is Norway's newest and most beautiful landmark, whether you're in Oslo for 2 days or 2 hours, you need to make sure this is an essential stop on your itinerary. It was designed by architect, Jarmund/Vigsnæs Asker.
I've always loved going to see live performances at the theatre, but I never imagined that one day I would have a chance to visit what has been called "the best new opera house in the world."
The building has a unique design that's been created to look like an iceberg. It's possible to walk right up the edge of the building and gives a great view in the evenings.
---
11. Holmenkollen Ski Jump
The Holmenkollen Ski Jump is a well-known attraction in Oslo. It was used in the 1952 Winter Olympics but has hosted many events since then including world ski jumping championships and Nordic Skiing World Championships, most recently in 2011 when Norway swept all three medals at the JWOC event for women's cross-country skiing.
The jump has been around since 1892, but it was originally located in downtown Oslo. In 1914, they moved it up to its current location on top of Mount Ulriken so that spectators could have a better view. This site is worth a stop if you're visiting Oslo or just enjoying winter sports in general!
---
12. The Viking Ship Museum
The Viking Ship Museum in Oslo is a museum dedicated to the many Viking ships found throughout Scandinavia. I visited the museum during my trip and was astonished at how well preserved these ships were.
The museum opened in 1997 and was designed by Norwegian architect Sverre Fehn. As well as the three main ships that were found during archeological digs, there are many other Viking artifacts and informational videos that give some context to the Vikings.
---
13. Akershus Fortress
Oslo is known for its fjords, forests, and parks. But some great castles can be visited during your stay in the Norwegian capital. Akershus Fortress is one of them.
It was built around 1300 by King Håkon V Magnusson and has been used many times over the years as a military base, prison, and headquarters for government authorities.
Today, it's more of a tourist attraction, although I did spot some military forces training in the grounds during my visit too.
---
14. Fram Museum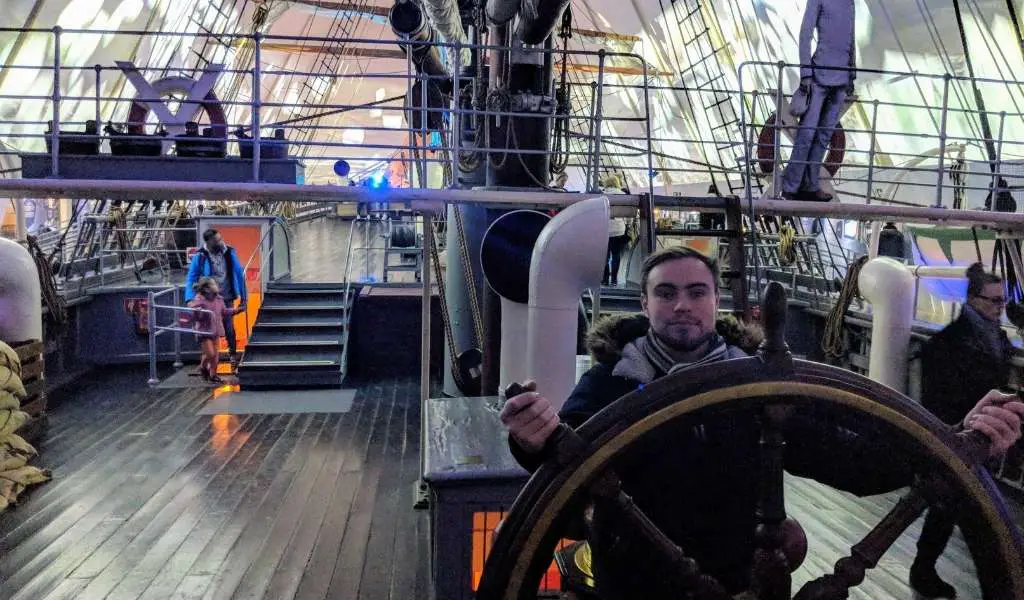 The Fram Museum showcases three different exhibitions: The North Pole Expedition exhibition, Fridtjof Nansen's Polar Expedition Exhibition, and Arctic exploration exhibition.
These are all interactive exhibits that allow people to get hands-on experience while learning more about these expeditions from past explorers.
In the centre of the museum is a large ship called the Fram, it's one of the original exploration vessels used by Fridtjof Nansen to explore the artic. The ship is largely intact, and visitors can go on board and explore the interior.
---
15. The Royal Palace of Norway
Oslo has many historic buildings that give the city an old-world feel, one of these buildings is the Royal Palace which was built in 1849 by King Oscar I and his consort Queen Josephine.
The palace overlooks the Akershus Fortress one of Norway's most famous landmarks and was originally intended to serve as a residence for visiting dignitaries; today it serves as home to the current monarch and their family.
The interior of this majestic building contains several rooms including a red drawing-room where members of the royal family entertain guests from around the world, an armoury hall housing weapons from different eras, and dining halls decorated with elaborate paintings.
---
16. European Green Capital
Oslo is famous for its green credentials and its fight against climate change. In 2019 it was named as the European Green Capital which made it responsible for promoting sustainability practices in Europe during its year at the forefront of the movement.
Oslo set itself an ambitious target to reduce carbon emissions by 95% by 2030 and is already making good progress on that promise. It's also green in the sense of green spaces, with 95% of inhabitants having a park within 300m of their homes. There are also car-sharing schemes, electric vehicle subsidies, emission-free construction zones, and green public transport.
---
17. The River with Two Names
I bet you have heard of the river that flows through Oslo, Norway. It is called Akerselva or Akerselven, depending upon where you're from. The water system supplies clean drinking water for 1 million people in the city.
The river separates the East and West of the city, due to the slight differences in dialect, those from the East call it Akerselva, whereas those from the west refer to it as Akerselven.
---