As an affiliate I may earn a commission on any qualifying purchases, including those from Amazon, at no extra cost to you.
Switzerland is best known as the land of the mountains, chocolate and fine watches. But this small country of 8 million people has plenty of other things going for it too.
From festivals to celebrities, in this guide, I've pulled together all of the things that the country is most famous for.
1. Swiss Chocolate
Switzerland has made a name for itself as a producer of high-quality chocolate and is credited as the first country to make milk chocolate.
Swiss chocolate is known for having a lot of cocoa butter which allows it to melt in your mouth but also makes it vulnerable to melting at room temperature.
It is often compared to Dutch chocolate, which is also renowned, although Swiss chocolate tends to be sweeter. It can use ingredients from across the world but must be physically made in Switzerland in order to be called Swiss chocolate.
Famous chocolate from Switzerland includes Toblerone, Lindt and Nestle.
---
2. Large Hadron Collider
Switzerland is home to the European Organization for Nuclear Research, better known as CERN, which abbreviates from the French translation.
It is based in Geneva and oversees thousands of scientific experiments related to the field each year.
CERN first created the World Wide Web, but today is best known for its high energy physics thanks to the Large Hadron Collider which is the largest particle accelerator in the world with an underground tunnel of superconducting magnets that has a 27km circumference.
3. Swiss Cheese
Switzerland is well known for its cheese production, with almost 500 different types of cheese across the country.
It's mostly associated with Alpine cheeses which originate in the Swiss Alps. These cheeses are traditionally yellow and hard, made in large wheels with a rind. The most popular Swiss Alpine cheese are Emmental, Appenzeller and Gruyère.
The Swiss style of cheese has been emulated across the world, popular in the US and Eastern Europe.
---
4. Jungfraujoch, the Highest Railway Station in Europe
Jungfraujoch is a mountain in Switzerland that is best known for being home to the highest railway station in Europe.
The Jungfraujoch railway station is 3,454m above sea level and connects the visitor centre at the top to Interlaken and Kleine Scheidegg via the Jungfrau Railway.
The line opened in 1912 and is privately owned by Jungfraubahn AG. It is a 9km long track that runs party through an underground tunnel.
At the top, you'll also find the second highest observation deck in the country and one of the world's highest astronomical observatories , The Sphinx Observatory.
---
5. Swiss Watches
Switzerland has been known as a country of fine watchmakers for many centuries, as such you can usually rely on a Swiss Watch to be luxurious and well made, often being very expensive as a result.
Some of the worlds most renowned watch manufacturers are from Switzerland, including TAG Heuer  and Rolex which are associated with power and wealth.
Many of the manufacturers have enlisted top celebrities and prominent figures as ambassadors, from the best sportsmen to top actors.
Due to their quality and craftsmanship, they are known to last a lifetime and therefore they hold their value well, even in the second-hand market.
---
6. The Red Cross
The International Committee of the Red Cross (better known as The Red Cross), is a humanitarian organisation founded in Geneva Switzerland, hence why its logo is very similar to the Swiss flag.
The organisation has won three Nobel peace prizes for its work.
It was originally set up to provide aid to victims of international conflict, although now forms part of the International Red Cross and Red Crescent Movement which gets involved with much broader humanitarian issues.
---
7. Swiss Army Knives
An all-in-one pocketknife with multi-purpose attachments has become widely known as a Swiss Army Knife.
It will usually include various knife blades, a screwdriver, a can or bottle opener and scissors, all housed in a convenient case.
It was originally created in Switzerland in the 1891 and became the knife of choice for the Swiss Army a few years later.
The term Swiss Army Knife was used when English speaking soldiers struggled to pronounce its official German name Offiziersmesser.
---
8. The Swiss Alps
The Alps are the most extensive mountain range in Europe that stretch across eight countries.
One of these countries is Switzerland where the mountain range covers 60% of the country, this is known as the Swiss Alps and includes some of the highest mountains in the entire range.
Despite the Swiss Alps making up such a large proportion of the country, it still only accounts for 14% of the total Alps area which shows how large the range is.
The Swiss Alps are a popular destination for skiers and other winter sports.
---
9. Olympics
The International Olympic Committee (IOC) organises the Olympic and Paralympic games and is based in Lausanne, Switzerland.
The organisation is the governing bodies for the National Olympic Committees in each of the member countries around the world.
The IOC and it's 500 employees have recently moved into a brand-new headquarters in Lausanne which is one of the most sustainable buildings in the world, built from recycled materials and uses both solar power and rainwater.
---
10. Matterhorn
Mount Matterhorn isn't the largest mountain in the Swiss Alps, but it's certainly one of the most well known in Switzerland and is the mountain that appears on famous Swiss chocolate, the Toblerone.
The peak is the 12th highest in Europe and is only accessible via climbing. Around 3,000 people attempt the climb each year with around 5 deaths.
The Matterhorn has a unique steep rugged look which has earnt it a title as the most photographed mountain in Europe.
Most visitors will stay in nearby Zermatt which also has access to some of the other tallest mountains in the region or visit the Matterhorn Glacier Paradise which is a year-round ski resort.
---
11. Geneva Convention
The Geneva Convention is a series of international treaties that outlines the humane treatment of human rights of war prisoners.
The treaties were conceived by the Red Cross and facilitated by the Swiss government at a diplomatic conference in Geneva in 1864.
The treaties have been updated and added to over time, with the latest changes after the second world war. The latest updates added protections for civilians in and around war zones.
196 countries ratified the latest treaties, and they continue to be a cornerstone to international warfare.
---
12. Skiing
Switzerland is a popular ski destination thanks to powdery slopes, incredible landscapes and some of the best ski resorts in the world.
It's also one of the few European destinations with year-round ski resorts.
The country is well trodden by professional skiers with the near-vertical drops attracting some well-known ski competitions, including the Ski World Cup, the Freestyle Championships and even the winter Olympics twice in St Moritz.
---
13. Roger Federer
Switzerland's most famous sportsman is undoubtedly Roger Federer. Born in Basel, he still lives in Switzerland today.
Federer has won a record 8 Wimbledon titles and has a total of 20 grand slam titles.
He is part of the 'Big Three' along with Nadal and Djokovic, a trio that have dominated men's tennis over recent years,
---
14. Nestlé
Switzerland is home to the world's largest food company, Nestlé, which was founded in Vevey and still remains headquartered there today.
It was established by Henri Nestlé who began making baby products before expanding into confectionery and other products.
In 1875, Henri Nestlé retired but the company retained his name.
Today, it has more than 300,000 employees. Recognisable brands it owns include Nescafe, Nesquik, L'Oréal, Ralph Lauren, Felix, KitKat, Aero and many more.
---
15. Swiss Neutral
Switzerland has a self-imposed foreign policy of neutrality that prevents it from taking part in armed or political conflicts between other states.
Switzerland hasn't been involved in any wars since its neutrality was first signed in the 1815 Treaty of Paris. It's not the only country to adopt such as stance, but it's certainly the oldest policy and most respected.
This period has included the first and second world wars, despite them engulfing the surrounding countries. It has however, been criticised for continuing to do business with Nazi Germany.
---
16. Fondue
If there's one Swiss food you have to try in your life, it's Fondue. This Swiss national dish is essentially a bowl of melted cheese, it's consumed by dipping pieces of bread into the pot which is kept melted via a candle or tabletop stove.
Although the Swiss use cheese, fondue has become a generalised term for when food is dipped into a melted pot of food, another popular type of Fondue is chocolate fondue where marshmallow or fruit are dipped in melted chocolate.
---
17. Swiss Banks
Switzerland's banking sector has made a name for itself worldwide thanks to relentless privacy and a low level of risk.
A law in 1934 made it illegal for Swiss banks to disclose the owner of a bank account without their permission. The only exception is where criminal activity is suspected.
Anyone over the age of 18 may open an account in Switzerland, regardless of their citizenship.
Another key factor behind their popularity is the low level of risk. This is largely a consequence of their policy of neutrality which means they haven't been in a war or conflict for many years.
---
18. LSD
The chemical lysergic acid diethylamide, now known as LSD, was first invented by Albert Hofmann, a Swiss chemist working in Basel.
The drug was originally intended to be a respiratory and circulatory stimulant. He first realised it's powerful effects when accidentally consuming a small amount in the lab.
A few days later, Hofmann took 0.25mg of the drug to understand it's effects, however on his bicycle ride home the drug took full effect and he thought he was going insane, this is known as 'bicycle day'.
---
19. Charlie Chaplin
Charlie Chaplin might have been born in America, but he had made Switzerland his home after being denied re-entry when he was accused of being a communist.
He lived in the small town of Vevey from 1953 until his death. During this period, he continued to make films including the well-known 'A King in New York' and 'A Countess from Hong Kong'.
The silent film star is celebrated in the town with statues and an attraction known as Chaplin's World which is based in his old home with memorabilia and a cinema.
---
20. Dignitas
Switzerland was one of the early adopters of assisted suicide which has been legal since 1942, and still remains one of the few European countries that prohibit it.
It is legal providing there is no selfish motive, and the drugs must be self-administered by the person making the request. Most people who take this route are elderly and suffer from terminal disease.
There are a number of institutions that offer right-to-die facilities in Switzerland, the most well known is Dignitas. This is a controversial organisation due to attracting a high number of foreign suicides and is accused of making profit from assisted suicide.
---
21. Scenic Train Journeys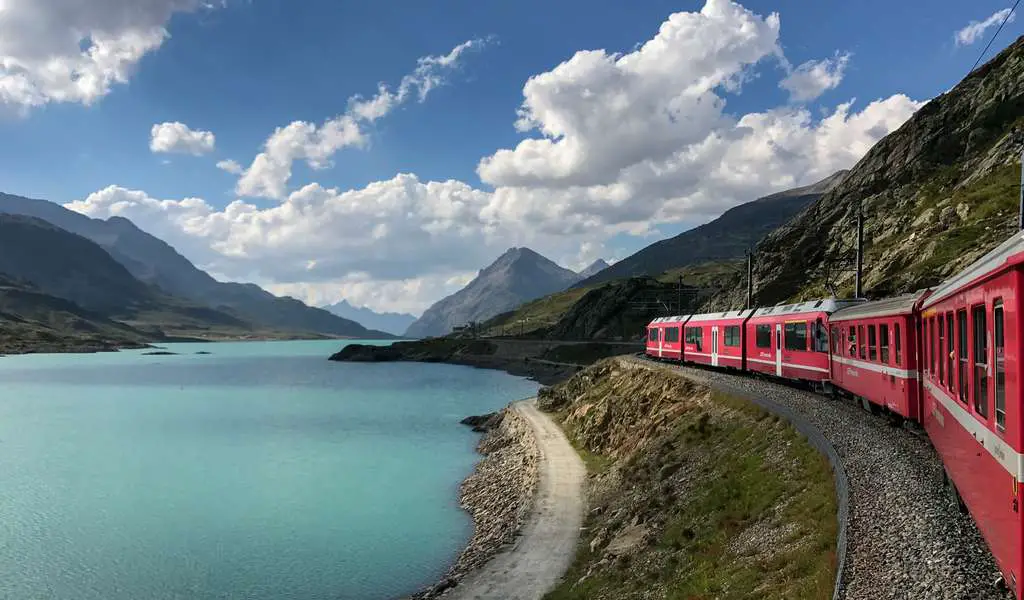 Switzerland is famous for its scenic train journeys that run along lakes, across mountains and through villages. Many have specially designed panoramic trains that maximise the viewing experience for passengers.
Some of the most well-known routes are the Glacier Express, Bernina Express, the Golden Pass Line and the Gotthard Panorama Express.
The latter includes the Gotthard Tunnel which was the longest tunnel in the world when it opened in 1882.
---
22. The Pontifical Swiss Guard
The Pontifical Swiss Guard is a small military unit that is part of the Swiss Army. However, you'll never see them in Switzerland as they are based at the Vatican where they protect the Pope.
It is often touted as the world smallest army and is considered to be the oldest military unit in the world in continuous operation since 1506.
The unit consists of 135 guards who must be Catholic and of Swiss citizenship. They complete their training with the Swiss Armed Forced before joining.
The Swiss Guard are most notable for their eccentric stripped uniform which leads many to believe they are not proper soldiers, don't be mistaken they are highly trained combatants.
---
23. Montreux Jazz Festival
The Montreux Jazz Festival is one of the most popular festivals in Switzerland and the second largest jazz festival in the world.
As well as performances which take place in various venues off the Lake Geneva shoreline, the festival also includes three international competitions for piano, guitar and voice.
The Montreux Jazz Festival has been running every summer since 1967 and over time has been expanded beyond jazz to include blues, soul and rock.
Some artists that have graced the festival include Marianne Faithfull, Led Zeppelin, Pink Floyd, and Deep Purple.
---
24. Bobsleigh
Being a country of winter sports enthusiasts, it's not surprise that Switzerland invented the sport of bobsleigh.
The sport was created in the 19th century when the first Bobsleigh club was created in St Moritz by fitting two skeleton sledges together and adding a steering wheel to create the first toboggan.
The sport was first included in the Winter Olympics in 1924 when, unsurprisingly, Switzerland took the first gold medal. To this day, they still have the most Olympic medals for bobsleigh.