As an affiliate I may earn a commission on any qualifying purchases, including those from Amazon, at no extra cost to you.
From the stunning limestone cliffs to the hustle and bustle of city life, Vietnam is a country that has something for everyone. It's also a country that's been through hard times in recent history, from French colonialism in the late 19th century through to the Vietnam war against the US that only ended in 1975.
Yet the country has healed well, the people are (mostly) friendly and the atmosphere welcoming to tourists. There is a huge variety of things to do in Vietnam, I spent 4 weeks travelling from south to north as part of my South East Asia backpacking trip and still didn't have enough time to complete everything on my bucket list.
Vietnam Quick Facts
Currency: Vietnamese Dong (VND): 10,000VND = approx £3.45 / €3.85 / $4.30
Capital City: Hanoi
Population: 95 million
Language: Vietnamese
Plug Socket: Generally 220V 2 Pin Sockets
Driving: Drive on right side of the road, foreigners should have a 1969 international driving licence (although rarely checked).
I've pulled out some of my favourite experiences from my first trip to Vietnam that I can highly recommend adding to your itinerary.
1. Experience a Traditional Water Puppet Show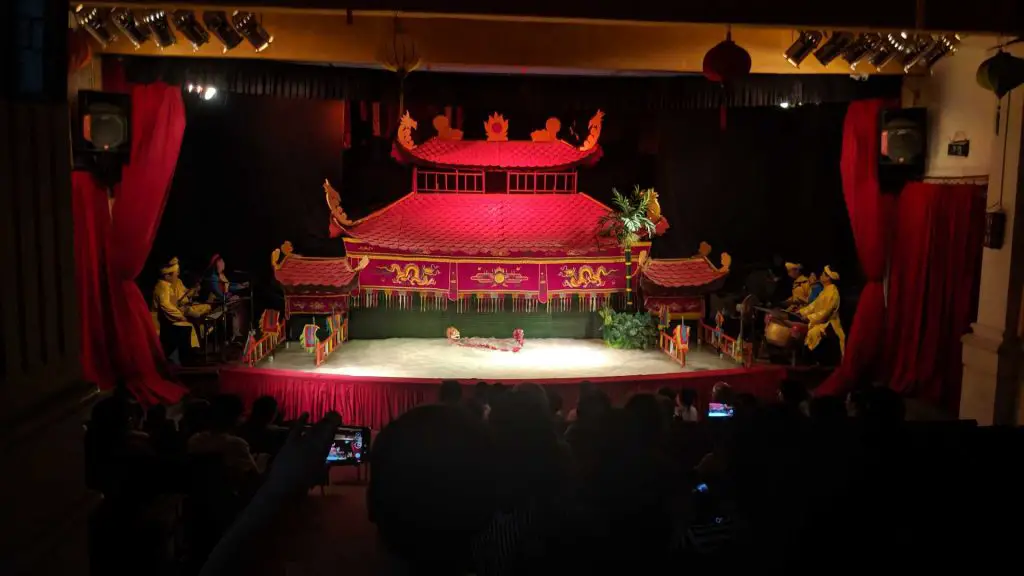 A Vietnamese tradition dating back as far as the 11th century, everyone should find the time to see a water puppet show during their time in Vietnam. Puppeteers act out traditional legends and stories from their religion using wooden puppets in waist high water.
The whole show was in Vietnamese so I really had no concept of the actual story, but nonetheless it was incredible to watch and a lot of fun.
---
2. Make Your Own Vietnamese Lantern
Hoi An is the lantern capital of Vietnam, every lantern in the country is made there in specialist workshops that have generations of expertise.
It's great to call in and see how they are made, the hand painted designs are incredible. Some of these workshops will offer classes that allow you to make your own lantern. The classes will give you a real appreciation for the work that goes in to each one and you'll get a lovely hand made souvenir to take home.
---
3. Visit Skull Island on a Boat Trip Through Ninh Binh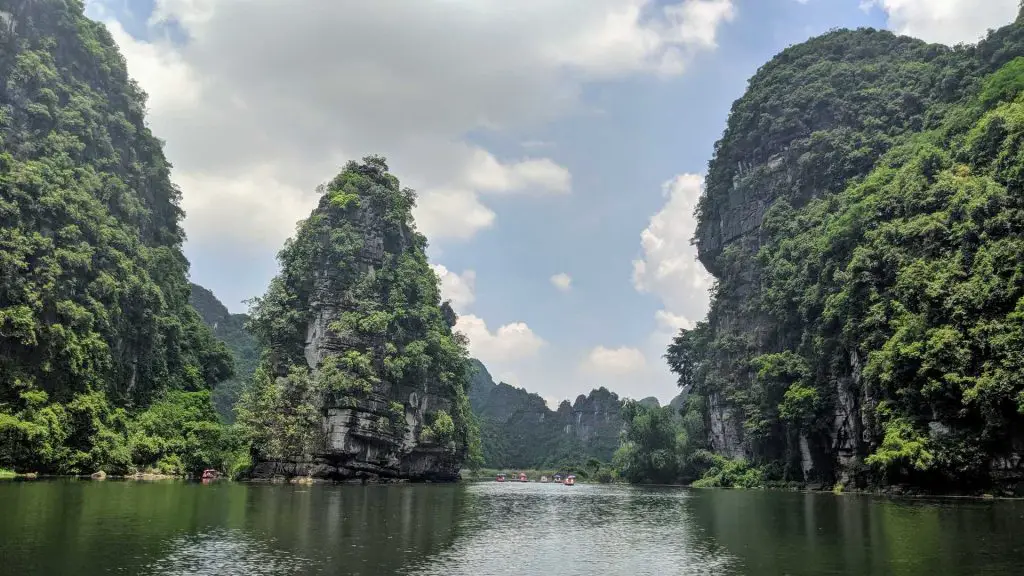 Ninh Binh is often described as 'Ha Long Bay on land' because of the huge limestone rocks that dominate the landscape, very reminiscent of those in Ha Long.
We choose to experience the scenery from the waterways by taking the 3 hour Trang An boat trip. Our guide rowed us around the stunning lakes, showing us the temples and caves along the way.
Towards the end of the trip we also stopped at the Skull Island set for the King Kong film released in 2017. The movie was filmed across many locations in Vietnam including Ha Long Bay and Ninh Binh. Whilst the set was clearly not from the original filming, the Vietnamese government have recreated Skull Island for visitors to enjoy.
---
4. Try Vietnamese Street Food
There is a huge variety of street food to try across South East Asia and Vietnam is no exception. The obvious choice when it comes to Vietnamese delicacies is Pho, a noodle soup that can be found at street vendors and restaurants through the whole of the country.
But a few others that I enjoyed were Bánh Ướt Thịt Nướng, essentially grilled beef in a fresh spring roll, and Bánh mì which is a baguette filled with grilled meat and salad.
One of the best places to sample a huge range of traditional Vietnamese food is Hoi An's street food stalls and restaurants that occupy the central market each evening.
---
5. Go Canyoning in Dalat
One of the best things to do in Vietnam is undoubtedly canyoning in Dalat. During my month in Vietnam, this was one of my favourite days. We visited Datanlala falls where we abseiled down waterfalls, ziplined into splash pools and went sliding down river rapids.
It is suitable for all abilities, there were plenty of people in my group that had never abseiled before and the guides were really accommodating.
---
6. Experience the Abandoned Water Park in Hue
Who'd have thought that an abandoned water park would be amongst the best things to do in Vietnam. It was only ever open for a few years before closing due to financial difficulties and falling in to a state of disrepair.
Graffiti artists and trees have taken over the park in what feels like a glimpse in to a post-apocalyptic future.
---
7. Visit The Note Cafe in Hanoi
I've visited plenty of impressive cafes including some where visitors can leave notes on the wall. But never have I seen one as impressive as The Note Cafe in Hanoi.
There were no less than 4 floors, every single one covered top to bottom in post it notes. Everything from the chairs to the window shutters were plastered with messages from visitors, in all manner of languages.
---
8. Cruise Along the Hai Van Pass
Described by Jeremy Clarkson as 'one of the best coastal roads in the world', the Hai Van Pass between Hue and Hoi An is a wonderful drive.
Many people will complete their whole journey through Vietnam by motorbike, either from north to south or vice versa. But if you're not travelling by bike and still fancy driving the Hai Van Pass, there are a few companies that will allow you to pick up the bike at one end and drop it off at the other meaning you can still enjoy the journey from Hue to Hoi An. You should allow a full day to complete this trip as there are many great stops along the way.
---
9. Spend a Day at Vinpearl Land Theme Park
An all-in-one theme park and water park with no queues, surely not? Yes I'm telling the truth, this exists and it's located about half an hours drive south of Hoi An. Our trip to Vinpearl Land was a day to remember during my month in Vietnam.
We spent most of the day enjoying the huge water slides, some allowing up to 4 people to go down at once. In the evening we moved across to the other side of the park to try out the roller coasters and amusements, all included in one ticket.
The park is relatively new so queues were non-existent, at some points we could stay on the rides multiple times until the next guests arrived.
---
10. Visit the Cu Chi Tunnels
From Ho Chi Min city you can take a trip to the Cu Chi Tunnels. These were used in the Vietnam war by the Viet Cong during their fight against American troops in the south of the country.
It was mind boggling to see the size of the tunnels and imagine what life would have been like for the troops.
We also saw some of the traps that they laid out to catch and kill the troops as they moved through the jungle. You need a guide to visit the tunnels so it's best to book a trip from Ho Chi Min itself.
---
11. Learn About the Vietnamese War at the War Remnants Museum in Ho Chi Min
If you know anything about Vietnam's recent history, you'll know that most of the 20th century was very tough for the country. I recommend visiting the War Remnants Museum whilst in Ho Chi Min to learn about the impact of the Vietnam war on the country.
On display are some of the weapons used in the war including tanks and fighter jets and many photos and personal stories showing how the war affected those living and fighting through it.
As you might expect, there is a lot of propaganda so reading up about the facts before hand is advised. My favourite exhibit was in memory of the journalist who were killed in the war, showing some of the photos and stories captured in their final moments.
---
12. Go Kayaking through Ha Long Bay or Lan Ha Bay
When you think of Vietnam, most people will immediately think of the postcard image with the huge limestone rocks of Ha Long Bay. There are over 1,600 of them scattered across the bay, some featuring caves that can be sailed through or lagoons that appear with the rising tides.
Given the beauty of the area, it's unsurprisingly a tourist hot spot, with over 2.5 million visitors per year. I opted to visit neighbouring Lan Ha Bay, whilst part of the same geological formations, it sits in a different province of Vietnam so is far less busy. Lan Ha Bay is accessed from Cat Ba island which is also a great place to explore with a huge national park.
Both Ha Long Bay and Lan Ha Bay offer a variety of cruises, from a luxury experience sleeping onboard with Ancora Ha Long cruises, to party excursions on a private island with the Vietnam Backpackers Hostel Castaways tour. Of course if you're on a budget or time-limited you can take a one day tour of the bay like I did.
---
13. Have an Egg Coffee on Train Track Street
Vietnam is known as one of the best places in the world to grow coffee beans, but the coffee culture itself was not as profound as in other countries I have visited. However, when I heard about Egg Coffee I was both disgusted and intrigued to try it.
One of the best places to try the delicacy is train track street in Hanoi. An interesting place where cafes and bars sit along the side of a train track and have to clear away their seating areas every time a train comes past.
The egg coffee surpassed my expectations and was actually rather nice, slightly resembled a tiramisu. I also tried an egg beer but can't speak as highly of this one!
---
14. Experience Caving in Phong Nha
Phong Nha national park is a stunning area in the north of the country known for it's caving.
I visited two of the caves on my trip. First was the dark cave, for adventure seekers involving a zip line, kayaking and an obstacle course that sits above the lake. The highlight was the mud pool inside the cave, we covered ourselves head to toe in mud which was a lot of fun and apparently great for your skin
We also visited paradise cave, a completely different experience involving a boat ride starting in Phong Nha that goes right through the cave itself. This cave has artificial lighting installed throughout which makes it really easy to appreciate the beauty of the stalagmites and stalactites.
---
15. Let Ducks Massage Your Feet at The Duck Stop
The Duck Stop is a small family owned farm that keep ducks purely for tourists to visit and feed them. I was not expecting it to be so much fun!
The best part was when they ate food from between our toes in what the owner called a 'duck massage', it tickled like crazy. There is also a water buffalo which you can have a short ride on to get a taste of Vietnamese farmer life.
The entrance fee of 100,000 dong (150,000 including the buffalo ride) also included a drink and a traditional Vietnamese pancake which was delicious.
---
16. Ride the Ha Giang Loop
I must admit, my 30 day visa didn't allow time for me to complete this one which I was gutted about. However, I met a huge number of people during my time there who highly recommended the loop in the north of the country.
Beginning in Ha Giang, the loop is over 350km and takes 3-4 days to complete. You can opt to ride it yourself or you can hire an easy rider to drive you around. Expect incredibly scenery including limestone cliffs, beautiful green rice paddy fields, waterfalls and wonderful winding roads.
Check out this guide to the Ha Giang Loop in 4 days by See Nic Wonder. There is no doubt that I will be back again to complete this one.
---
Pin This Post: