As an affiliate I may earn a commission on any qualifying purchases, including those from Amazon, at no extra cost to you.
Wales is a country of 3 million people that forms part of the UK. Often overshadowed by neighbouring England, the country has a huge amount going for it for such a small population.
As a Welshman myself, I decided to put together a list of all the great things Wales has given to the world.
In this roundup, I've shared 29 famous things, people and traditions that we are known for.
Dragons
When you think of Wales, perhaps the first thing that comes to mind is the red dragon of Cadwaladr, King of Gwynedd which is featured on the national flag against a green and white background.
Although this only became the official flag in 1959, it is thought to have been used unofficially as early as 1400 when Owain Glyndwr used it in revolt against the English.
Wales is the only country in the UK not to be supported on the Union Jack, although it's hard to imagine where a dragon would fit.
---
1. Daffodils
The Daffodil is perhaps the most well-known symbol of Wales and can be seen touted by most of the population on St David's Day each year.
This dates back to the 19th century when it was introduced and supported by the Prime Minister David Lloyd George, a Welshman himself.
Their early bloom just in time for St David's Day is considered a key reason, visit Wales around this time and you'll see them everywhere.
---
2. Leeks
Leeks are another emblem of Wales. There doesn't seem to be any clear origin story with tales ranging from curing colds to wearing them in battle to identify rivals.
One thing is clear, they are a long-standing emblem and probably pre-date daffodils. It's thought that the Tudors issued Leeks to be worn by guards and it's noted as a Welsh symbol in William Shakespeare's Henry V.
These days, miniature leeks are often worn alongside a daffodil on St David's Day.
---
3. St David's Day
Since I've already mentioned it a few times, let's move on to St David's Day, the national day of Wales that occurs on 1st March each year.
St David (Dewi Sant in Welsh) was a patron saint of Wales who died on 1st March in 589AD. The day has been celebrated in Wales since the 12th century.
Whilst it's not an official public holiday in the UK, the date is celebrated with parades, banners, Eisteddfods, traditional Welsh food and wearing the traditional dress.
---
4. Rugby
Whilst football (soccer) and cricket are the national sports of the UK, few would deny that rugby is the national sport of Wales.
Rugby union is commonly taught in schools as well as being played at a professional level via the 4 major clubs.
For a small country, the national rugby team holds its own at an international level and would be considered among the best in the world.
The 6 nations competition is one of Wales' most successful international events with more than 25 outright wins.
---
5. The Welsh Lady Traditional Costume
The Welsh Lady is a traditional costume that was worn by women in rural areas of Wales during the 18th century and is thought to derive from similar costumes worn across Europe.
The costume consists of woollen bedgown, corset, neckerchief, petticoat, apron and knitted stockings. The most iconic element is the hat which has become a symbol in itself.
It faded from popular use during the late 19th century but continued to be a symbol of Welsh culture and tradition.
It is frequently worn by girls during St David's Day, royal visits and at eisteddfodau.
---
6. Eisteddfods
Eisteddfods (translates as festivals) are commonplace throughout Wales at all sorts of level. They usually involve competitions around language, literature, art, singing and more.
From the Urdd Eisteddfod in which school pupils compete, up to the International Eisteddfod which attracts musical competitors from around the world.
But the most important one is the National Eisteddfod of Wales. It attracts 6,000 competitors and 150,000 visitors over the 8 days in August.
The National Eisteddfod moves to different towns and cities each year, moving between north wales and south wales in alternating years.
---
7. Sheep
As a Welshman, I've faced my fair share of sheep-related comments, but why is there such an association between Wales and sheep?
Well, because there are actually a vast number of sheep in Wales. In fact, around 3 sheep for every 1 person in the country.
This put's Wales density of sheep among the highest in the world and certainly the highest in Europe. Although this still doesn't come close to New Zealand which claims almost double this ratio.
---
8. Welsh Cakes
Welsh Cakes have been a popular baked good in Wales since the 19th century. They could be considered a cross between a scone and a biscuit, with a key difference that they are baked on a griddle.
They are popularly eaten around St David's Day, but can be found on sale in supermarkets and local bakeries year-round.
The main ingredients are flour, butter, eggs, milk, currants, cinnamon and nutmeg. They can be served hot or cold and are usually dusted with sugar.
---
9. The Valleys
The Valleys is an area in South Wales that contains a group of parallel valleys. It is located just North of Cardiff and stretches between Swansea and Abergavenny.
The area was once thriving due to industrialisation and the coal mining industry. At one point Merthyr Tydfil was Wales largest town.
The area went in to decline as many of the mines were closed, largely as a result of Margaret Thatcher's government policies.
The area known as The Valleys is not to be confused with the reality TV show of the same name, although this is another thing Wales is known for.
---
10. Dylan Thomas
Dylan Thomas was Wales' most famous poet and writer in the modern era, he lived between 1914 and 1953.
He was born in Swansea but moved to London in search of literary success, so his work was mainly in English. He is known for having chaotic relationships with both women and alcohol.
Nonetheless, his obsession with the English language saw him become an established poet that garnered the attention of TS Elliot and other prominent figures at the time.
---
11. BBC Cymru Wales
BBC Cymru Wales is the national broadcaster for Wales, producing shows in both English and Welsh for it's TV and radio stations that include BBC One Wales, BBC Two Wales, BBC Radio Wales and BBC Radio Cymru.
It's based in Cardiff where it recently moved to a new purpose-built head quarters in the city centre.
A number of other high profile BBC shows are filmed and produced by the studios in Wales, including Dr Who and Sherlock which are made in Cardiff (despite the final productions looking like London).
---
12. Green Man Festival
Green Man Festival is an independently run festival held each year in the Brecon Beacons.
The 4-day event is best known for its music scene which covers a range of genres such as indie, alternative, rock and dance. They have a big focus on supporting smaller and upcoming artists.
There are also areas film, literature, poetry and comedy.
---
13. Snowdon
Snowdon is the biggest and most recognisable mountain in Wales. It's also bigger than England's highest peak, Scarfell Pike, which makes it popular with hikers from all across Britain.
It's notable for the Snowdon Mountain Railway which runs all the way to the top if walking up isn't your thing. There's also a café at the top which is open during peak months.
Snowdon sits within Snowdonia National Park in North Wales which contains 13 other mountains too.
---
14. Royal Welsh Show
The Royal Welsh Show is a large festival that takes place each year in Mid-Wales.
The show has been running since 1904 and since 1963 in the current purpose-built show ground.
It attracts more than 200,000 visitors across the 4-day event which includes sheepdog trials, horse riding competitions, live music and falconry.
There are also areas dedicated to showcasing Welsh food and drink as well as the live Young Persons Village which has parties each night.
It is often attended by a member of the Royal Family or the Prime Minister of the UK.
---
15. Bara Brith
Bara Brith is a traditional fruit bread associated with Wales; it translates as Speckled Bread.
It contains dried fruit, spices and is flavoured with tea, much like a tea cake, only it is much denser and baked in a loaf tin.
Bara Brith is served in local bakeries as well as supermarkets across the country, with some slight variations in flavour between the regions.
---
16. Tom Jones
Perhaps the most famous Welshman of modern day has to be Tom Jones.
The singer has had 36 top 40 hits in the UK, with most of his best-known songs released in the 60's such as Delilah, What's New Pussycat and It's Not Unusual.
It's definitely not unusual to hear some of his classics sung on a night out in Wales and they are often used as chants by Welsh rugby fans.
Despite now being in his 80's, the singer continues to release records and will be recognised by the younger generation for his role as a judge on BBC program The Voice.
---
17. Football
Wales isn't as well known as England for football, however there are some notable teams and players that have become household names.
Two notable teams are Cardiff City (aka The Bluebirds) and Swansea City (aka The Swans). Both played at the highest level of English football, spending 17 and 9 seasons in the Premier League respectively.
Notable Welsh football players in recent times include Ian Rush, Ryan Giggs and Gareth Bale. All of whom have played for the Welsh national team.
---
18. Brains Beer
Wales has a number of well-known breweries, but the biggest and most famous is Brains.
Brains Brewery is based in Cardiff where they produce a large range of beers. The brewery also owns over 250 pubs.
Part of the reason they have become synonymous with Wales is due to their sponsorship of the Welsh rugby team between 2004 and 2010 during which time Wales performed really well with 2 grand slams.
Other popular breweries include Purple Moose in Porthmadog and Tiny Rebel in Newport.
---
19. Gavin and Stacey
Gavin and Stacey is a BAFTA-winning comedy TV show based on a relationship between a welsh woman and an Englishman.
It features Rob Bryon, James Cordon and Ruth Jones, with the latter two also writing the show.
Over 3 series, it follows the two families as they get to know one another with much of it set in Barry Island, South Wales which has become a popular tourist attraction as a result.
The original series ran from 2007-2010, however a comeback Christmas special in 2019 was the BBC's most watched scripted TV show in the entire decade with 17 million views.
---
20. Love Spoons
A love spoon is a decorative spoon carved from wood that is a symbol of love in Wales.
Traditionally, a man would carve one and give it to his sweetheart as a way of demonstrating his craftsmanship to her father.
Nowadays, they are more of a decorative item that aren't used as functional spoons.
---
21. Castles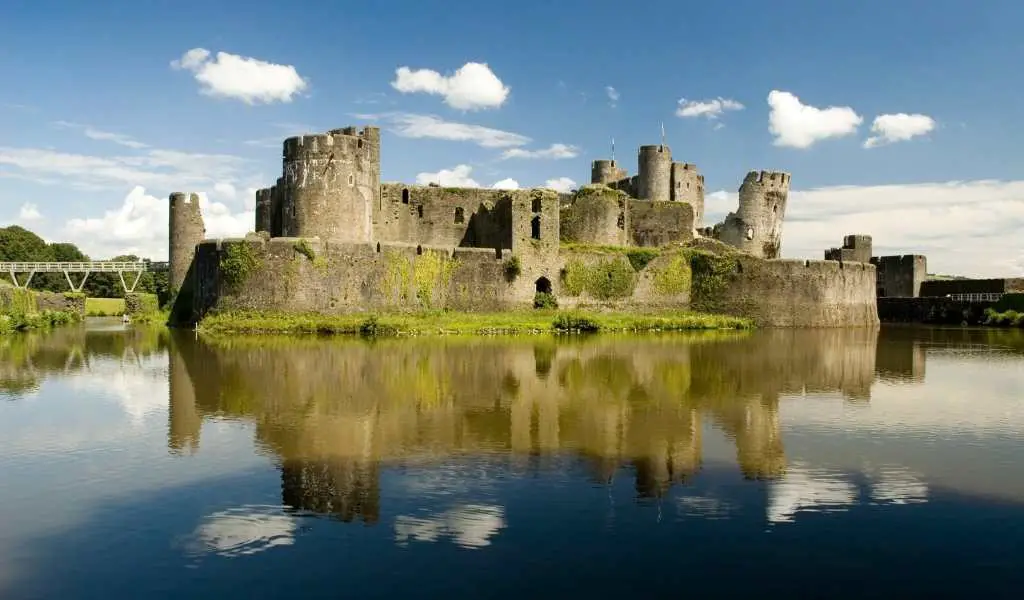 Wales has more castles per square mile than anywhere in the world.
Many of the castles were built between the 11th and 15th centuries when there were frequent invasions by the English.
Popular castles include Beaumaris, Conwy, Harlech and Caerphilly, with the latter being the second biggest castle in the UK and one of the largest in Europe.
The four castles mentioned above form a UNESCO heritage site known as the Castles and Town Walls of King Edward in Gwynedd.
---
22. Hay Book Festival
Hay festival is a book festival that takes place in the small border village of Hay-on-Wye.
It's one of the most popular festivals of its kind, attracting over 700 speakers across the 10-day event, often including some well recognised authors .
---
23. Waterfall Country
With such a rugged landscape, you'll find waterfalls across most of the country. But an area of the Brecon Beacons known as Waterfall Country has the highest concentration of waterfalls and attracts a lot of visitors.
The area is full of rivers, gorges and caves which has created the perfect environment for waterfalls to form.
Popular waterfalls in this area include those on The Four Waterfalls Walk and Henrhyd Falls which was used as the Batcave in The Dark Knight Rises, a 2012 Batman film starring Christian Bale.
---
24. Welsh Language
Wales has its own language, Welsh. If you didn't already know this, where have you been?
The language is derived from the language spoke by the ancient Britons, it's very similar to Cornish and Bretton.
It's estimated that only around 15-20% of the population in Wales can speak fluent Welsh.
However, in efforts to preserve the language, there is a push to teach more young people the language and most road signs or government literature are bilingual.
---
25. Dame Shirley Bassey
Dame Shirley Bassey is a popular singer born in Cardiff in 1937.
She has numerous no.1 hits under her belt and an OBE; however, she is best known for the James Bond theme tunes in Goldfinger, Diamonds Are Forever, and Moonraker.
One of her earliest hits, 'As I Love You', was the first UK no.1 single by a Welsh solo artist.
---
26. Portmeiron
In North Wales is a strange phenomenon, a small Italian-style village.                     
The small village was the work of Sir Clough Williams-Ellis. It consists of colourful buildings, fountains, statues and 70 acres of gardens, all in the Italian renaissance style.
Nobody actually lives in the village, it's primarily a tourist attraction but also hosts a popular music and arts festival, Festival No. 6, and is commonly used as a filming location for TV and film. The Prisoner is a popular show filmed here.
---
27. Welsh Rarebit
Welsh Rarebit is the national dish of Wales, which is essentially creamy Welsh cheese on fresh, thickly sliced toast.
I can't say I've personally sampled 'Welsh Rarebit', but I've had enough cheese on toast to know what I'm missing.
The dish is usually served in tourist areas such as the capital and doesn't tend to feature on your everyday menu in Wales.
---
28 . Llanfairpwllgwyngyllgogerychwyrndrobwllllantysiliogogogoch
Try and pronounce that!
The Welsh Village holds the record for the longest place name in the UK.
Often shortened to Llanfair PG which is a little easier to get your tongue around, the village is a tourist hot spot if only for the outrageously long sign at the train station.
---
29. Roald Dahl
Perhaps the most well-known children's novelist in recent times, Roald Dahl, was born in Cardiff.
Some of his best works include James and the Giant Peach, Fantastic Mr Fox, The BFG, Charlie and the Chocolate Factory and Matilda.
It's estimated that more than 250 million copies of his books have been sold, with many of them being turned in to highly successful film adaptations.