As an affiliate I may earn a commission on any qualifying purchases, including those from Amazon, at no extra cost to you.
Barcelona is hands down one of my favourite cities in Europe. On one side of the city you have the beach with wonderful sea views, on the other side you have the Serra de Collserola mountain range.
Throughout the city are loads of great things to see and do, from incredible Spanish cuisine to cultural activities. These are the top attractions I most enjoyed from my recent visit.
When to Visit Barcelona?
Barcelona has good weather from April through October, the busiest time will be June-August so I'd recommend visiting in April/May or September/October.
On my first trip to Barcelona, I happened to visit during Saint Johns Eve celebrations (Verbena de Sant Joan), this takes place on 23rd June each year and sees all of the residents finish work early and head to the beach for bonfires, fireworks and parties until dawn – I can definitely recommend this.
Where to stay? Check out the accommodation in Barcelona
Top 10 Attractions in Barcelona
1. Castell de Montjuïc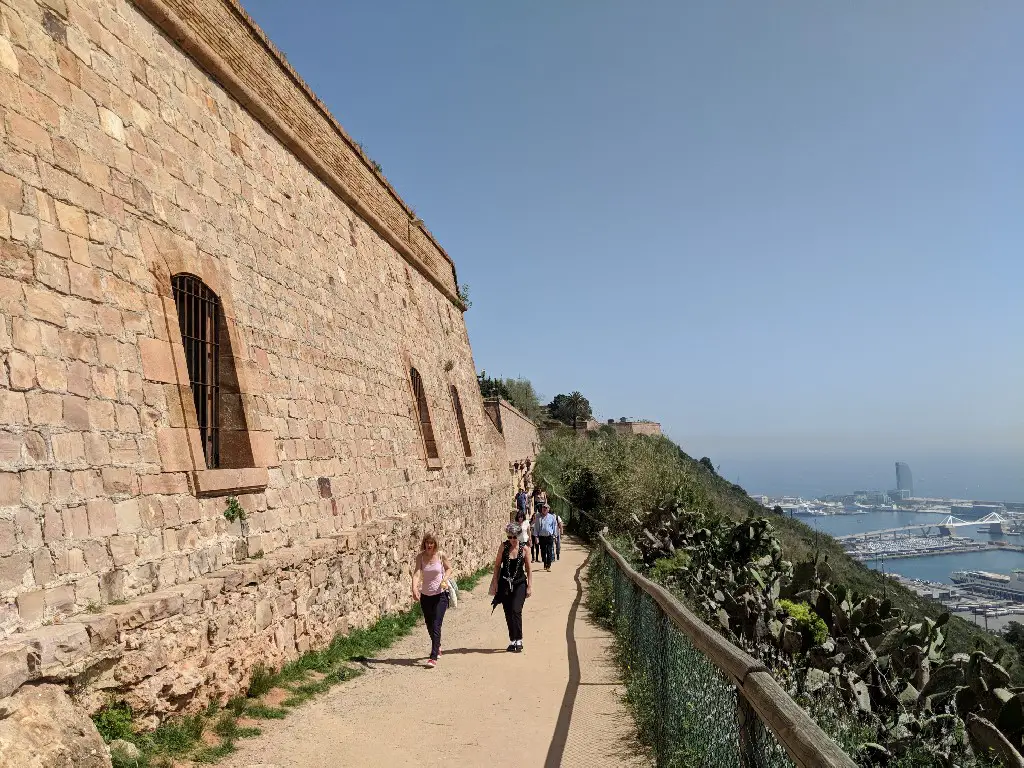 Montjuïc Castle gets it's name from the mountain upon which it sits. It was originally constructed in 1653 as a military fortress to protect the city. Getting up to the castle means taking the Montjuïc cable car (Telefèric de Montjuïc), this costs €8.40 for a single or €12.70 for a return.
If you've got enough time, I recommend purchasing a single ticket to the top then spending the afternoon sightseeing and visiting some of the nearby attractions such as the Olympic Stadium and The Magic Fountain of Montjuïc (Font màgica de Montjuïc).
Top Tip: Entry to the castle costs €5 but visit on the first Sunday of the month for free entry.
2. Barceloneta Beach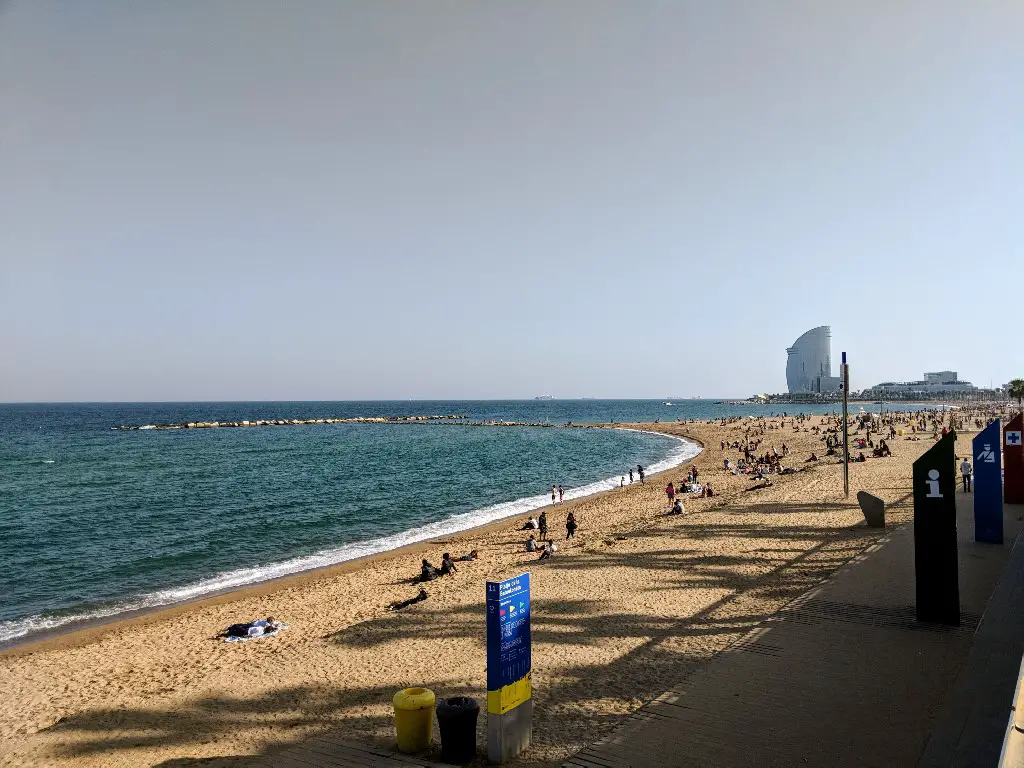 No list of top 10 things to do in Barcelona would be complete without the beach! Once the home of fishermen, Barceloneta is now lined with beaches and the perfect place to soak up some rays. Most of the beach was man made as part of the city's preparation for the Olympic games in 1992. Personally, I think all cities should have a beach, manmade or not!
Top Tip: Keep your swimwear to the beach. Did you know it is actually illegal to wear just a bikini or swimshorts in the city itself – you could even be fined.
3. Casa Batlló and Casa Milà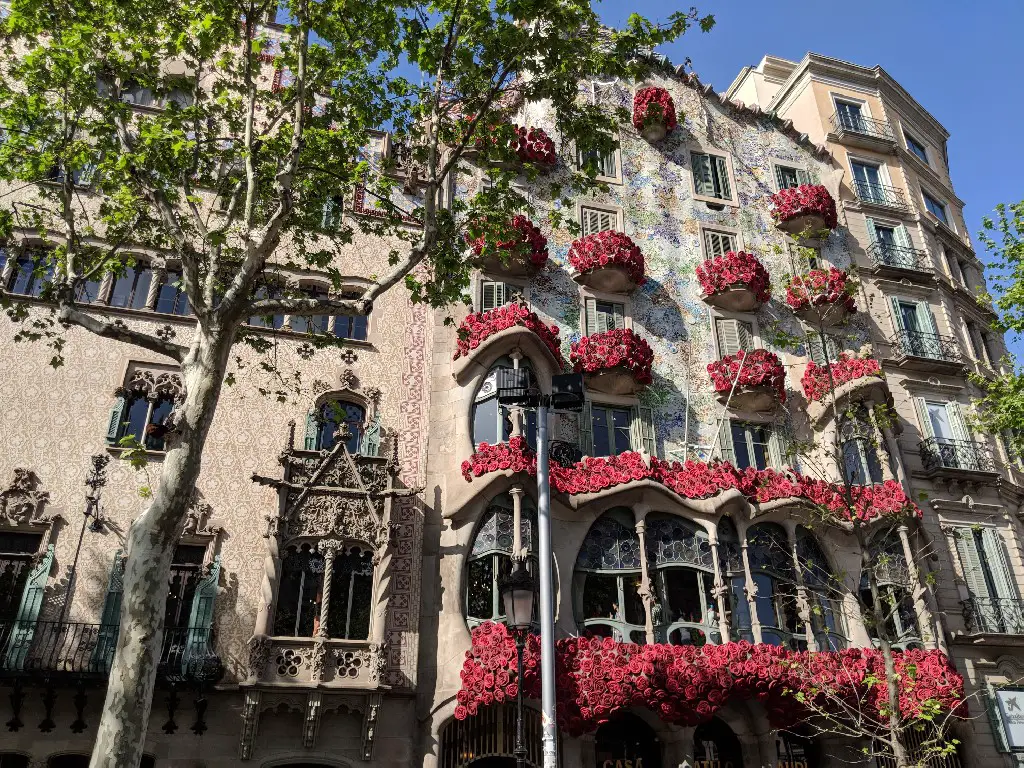 Even if you're not a fan of architecture, there is something uniquely interesting about the buildings designed by the famous Spanish architect Antoni Gaudí.
Casa Batlló and Casa Milàare, homes to the Batlló and Mila families respectively, are both located just off Passeig de Gràcia within a 10 minute walk of each other.
Casa Milà was the last building Gaudí worked on before dedicating himself to the Sagrada Familia and is considered one of the most impressive buildings of the Modernisme.
4. Sagrada Familia
Having been under construction for over a decade, the Sagrada Familia was Gaudi's most famous piece of work and remains one of the top attractions in Barcelona. After taking over the design of the temple, Gaudi continued to work on the project until he died and is now buried there.
Construction began in 1882 and is expected to be complete in 2026. It features 18 towers, each represents a religious figure with the largest tower representing Jesus.
Top Tip: Being Barcelona's top attraction means it is always crowded. Book your ticket in advance to skip the queue at the Sagrada Familia and arrive at least 10 minutes before your time slot.
5. Camp Nou, Home of Barcelona FC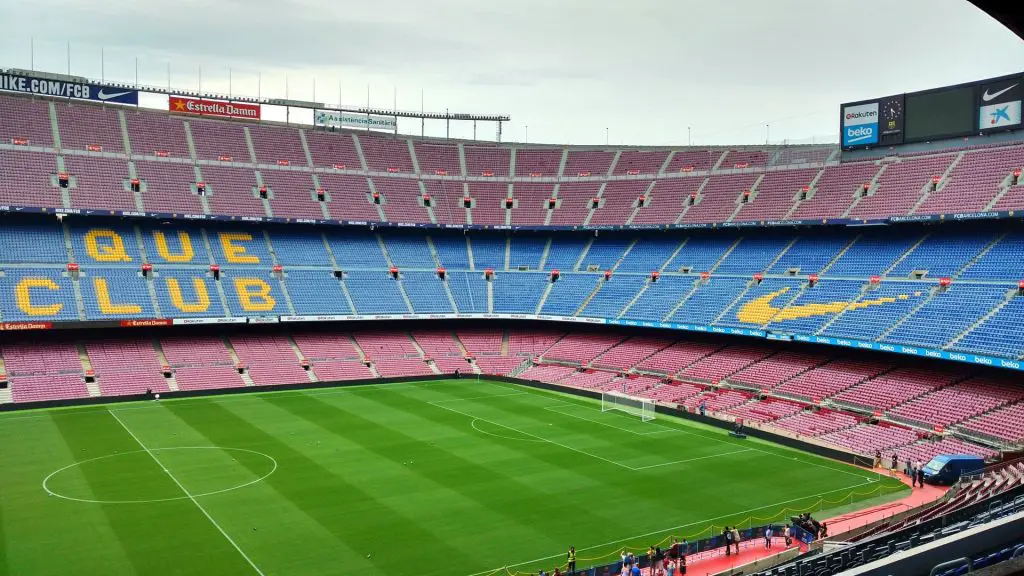 Chances are, if you're a football fan that you'll have heard of Camp Nou.
Visit the stadium of FC Barcelonas legendary football team, home to Ronaldinho, Messi, and Rivaldo. It is the largest football stadium in Europe and hosted the summer 1992 Olympics.
You'll be able to learn about the clubs history, see the amazing collection of trophies and experience walking out of the players tunnel on to the pitch.
During our visit, staff were very persuasive that we bought an audio guide and even told us there was no English descriptions inside. We barely used it and everything was translated in to English so I wouldn't recommend this.
6. Gothic Quarter and Cathedral
Wandering the narrow medieval streets of the Gothic Quarter (Barrio Gótico) is a great way to spend an afternoon in Barcelona. This area is home to many bars and restaurants including some of the best foodie spots in Barcelona.
It's here that you'll also find Barcelona Cathedral. At almost 700 years old, the cathedral remains an important landmark for the city with distinctive Gothic architecture.
Top Tip: If visiting Barcelona Cathedral, ensure you wear appropriate clothing else you won't be allowed in. Men will need to wear long trousers and women will need a top that covers their shoulders.
7. Parc de la Ciutadella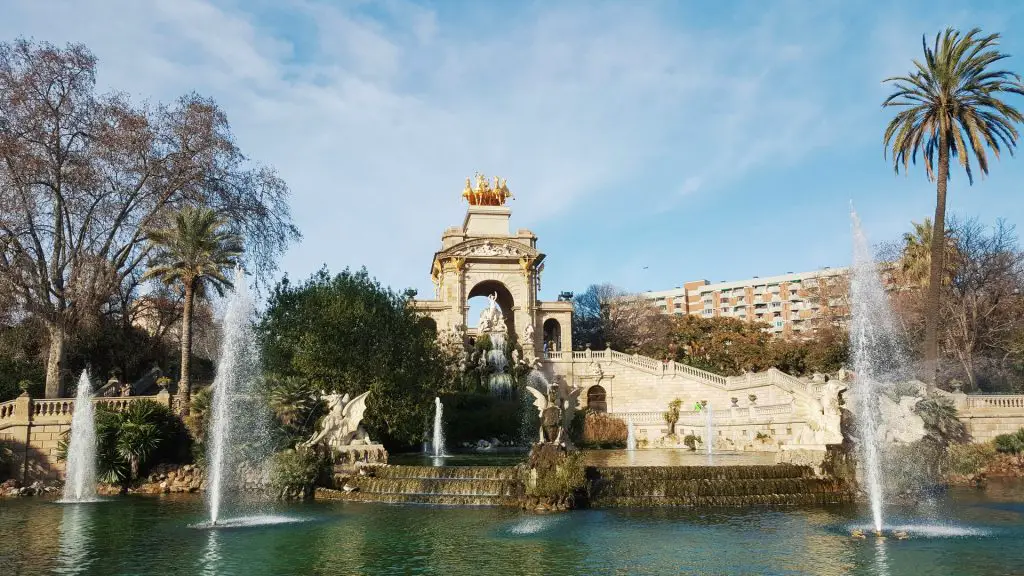 On a summers day, Barcelona's biggest and most central park is a hive of activity making it a great place to escape the hustle and bustle of the city and soak up the sun.
The park is home to Barcelona's zoo, a lake, several museums, the Catalan Parliament and a large fountain.
8. Park Güell
Another of Gaudi's designs, Park Güell is located on the outskirts of Barcelona and makes for a great trip.
There are some fantastic view points looking across the city and plenty of green areas, beautifully designed sculptures, bridges and trails. Most of the great architecture is within the monumental zone, you will need to purchase a set time ticket to visit this part of the park during opening hours.
Visit for Free: The monumental zone is only regulated during official park opening hours, if you visit more than half an hour before opening or more than half an hour after closing times then you can enter the monumental zone for free.
9. Arc de Triomf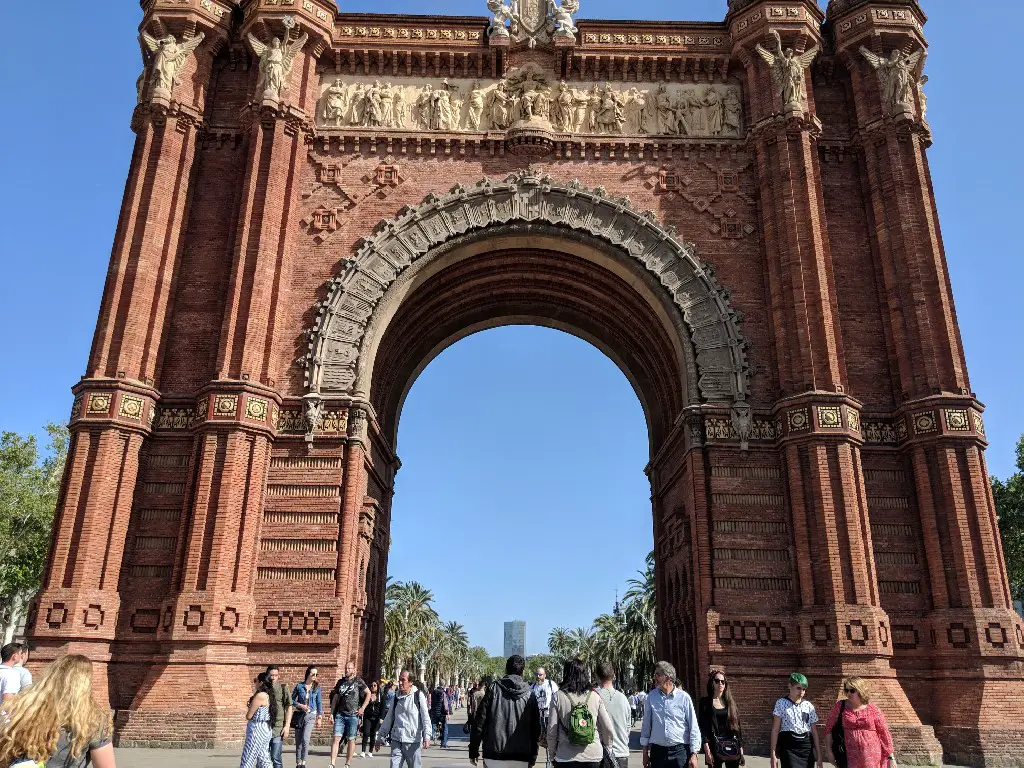 Built for the opening of the universal exhibition held in Barcelona in 1888 (some 80 years after the original Arc de Triomphe in Paris), the Spanish Arc de Triomf stands as the gateway to the Parc de la Ciutadella.
Most Barcelona sightseeing tours will take you through the arch, but watch out for the cyclists and skateboarders as this area is full of them.
10. Rooftop Bars
There's nothing better than a refreshing drink after a day exploring Barcelona's top attractions, but that doesn't mean you can't enjoy the sun too. Barcelona has an abundance of rooftop bars across the city, it's definitely worth checking these out.
Top Tip: Some of the nicest rooftop bars are located in hotels but usually they are freely accessible to non-hotel guests – this photo was taken from the bar in Hotel Catalonia.
Bonus No.11: Bunkers del Carmel Viewpoint
I couldn't quite narrow down the 10 top attractions so I've sneakily added a bonus no.11, and I've saved my favourite until last; the Bunkers del Carmel viewpoint (also called Carmel Bunkers). These old bunkers used in the Spanish civil war were largely abandoned until 2011 when they were excavated and made more accessible. Today they are an excellent spot to watch the sun setting with a panoramic view of the city.
These are my top 10 things to do in Barcelona (okay, top 11), but there are plenty of other things to do in the city such as all the activities along Las Ramblas, the market of La Boqueria, the temple of the sacred heart of Jesus and some great day trips including Monserrat monastery in the mountains.
---
FAQ's
Should I take a Barcelona sightseeing tour?
You can either visit the attractions independently as I did, or there are numerous Barcelona sightseeing tours that will show you the best attractions and give you some of the history behind them too.

One of my favourite companys for sightseeing in Europe is Sandermans. In Barcelona you'll find a free walking tour every day of the week as well as a bike tour – these are great ways to see Barcelona's top attractions.
---
---
Pin this post: