An Interrail pass (or Eurail pass if purchasing outside of Europe) allows train travel across 31 countries in Europe using just one ticket. Interrailing through Europe has become a right-of-passage for many young people and has gained more interest as the EU have started offering free interrail passes for many 18 year olds across member states.
---
Britain's train operators have been part of the Interrail scheme since it began in 1972. But, as of 1st January 2020, they have announced that they will no longer be part of the scheme, citing that their own BritRail scheme was at odds with the direction Interrail/Eurail are moving.
Whilst the train operators have insisted this is nothing to do with Brexit, it's hard to believe that it wasn't a factor and hugely disappointing to see the UK becoming even more alienated from our neighbours.
With that said, BritRail itself isn't such a bad scheme. Whilst it's biggest drawback is clearly it's geographical limitation, there are many benefits over the Interrail pass including cheaper prices. I've pulled together as much information as possible so that Britain can still be part of your Interrailing adventures in 2020 and beyond.
---
How Did Interrail In Britain Work?
The Interrail pass allows train travel in 31 countries across Europe using one ticket which also includes many bus services, discounts on ferries and additional offers at Interrail partners including hostels, restaurants, bicycle rental, tours, etc.
There were two ways to travel around Britain using Interrail:
Global Pass: Train travel and benefits in 31 countries through Europe including Britain
One-Country pass (GB): Train travel in England, Scotland and Wales only
Interrail passes are only available to European citizens but non-European citizens can get it's equivalent; the Eurail pass, which allows the same benefits at a similar price.
As of 1st January 2020, neither Interrail or Eurail will be valid in Britain so you'll need to use BritRail instead.
Introducing BritRail
BritRail works in very much the same way as Interrail/Eurail. It's possible to buy a continuous pass for unlimited travel (between 2 days and one month) or more flexible options with a set number of travel days (e.g. 3 days within 1 month).
It is akin to the old Interrail GB one-country pass and works across all national rail train operators which covers most train journeys in the UK. The pass does not work on London Underground/Overground services, the Eurostar or other tram services such as Manchester Metrolink and Glasgow Underground.
---
Pros and Cons Of Britrail Vs Interrail
Having BritRail as a standalone scheme is a huge drawback compared to being part of the Interrail scheme, but it does also have some advantages. Here's a summary of the key pros and cons.
Pro: Regional Passes Available
As well as the main BritRail pass, there are a number of regional BritRail passes for travelling around certain areas in Britain, the benefit of this being a cheaper rate. These are available for England, Scotland, London and the South-West.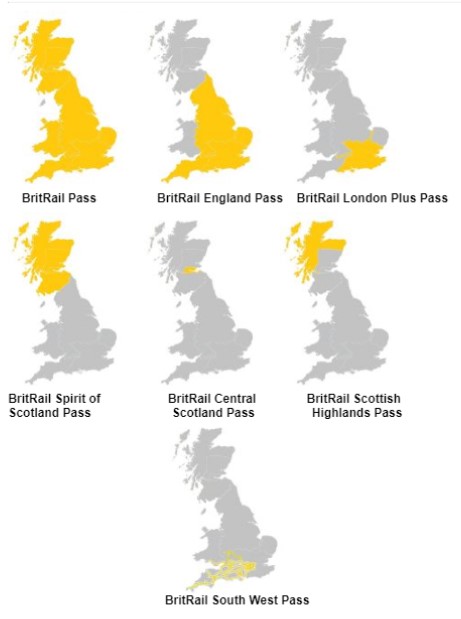 Pro: Shorter Passes Available
A BritRail pass can be purchased for much shorter length of time than the previous Interrail one-country and global passes. BritRail continuous passes start from 2 days, compared to a minimum of 15 for Interrail, and the flexible passes have the option of 2 days in 1 month which again is lower than Interrail offer.
Pro: Use Britrail On Your Mobile
Unlike Interrail which only offer paper tickets at the moment, you can now get BritRail on your mobile. You can download your pass as a PDF to your phone, tablet or any other device and scan it at any barcode scanner. No more lost or torn passes!
Con: Less Flexibility
With all that being said, the beauty of Interrail was the single ticket with flexibility to travel freely between 31 countries. The fact that a separate pass will now be needed is a huge drawback and in my opinion will be detrimental to Britain's place on the backpacker trail through Europe.
As the Eurostar will still be part of interrail, the effects on London might not be so great, but it will have a real impact on tourism in the rest of Britain.
---
How Much Does BritRail Cost?
The cost of a BritRail pass is as follows:
| | | |
| --- | --- | --- |
| | YOUTH | ADULT |
| 2 days continuous | € 62 | € 102 |
| 3 days continuous | € 92 | € 153 |
| 4 days continuous | € 114 | € 189 |
| 8 days continuous | € 148 | € 275 |
| 15 days continuous | € 246 | € 409 |
| 22 days continuous | € 307 | € 512 |
| 1 month continuous | € 363 | € 605 |
| 2 days within 1 month | € 78 | € 130 |
| 3 days within 1 month | € 117 | € 194 |
| 4 days within 1 month | € 146 | € 243 |
| 8 days within 1 month | € 209 | € 348 |
| 15 days within 2 months | € 314 | € 524 |
Correct as of Aug 2019 – 2nd Class, travel in England, Wales and Scotland
---
How Does The Cost Of BritRail Compare To Interrail/Eurail?
The good news is that for most directly comparable passes, BritRail is cheaper than Interrail, sometimes by up to 30%.
Compared to the Interrail/Eurail global passes (travel in all 31 Interrail countries), BritRail is cheaper in all instances for youths and almost all instances for adults.
Compared to the Interrail GB one-country pass (only valid in Great Britain), BritRail is cheaper in all instances for youths but more expensive for adults.
The obvious disadvantage to the BritRail scheme it's less flexible than the Interrail global pass as it can only be used in England, Wales and Scotland. However there are other benefits such as 2 for 1 at many UK attractions.
Another disadvantage is that the Interrail passes are valid on the Eurostar between London and Paris but the BritRail passes are not.
Is It Worth Getting a BritRail Pass?
If you are planning to make a number of long journeys (e.g. travelling from London to the South-West, Northern England, Wales or Scotland) then it will definitely pay to invest in a BritRail pass.
For shorter journeys or day trips (e.g. London to Oxford, Cambridge or even Birmingham), it depends upon how planned or spontaneous you are. Travelling at last minute in the UK can be expensive, especially around London and at peak times, so spontaneous travellers might benefit from a BritRail pass. If you're able to book at least a few days ahead then you'll probably get a better deal from individual tickets.
---
FAQs
I'm from the UK, can I still buy an interrail pass?
Although Britain's train companies have pulled out of the Interrail scheme, British citizens will still be able to purchase Interrail passes. It was never possible to use Interrail passes in your own country so the announcement will have no impact on British citizens.
Are Interrail or Eurail tickets valid in the UK?
Interrail tickets will no longer be valid in England, Wales or Scotland from 1st January 2020. Passes purchased before this date will still be accepted. Northern Ireland trains are managed by a different organisation so for the time being there is no change here, however after reaching out to them on Twitter they have indicated that things could change depending on the outcome of Brexit.
What are the alternatives to Interrailing in Britain?
A similar scheme, called BritRail, is available in England, Wales and Scotland. Anybody who is not a British citizen can purchase a BritRail ticket for train travel across these countries. Similar to Interrail, it's possible to purchase a continuous BritRail pass valid from 2 days up to 1 month, or a flexible pass with a set number of travel days within a certain period.
Is BritRail more expensive than Interrail?
For the directly comparable passes, BritRail worked out cheaper than the equivalent Interrail global pass, sometimes with savings up to 30%. There are additional benefits of BritRail such as 2 for 1 on many UK attractions however it comes at the cost of flexibility as it cannot be used elsewhere.