As an affiliate I may earn a commission on any qualifying purchases, including those from Amazon, at no extra cost to you.
Wales is home to stunning landscapes and has become a popular destination for outdoor activities from hiking to zip lining. It's also home to many waterfalls, including a few that you can walk behind.
Many waterfall hunters have started visiting Wales to seek out these beauties of nature. That's why I've put together this handy guide, with everything you need to see the country's best falls.
Before we delve in, it's worth mentioning Waterfall Country, this is part of the Brecon Beacons in Powys that has more publicly accessible waterfalls than any other part of the UK.
At least 6 of the waterfalls on this list lie within Waterfall Country, along with dozens of smaller falls on the four main rivers in the region; Afon Nedd Fechan, Afon Hepste, Afon Mellte and Afon Pyrddin (I should point out that 'Afon' means 'River' in Welsh).
In this guide I'll share the 14 best Welsh waterfalls, with some helpful tips on how to visit them and any nearby walking trails that may be of interest.
1. Henrhyd Falls
River: Nant Llech
Postcode: Near SA10 9PH
Height: 27m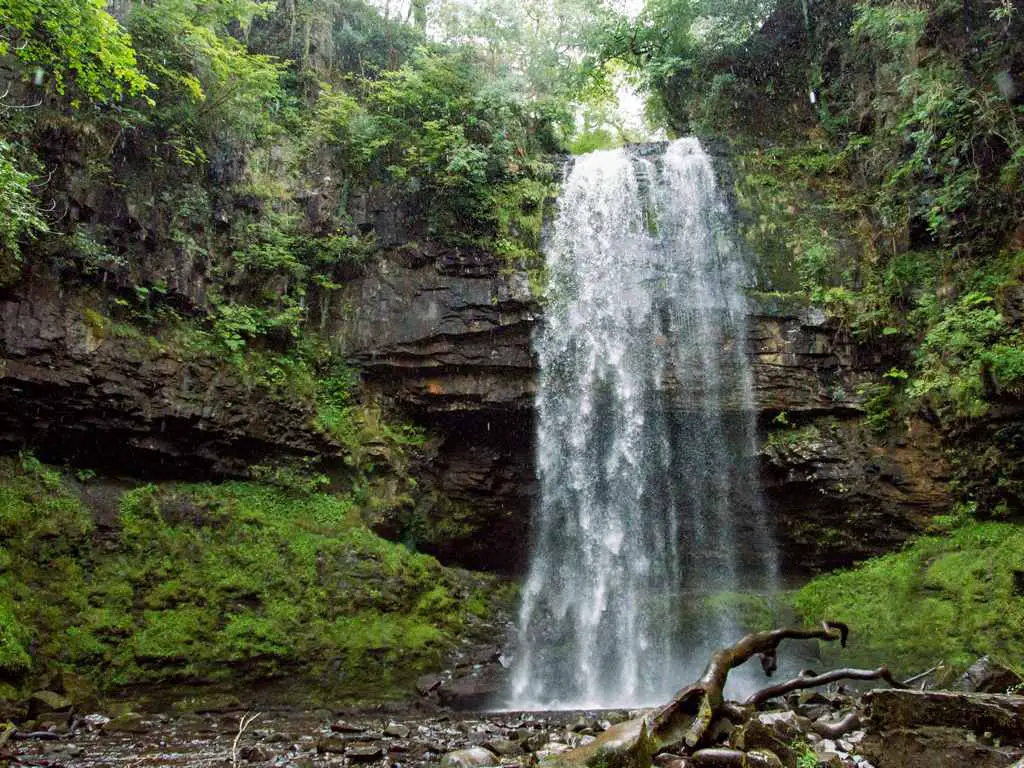 With a drop of 27 meters, Henrhyd Falls is the tallest waterfall in South Wales. But this isn't what it's known for, it's claim to fame is appearing in the batman films as the entrance to the Batcave in The Dark Knight Rises.
After this 2012 film appearance, the waterfall became a popular tourist hotspot leading the national trust, who own the waterfall, to improve visitor access with new steps and a pathway that allows you to walk behind the waterfall. Walking behind the waterfall is a lot of fun, especially when there's a strong current, however it's very slippery so be super careful.
How to get there: The carpark postcode for Henrhyd Falls is SA10 9PH, from here the waterfall is less than a 10 minute walk. It's well sign posted with a decent footpath.
For the more adventurous, there's a 2.5hr hike that begins in the car park and encompasses the waterfall. It's called the Nant Llech walk and it heads along the river to the village of Nant Llech. You can return along the same path or via a road.
---
2. Pistyll Rhaeadr
River: Rhaeadr
Postcode: SY10 0BZ
Height: 73m
Price: £4+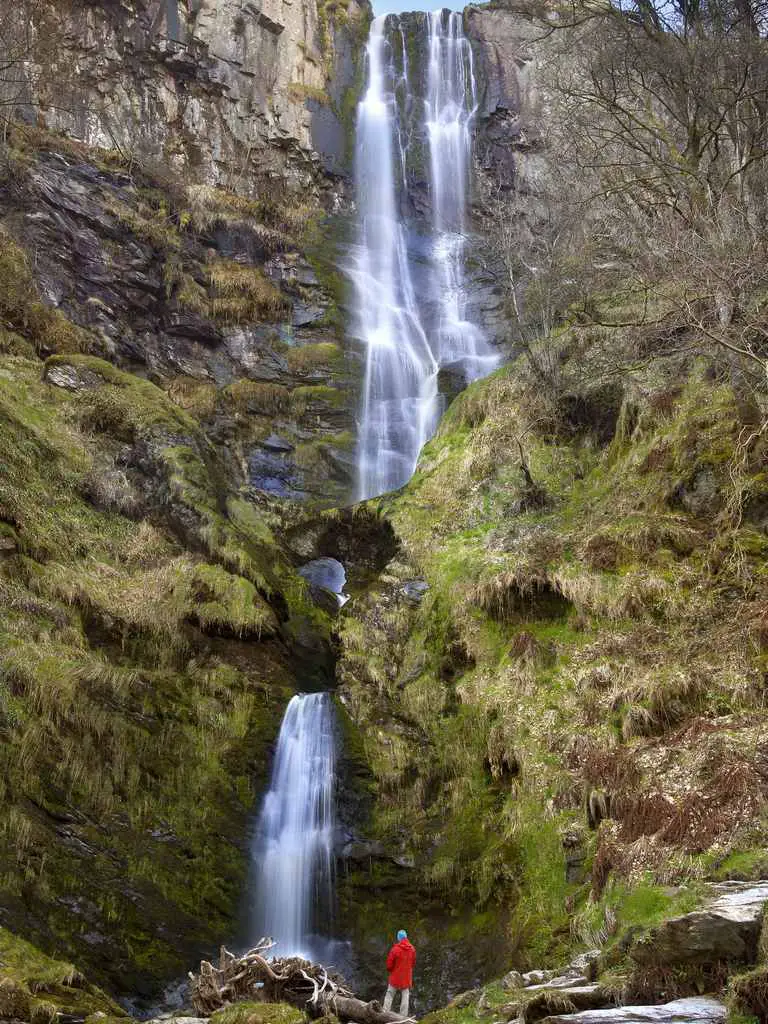 Pistyll Rhaeadr, near Llanrhaeadr, is officially Wales' tallest waterfall and at 73m high, it's no surprise. It's even earned itself a place in the ;Seven Wonders of Wales'.
There's a walk to the top which takes about 20-30 minutes depending upon your speed, but be prepared to get your feet a little wet along the way.
Road access to the waterfall is not perfect with much of it via a single track road aptly named waterfall road. On arrival, there's a car park charge of £4 (varies by season), and you'll be right at the base of the waterfall where an iron bridge crosses the river.
There is a café at the bottom which serves delicious paninis, but as with teh car park, be prepared to pay over the odds for it.
---
3. The Four Waterfalls Walk
River: Hepste and Mellte
Postcode: Near CF44 9JF
Height: 9 – 30m
Okay so the next one (or four even) on the list is the collection of waterfalls known as the The Four Waterfalls Walk, also part of the area called waterfall country in the Brecon Beacons (I wrote a full guide to visiting the four falls).
The waterfalls that make up the trail are:
Sgwd Clun-Gwyn
Sgwd Isaf Clun-Gwyn
Sgwd Y Pannwr
Sgwd Yr Eira
The route begins at Gwaun Hepste car park (postcode: CF44 9JB) and will take about 2-3 hours in total.
The surrounding area of the Brecon Beacons is a popular place for outdoor lovers thanks to many great hikes such as Pen-Y-Fan. If you fancy a road trip in Wales, this is also a great area to visit with the Black Mountain pass being featured on Top Gear.
---
4. Swallow Falls, Betws-y-Coed
River: Llugwy
Postcode: LL24 0DW
Price: £1.50
You'll find Swallow Falls in the Snowdonia National Park near Betws y coed. It's one of the areas most visited attractions. This is not a typical waterfall with a single drop but more like a series of steep rapids as the river Llugwy flows through a steep rift in the earth.
The postcode is LL24 0DW which will get you close but look out for the swallow falls hotel to see where the car park is.
There's a £1.50 cost to go in and see the falls from the viewing platform. Alternatively, there's a moderate 1 hr walking route that heads through Gwydyr Forest and along the opposite side of the river where you get a much better view of the waterfall and you avoid the £1.50 fee.
See this guide to find out how to visit.
---
5. Aber Falls, Snowdonia
River: Rhaeadr Fawr
Postcode: LL33 0LP
Height: 37m
Price: £2 parking
Rhaeadr Fawr (more commonly known as Aber Falls, but not to be confused with Devils Bridge Falls in Aberystwyth at no.15) is a stunning waterfall in North Wales. Unlike many of the other waterfalls on this list, it requires a bit of a walk to reach.
There's a car park near the village of Abergwyngregyn at postcode LL33 0LP (£2 for all day), from here it takes about 30 minutes to reach the waterfall and you'll return along the same path.
There is a longer 3 hour circular trail that forms part of the wales coastal path. This route will take you to a breath-taking viewpoint from which you'll see the isle of Anglesey across the strait.
---
6. Dolgoch Falls, Snowdonia
River: Nant Dol-Gôch Stream
Postcode: LL36 9UW
Height: 60m
Price: £2 parking
Dolgoch falls is a series of 3 waterfalls which can be found in Snowdonia national park, not far from Aberystwyth. Parking for Dolgoch falls can be found at the Dolgoch Falls Hotel, postcode LL36 9UW.
The first waterfall can be reached easily within 10 minutes along a decent path. Don't get thrown off by the unmarked split in the path, turn left here to reach the lower falls.
From here you can do the circular walk up to the other waterfalls which takes about an hour for a round trip. There are all sorts of caves, tunnels and old mines to explore along the way.  These falls are best viewed after heavy rainfall although some of the steps are steep and can be slippery.
Nearby is a historic steam railway station that's part of the world's first preserved railway, Tallylyn. Combine a visit with a ride on a historic steam train or just sit by and watch the trains ride past.
---
7. Melincourt Falls
River: Neath
Height: 24m
Postcode: SA11 4AP
This 24m high waterfall can be found near the village of Resolven in South Wales and is also part of Waterfall Country in Wales.
The water flows over a resistant piece of sandstone rock down a huge drop that has been attracting visitors for centuries which we know from some old paintings that were recovered.
Getting to the waterfall requires a short walk down Melincourt Brook. This isn't strenuous but takes about 15 minutes in each direction along a mud trail.
---
8. Ffrwd Fawr Waterfall
River: Twymyn
Postcode: Near SY19 7BW
Height: 40m
Ffrwd Fawr is a 40m tall waterfall in Powys, near Machynlleth, where the Twymyn river flows into the Dylife Gorge.
The waterfall isn't currently marked on google maps but the coordinates are 52.531940°N, 3.664446°W and can be seen from the road. However, I recommend getting out to explore the area on foot if you'r making the journey.
The waterfall is part of the Dylife waterfall walk, a moderate 12km circular trail from the village Dylife that also includes Nant Ddeiliog Falls. You can park near The Star Inn, Dylife, SY19 7BW. Around the area you'll find loads of great wild swimming spots that are great for a sunny day.
For the serious hikers, Dylife Gorge is also part of Glyndwr's Way national trail, a 135km trail through the scenery of mid-Wales that follows in the footsteps of Owain Glyndwr and takes about 9 days to complete.
---
9. Dyserth Waterfall
River: Ffyddion 
Postcode: Near LL18 6ET
Height: 21m
Price: 50p (suggested donation)
Dyserth waterfall can be found in North Wales south of the Prestatyn and near to the village of Dyserth where the water drops 21m.
There is a small free car park right near the waterfall and although there is no set fee, a suggestion donation of 50p is in force which is well worth the money.
There is a set of steps for waking up to the top of the waterfall which is a modest difficulty although only takes about 10 minutes. If you're planning to walk to the top, bring decent walking shoes or trainers that are good in wet conditions. Once at the top you'll get a great view of the surroundings too.
Check out The New Inn pub nearby too if it's open.
---
10. Tresaith Beach Waterfall
River: Severn
Height: 15m
Postcode: Near SA43 2JL
Price: £3 (car park donation)
Tresaith waterfall can be found on Tresaith beach near Ceredigion in South Wales. The beach is beautifully clean and manned by lifeguards, it gets very busy during the summer months when the narrow roads can be a bit tricky.
There is a £3 fee for the car park which is paid via an honesty box. There's a great nearby pub called the Ship Inn if you're looking for somewhere to stop.
The waterfall isn't that obvious on the beach until you climb over the rocks to the right to spot it. Warning these rocks can be very slippery.
The beach is part of the wales coastal path, a path that runs around the entire coastline of Wales. If you're wanting to do a bit of walking, you can head along this for as long as you like, a popular route is the 1 mile walk to nearby Aberporth which takes about 20 minutes.
---
11. Penllergare Valley Woods Waterfall
River: Llan
Postcode: Near SA4 9GS
Price: £2 for car park
This hidden gem is located in Penllergare Valley Woods about 10 minutes north of Swansea in South Wales. The waterfall was actually restored in 2014 from a much poorer state than you see here and it's now an iconic part of the woods.
There is a car park at SA4 9GS that's open 9am-5pm and costs £1 for an hour or £2 for all day. The waterfall is about a 5 minute walk from the car park along a very accessible path.
The waterfall is not the only attraction at Penllergare Valley Woods, you'll find over 12km of walking trails that includes forest, a lake, bridges and smaller waterfalls so it's worth an extended visit.
There's a community run coffee shop near the car park too that's run by volunteers with profits going towards maintenance of the woods and waterfall.
---
12. Devils Bridge Falls (aka Mynach Falls), Aberystwyth
River: Mynach
Postcode: SY23 3JW
Height: 90m (across 5 steps)
Price: £4
Mynach Falls is located near to Devils Bridge in Aberystwyth, hence why it's more commonly called Devils Bridge Falls.
The waterfall is overshadowed by bridge itself which has been a popular tourist attraction for over a century. Uniquely, there are three bridges built on top of each other.
The first was likely a medieval bridge built to span the gorge below but when it was deemed unstable, another stone bridge was built on top of it, without removing the original bridge. In the early 20th century, a new steel bridge was again built across the top to strengthen the structure and reduce the slopes of the bridge.
But the waterfall itself is also epic. As you descend the bridges into the gorge, it takes about 10 minutes to reach the viewing platform which is probably the best view of the waterfall in its entirety.
However, the full trail to the waterfall takes about 45 minutes for a round trip and is well worth it. However, this trail is steep with lots of steps and can get slippery so it's not for everyone. Those who do make the effort will be well rewarded.
---
13. Aberdulais Falls
River: Dulais
Postcode: Near SA10 8EY
Height: 10m
At the southern end of the Brecon Beacons you'll find the 10m tall Aberdulais Falls where the river Dulais flows into a gorge.
The water fall powers an 8m water wheel which is the largest electricity-generating water wheel in Europe. The waterfall has been generating electricity for over 400 years.
The village of Aberdulais itself has played a key industrial role in the area, having been home to copper smelting, iron working and corn milling. The only mark that's visible today is the old tin works that exported tin, made using power from the waterfall, all over the world.
There is a national trust car park is free and can be found at postcode SA10 8EY.
---
14. Sgwd Gwladys and 18. Sgwd Einion Gam
River: Pyrddin
Height: 7m
Sgwd Gwladys is another waterfall in the Brecon Beacons waterfall county. The 7m tall waterfall can be found near the village of Pontneddfechan and is named after Gwladys, one of the daughters of the 5th century prince Brychan.
It's quite a walk to find the waterfall which will take about 30 minutes from the village, but the scenery makes it worth doing. On a warm day, swimming in the splash pool is possible and you can even walk behind the waterfall.
However, this isn't the only great waterfall nearby. Continue 500m upstream and you'll reach Sgwd Einion Gam. Out of all the waterfalls on this list, Sgwd Einion Gam is the hardest to reach, but once you find it, you'll be rewarded.
There is no track and you will need to walk through the river at some points so don't attempt this walk during wet weather or after heavy rainfall. This waterfall is such a hidden gem that you won't find it on google maps, but the GPS coordinates are: 51.77184,-3.609.
I hope this has been a useful guide, if there are other contenders worthy of this list, please contact me to let me know.
---
Pin this: