As an affiliate I may earn a commission on any qualifying purchases, including those from Amazon, at no extra cost to you.
I've made Manchester my home for over 4 years now, and I'm constantly learning new things about the city and its history.
Manchester is best known for its football culture, home to two huge football teams with fans across the world. It's also famous for ground-breaking discoveries, including splitting the atom and the first computer with memory, plus its musical legacy involves Oasis, Joy Division and The Haçienda nightclub.
On top of this, there are numerous famous people from the city, and it's to thank for a number of well recognised food and drink such as Eccles Cakes and Vimto. I've decided to pull together a huge list of things that Manchester is known for in all walks of life.
Skip to:
1. The Worker Bee
The worker bee is well known as the symbol Manchester and, according to the city council, represents the work ethic of the city and it being a hive of activity.
Although the city was symbolised by a bee long before the industrial revolution, the hard work of Mancuians to make the city thrive is an embodiment of its meaning.
Bees can be seen all over the city, from street art to sculptures and on its coat of arms which hangs from the town hall.
---
2. World Class Football
If there's one thing that Manchester is known for around the world, it's football. Everywhere I've travelled, from Laos to LA, there have been people wearing football shirts of their favourite Manchester players.
With two world renowned clubs, Manchester City and Manchester United, the city has made a name for itself. Each have iconic stadiums with Old Trafford being the largest club football stadium in the UK. Manchester was also chosen as the home to the National Football Museum which contains key memorabilia from throughout the ages.
---
3. Manchester Velodrome
Manchester's velodrome is part of the national cycling centre. It opened in 1994 and was the only Olympic standard cycling track in the UK for the following 18 years.
---
4. Harrington Jackets
The Harrington Jacket, made popular by Elvis Presley, James Dean, Steve McQueen and Frank Sinatra, was originally designed and made in Manchester by Baracuta whose original design is still in production today. The jacket has elasticated waist and cuffs with a zip up front and buttons on the collar.
---
4. The Bridgewater Canal
Manchester opened the very first canal that didn't rely on rivers, the Bridgewater Canal. It was initially opened in 1761 connecting Manchester, Runcorn and Leigh.
Originally used for transporting coal, the 41 mile network is now mainly used for leisure boats but remains one of the few canals in the UK to still be owned privately.
---
5. The Trafford Centre
Manchester is home to the largest indoor shopping and leisure centre in the UK. It contains Europe's largest food court and the country's busiest cinema.
Despite opening just over 20 years ago, it is built in a Baroque design and looks to be styled on the Vatican in Rome. The centre attracts 35 million visitors per year.
---
Famous Transport from Manchester
6. Rolls Royce
Rolls Royce was founded in Manchester when Henry Royce and Charles Rolls met at the Midland Hotel in Manchester in 1904. Henry Royce had already began building his Royce 10 at a Manchester factory prior to this.
---
7. First Inter-City Passenger Railway
When the Liverpool and Manchester railway opened in 1830, it became the first inter-city passenger railway in the world. It would allow the transport of goods and passengers between the up and coming city of Manchester with the thriving port in Liverpool.
It also achieved a number of other world firsts, including the first railway to operate solely using steam trains and the first to use double tracks across it's entire length.
---
8. Metrolink Trams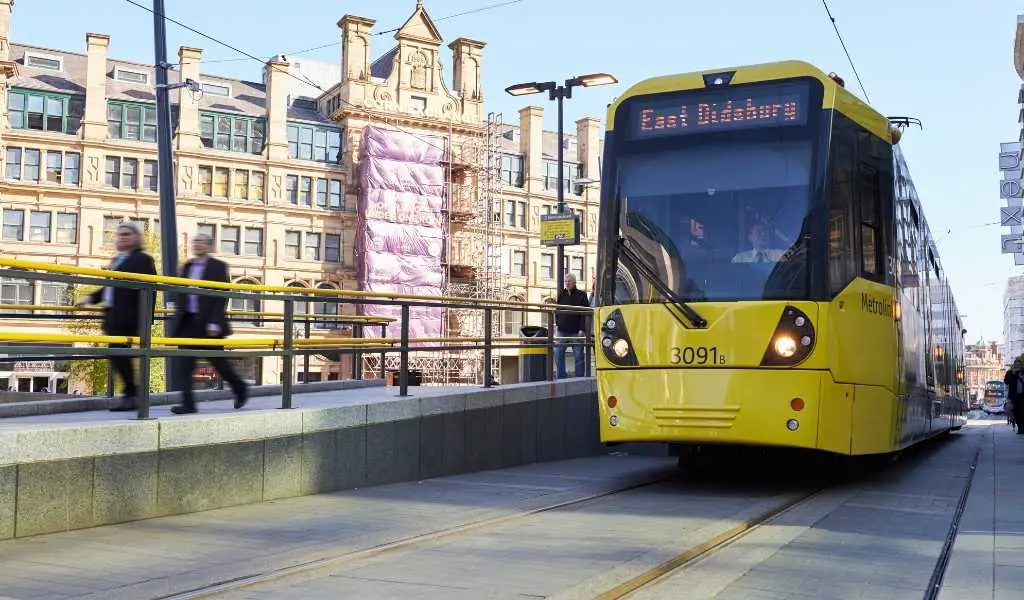 Heading more into current times, the yellow trams that zig around most of Manchester city centre and its suburbs have become synonymous with the city.
Launched in 1992, the Metrolink is the most extensive light rail system in the UK with 99 stations and covering 105km of track length. It's also the second most lucrative, bringing in over £82m each year, superseded only by London's dockland light railway.
---
Scientific Discoveries in Manchester
9. The Manchester Baby
No not a human baby, the Manchester Baby (also known as the Small-Scale Experimental Machine) was the first computer with memory created in 1948. It could store up to 32 words and do simple addition and subtraction.
This served as proof of concept and laid the foundation for the Manchester Mark 1, followed by the Manchester Ferranti which was among the earliest commercially available computers.
---
10. Splitting the Atom
One of the most notable advances in Science famously happened in Manchester. Ernest Rutherford was already a notable Nobel prize winning scientist and in 1907 he took up the role of Chair of Physics at Manchester University. It was here that he experimented with atoms and what lays within them.
His biggest achievement came in 1918 when he split an atom for the first time by firing particles from a radioactive source at nitrogen atoms. This would eventually lead to nuclear energy, radiotherapy  and most notably the first atomic bombs.
---
11. Graphene Discoveries
You'll be familiar with Graphene, most likely from pencils. It's made from pure carbon and in 2004 a huge leap forward was made when scientists at the University of Manchester managed to isolate a single atom of Graphene, creating the worlds thinnest material that will have revolutionary benefits in the future.
---
Famous Events and Movements
12. The Suffragettes
Emmeline Pankhurst was born in Moss Side in Manchester where she started the Women's Social and Political Union (WSPU). This would later become known as the Suffragettes movement which campaigned for equal rights for women. Although the movement began in Manchester, it soon gained support across the country.
Their methods weren't praised by everyone at the time (including bombs, smashing shop windows and setting buildings on fire), but it was their radical activism that helped women gain the right to vote.
---
13. Vegetarian Diet
When Reverend Cowherd formed The Bible Christian Church in Salford in 1808, they were encouraged to abstain from meat in what is thought to be the first vegetarian group.
He then went on to be one of the founding members of the Vegetarian Society. He is known for saying "eat no more meat till the world endeth".
---
14. The Labour Party
One of the UK's top two political parties was formed in Manchester. The Independent Labour Party was founded towards the end of the 19th century as the existing parties were failing to represent working people and the trade unions wanted to have their views represented in parliament.
---
15. Manchester's LGBT Community
Manchester's LGBT community was one of the biggest and most active communities in the early 90's with the creation of the renowned gay village, a pedestrianised area around canal street.
It was the first city in the world to publicly commemorate  Manchester Pride is now one of the biggest events in the city's calendar.
---
16. Peterloo Massacre
The Peterloo Massacre is one of the sadder things Manchester is known for. On this day in 1819, a cavalry charged at a peaceful protest of more than 60,000 people taking place on St Peter's Field (now St Peters Square) at the order of a local magistrate.
This was at a time when only rich landowners could vote, and many regions did not have dedicated MPs. One of the positive outcomes of this horrific event was that it paved the way for parliamentary democracy and the Great Reform Act.
---
17. The Guardian
The well-known left wing newspaper, The Guardian, was formed in Manchester not long after the Peterloo Massacre.
It was originally known as The Manchester Guardian and was created by cotton merchant John Edward Taylor to push the liberal agenda.
The paper supported the anti-corn laws campaign and was critical of slavery which was common at the time.
---
18. Industrial Revolution and Textile Industry
Until the start of the 18th century, Manchester was nothing more than a small market town. But over the next few centuries, it would be propelled to become one of the UK's biggest cities. Manchester played an instrumental role in the industrial revolution.
Manchester is particularly well known for the rise of Britain's cotton industry with lots of mills and factories springing up during the mid-19th century. Many of these are now defunct and have been turned in to apartments or offices.
---
19. The First Public Library
Manchester's Chethams library is notable as the oldest free public library in the English speaking world. It opened in 1653 and continues to operate today, holding over 100,00 books, most of which were published prior to 1851.
---
20. The Manchester Bombing
In more recent times, Manchester was the victim of a terror attack when an Islamist Extremist detonated a bomb at the Manchester Arena, just after an Ariana Grande concert.
More than 20 people died and many hundreds were injured in the incident which made global headlines.
---
Famous Food and Drink from Manchester
21. Black Pudding
Black Pudding (also known as blood pudding) is made from pork blood, pork fat and either oats or barley. It originates from Bury where it's thought that the delicacy first appeared on the renowned Bury market.
The love for black pudding was so strong in Bury that it would traditionally be boiled and served out of paper wrapping with vinegar, or sometimes with bread or potatoes as a full meal.
---
22. Vimto
Vimto (originally Vim Tonic) was first created by John Noel Nichols, a wholesaler of herbs and medicines in central Manchester. It was originally sold as a health tonic, before being re-positioned as a cordial in 1913. The drink has gone on to become a global brand.
The park next to Granby Row where the drink was first created has been named 'Vimto Park' in a nod to the drinks importance to Manchester and has a statue carved out of an Oak tree that looks like the original bottle.
---
23. Eccles Cakes
An Eccles cake isn't actually a cake, but more of a small pastry filled with currants. It's named after Eccles, the town in Greater Manchester where it was first invented.
It is thought that Eccles Cakes have been baked for many centuries, but the earliest record of them being sold commercially is in 1793 by James Birch who sold them in his city centre store.
---
24. World Pie Eating Championships
If one thing is for sure, Northerners are known for their love of meat and potato pies. And nothing showcases that love more than the World Pie Eating Championships.
The competition has been an annual event in Wigan, Great Manchester since 1992. It attracts competitors from across the country who compete to eat a meat and potato pie in the quickest time. All of the pies are equal in size and weight, produced by local suppliers. The winners receive the accredited trophy and plenty of local press coverage.
---
25. The Curry Mile
The Curry Mile is a section of Wilmslow road that is renowned for the large number of curry houses and takeaways. It's claimed that this is the largest number of Asian restaurants in a single place in the UK with some saying it's the largest outside of Asia.
Although it started out as a nickname by locals, The Curry Mile has been recognised in books, documentaries and the local council who have now erected signs welcoming visitors into the area.
---
Pop Culture in Manchester
26. Oasis
Perhaps the most famous band from Manchester is Oasis, consisting of Liam and Noel Gallagher, Paul Arthurs, Paul McGuigan and Tony McCarroll, all of whom were born and bred in Manchester.
The band was formed in 1991 and went on to create hits such as don't look back in anger, champagne supernova and Wonderwall. Although the band broke up in 2009, many of their songs remain popular today and I often here them being sung around the city.
---
27. Coronation Street
Britain's most famous cobbled street is in a fictional town of Weatherfield which is loosely based on Salford. First aired in 1960, the soap claims the spot of longest running soap operator in the Guinness World Records.
The soap was created by Tony Warren and first produced at Granada Television, it put Manchester on the map as an alternative to TV production in London. To this day, Coronation Street is still filmed in Manchester, only now at the newer studios in Media City.
---
28. Shameless
Shameless is another award winning tv show that is synonymous with Manchester, only this one is quite different to Coronation Street. Set on a rough industrial estate in the city, it's a comedy drama that follows the life of a family of abandoned siblings.
It won Best Drama Series  at the British Academy TV Awards and received nominations at the National TV Awards too.
---
29. The Royle Family
Despite only running for three seasons, The Royle Family is an iconic British sitcom about the lives of a fictional Manchester based family, The Royles.
Running from 1998 until 2000, the series has won many awards including a place on the top 100 British TV programmes. The lead character Jim Royle, played by Ricky Tomlinson, was voted by channel 4 as one of the greatest TV characters in a 2001 pole.
---
30. Take That
Take That are a well-known UK pop ground that was formed in Manchester in 1990. Originally made up of five members, Gary Barlow, Howard Donald, Mark Owen, Jason Orange and Robbie Williams, though the latter two have subsequently left.
When the band was first formed, lead singer Gary Barlow and manager Nigel Martin-Smith held auditions in Manchester and surrounding cities to create the band. Since it's inception, the band has had 12 UK no.1 hits with their most famous ones including Relight My Fire, Shine and Greatest Day.
---
31. Joy Division
 Another famous band from Manchester was the English rock band Joy Division who were pioneers of the post-punk genre. They were signed to a Manchester-based label, Factory Records which was set up by Tony Wilson, which also went on to be synonymous with Manchester.
---
32. The Haçienda
A night club in the 80's and 90's, The Haçienda gave Manchester a name for itself in the world of dance music. It was ran by the aforementioned Factory Records and ran through much of the 80's and 90's.
The club was largely associated with the Manchester rave scene, but in 1997 it lost its entertainment licence and eventually wen bankrupt.
---
33. The Warehouse Project
Picking up where The Haçienda left off, The Warehouse Project is now at the forefront of dance music in Manchester and has put it on the map. Over 12 weeks of the year, gigs and raves are held in an abandoned warehouse in Manchester city centre that attracted the biggest names in the industry,
---
Famous People from Manchester
34. Alan Turing
Although Alan Turing isn't a Mancuian himself, he lived in Manchester for much of his live and his greatest career moments took place at Manchester University.
He is a well known mathematician and computer scientist who was instrumental in deciphering German codes in World War Two which helped the allies win the war.
Sadly, he committed suicide in 1954 after being convicted of homosexual acts, but a long fraught campaign resulted in retroactive pardon from the queen in 2013 and the 'Alan Turing law' in 2017 which pardoned all men previously convicted of homosexual acts. He is now seen as a gay icon in the city.
---
35. Danny Boyle
Danny Boyle is a successful director and producer from Manchester. His best known films include Slumdog Millionaire, 28 Days Later, 127 hours and my personal favourite, Trainspotting.
He has won a number of academy awards, BAFTAs and Golden Globes. He was also artistic director for part of the London Olympics 2012 opening ceremony.
---
36. L S Lowry
Laurence Stephen Lowry (known as L S Lowry) was one of Manchester's best known artists who spent most of his life in Pendlebury, Great Manchester.
He is best known for painting industrial landscapes in the North of England such as the one shown here named 'Going to Work'. His work now sells for millions of pounds.
His legacy is still visible today, with a large art gallery in his name and a bronze statue outside the pub he frequented.
---
37. Professor Brian Cox
Not to be confused with the actor of the same name, Professor Brian Cox is a physicist at Manchester University and a well-known BBC broadcaster who has hosted scientific programmes such as Stargazing Live, Wonders of the Universe and popular podcast, The Infinite Monkey Cage.
---
38. Steve Coogan
Steve Coogan is the actor and comedian from Manchester notable for creating and playing the role of Alan Partridge, an inept broadcaster.
Prior to this, he was a voice artist on Spitting Image and The Krypton Factor.
---
39. Sir Ian McKellen
Sir Ian McKellon, one off the country's greatest actors and a national treasure, was born in nearby Burnley and raised in Great Manchester.
He is best known for his roles in X-men and Lord of the Rings, but if you look back through his career, he's had hugely successful roles in theatre with the Royal Shakespeare Company and even featured on the cobbled stones in Coronation Street for a short while.
---
40. Anthony Burgess
Anthony Burgess is the Mancunian writer best known for his dystopian satire A Clockwork Orange. The novel went on to be a successful, but controversial film.
Burgess was also a screen writer, playwright, a critic for The Guardian and The Observer, as well as a composer of more than 250 pieces of music.