As an affiliate I may earn a commission on any qualifying purchases, including those from Amazon, at no extra cost to you.
A backpack is one of the most important, yet overlooked item you'll purchase ahead of any trip.
Knowing what to look for in a backpack isn't always obvious and will vary depending upon how you plan to use it. That's why I've put together a series of guides to help you find the right features whether you're travelling abroad, hiking up a hill or trekking through the countryside.
I trawled through all of the best branded and budget 50L backpacks to find the below recommendations that I'm sure you'll love.
---
Is a 50L Backpack Right for You?
50 Litre is a popular backpack for both travel and outdoor use. Here are the best use cases but this will vary by person:
Travel: Unfortunately 50 litres doesn't officially fit as carry on luggage, however many travellers, myself included, will manage to get it in to the cabin with no fuss. If you're travelling to a warm climate, this will be plenty of room for your belongings, if you're visiting a cooler climate then you'll have to be a light packer to fit everything in.
Hiking and Trekking: If you're heading on multi-day hiking, trekking  or backpacking trips of around 3 days then a 50 litres will be adequate. It should hold all of your clothing, camping gear and food for the trail.
I put together this infographic to help you choose the right size: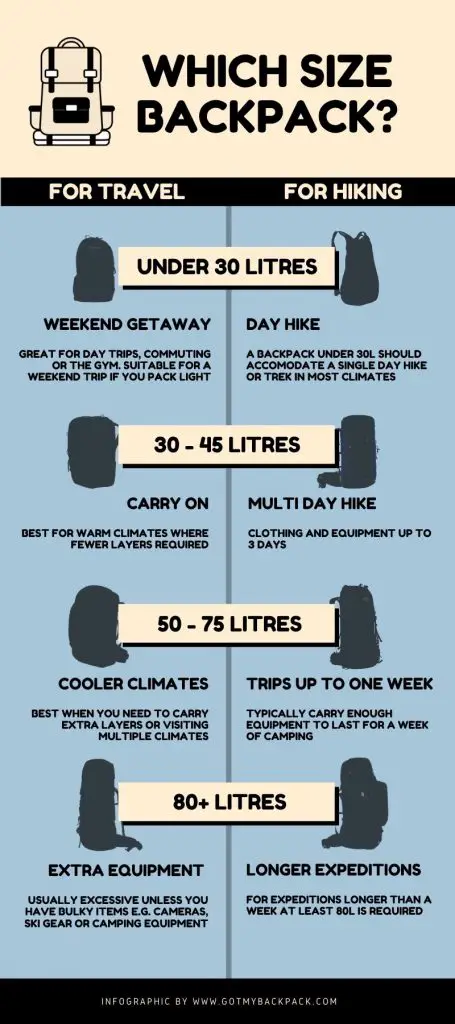 ---
View more backpack guides:
---
Best 50 Litre Backpacks
Here are my recommended 50L backpacks:
Below are full reviews and information about all of the backpack's I've listed, plus more.
If you need a backpack in the 50 to 55L capacity range for travel then this should be the go-to choice
See Fairview Trek 50 for Women's fit
Price: ££
✓ Trampoline mesh back panel helps stay cool and ventilated
✓ Usual durability and high quality you'd expect from Osprey
✓ Front loading and spacious
✗ No protected laptop sleeve
I was never a fan of Osprey's 55L Farpoint backpack which was essentially a 40L backpack with a 15L daypack strapped to it so I was relieved when they launched the 55L Farpoint Trek as an alternative and it's been a real hit with me.
For starters it's front loading which is an essential feature of a good travel backpack. The only downside is the lack of a padded laptop compartment which is another essential for me.
The main compartment offers a spacious interior for packing in the extra items you'll need for visiting cooler climates and it has plenty of organisational compartments on the exterior, including side pockets that can conveniently be accessed from both the side and top.
It does feature a bladder sleeve if you really need to use it for trekking or hiking but I wouldn't recommend buying it especially for this purpose as there are better hiking backpacks in this guide.
It has the durability expected from Osprey and all the typical features:
strong zips
large grab handles
compression straps
integrated rain cover in lid
It's also very comfortable to carry with a mesh ventilated back panel, an improvement on the Farpoint 40 which I rated as in my review of 40L packs.
---
Best Duffel Backpack
An excellent duffel bag and backpack combo made from sustainable materials.
Price: ££
✓ Made with heavy duty, recycled material
✓ Huge interior
✗ Back panel isn't particularly strong or well ventilated when used as a backpack
As you can tell, I'm more of a backpack fan than a duffel bag fan so it's not surprising that my favourite 50L duffel bag is one that also functions well as a backpack.
The Patagonia Blackhole range features backpack straps that can be quickly and easily added for airline travel, and are reasonably comfortable due to the level of padding on them.
The heavy duty 900D recycled ripstop polyester material is extremely durable and gives the bag a good form, for even more weather resistance it's finished with a TPU water resistant film.
As well as the large main compartment, it has a flat mesh pocket under the lid as well as a smaller pocket on the outside for quick access items. If that still isn't enough there are plenty of places to hook extra items on the outside.
The only downside is the lack of any ventilation or padding against your back when using it as a backpack but this is more of a general duffel-backpack combo issue than specific to this bag.
---
Best Backpack with Wheels
If you need a travel backpack that works like a suitcase then this is the best one going in 50L.
Price: ££
✓ Stands up well even when fully packed
✓ Retractable handle to seamlessly turn it from a backpack to a wheeled suitcase
✓ Front loading
✗ Limited organisational compartments inside
New Zealand has given the world many great things, and one of those is excellent bag. The Kathmandu Hybrid Trolley functions as both a wheeled suitcase and a backpack, doing a great job of both.
As a suitcase, the wheels look flimsy but they are actually very rugged and do well on most terrains. The outside is sturdy and it's front loading so perfect for the job.
As a backpack it has a comfortable mesh back panel with good ventilation as well as compression straps and a hip belt. The wheels and handle both tuck away nicely so it's easy to carry.
The internal compartment is huge although it could do with additional storage options to keep things organised, you'll probably want to use packing cubes with his.
As you often find with Kanthmandu backpacks, it integrates really nicely with one of their smaller day packs, this one can attach to the Gluon day pack (sold separately) if 50L isn't enough.
---
Best Hiking Backpack
Overall best backpack for hiking, trekking and backpacking with anti-gravity back system.
Price: £££
✓ Anti gravity suspension system
✓ Most featureful hiking backpack on the market
✓ Thick 630D Nylon material
✗ Hip belt pockets are awkwardly placed
✗ Expensive
Osprey seem to be doing a lot of things right which is why I've also given them the title of the best 50L hiking and trekking backpack.
The highlight is undoubtedly the anit gravity technology, officially this 'combines 3D support and a tensioned lumbar support' which basically means it hugs your body so you feel less weight from the pack.
But the features don't stop there, it also has:
Front zip access to the main compartment
A removable lid which can reduce the volume to about 45L
Stretchy side pockets with front access
Hydration bladder
Quick access trekking pole holders
There are almost too many features to mention. It also has the great quality of an Osprey pack with huge durable zips and it's made from 630D Nylon which is the toughest on this list, this does add to the weight but the anti gravity system means you won't feel this.
The only real downside I could find was the placement of the hip pockets which make it awkward to use the zips when you're wearing it.
With all the positives comes a hefty price tag which can be difficult to swallow. But once you pay it, the durability and repairability of the bag will make sure you get the use out of it. The Osprey Stratos range has been released more recently as a good competitor, although this is around 15% cheaper it doesn't feature the anti-gravity system so you are losing the best feature.
---
Excellent runner up in 50L hiking backpacks and slightly cheaper than the Osprey.
Price: ££
✓ Comfortable Aircontact Lite back panel with air channel
✓ Ergonomic hip fins
✓ Packed with storage pockets
✗ Doesn't come with a rain cover so you'll need to buy this separately
I feel guilty putting this excellent backpack as a runner up but if it wasn't for the outstanding anti-gravity system on the Osprey, this would be a contender for number one.
The X-frame design helps transfer the packs weight to the hip belt to spread the load. It's very comfortable to wear thanks to the extra thick padding and open cell foam on shoulders and back.
It also has an air channel down the back to allow circulation and prevent you from sweating to omuch. The torso is adjustable with their specially designer system and the ergonomic hip belt helps reduce the pressure.
Slim line SL version for women has same feature set but fit for women with more conical shape fins and narrower shouldr straps with more distinct s shape.
The +10 refers to the lid which can be lifted higher to allow more volume in the pack or removed if not needed.
The backpack seems to have storage compartments hidden all over it with hip belt pockets, side pockets, lid pocketsm front pockets and if that wasn't enough there are loops for trekking poles and hanging other items from.
---
Best Under £100
A great all-round 50L backpack that comes in under £100 for those on a tighter budget.
Price: £
✓ Well ventilated back panel that sits comfortably against the spine and shoulders
✓ Lots of organisational pockets including the signature side pockets
✓ Very good price for the quality
✗ Only in one size (although it is adjustable)
✗ No laptop sleeve or lockable zips
The Redwing 50 has long been a great backpack but they continue to improve it with new upgrades, most recently the back panel which sits well in the curve of your back with great ventilation.
It has the huge side pockets that are found on all sizes of the Kelty Redwing backpacks that help keep belongings separate and have pass throughs for tent or trekking poles. It also has mesh pockets for quick access and a hydration bladder sleeve.
The opening can function as both a top loader or a front panel by unclipping the compression straps making it a good all rounder suitable for both travel and the outdoors, although there is no laptop sleeve and the zips are not lockable.
It does only come in the one size but the adjustable torso and sternum will help suit it to your body.
---
A suitable hiking backpack for those on a budget without compromising on essentials.
Price: £
✓ Very durable 420D ripstop Nylon material
✓ Air column for good ventilation
✓ Very affordable
✗ Strange layout of front pockets
✗ Torso not adjustable
If you're looking for a cheaper hiking backpack under £100 then the North Face Terra 55L has the features you need.
The material is very durable, a 420D ripstop nylon that will prevent any tears, although it doesn't appear to have a coating so has limited weather resistance.
The front pockets have an odd layout with one on each side although the interiors overlap so you can only really use one at a time. The rest of the bag makes up for this with plenty of storage including a large main compartment, brain pocket in the lid, sleeping bag pouch at the bottom and trekking pole mounts.
The sleeping bag pocket is well designed with access from the bottom and the option to remove the separator if not required.
Other features that make it suitable for hiking include:
Hydration bladder sleeve
Lots of loops to clip things on
Adjustable sternum
Hip belt with pockets
The Torso isn't adjustable although there are plenty of sizes to choose from, just make sure you get the right fit to start with and it should be long lasting.
---
Best 50L Camera Backpack
Top of the range camera backpack for serious photographers
Price: ££££
✓ Excellent build quality with durable, weather resistant material
✓ Opens from top and side
✓ Spacious enough for camera equipment and personal items for a hot destination
✗ No rain cover
✗ Sometimes ICU sold separately
When you're carrying top of the range equipment, you need a top of the range bag to carry it in, that's where F-stop come in. At first glimpse, this 50L camera backpack might seem expensive, but it has everything needed to provide ultimate protection to your camera gear.
You will need bot the Tilopa 50L case and one of their internal camera units (ICU's), any size up to X-Large will fit but I recommend sticking at medium or large so that you have room for your personal belongings in the pack as well. With the large ICU, you'll also be able to fit clothing and essentials to visit a warm climate.
The backpack itself is built with extremely durable materials and the quality is evident. Features include water bladder compatibility, laptop sleeve and large side pockets. It opens from both the top and side so you can have good access to your equipment.
The material is weather resistant, but for proper protection from the elements you'll wan t invest n a waterproof cover too.
The ICUs are very well padded and come with Velcro inserts to size up the compartments as needed.
With a large ICU, this pack would easily fit 4 large lenses, tripod, mic, camera body, a go pro and a drone. Make sure to check each listing whether it is a bundle or if the ICUs come separately.
---
Best Waterproof Backpack
100% Waterproof make this an ideal backpack for water sports
Price: £
✓ 100% Waterproof
✓ Strong 500D PVC material
✗ Not the most comfortable to wear for long periods of time
Many of the backpacks I've shared above have been water resistant, but if you're doing water sports such as sailing, water skiing or kayaking and require a large backpack, then the Earthpak 50 is just what you need.
This is a 100% waterproof backpack that's built to last, with thick 500D PVC material and a roll top with durable clip, water isn't going to penetrate it anytime soon
Of course it's never going to be as featureful as a standard backpack, but that hasn't stopped the creators from trying. It has a waist strap and sternum to spread the weight and external pockets for quick access (although these have zips so they aren't water tight). It also has reflectors which come in handy at night.
That's all from me, I hope this has been a useful guide and met your requirements.
---
FAQs
How Big is a 50L Backpack?

A 50 litre backpack will fit enough items to last 1-2 weeks in cooler climates or 2-3 weeks in warmer climates. Of course if you're able to wash your items, then this can keep you going for months.

When it comes to outdoor activities, 50L will be fine for multi day hiking and camping trips up to 3 days with all of your kit.
When Should I use a 50L Backpack?

A 50L backpack is ideal for the following situations:

Travel: If you're visiting cooler climates and need to pack warmer layers of clothes, a 50L backpack is the minimum size you'll need and should give you enough room for 1 weeks worth of items.

Hiking and Trekking: If you're heading on multi-day hiking, trekking  or backpacking trips up to 3 days then a 50L backpack will be ideal. It should hold all of your clothing, camping gear and food for the trail.
When is a 50L Backpack not suitable?
If you're only visiting warm climates and are a light packer, I would recommend a 40L as being more suitable and will fit as hand lugagge. If you're going on a hike or trek for one day or less, then a smaller 30L might be more suitable. If you're heading out for much longer than 3 days, then a 60-70L would be better.
Will a 50L Backpack Fit in Carry On?

No, of all the 50L backpacks reviewed here, none of them have been suitable for carry on luggage. The biggest bag I have come across that would fit in carry on luggage is the Peak Design 45L although you'll need to check airline requirements as some budget airlines are more stringent.
---
[crp]
---
Price key: £=under £100, ££=£100-150, £££=£150-200, ££££=£200+
Kieren is the avid traveller behind the blog. His adventures have included Interrailing through Europe, road tripping the US and backpacking SE Asia.