As an affiliate I may earn a commission on any qualifying purchases, including those from Amazon, at no extra cost to you.
Finding the right backpack can be a cumbersome challenge at the best of times, with so many features and technical terms being thrown around.
That's why I've created a series of guides to help my readers find the best backpack for them.
In this guide I'll share my top recommended 20 – 25L backpacks, broken down by those suitable for hiking/outdoor, for travel and for communing/everyday use.
Quick Summary
Here are my top 4 backpacks, keep reading for the full list below.
Image
Summary
 

Best for Hiking: Osprey Hikelite 26

• Lightest of the hiking day packs we reviewed.
• No-frills backpack designed for hikers.
• Suspended pack and mesh back panel.

Material: 100D Nylon // Weight: 700g // Price: ££

Best Urban Daypack: Osprey Daylite

• An Osprey pack that is designed for more casual day use.
• Easily integrates with larger Osprey travel bags.

Material: 210D Nylon // Weight: 540g // Price: ££

Best Everyday Pack: Kanken Fjällräven

• Fashionable backpack available in lots of colours.
• Won't look out of place commuting or travelling.
• Durable YKK zippers.

Material: Vinylon // Weight: 300g // Price: ££

Budget Pick: Berghaus TwentyFourSeven

• Durable build for a budget backpack.
• Hydration bladder compatible.

Material: 600D Polyester // Weight: 430g // Price: £
---
How Big is a 20L Backpack?
A 20L backpack is on the smaller side, you'll generally fit enough items for use on a day hike, exploring a city during the day or for a light commute to work or school.
It wouldn't be recommended for an overnight stay unless you're an extremely frugal packer.
I've put together this infographic to help you decide on the best size backpack for your needs: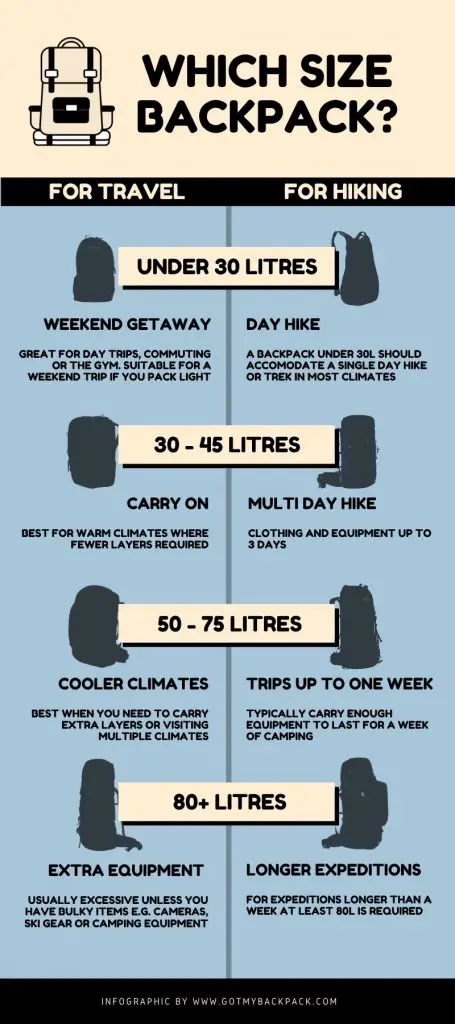 ---
Best 20L Backpacks
Here are the best 20L backpacks: (with Amazon links)
Below are my full reviews of each backpack with the pros and cons of each
Osprey Hikelite 26 – Lightweight Hiking Pack
Material: 100D Nylon // Weight: 700g // Price: ££
The Hikelite is one of Ospreys most lightweight backpacks for outdoor use, coming in at around 700g. To achieve this, they have stripped away many of their usual features to give a no-frills pack designed for hikers.
It has a suspended mesh back panel for ventilation and load lifters to adjust how the weight sits on your back. The straps have a nice amount of padding but nothing over the top.
The 100D Nylon fabric isn't particularly water resistant but there is a rain cover that comes out of the bottom.
As far as pockets go, there is an easy access shove it pocket on the front for stashing dirty items in. Inside there is a convenient valuables pocket and stretchy water bottle pocket on the sides.
The hip belt is also very simple and seems like it has been designed to keep the pack secure rather than spreading the weight, again this is all part of their mission to provide a lightweight pack for day hikes.
---
Gregory Miwok 18 – Casual and functional
Material: 210D Nylon // Weight: 800g // Price: ££
Gregory is a brand that keeps growing on me, so I wanted to include one of their packs in this review. For the most-part, the Miwok 18 is very similar to the Hikelite 26 in its specs, features and even pricing, only with a slightly lower overall capacity.
It has a suspended back panel made from trampoline mesh, a common standard in outdoor packs these days.
One of the areas that it does excel over the Osprey is in adjustability, it's really easy to change the torso length, and along with the load lifters and a good hip belt means you can carry a decent weight with relative ease.
It has a shove it pocket on the front which is stretchy, allowing you to stash away any dirty or wet items very easily, plus there are plenty of loops for hanging your gear on if need be. Overall, this small bag packs a lot in.
---
Deuter Speedlite 20 – Great for all outdoor activities
Material: 210D Nylon // Weight: 490g // Price: ££
The Deuter Speedlite 20 is a very versatile pack that's best suited to outdoor activities.
The pack is lightweight, but still very functional. It has a spacious main compartment with a panel opening for good access. Scattered around the pack are plenty of smaller organisational pockets, including a pocket for your valuables, a key clip and a ton of places you can clip things on to the outside.
The mesh back panel helps with ventilation to ensure you don't get really hot and sweaty. Unlike other 20L backpacks, it's not a suspended back system, but with smaller volume backpacks I find this doesn't make a massive difference as it does with larger packs. There is a simple hip belt, but nothing padded so it's not great.
One of the great tweaks with this is the tapered should straps this provides a lot of manoeuvrability and they are well padded too.
Its shape makes it very versatile for all sorts of outdoor activities beyond hiking, including rock climbing, biking and more. I'm a big fan of the stretchy shove-it pocket on the front which is ideal for wet or dirty clothes on a hike.
---
Osprey Talon 22 – Tried and tested favourite
Material: 100D Nylon // Weight: 800g // Price: £££
See Tempest 20 for women's fit
The Osprey Talon 22 has been around the block a few times and still comes out as a great backpack for day hikes. It has all of the important features but no bells and whistles. It has a comfortable mesh style back panel which extends down to the hip belt.
Being a slightly older backpack, it features one of the more basic back panel systems from Osprey, the Airscape which has foam ridges and keeps the weight close to your back.
The backpack does feel much more rugged than the Hikelite which is very lightweight. As mentioned, it features a padded hip belt to help take the load and features handy hip belt pockets.
It also features a stretched front pocket, adjustable torso length and additional external attachment clips. The material used is the same as the Hikelite, 100D Nylon, and it also features sternum straps and trekking pole attachments.
---
Osprey Stratos 24 – Rugged hiking daypack
Material: 210D Nylon // Weight: 1.25Kg // Price: £££
See Sirrus 24 for women's fit
The Stratos is a much more rugged backpack than the two other Osprey packs I've mentioned. It's still only really suitable for day hikes but is designed for anyone carrying more equipment on their trips.
It's made from a thicker 210D Nylon and has a metal internal frame, which does result in it being heavier at 1.3kg, almost double that of the Hikelite.
It features the Airspeed backpanel system which is slightly better than the one used in the Talon 22. It's also made from trampoline mesh but is suspended so it creates a big more air flow through the space between your back and your pack. This is recommended if you tend to go out on super hot days or visiting warmer climates more frequently.
The back system comes down into the hip belt and helps spread the weight well. Other notable features include hydration sleeve pocket, trekking pole attachments, ice axe loop and side compression straps.
---
Osprey Daylite Plus – Best day pack
Material: 210D Nylon // Weight: 540g // Price: ££
Daylite is Osprey's range of everyday backpacks, designed and sized for general use, although still with that outdoorsy feel and durability that Osprey are known for. It comes in 7 different colours and is made from 210D Nylon which is slightly less dense than their travel backpacks but more durable than the lighter hiking backpacks shared earlier.
One of the biggest benefits of the Daylite series is that it can be connected to some of the larger Farpoint backpacks which gives you extra capacity when travelling and a simple way to carry your day pack. The fact that this pack only weighs 540g makes it a great addition to your larger travel bag when off on trips.
It has a large panel opening which comes down halfway of the pack so you won't struggle getting to your belongings, there are also really big side pockets which can also be used to store larger items such as tripods or trekking poles when used in tandem with the compression straps at the top.
The only downside to this pack is that the hip belt is very basic, even for everyday use it's still nice to have a decent belt on your hips.
---
Kelty Redwing 22 – Great travel pack
Material: 420D Nylon // Weight: 540g // Price: ££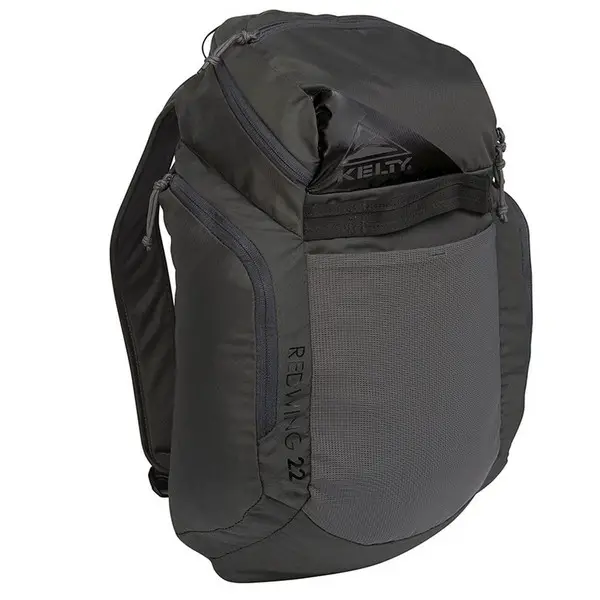 This makes a great day pack with many of the features that have made the larger Redwing's such a favourite of mine, all condensed down into a more manageable size.
The material is 420D Nylon, probably the toughest we've seen on a 20L backpack and it has massive handles for carrying.
As well as the usual zipped side pockets featured on all Redwings, it has a stretch shove it pocket on the front and a water bladder pouch too. Access to the main compartment is extremely easy thanks to the large opening.
The back panel isn't mesh like some of the packs more suited to hiking, it's actually a solid panel however it's been curved so that it sits to the form of your spine. The shoulder straps don't have a huge amount of padding, but the large footprint of them helps spread the pressure.
---
Kanken Fjällräven – Classic backpack
Material: Vinylon // Weight: 300g // Price: ££
It's a known fact that the Kanken was originally designed as a backpack for school kids, but somehow, it's evolved into a recognisable backpack that's loved by kids and adults alike. It's such a staple item that you'll find many rip-off brands styled to look just like it – but we'd always recommend the original.
The back panel is simply made from foam which suits its purpose as a commuter pack and makes it comfortable to carry. The pack does have some water resistance thanks to the vinylon synthetic fibre which helps it swell in the rain, however it doesn't fare well in heavier rainfall.
This backpack is designed for urban use, so I wouldn't expect features such as hip belts, however the shoulder straps could have more padding for extended use. The pack has really durable YKK zips often found in outdoor packs. As far as a simple and fashionable bag, it gets my vote.
---
Mark Ryden 23L Business Backpack
Material: Water Resistant Polyester // Weight: 900g // Price: ££
I've included the Mark Ryden backpack as an option for any who needs something a bit smarter, whilst still be extremely functional. It's water resistant in light showers but won't hold out for heavy down pours.
This is a great backpack for business and has a laptop pocket that will fit any laptop up to 17.3". It has an external USB charging point so you can charge your phone easily whilst on the move (power bank not included).
The backpack is front loading which is quite different from any of the others on this list, this means it opens more like a suitcase than a backpack. One of the other selling points of this item is that it's expandable. It can go from a 23L backpack for regular use, up to a 39L when you want to travel for longer.
---
Berghaus TwnetyFourSeven – Budget Pick
Material: 600D Polyester // Weight: 430g // Price: £
The Berghaus TwentyFourSeven is my go-to budget backpack for everyday use, you may have seen me feature this in some of my other backpack guides as it's a solid pick for anyone looking to spend under £30.
It doesn't have many features that stand out, but the main reason I like it is for the durability of the build, something that is hard to come by in many budget backpacks.
It's made from 600D Polyester and has a reasonable amount of padding. The only real features to share are the hydration sleeve compatibility and the useful gear loops on the outside. Oh, and did I mention that it's under £30!
---
Backpack Buyers Guide
I like to talk about the details that make each backpack different, if it's your first time buying a backpack then I've put together this helpful buyers guide for you. If you're a seasoned buyer then you can skip straight to the recommendations.
Backpanel ventilation
If you frequently use your backpack during strenuous activity, then you'll be familiar with how hot and sweaty it can make your back. That's why many manufacturers have developed back panels that can help with ventilation.
At the very basic level, using a material such as trampoline mesh can help give extra air ways, but more advanced packs will have a suspended pack which allows air flow between your back and the backpack.
Material
When it comes to the material, you'll always be making a trade off between durability, weight and price. Nylon tends to be a more durable fabric than Polyester, but Nylon packs are usually more expensive.
Then there is the density of the material, measured in dernier (D), a higher D-number means a thicker and stronger material, but also heavier. Some fabric also uses a ripstop reinforcing technique to make it tear resistant and many manufacturers will add some form of a water-resistant coating.
Extra features
The types of features you'll be looking for will entirely depend upon what you will be using it for, but common features found in 20 litre backpacks include:
Hydration bladder compatible – includes a pouch for a water bladder and places to feed it through
Hip belt – some of the packs have a simple belt that is more about keeping the bag secure, others have a thicker and more functional belt that helps distribute the packs weight more
Shove-it pocket – mainly found in hiking backpacks, this is a stretchy pouch on the front that's usually used for stashing a waterproof jacket or other items that need to be quickly grabbed.
Laptop sleeve – backpacks designed to hold laptops will usually have a dedicated pocket for them, on well thought through backpacks this will be suspended from the floor to reduce any damage when the pack is dropped.
---
FAQs
Will a 20L backpack fit as carry on? Yes, a 20L backpack is suitable for use as carry on for all airlines around the world.
Is a 20L backpack big enough? A 20L backpack is big enough for carrying items around during the day, whether you are outdoors or exploring an urban environment. It probably won't be big enough for an overnight trip where you need to carry an extra change of clothes.