As an affiliate I may earn a commission on any qualifying purchases, including those from Amazon, at no extra cost to you.
Your backpack is one of the most important pieces of travel gear you'll buy. Yet, with hundred of options to pick from, choosing the right one for you can be overwhelming.
That's why I've put together this handy guide of my favourite 40L backpacks in the UK to take the trouble out for you.
Quick Summary
In a rush? Here are my top 4 picks. Keep reading below for the full list.
Image
Overview
 
Best for Travel: Osprey Farpoint 40

My go-to travel backpack for 3+ years.
Front loading like a suitcase.
Carry-on compliant.

Best for Hiking:
Kelty Redwing 44L

Mesh airflow back panel for good ventilation
High quality build
Kelty signature wing side pockets

Budget Pick: Mountain Warehouse Venture 40L

Best value for money
Comfortable fit with adjustable torso

Anti-Theft Features: Pacsafe Venturesafe EXP45

Exomesh material prevents slashing
Puncture resistant zips
Front loading
---
Is a 40L Backpack Right?
First of all, let's consider the use cases for a 40 litre backpack so that we can better evaluate them:
Multi-day Hiking : If you're going on a multi-day hike or doing other outdoor activities that involve camping overnight, a 40L backpack is a adequate to carry all of your clothing and gear providing you are sharing the gear with others.
Travel to Warm Climates: I'd recommend a 40L backpack as the optimum size for taking with you to moderate and warm climates where you need fewer layers of clothing. Most 40L travel backpacks will fit as hand luggage with airlines across the world and should have enough space for about 1-2 weeks of clothes for a typical backpacker.
Even with a laptop I manage to fit everything I need in to a 40L. However, if you're carrying additional gear such as camping equipment or sports wear then you'll probably want a larger size.
Here's a helpful infographic with some guidance but every one will have different requirements depending upon packing style, trip, etc.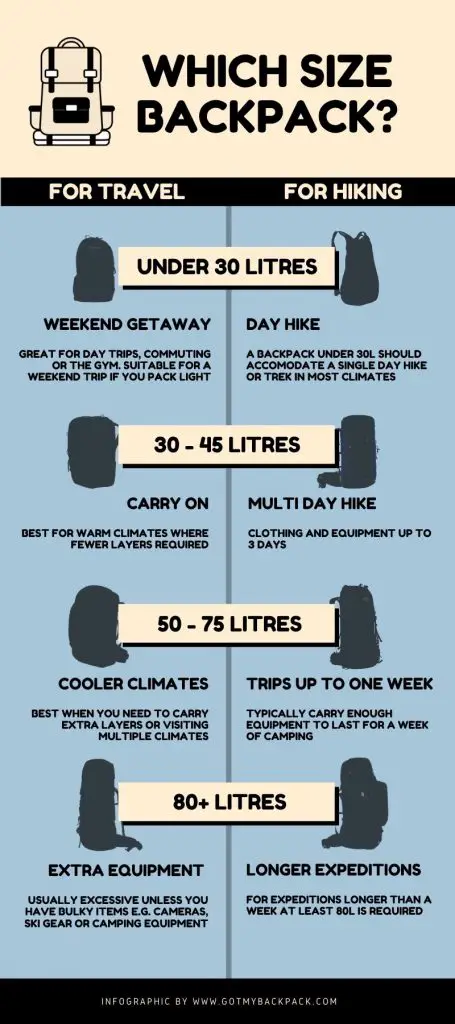 ---
Best 40L Backpacks
Here are my top recommended 40L backpacks (with Amazon links):
Below are my full reviews of each backpack to help you choose between them.
Best for Travel: Osprey Farpoint 40
See Fairview 40 for Women's fit
Material: 600D + 210D Ripstop Nylon
Weight: 1.4kg
Price: ££
Full disclaimer, this is the backpack I use for most of my backpacking adventures and I don't see that changing any time soon because I think it's one of the best 40L backpacks and the price is very reasonable.
First of all, the backpack is carry on compliant for most airlines in the world with no questions asked.
It's front loading and was one of the first mainstream backpacks to adopt and refine this style. It opens up just like a suitcase.
The build quality is great, especially the big beefy zips. They're lockable and hide away under a flap, once you've secured the compression straps as well, it's going to take a lot to break into this backpack unnoticed.
The backpack is comfortable to carry as it has been built to transfer most of the weight to the thick hip belt. Not only is the bag lightweight, it also has a sternum and well padded shoulder straps. The back panel is meshy which helps with ventilation although it doesn't quite compare to some of the ventilation systems on the hiking backpacks.
It has a large organisation compartment with a suspended laptop pocket so that it doesn't smash if you drop the bag.
The Farpoint isn't without its problems though, when the bag is stuffed full, the various compartments on the outside are difficult to use. The other downside that I experienced during my travels was the popularity of the backpack which can confuse people in luggage rooms and dorms if there are a number of them, you'll need to tie things to it so nobody takes yours by accident.
The women's version is called the Fairview 40, this has all the same features except the straps aren't as high and its better suited to a woman's frame.
View the Farpoint 40 (men's fit) or Fairview 40 (women's fit) on Amazon now.
---
Runner Up for Travel: Kathmandu Litehaul 38
Material: Recycled Nylon
Weight: 1.4kg
Price: ££
The segmentation of the backpack is great with a large accessible top pocket that's far better than the usual brain lid on most backpacks. Having more items in here will reduce the size of main compartment but it's still very roomy for a 40L.
It's a very compact backpack that sits nicely on your back and it will easily go as carry on luggage. The load bearing straps do a great job of bringing the weight close to your body.
Really comfortable to carry with lots of padding. I'm never a fan of when the laptop sleeve sits against your back, but you can't feel it with this bag.
It's got excellent back circulation with mesh vents and well padded back and shoulder straps.
The hip straps and backpack straps all stow away in hidden zipped compartments so you can use the duffel bag style shoulder strap.
One of the best features is its integration with the 12L Litehaul day sack (sold separately) that attaches well to the front above the sternum strap, so you don't need to carry it on backwards.
The material isn't the most durable so expect wear and tear over time, however it's super lightweight at only 1.4kg which makes up for this and it's made from recycled Polyester.
---
Best for Hiking: Kelty Redwing 44
Material: 420D Polyester
Weight: 1.2kg
Price: ££
Kelty is a UK based company located in Fife, Scotland. The Redwing 44L is a durable backpack that is best suited to hiking.
Being 44L, it has a ton of space inside but still manages to look quite compact.
This is a backpack for people who like to keep everything in their bags organised in separate compartments with well designed zip pockets on the side and front.
The main compartment has a large top loading zip, however by undoing the compression straps, it opens further down for front access so you can easily get to items at the bottom.
It's also comfortable to carry for prolonged periods with good weight distribution and a mesh airflow back panel for good ventilation. The hip belt is beefy so it will take a lot of the weight or can be removed when not in use.
There are lots of adjustments to make it fir your body and it also comes in both men's and women's versions.
Other nice little features include the tuck away carry handle at the front and room to stash extra items behind the front pocket.
This is a hiking and outdoors backpack as opposed to a travel backpack.
---
Runner Up for Hiking: Deuter Futura Pro 40
Material: 600D Polyester
Weight: 1.6kg
Price: £££
It has a well-designed Aircomfort suspension system that separates the pack from your back using a mesh support, this allows comfort and good ventilation.
A unique feature to this pack is the flexible hip belt that moves independently of the pack allowing much more freedom as your hiking.
It's quite heavy for a 40L backpack which is the trade-off for the thick abrasion resistant 600D polyester material which makes it one of the most durable backpacks here. It is DWR coated for good weather resistance but also includes a detachable rain cover in a dedicated pocket.
As with the FreeFlow 40, this backpack has been designed with a stowable bottom pocket which can be zipped away to create one large compartment or used to separate clothing.
This is a hiking backpack through and through with top loading, compression straps, hydration compatibility and all the usual features hikers need.
I like the design, it's a tall and think pack with a minimal look, featuring lots of reflective strips for hiking in the dark. There is also a women's version specific to a slimmer frame.
---
Premium Pick: Peak Design 45
Material: 400D Recycled Nylon
Weight: 2.05kg
Price: ££££
The Peak Design 45L travel backpack is a strong and durable bag that stands out for it's well thought through design.
But this is a 40L backpack review I hear you say. Well, the best thing about this bag is its versatile size. It comes standard at 35L however compression zips can expand to 45L or the compression snaps can reduce it to 30L.
The bag comes in black and sage, made from a 400D Nylon Canvas. The straps are a little thin in padding, but they make up for it with their signature rotating action that allows them to be easily and quickly stowed away.
Another great design feature is the organisation compartment which is big enough to store all your essentials, or it can be unzipped and tucked away to allow extra room in the main compartment.
There's a padded laptop and tablet compartment at the back of the bag, which can be a little uncomfortable on your back.
This bag has tons of design features that it's impossible to go through each in detail here, but others include:
Bag can open from both the front and the back
Also has side access zips
Large compartment for storing a water bottle or coffee thermos that doesn't eat away at the bag's capacity
Detachable sternum (although these are easily lost so be careful)
Stowable hip belt with metal buckle although the belt is fairly thin so not as beneficial
Rain cover pocket
Overall, the bag looks great with a minimalist design and can be carried as both a backpack and a duffel bag. The bag comes in quite heavy for a 40L backpack but the weight distribution is fantastic so you won't feel this added weight when carrying on your back.
This company is based in the states, however UK shipping is available for just £4 but it can take up to 10 working days so allow extra time before any trips.
---
Budget Pick: Mountain Warehouse Venture 40
Weight: 1.2kg
Price: £
Mountain Warehouse is a UK-based store that sells popular outdoor brands as well as its own branded range that includes this Venture 40L.
This is a great budget backpack that is ideal for beginner hikers planning a multiday trip.
It has all the main features you'd expect from a hiking backpack including a mesh back for great ventilation, lots of adjustability to ensure it fits, and padding on the shoulders. There is also a women's fit.
The backpack is hydration compatible and has lots of pockets for storing all your gear. However, many of these can limit the space in the main compartment.
Whilst it's not water resistant material, it does come with a built in waterproof cover.
You're probably wondering how such a feature filled backpack can be so cheap. The answer is in the overall quality, it has a plastic frame instead of the usual wireframe and it doesn't feel durable, especially the zips.
The backpack is top loading so I wouldn't recommend it for travelling, but as a cheap backpack for camping or hiking, it does the job.
---
Most Durable: Nomatic Backpack
Material: Waterproof Tarpaulin
Weight: 2kg
Price: ££££
Nomatic started as a Kickstarter for a wallet as recently as 2014, it has since then evolved into a fully-fledged business with an epic travel backpack.
This is a feature-full design with over 20 different features. It has compartments for everything you need, including a shoe compartment, book compartment and a laundry bag.
It's made from a tarpaulin material which isn't just water resistant as most of the backpacks here but is waterproof.
It's designed to fit as carry on luggage, but at 2Kgs that's already a good chunk of your weight allowance gone. It's been designed to also carry as a duffel bag although hasn't quite nailed this.
This bag has only recently become available in the UK after taking the states by storm but at more than £200, it's a lot to fork out.
---
Anti-Theft Features: PacSafe Venturesafe
Material: Polyester
Weight: 1.8kg
Price: £££
This 45L backpack is ideal for anyone who's safety conscious while they travel.
It's been designed with lots of antitheft features including a stainless steel exomesh skeleton within the fabric that prevents any slashing.
It also has tough, puncture resistant zips that can be locked via the lockable 'roofbar' system on top of the bag.
Where the pack falls down slightly is the ventilation on the back panel which makes it a bit uncomfortable if using for long periods.
It's great for travel thanks to the front opening that allows you to access it like a suitcase.
---
Key Features to Look For When Buying a 40L Backpack
When you're purchasing a backpack, especially if its your first one, the features can be overwhelming and sometimes you may get drawn in by the novelty features and forget about the things that matter. Let's break down a few of the key things to look for when purchasing a travel or hiking backpack:
1. Material: Nylon vs Polyester
All of the backpacks here are made from Nylon or Polyester which are both very durable. Both have pros and cons, Nylon is a stronger material and is easier to clean whereas Polyester has more water resistance, driers quicker and is softer.
Overall, I prefer Nylon. Pay attention to the dernier number, the higher the dernier number, the thicker and more durable the material is, but also the heavier the bag can be. On average backpacks are usually around 300D-600D.
The production of Nylon and Polyester is not great for the environment so look out for backpacks using recycled versions of these.
2. Weight
It's important that the backpack itself is lightweight to reduce the strain on your back. Most 40L backpacks range from 1.4-1.6kg but there are some on this list as low as 1.2Kg which will be very comfortable.
Weight distribution is also important to put as much of the weight on your hips as opposed to your back. Features that help with this are load lifters (at the top of the should straps to lift the weight off your shoulders), a chest strap (called a sternum) and a hip belt.
3. Ventilation
Ventilation is essential on the areas that the backpack has direct contact with your body such as the back, shoulder straps and hip belts. A mesh type surface is the most common way to allow air circulation, however backpacks have come on a long way with some innovative systems.
The best ventilation occurs when the pack doesn't sit directly against your back such as Berghaus' FreeFlow system and Deuter's Aircomfort Sensmic system.
4. Opening: Top vs Front
If you'll be using your backpack for travelling, then front loading backpacks are much more convenient. This is when you're backpack opens up in the same way that a suitcase would and is easier to find your belongings.
For hiking, a top loading is usually preferred as a front loader would require lying the backpack down flat which could be inconvenient on a hike.
Many backpacks are verging away from this traditional separation with new ideas that offer a 'best of both worlds'.
---
Other Noteworthy Backpacks (outside the UK)
The world of backpacks has seen some serious innovation with some great travel backpacks from newer businesses that are serious contenders for the best 40L backpacks.
There are a few companies killing it over in the states with some great bags that I need to share with you. Interestingly, all these companies were founded in the last 12 years, compared to the likes of Osprey, Kathmandu and Berghaus which have over 125 years of experience between them.
If you really want to get hold of these bags in the UK, then it is probably possible through eBay or boutique websites, but I'm leaving them out of my main recommendations until they are widely and easily accessible.
Tortuga have been absolutely smashing it with their Setout over in the states so it's only a matter of time before it's available here in the UK.
The backpack may only be 35L, but it has excellent capacity and fits nicely as a carry on luggage. There is also a 45L available.
It's made from a super durable 900D polyester which is thicker than most I've reviewed here, plus it's recycled. It's also really comfortable to wear and has good weather resistance.
Controversially, I'm not a huge fan of the design myself as it seems very square, but there are lots of people who rave about this. The Setout is on sale in the states for £160.
Goruck describe themselves as 'bridging the civilian and military worlds' and that is an apt description for their GR2 40L backpack.
This is an absolute beast of a backpack that will endure anything you throw at it thanks to it's 1000D nylon material – yes that's five times thicker than my Osprey Farpoint. This level of durability comes at a cost as it's 2.2Kg, it also comes at a significant financial cost of £260.
---
Taking Care of Your Backpack
Once you've purchased your brand new 40L backpack, make it last longer by taking good care of it. Here are a few tips and tricks:
Hoovering
It's obvious now I've said it, but many people don't think about using a hoover to get rid of dirt from the inside of your backpack.
Cleaning
You'll want to use a regular kitchen sponge with the soft side and rough side. Do not leave a backpack submerged in water to clean it, use baby shampoo and the sponge to scrub it clean it and then rise with a shower. It will need a few days to dry.
Zip Care
Having an intact zip is essential to keep your backpack functional for as long as possible. When packing your bag, don't over pack it so that you're forced to put a lot of pressure on the zips. You can maintain the zip using a zipper lubricant such as McNett's, which was originally designed to maintain wet suit zips. Alternatively, you can use candle wax for this.
Remove Odours
A well known tip in the backpacker community is to leave tea bags in your bag overnight to make it smell nice.
Re-Waterproofing
Even though most of the backpacks in this guide have some sort of coating or weather resistant material, over time this can wear. You can use a waterproofing treatment spray to restore this resistance without running the breathability.
---
My Verdict
If money was no object, I would opt for the Peak Design 45L every time as it's superbly designed, but at £250 it's well out of my price range.
However, taking price into consideration, the Osprey Farpoint 40 (or Fairview 40 for women) or the Kathmandu Litehaul are my favourite travel backpacks in the UK.
The Farpoint 40 is my current travel backpack and I have no plans to change this any time soon.
The Kelty Redwing 44 is my recommended 40L backpack for multi day hikes or overnight camping trips.
Price key: £ = Under £50, ££ = £50-100, £££ = £101-£200, ££££ = £201+