As an affiliate I may earn a commission on any qualifying purchases, including those from Amazon, at no extra cost to you.
Here is my West Coast America road trip itinerary – including Los Angeles (LA), Grand Canyon, Las Vegas, Yosemite, San Francisco and the Pacific Coast Highway.
We visited three US states in total; California, Nevada and Arizona, it was one of the most amazing experiences. If you're planning to take a holiday there, here is everything you need to know to help plan your trip.
West Coast America is so diverse, you'll need a minimum of two weeks to experience everything it has to offer including the Pacific Coast Highway (also known as Highway 1).
You could easily spend more time on this trip but remember that it can be expensive once you're there.
---
GETTING AROUND
Getting between all the major cities is surprisingly easy via flights, however if you want to get out to the national parks and drive down the Pacific Coast Highway (aka Highway 1 – which I'd strongly advise), then hiring a car is the best option.
Some tips when hiring a car at Los Angeles airport (or more broadly in the US):
We booked using rentalcars.com, they have access to all the major US car hire brands. Hertz, Avis and Budget are well known and reliable providers with a free shuttle bus at the airport. We ended up using dollar as it was the cheapest for the car we wanted. there were no issues however it was a bit of a headache trying to find the branch so you may want to get a taxi.
Watch out for extra fees when dropping off a hire car in a different location than you picked it up – we decided to keep the same car for the whole trip and drop it back off at the airport.
Make sure you are aware of any mileage limitations – unlimited is always best but if you do have a limit, ensure you calculate how far you will travel and allow extra for those impromptu trips (or getting lost – speaking from experience!).
If you're under 25, make sure you check any restrictions or additional charges when booking
Remember that in America you drive on the right side of the road and that you will usually need to prepay when filling up with fuel.
If you have a UK driving licence, remember to get a check code from the DVLA – find out more here.
---
WHERE TO VISIT ON A WEST COAST AMERICA TRIP?
 We made five main stops on our journey, starting and ending in LA; Grand Canyon, Las Vegas, Yosemite, San Francisco, Los Angeles. This route allowed us to finish the journey with a trip down the Pacific Coast Highway – an absolute stunning journey.
1: Grand Canyon
One of the wonders of the world, this 18-mile-wide canyon in North West Arizona is well worth a visit. Stop off at the South Rim for hiking and driving trails offering stunning views.
We stayed at Days Inn in Flagstaff as it was far cheaper than staying within the national park and we didn't need to book as far ahead. The drive to the canyon took us about 1.5hours the following day. If I was visiting again I'd look to stay a bit closer.
Things to do at the Grand Canyon:
Walk along the Rim trail from the visitor centre for the best view points
Drive along dessert view drive to experience the canyon in a different way.
2: Las Vegas
There is no place quite like Vegas, experience the world famous casinos, shopping and nightlife in the entertainment capital of the world out in the Nevada dessert.
We stayed at Red Roof Inn which is set back from the main strip so we got a great deal for a nice hotel. However, if you are willing to risk it and book at last minute you may get an excellent price for a good hotel, I spotted lots of last minute deals but our accommodation was non-refundable.
Things to do in Las Vegas:
Explore the casinos and maybe have a cheeky gamble
Check out some of the shows on offer, there's every genre from musicals to magic.
Try to visit a nightclub for the best nightlife, XS nightclub at Wynn is a favourite with it's famous Sunday night pool party.
Try some of the nearby day trips from Vegas such as the Red Rock Canyon or the Seven Magic Mountains art project.
3: Yosemite National Park
After the bustle of Vegas, head back to California and visit the beautiful national park of Yosemite to take in the waterfalls, lakes and mountain trails.
Again we opted not to stay in the national park but to visit it as a day trip. We stayed at Miners Inn in Mariposa which was about an hours drive from the main hikes at Yosemite, it was a good location and one of the cheapest nights accommodation of the trip.
Things to do at Yosemite National Park:
Experience the stunning views from glacier point
Take a stroll around Mirror Lake
Hike up the Mist Trail to see Vernal Falls.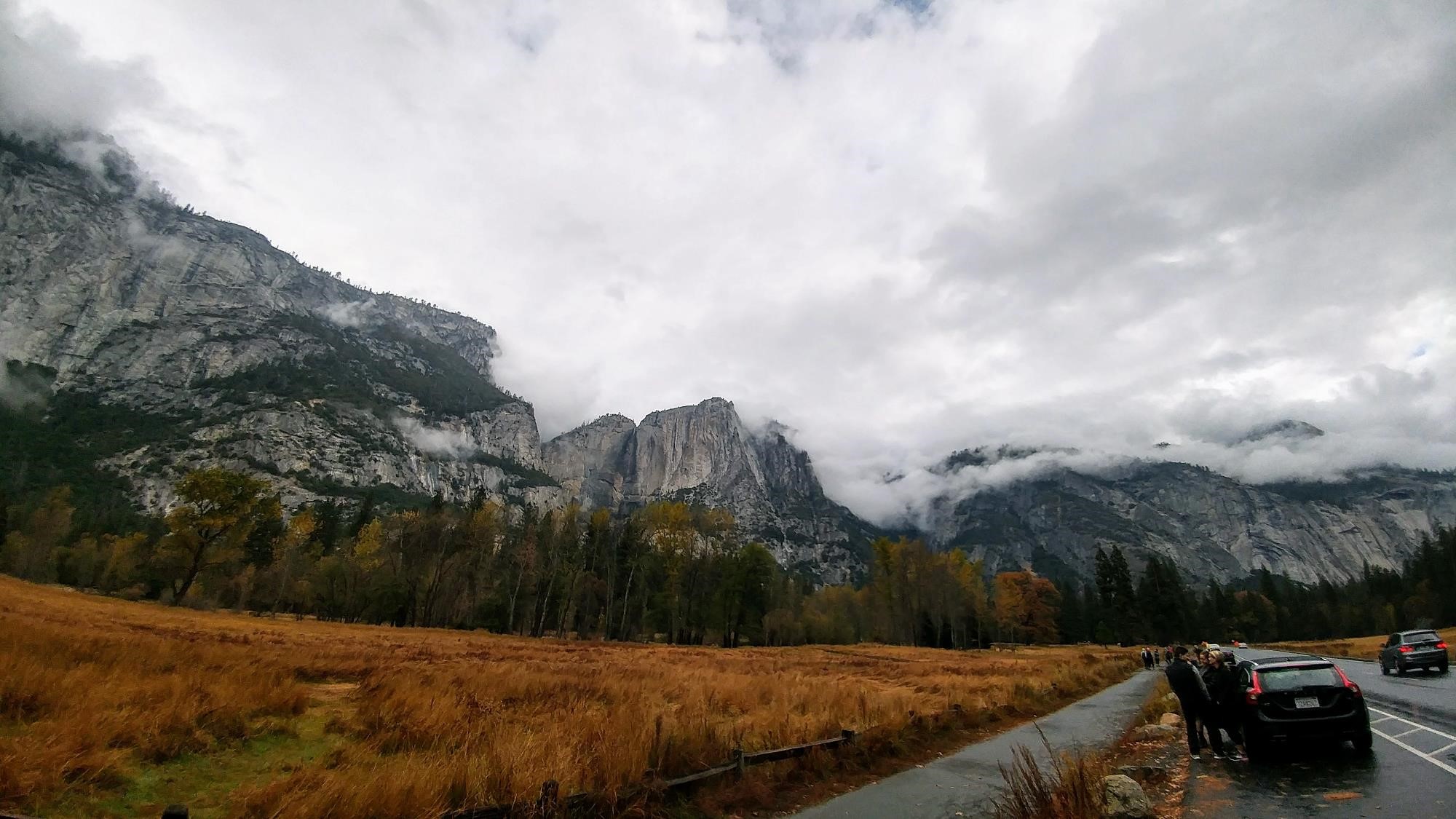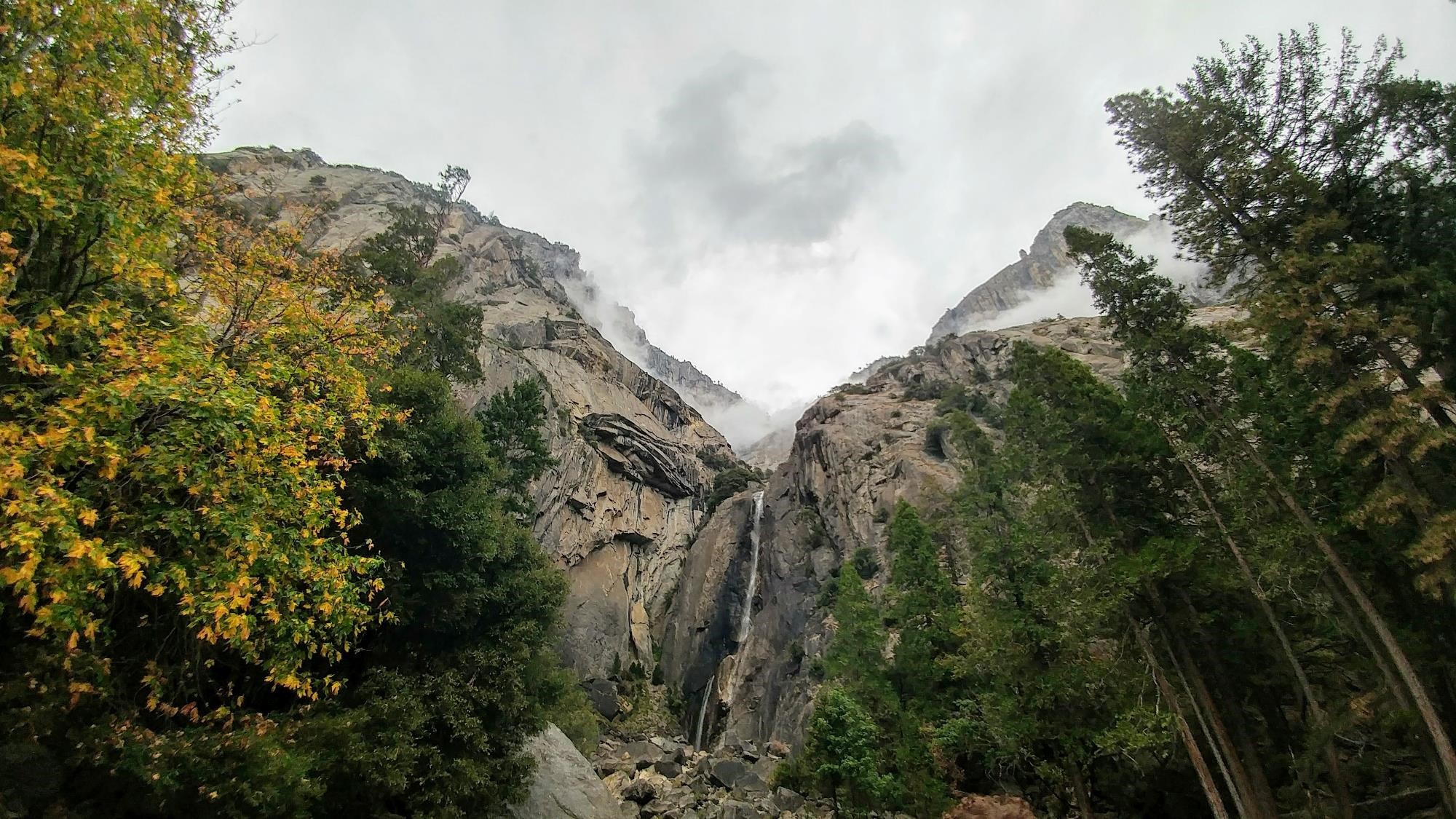 4: San Francisco
It's easy to see why San Francisco is one of the best cities in the world to visit. This tightly packed city has unrivalled attractions including the infamous golden gate bridge. Known for trams, steep hills and fortune cookies, it's a city sure to surprise you.
Things to do in San Francisco:
Cycle across the golden gate bridge
Spend an afternoon at Fisherman's Wharf
Ride the last operational cable car system in the world.
5: Pacific Coast Highway
Spend the next two days driving the stunning Pacific Coast Highway. This legendary route along the rugged coastline offers the opportunity to visit beautiful sandy beaches, cute fishing villages and epic view points.
Here's my full Pacific Coast Highway itinerary with best stops to make during your two day trip and where to spend the night.
6: Los Angeles (LA)
After your drive down the Pacific Coast Highway, finish your West Coast America trip in the second biggest city in the US; Los Angeles (LA). With so many different area's to explore and cool things to do in LA you'll be spoilt for choice. Each area offers something different from star spotting in Hollywood to sun bathing at Venice beach.
Things to do in LA:
Visit the Hollywood sign and Griffin Observatory,
Spend a day at Santa Monica and Venice beach.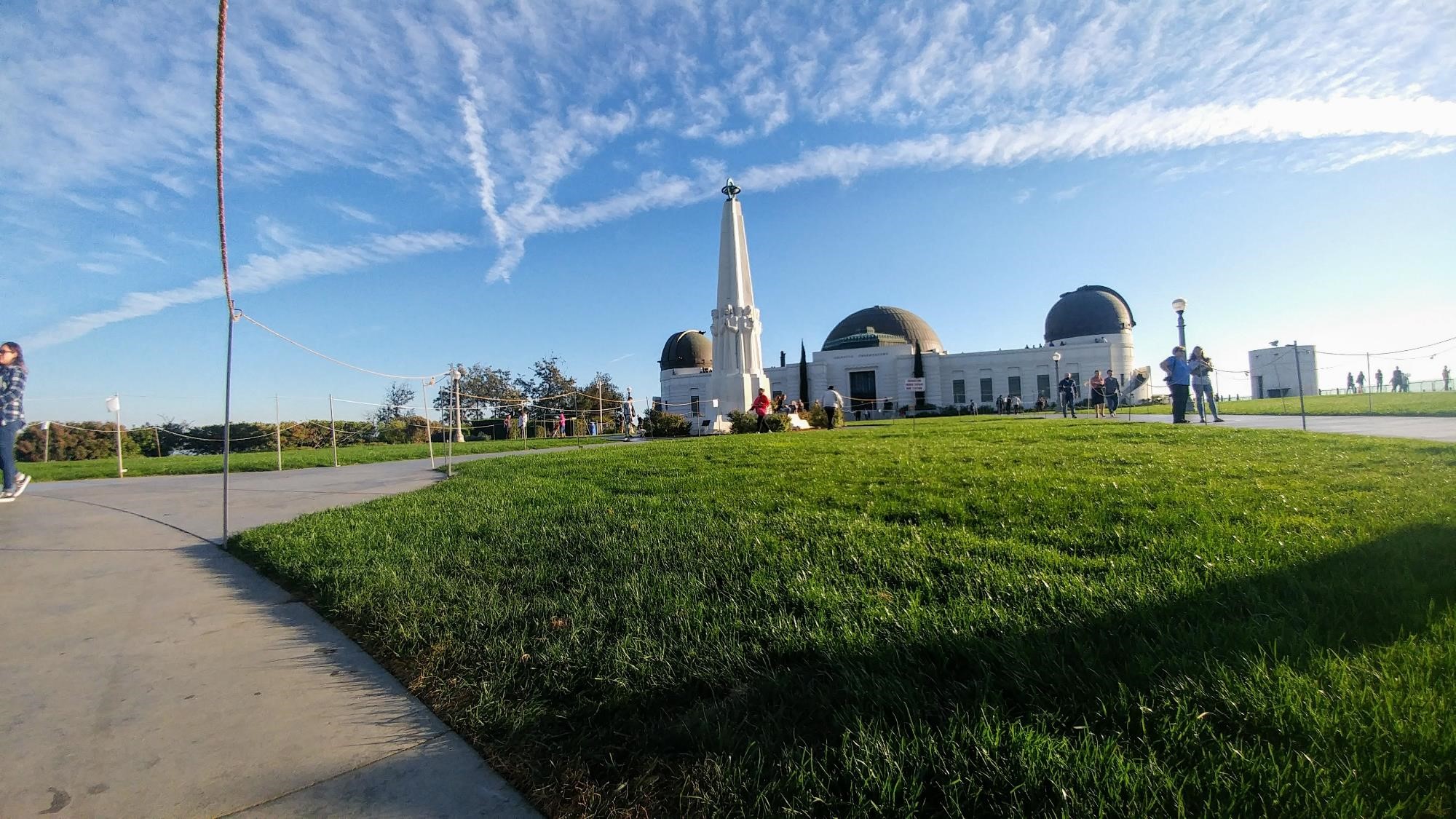 ---
DAY BY DAY ITINERARY
This is my 2 week West Coast America itinerary. It starts and finishes in Los Angeles so you can keep the same car for the whole trip. In total we drove about 3,000 miles. If you're not comfortable driving this distance then you may want to consider including flights.
---
HOW TO SPEND 14 DAYS:
1: Head to the Grand Canyon. You can use a nearby town such as Flagstaff for cheaper accommodation than staying in the national park.
2: Visit Grand Canyon South Rim – head to the visitor centre to start your day.
3: Drive to Las Vegas – visit hoover dam on the way
4 + 5: Spend two days in Las Vegas, visit some casinos and try to book a show. Also worth a few hours visiting the old part of Vegas – check out the Heart Attack Grill for a great food experience.
6: Drive to Yosemite National Park – prepare yourself for a full day of driving! Stop in a nearby town such as Mariposa for cheaper accommodation than staying in Yosemite.
7: Full day to visit Yosemite – get to the park early to make the most of the hikes.
8: Drive to San Francisco. Driving in San Fran can be treacherous so try to plan where you're going to park before you get there.
9: Full day to see San Francisco.
10: Drive down the Pacific Coast Highway (highway 1), stopover in Monterey – view the best stops here.
11: Drive the rest of the Pacific Coast Highway until Los Angeles (LA).
12 + 13: Two days to explore LA, suggest visiting Hollywood and Santa Monica.
14: Time to head home.
If you have longer, consider spending a little more time at Yosemite National Park as this is a stunning place. You could also consider extra stops such as Death Valley or San Diego.
---
Pin this post: