As an affiliate I may earn a commission on any qualifying purchases, including those from Amazon, at no extra cost to you.
Backpacks have progressed to become far more than just a fashion statement. Today, there are specialty backpacks for every purpose and in every size.
Choosing a backpack can be overwhelming yet your choice can make or break a trip so it's worthwhile investing some time to get it right. Don't have time?
Well, lucky you came here as I'm going to break down the best 30 litre backpacks for every occasion.
Quick Summary
Here are my top 5 backpacks, keep reading below for the full list:
Image
Overview
 

Best for Travel: Osprey Porter 30

• Front loading like a suitcase which is ideal for travel.
• Leading Osprey All Mighty Guarantee.
• Straight jacket style compression keeps it compact.

Best for Hiking: Osprey Stratos 34

• Suspended pack keeps your back well ventilated when hiking.
• Highly adjustable torso.

Best for Commute: The North Face Jester

• Great everyday backpack
• Padded and suspended laptop compartment is ideal for commuters

Budget Pick: Trespass Albus 30L

• Best value for money 30L backpack

Best Waterproof: Overboard Pro

• IP66 Level 3 Waterproof means it can float and be submerged in water
• Great for water sports and outdoor activity
---
What is a 30 Litre Backpack Used for?
Backpack capacity is measured in litres with most ranging from 15L up to 80L.
A 30L backpack is ideal for:
Day hikes (lots to pack): A 30L backpack is probably the biggest size you'd look at for a one day hike. It's roomy enough to bring all the food, water and additional layers you'll need. When choosing a hiking backpack, key features to look out for include good ventilation, weather resistance and comfort.
Multi-day Hikes (frugal pack): A 30-35L backpack also sits at the lower end of the backpacks suitable for overnight hiking trips. This will appeal to a light packer for hikes up to 3 days in length.
Travel to Warm Climates: A 30L backpack is small enough to keep by your side, will fit as hand luggage with most airlines across the world and is still adequate room to pack enough items for travelling to warmer destinations where extra layers are not required.
Commuting: A 30L backpack is at the upper end size requirement for a commuter bag. It would suit commuters who carry a lot of equipment, such as a photographer, or those who carry personal items such as gym gear for after work.
If you're still a little unsure, I've put together this handy infographic with some rough advice on backpack sizes: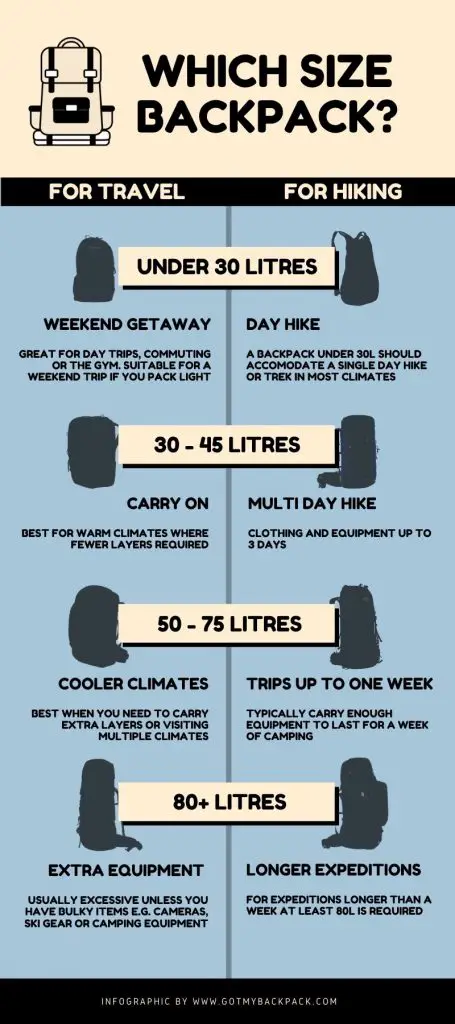 In this guide, I'll break down the best 30L backpacks for outdoors, travel and commuting, plus some additional speciality packs at the end.
---
Best 30 Litre Backpacks
Here are my top recommended 30L backpacks for all occasions (with links to Amazon):
Below are my in-depth reviews for each of these backpacks with the pros and cons for consideration.
Best for Travel: Osprey Porter 30
Capacity: 30L // Price: ££ // Suitable for: Travel
Osprey has always been a favourite backpack brand of mine and it's no different when it comes to the 30L category.
The 30L Osprey Porter is well designed for multi-use with a panel opening that allows it to be accessed from the top and front.
The back straps can be zipped away in favour of a shoulder strap and It features a rigid laptop sleeve which can be locked separately from the main pack.
The main compartment itself is big for a 30L backpack and with rigid walls, it can be packed quite full. The only thing missing is a water bottle holder.
As you'd expect from Osprey, the build quality is quite something. It's made of strong, ripstop materials with tough zips. As the pack sits directly against your bag, this can cause you to sweat a lot in humid climates.
It's also backed by their All Mighty Guarantee which not only guarantees replacement if there's a problem, but also guarantees repairs to the backpack at a reasonable price over the course of its life.
---
Runner Up for Travel: Oakley Kitchen Sink Backpack
Capacity: 30L // Price: ££ // Suitable for: Travel
The Oakley Kitchen Sink backpack is a tried and tested favourite that's known for its resilience and durability.
It's made from abrasion-resistant fabric and reinforced zips, plus it's weatherproof. It has a shoe compartment at the bottom and water bottle pockets at the side.
There's a hardened pocket for your personal belongings such as phones and it is capable of holding up to a 17" laptop.
---
Budget Travel Backpack: Inateck 30L
Capacity: 30L // Price: ££ // Suitable for: Travel
The Inateck is a great budget pick with a large main compartment, a 15.6" laptop compartment, and numerous pockets for toiletries and the like.
At 1.1kg it's light to carry and the compression straps allow you to keep it compact and the centre of gravity close to your back.
There are a couple of nice little features including pockets on the straps and a trolley sleeve if you use it in conjunction with a suitcase.
Where the backpack falls down slightly is its comfort, the padding is a little thin and there is no hip belt to spread the weight. But all in all, it's great value for money.
---
Best for Hiking: Osprey Stratos 34
Capacity: 34L // Price: ££ // Suitable for: Hiking and backpacking
The Osprey Stratos is, without doubt, one of my favourite hiking backpacks for multi-day trips.
The back panel is its stand-out feature, the pack is suspended which means there's plenty of ventilation space between your back and the actual weight of the pack.
It also has a mesh material running across the back and hip belt system.
The torso is highly adjustable with heavy-duty velcro to get the perfect fit.
It has a sleeping bag compartment on the base, hydration pouch, lager main compartment as well as plenty of additional pockets for water bottle,s etc. On the base is an integrated rain cover.
The 34L version is panel loading which I prefer for easy access, however, the slightly larger 36 is top loading only if that's your preference.
---
Runner Up for Hiking: Deuter Futura 30
Capacity: 30L // Price: £££ // Suitable for: Hiking and Trekking
Deuter is one of the leading makes of backpacks which are known for their excellent ergonomics.
The Deuter Futura 30L is no different.
This pack has excellent distribution management, so the weight sits comfortably on your hips.
The AirComfort fit sees the mesh suspension sit separately from the pack itself, in layman's terms this means you won't get super sweaty as it allows enough air circulation.
The main body is tall and thin, some might argue it's a bit too thin, but this helps it feel lightweight on your back.
The main body is top loading, which is great for hiking, however this makes it less convenient to find your belongings. Packing cubes would be advised.
There is a separate bottom compartment with its own zip, and it comes with a built in rain cover.
This backpack would be great for a short city trip but also works really well as a hiking backpack if you have lots to carry.
---
Most Rugged: Osprey Archeon 30L
Capacity: 30L // Price: ££££ // Suitable for: Hiking and Trekking
Brand new for 2020 is the Osprey Archeon range and the 30L version is already deserving as a place on the list of best 30L backpacks.
The key selling point of the range is its sustainability. Osprey has always proven itself to be a leader in sustainability and now they've created a range made from recycled materials.
This backpack is made from recycled nylon which uses fewer resources to create than virgin nylon and makes use of materials that would otherwise go to landfill.
The way this backpack opens is unique; it has both a top opening like a traditional backpack and a front opening zip.
It's very well designed with an Osprey Airscape back panel that has foam ridges for comfort and performance. It also has an inbuilt rain cover.
For a large backpack it has quite a small profile with compression straps and an adjustable torso height however at 1.8Kg it's pretty heavy for a 30L backpack.
---
Best for Commute: North Face Jester 29L
Capacity: 29L // Price: £ // Suitable for: Commuting and everyday
The latest version of North Face's Jester is made with recycled polyester that looks great whilst being thick and durable.
It has both a large main compartment and an organisation compartment with a well-padded laptop sleeve that's suspended for extra protection. The laptop sleeve sits against your back which makes the bag easier to pack.
It carries extremely well. Not only is it comfortable with a fit for both men and women, but it has an air channel for breathability and a sternum for weight distribution.
It uses North Face's FlexVent suspension system with a spine air channel and mesh shoulder supports so you should be able to carry it for longer periods of time without getting too sweaty.
It has lots of little details such as reflective elements for use at night, a whistle on the sternum and bungee cords on the front.
---
Best for School/College: Fjällräven Raven 28L
Capacity: 29L // Price: ££ // Suitable for: School, College and Commuting
The Fjällräven Raven 28L is a solid bag that is perfect for commuting.
This backpack is strong and durable, also making use of recycled polyester which is a sustainable material made from recycled water bottles.
You'll find it looks great and would blend in very well in a professional environment, it has lots of compartments including two external water bottle compartments, quick access pockets, and an organisational compartment.
All of these sections do eat into the overall space in the main pack.
It has an excellent organisational apartment that fully opens for access to your work items. This includes a well-padded laptop compartment that can hold up to 15" laptop.
The downside to this as a commuter backpack is that it's not waterproof and doesn't have a waterproof cover.
The backpack has padded straps however it lacks any sternum strap or ventilation against your back so it wouldn't be great for extended use such as hiking or travelling.
---
Great for Everyday Use: Berghaus TwnetyFourSeven 30L
Capacity: 30L // Price: £ // Suitable for: Commuting and everyday
Here's another Berghaus for your backpack bucket list. The robust and durable TwnetyFourSeven 30L is a great commuter or school backpack.
It has one large compartment that is top loading although the zips come down quite far for good access.
The outside has mesh water pockets and attachments for poles should you wish to use it for hiking however it isn't waterproof, so you'd need a cover for this.
It's very comfortable with padded straps and a sternum that helps with stability.
It's a great price for the quality of the bag.
---
Budget Pick – Trespass Albus 30L
Capacity: 30L // Price: £ // Suitable for: Everyday use
Simple no frills backpack that would suit any basic needs such as a day out with the kids but it's not particularly durable or weatherproof so it's best for light usage.
One front compartment and a large back compartment which is surprisingly roomy and would hold a laptop although there is no protection for it.
It has strings for holding your jacket on the outside and mesh pockets on both sides for water bottles. It has compression straps to keep the bag compact which can also be used to secure larger items into the water bottle pockets.
I like that there are plenty of colour options for design and overall, it's not a bad looking bag, it uses 600D polyester which is a reasonable thickness for a budget backpack however there is no internal lining or padding at all.
The shoulder straps are adjustable with some mesh madding however there is no sternum strap which is a real downside. It does however have limited air channels on the back which will help circulation.
Personally, I think you're better off spending that extra bit to get a more durable backpack, but if you're on a strict budget then it does the job.
---
Best for Photographers – Peak Design Everyday 30L
Capacity: 30L // Price: £££ // Suitable for: Travel, Photographers, Everyday Use
Photographers need look no further than the Peak Design Everyday Backpack which has recently released a V2 that's one-upped its first iteration.
The V2 has a lot of weather resistance and uses ripstop material for great durability.
The bag has clearly been designed with photographers in mind because of these features:
Every pocket is lockable
Includes an origami accessory divider for separating lenses and cameras
Tons of small pockets for batteries, memory cards, etc
The bag comes in three colourways, two of which use 100% recycled materials (the black does not).
It has a laptop slot that's suspended from the base in case of dropping and a separate slot for a tablet too. The outside has plenty of areas for attaching accessories.
The bag has great access to all parts as it can open from the top and side. However, it doesn't appear to hold a full 30L and still fully close.
Overall, this is a great niche bag for keeping your equipment safe although comes with a big price tag.
---
Best Waterproof Backpack – Overboard Pro Sports Day Sack 30L
Capacity: 30L // Price: ££ // Suitable for: Water Sports and Outdoor Activity
The Overboard Sports Pro 30L Day Sack is a heavy-duty waterproof backpack with high-frequency welded seams that are very durable.
On the outside are water bottle holders, a bungee cable which could store wet clothes and a small zip pouch. It also has reflective strips for cycling or hiking at night.
The inside there is one single compartment with a small zip pocket, there is limited padding inside and no laptop compartment. Because there aren't loads of compartments, the main area is huge for a 30L backpack.
It has an airflow back panel for circulation. The straps are well padded and have excellent air vents, as well as looking cool.
Roll top with a fold and seal top that keeps the water out. They are rated IP66 level 3 so they'll keep out dirt, dust and weather and can be quickly submerged in water. I like that they also float on top too so you shouldn't need to worry about it during water sports.
---
Backpack Buyers Guide
Here is a run down of the key things to consider when buying your 30L backpack:
Well ventilated: Backpacks are usually ventilated with mesh on the parts that touch your body, allowing air circulation and air channels on the back panel. The best backpacks will have a suspended pack that doesn't sit fully against your back.
Comfort: As well as being padded, you'll also want to ensure that the weight is comfortable to carry. Most of the weight should be supported via hip belts.
Adjustable: You'll want to find a backpack that has enough adjustments so that you can get the right fit to your body. Torso adjustments, shoulder straps and sternum should all be adjustable.
Protection: If you're using a backpack for work then chances are, you'll be carrying valuables. You'll want to ensure it has adequate security as well as padding to protect electronics. A suspended laptop compartment is best to protect it during falls.
Front, top or panel loading: Backpacks have traditionally opened from the top. However many backpacks designed especially for travel now open from the front like a suitcase. A panel design is a mid-ground between the two.
Weight distribution (hip belt, chest strap, etc): If you're backpacking then you could end up carrying your pack for long periods of time. Having a sternum strap (chest strap), hip belt and good weight balance is key.
---
Price key: £ = Under £50, ££ = £50-100, £££ = £101-£200, ££££ = £201+