As an affiliate I may earn a commission on any qualifying purchases, including those from Amazon, at no extra cost to you.
There are so many backpacks available and online marketplaces such as Amazon as flooded with cheap packs that don't stand the test of time and in the long run end up costing more.
That's where I'm here to help. I've now spent over a month reviewing backpacks for my series of guides where I share the best backpacks for each volume bracket, todays it's the turn of the 60 – 65L backpacks and I've got some great products to share with you.
Quick Summary
Image
Overview
 

Best for Travel: Deuter Aviant Access Pro 60

• Breathable back panel.
• Wide zip opening with lots of organisational compartments.
• Removable day pack.

Runner Up for Travel: Osprey Porter 65

• Classic front-loading backpack is perfect for travel.
• Padded and lockable laptop sleeve.

Best for Hiking: Osprey Atmos AG 65

• Anti-gravity suspension system.
• Trekking pole holders, water compartments accessible from front and included rain cover.

Runner Up for Hiking: Kelty Coyote 65

• Signature Kelty wing pockets on the side
• Top pocket doubles as a sling bag for a day pack

Best Under £100: Berghaus Trailhead 65

• Comfy curved hip belt.
• Trekking pole clips and lid pockets.
• Excellent value for money.

Best with Wheels: Osprey Sojourn 60

• Dual-purpose bag can be used as a backpack and wheeled luggage.
• Suspended back system inspired by Osprey's leading anti-gravity system.
---
Is a 60L Backpack Right for You?
Before we get into the full list, I'll just run through a few scenarios where a 60L backpack might come in handy.
Travelling to colder regions: If you're travelling across multiple regions or just visiting colder climates, this is an ideal size to ensure you can fit in the warmer layers you need. You may want to look for a backpack for clips for things like big coats on the outside.
Travelling to warmer climates with extra equipment: If you are only visiting warmer climates, but also have big bulky items such as sleeping bags or tents, then this is also a good size. However, for most people visiting warmer destinations and staying in hostels or hotels, then I would probably opt for a smaller pack.
Multi-day hiking: This size is ideal for multi-day hiking and trekking trips where you'll be on the trail for around 5 days and need to carry all your essential clothing, equipment and food. If you are carrying everything yourself then maybe a slight size upgrade will be required, but for the most part, 60L is okay.
Here is a helpful infographic I created to show which size backpack is best. Obviously, everyone's needs will be different and if you are able to share the essentials between more people this will require less volume than if you are carrying everything yourself.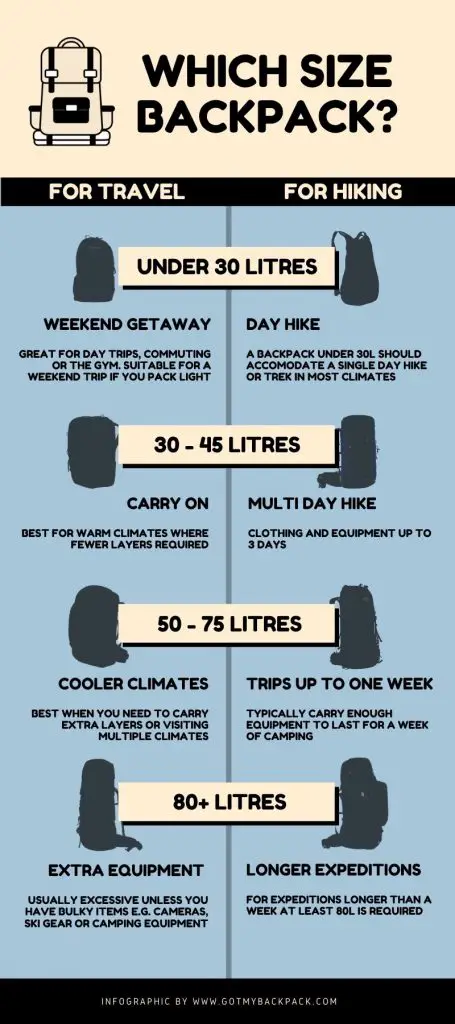 ---
Best 60L Backpacks
These are the best 60L backpacks currently on the market:
Here are my full reviews of the top 60L backpacks with pros and cons of each.
I have split them down in to travel, hiking, budget and backpack with wheels. If you're looking for a great all rounder that could function well in most situations, I'd draw your attention to the Kelty Coyote.
With a large front opening compartment and a removable day pack, this new backpack from Deuter has everything you need from a travel bag.
Price: £££
✓ Breathable back panel and easily adjusted torso
✓ Removable day pack
✓ Comfortable and breathable back system
✗ Quite pricey due to being a brand-new release
The Deuter Aviant Access Pro 60 is a newly released backpack but shoots straight to our number one position as best 60L travel backpack.
It features a breathable back panel with mesh padding and the torso is super easy to adjust as seen on some other Deuter packs. All of the straps can be zipped away neatly for checking in at airports.
Wide zip opening with lots of separate organisational compartment including section or dirty washing
It features a day pack that tucks nicely into a large front pocket, this can be used as another storage compartment or you can keep it as a daypack.
What I like about this bag compared to other bags with day packs is that the main compartment is still large enough to fit all your essentials in and once you remove the day pack, the pocket that it was in can still be useful for storing coats, jackets or other items that don't need to be zipped away.
---
A classic front loading backpack from Osprey that's simple and made with travel in mind.
*Doesn't seem to be available in Europe right now*
Price: £
✓ Simple and functional backpack with option to connect day pack
✓ Padded and lockable laptop sleeve
✓ Durable material and quality build as expected from Osprey
✗ Not as advanced as some Osprey packs in terms of ventilation and weight distribution
The Osprey Porter has been on the scene for a while so it's a popular backpack, but for reasons unbeknown to me, it's only available in the US.
The bag doesn't have the bells and whistles that some Osprey pack have, but it also doesn't have the price tag. It's a lightweight, front loading pack that opens like a suitcase and has plenty of room inside. The straight jacket style compression system will keep everything nice and compact. The design is sleek and for a 60L backpack it doesn't seem to obstructive.
Unlike its smaller sibling, the Osprey Porter 30, it has a lower compartment which would normally be allocated for a sleeping bag but if you're not camping it can be a handy additional storage compartment.
It does feature a laptop compartment which isn't in the main organisational compartment but sits against your back and is lockable for safe keeping.
The pack is Daylite compatible, this means you can purchase Osprey's Daylite day pack and it will connect to the reinforced loops on the front for easy carrying.
---
Easily my number one 60L backpack for hikers due to the anti gravity system which spreads the weight through your hips so well that the pack genuinely feels lighter.
Price: £££
✓ Anti-gravity suspension system
✓ Lots of features that are great for hiking.
✓ Trekking pole holders, water compartments accessible from front and included rain cover
✓ Thick 630D Nylon material
✗ Hip belt pockets are awkwardly placed
✗ Expensive
✗ Few toilets between lots of dorms
The AG in Osprey 65 AG stands for anti-gravity and refers to the packs best feature, it's trampoline mesh style back panel and waist belt. It hugs your waist to spread the load in a three-dimensional way and it really does reduce the feel of weight on yo9ur bag.
The shoulder straps are also made of a similar material and are really comfortable to wear. It also has a sternum and plenty of carabiner clips on the straps.
The pack comes in three different sizes and is adjustable, so you'll be able to get the perfect fit. This size is easily enough to carry all your gear for a 3-day camping or trekking trip and with the anti gravity system it will feel like you're only carrying half that.
Comes with an included rain cover stored in the lid. The front of the pack has a generous pocket for items to have conveniently accessible.
As you'd expect with osprey, they are chunky and durable YKK zips. I've had my Osprey for years and never had any issues with the zips. It has compression straps and plenty of places to hang additional items.
It also has a quick release trekking pole clip that stores the poles very conveniently so you can get them without taking the pack off, ideal for long trekking trips.
The side pockets are accessible from both the top and front which is handy for grabbing water quickly whilst hiking. It's also hydration compatible if you prefer that.
Bottom compartment that has a divider so you can remove it if necessary, this is a feature I've now come to expect from all backpacks of this quality.
---
With so many great features designed with hikers in mind, this is a deserving runner up that you should consider. It could also double up for travel if you plan to do lots of trekking along the way.
Price: ££
✓ Signature Kelty wing pockets which also allow items to stow behind such as tent and trekking poles
✓ Ventilated back panel
✓ Top pocket doubles as a sling bag for a day pack
✗ No rain cover
✗ Weight distribution not quite as good as the Atmos
Although this is the newest size option in the long-standing Coyote series, it's fast become one of their most popular as it's ideally sized for those 3-5 day backpacking trips in the countryside.
It's made with their usual quality and the tough 420d Polyester fabric ensures durability.
It's comfortable to wear with their fit-pro system for super easy torso adjustment and a ventilated back panel with mesh material to keep you from getting sweaty during treks. The pack also does a good job of spreading the weight to your hips, but I can't put it in the same league as the Osprey Atmos for this.
As you'd expect, the pack features the signature Kelty wing side pockets, I love these because they are a decent size and you can slide larger items between the wings and the main pack which is perfect for storing tent or trekking poles.
Other features on this backpack include:
Hydration sleeve compatible
Both top and front access to the main compartment which can be used for easy access to items in the middle and bottom of the pack
Top pocket doubles up as a sling bag for using when the full backpack is too much
Bottom compartment with removeable divider
Lots of other mesh pockets and hidden compartments for storing items
It's unfortunate that such a feature filled backpack doesn't have a rain cover, but you can purchase one separately. Overall, this is a well designer and well thought through pack with the needs of multiday hiking covered.
.
---
Comes with an impressive set of features for a sub £100 backpack. Comfortable hip belt and lots of storage inside, but not as good as the previous packs for ventilation against your back.
Price: £
✓ Plenty of room with lots of pockets for organisation
✓ Adjustable Biofit torso system that's super simple
✓ Curved hip belt is comfortable on your waist
✗ Quite heavy at 1.76kg
✗ Back ventilation system lacking compared to more expensive backpacks
✗ Narrow main compartment can be hard to pack and unpack
For a reasonable price under £100 with a standout feature being the curved hip belt. This is well designed so that it fits nicely against your hips but doesn't restrict movement as you walk.
There is an adjustable torso using Berghaus' Biofit system which combined with the load lifters and adjrnum will allow you to get a really comfortable fit.
Whilst there is some airflow from the back panel, it's not in the same class as the previous hiking backpacks I've mentioned and there is no mesh padding either. You should expect to get quite a sweaty back if spending long periods hiking with this.
It features tons of storage options with pockets on the sides, mesh water bottle pockets, trekking pole clips and lid pockets. It is also hydration system compatible and comes with a rain cover so you get a lot of bang for your buck.
Bottom compartment for sleeping bag or wet clothes, or the divider can be removed for a single large compartment with top and bottom access.
Watch out if you have the bottom compartment separated as tall narrow pack can make it difficult to find items inside. I always prefer shorter and wider packs, but this comes down to personal preference.
---
If you need a 60L bag that functions well as rolling luggage but also has exceptional performance as a backpack, this is the one for you.
Price: ££
✓ Suspended back system inspired by Osprey's leading anti-gravity system
✓ Stowable and removable shoulder straps
✓ Thick durable material
✗ More expensive than other wheeled backpacks
✗ No laptop sleeve
✗ Takes a few adjustments to convert
I have included two outstanding choices for 60L backpacks with wheels. The Osprey is my personal favourite because it's functionality as a backpack is particularly good with a mesh suspension system and comfy shoulder straps.
This dual-purpose bag works well as both a backpack and wheel luggage making it suitable for multiple occasions.
As wheeled luggage, it has a decent dual telescopic handle and tall wheels. The structure of the bag is strong with an extremely thick 1680 Nylon fabric.
When you want to use it as a backpack, it does take a bit of adjusting to attach the shoulder straps and load lifters at the top into the correct position, but once done it functions extremely well.
The back system is a trampoline mesh style with a suspended pack where the pack doesn't sit directly on your back allowing better circulation of air and weight distribution.
Although the backpack has a heavier frame than many of their other packs so that it functions well on wheels, it's hardly noticeable once on your back.
The backpack has a decent sized interior and a front loading opening as with most Osprey packs made for travel.
It has the straight jacket style flaps to compress it once full and keep it secure. Unfortunately, it is missing any laptop sleeve so this could be an issue if you're a business traveller or digital nomad like myself.
---
The Deuter Helion functions best when used on wheels but is also capable of being a backpack when needed and can be very useful for family outings.
Price: £££
✓ Telescopic dual handle that will rival any suitcase
✓ Large wheels for use on all sorts of terrains
✓ Massive interior
This spacious bag works best as wheeled bag, with a strong dual handle and decent sized wheels that can be easily replaced when word.
It is front loading and stands up well no matter which side it is on, even when upright. The main material is a decent 420d material with super thick 1000D on the base, all of which seems very weather resistant.
Inside you'll find one large compartment, if you're the type of person that uses packing cubes then this is ideal as inside is just one huge compartment.
As a backpack it has a cushioned back panel and plenty of padding on the shoulders and hip belt so it's reasonably comfortable to carry, although for long stints of backpacking you should probably opt for the Osprey.
It has a sternum strap, hip belt and easily accessible pockets although lacks load lifters for adjusting where the gravity of the pack lies. If wheels are your go-to carry method, but you also need backpack functionality then this will fi the job.
---
FAQs
Which 60L Backpack with a Day Pack Should I Choose?
Most of the backpacks here have a day pack or are compatible with one. For travel, my main recommendation of the Deuter Aviant Access Pro 60 comes with an excellent day pack integration and when you're using the day pack, the pocket it was in can still be used for more items.
For hiking, unfortunately the Atmos line of packs aren't compatible with Ospreys day lite pack so I'd recommend the Kelty Coyote which has a built-in day bag as the lid can be removed and used as a sling bag.
Will a 60L backpack fit as hand luggage?
No, a 60L won't fit as hand luggage on any flight. The maximum size backpack we've seen that would go on a plane was in the 45L range although I think you could get away with slightly larger if you're discreet. You will need to check in a 60L backpack to the hold.
When is 60L too big?
For outdoor adventure, a 60L backpack is most likely going to be too big for single day hikes or shorter trips in the region of 1-2 days. For travel, a 60L backpack will be overkill if you are only visiting hot climates, you could easily slim down to a 40L and this would have the bonus of fitting as hand luggage.
---
I hope you've found this guide useful, if you spot any backpacks that you think I've missed, please feel free to contact me! Happy travels!
Price key: £ = Under £100, ££ = £100-£150, £££ = £150-200